Moving is one of life's greatest stressors AND once you're finally done with all the heavy lifting, you're still left with a blank canvas and a ton of boxes. 
Inevitably all of your friends will be asking "When's the housewarming party?!?"—begging for an opportunity to sip champagne and buy you plants that will die, but tbh, YOU feel like the one who is going to die.  SO—we asked our fave Toronto creative team Taylor + Dani Reynolds to give us some tips on how to *quickly* and easily spruce up your space after you move in.
Guess what!? We moved!! After one month of obsessive decorating (and redecorating… and redecorating…) we invited our favorite house guest, Spencer, over for a tour of our new place. Come along as she puts her feet up in our 70s-inspired apartment.
1. Get It While It's Hot
Psychologically, warm colours emanate a sense of comfort and closeness. In our dining room bold-hued curtains bring personality to the table. Red in particular is a great colour to have in your dining space as it is proven to rally conversation, inspire enthusiasm, and just generally bring people together. Add a pop of happiness-evoking orange with some wall art and you've created the perfect setting for your next dinner party. Charades, anyone?
2. Have A Soft Spot
What to do when your furniture order doesn't arrive in time for your house warming party? Improvise additional seating with colorful throw pillows on the ground. Rugs add extra warming to the playful arrangement, making guests feel like they're at an old-school slumber party instead of a stuffy adult party. We tried this at our own house warming and before we knew it the couch was empty and everyone had made their way to the floor!
3. Lay Your Cards on the Table
When it comes to refreshing your things, moving is the perfect time to go all in. Notebooks, stationery and greeting cards that reflect your personal style are just as key as aesthetic throw pillows.
4. Look Back At It
Keep up with current design trends by infusing your room with the groovy yet grounded aesthetics of the 70s. Bold graphics are brought down to earth with a natural palette of mustard and brown. Wall art brings the whole room together while adding a pop of unexpected colour.   
5. Shape Up!
Embracing mismatched bedding is easy when you're playing with shapes. The key is having a variety in scale. Here a comforter with large, spaced out, shapes plays nicely with a pillow that has a smaller pattern.
6. We're Certain, You Need A Curtain!
Personalizing a bathroom can be tricky. Try a shower curtain in a fresh colour like green and yellow to brighten up the space in a snap.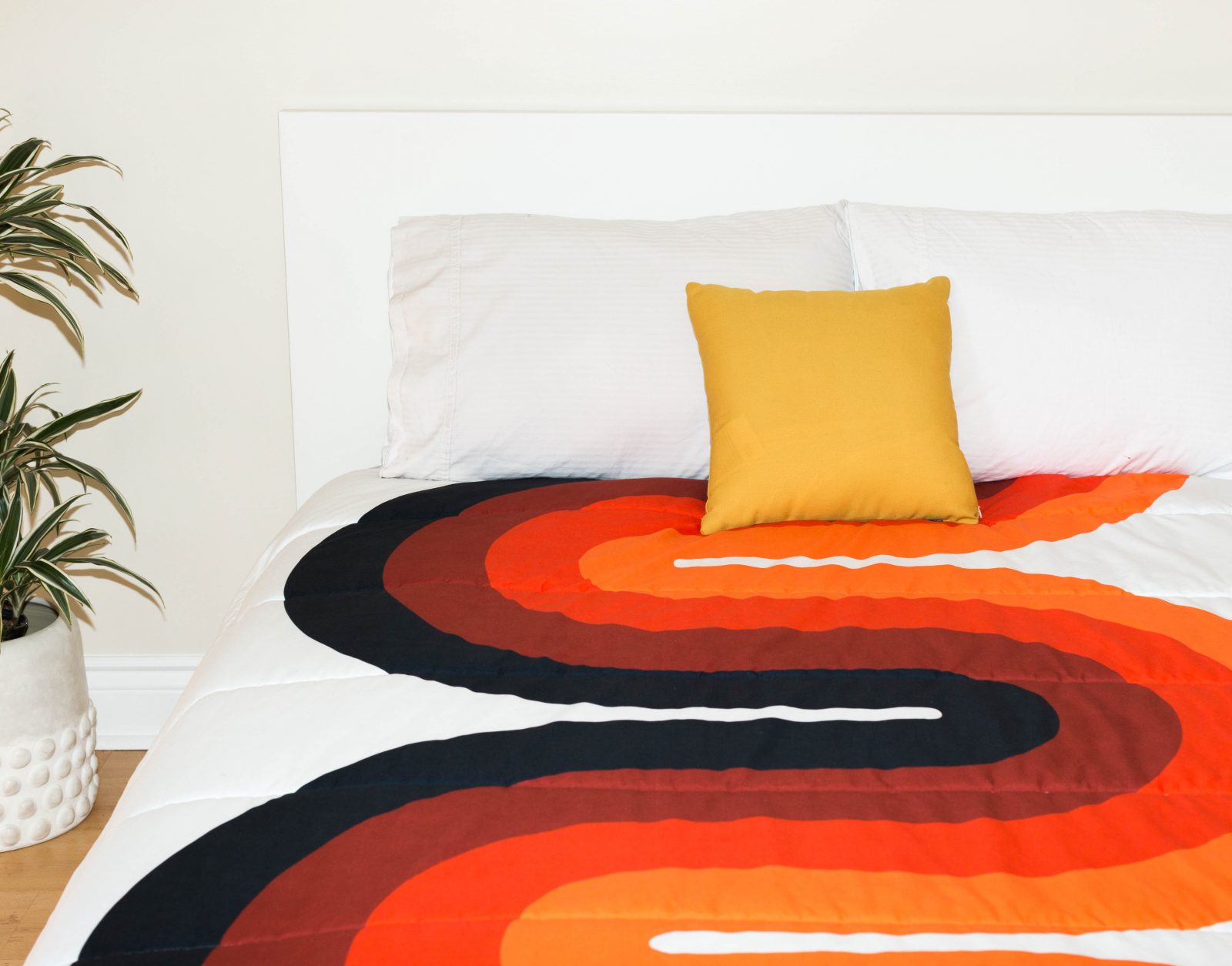 Chinese Gold Window Curtains
5
by Make it Colorful
$119.99
by Color Obsession
$119.99
Shape Study #2 Throw Pillow
79
Mischka Stationery Cards
828
by Alison Hagar Photography
$29.99
Amber Waves Comforters
91