We're convinced it's impossible to look at Katie Kimmel's work and not immediately feel 10000x better.
From custom vases made to look like your dog or seemingly random food-related phrases, her work is instantly relatable, hilarious and endearing. And just like fettuccine alfredo—you always want more. We stopped by Katie's Mojave desert studio to get a peek at her process and to ask her about some of her favorite holiday traditions (which clearly involve dogs). Read on to learn more and see her gift guide below!
Hello! First off, tell us a little about yourself and what you've been up to:
Hi! I'm an artist originally from LA and now I live in the Mojave Desert! I work mostly in ceramics but also paint and make some fun stuff on the computer☺ Recently I've been getting ready for a show at Hashimoto gallery in January and even more recent—I just ate a taquito.
Tell me a bit about your sculptures—how long have you been working in this medium? What are your favorite to do?
I have been working in ceramics for awhile (I took ceramics classes as a kid but then focused heavily on it in college). In the last few years I've been prioritizing making functional ceramics and it's been a lot of fun. I love making work that holds a special place in a person's home. I've made a LOT of vases so I get the most excited when I get a chance to make something completely new.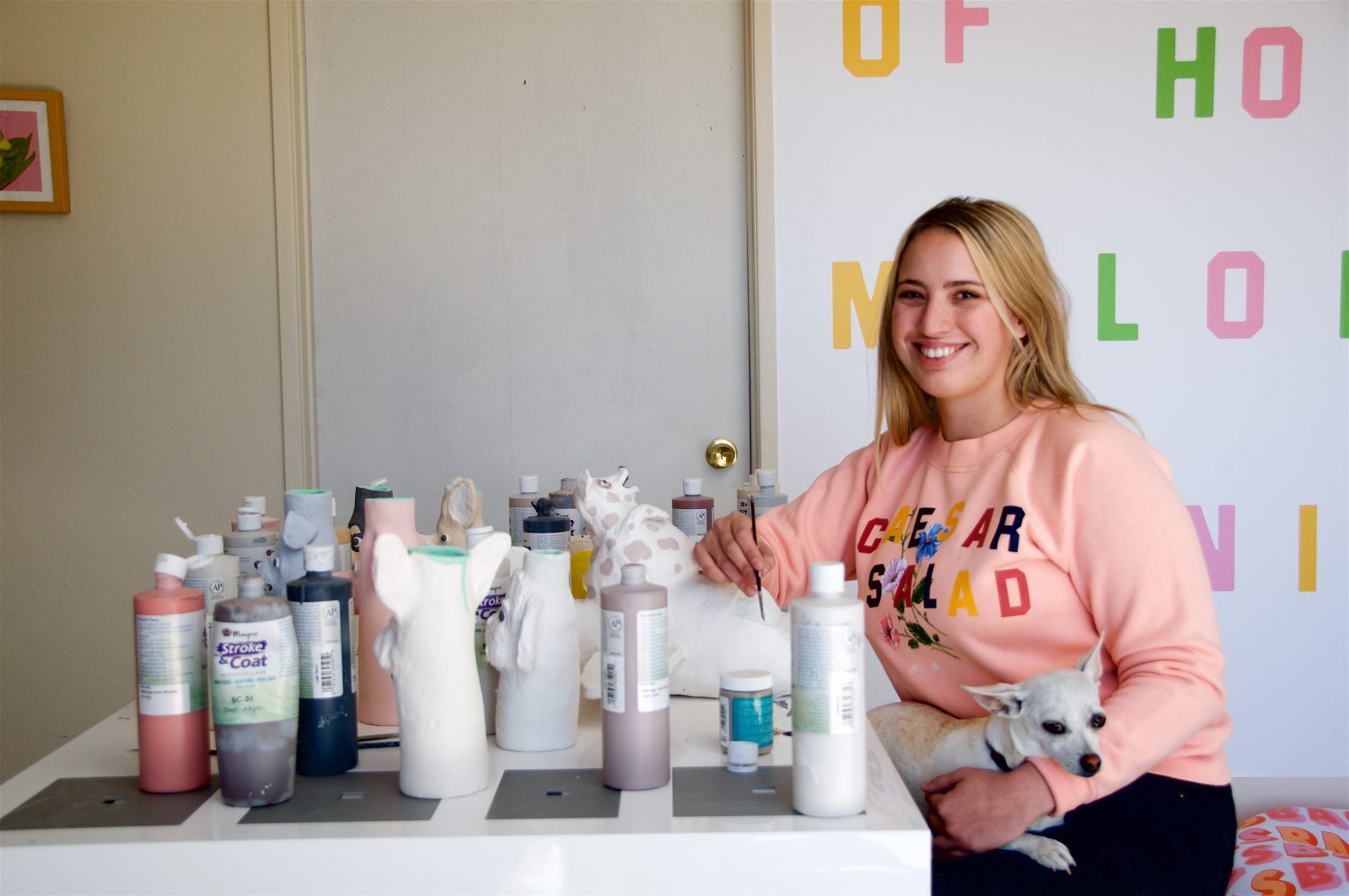 What was your favorite holiday tradition when you were a kid?
The only one that comes to mind is that every Thanksgiving my mom took the giblets out of the turkey and cooked them up for our family dogs. They loved it.
Do you have any traditions that you've implemented (or kept!) now, as an adult person?
This year for Thanksgiving my dogs Pony and Muffin will be eating giblets!
What was the best gift you've ever received?
Last year for my birthday, my boyfriend Will and my friends, Lorien Stern and Dave McPeters got together and bought a new front and back bumper for my car and secretly installed them while I was taking a nap. I am really bad at driving/parking—the bumpers were really banged up and I always felt like a dummy driving around in a car I obviously ruined lol. I was SO surprised when I walked out; I didn't even recognize my car. I honestly cannot believe they did that—and one day they'll have to do it again because I am still really bad at driving.
How has living out of the city in the Mojave Desert changed your art practice?
When I lived in the city I always felt like there were so many steps that I had to take before I could make work. I was constantly exhausted and everything was a chore. I really never imagined that I would live outside of a city (mostly because I never had) but it really is the best decision I've ever made for myself! Giving myself the privacy and the physical space that comes with being in a remote location has been amazing for my productivity. I wake up in the morning and I just get to work—nothing else gets in the way. I've probably accomplished more in one year here, then I would have in five living in the city. Highly recommend!
One of the reasons why I love your work is that it shares a non-saccharine message of self-acceptance. Is this intentional? What do you hope people take away from your work?
I make an effort to be nice to myself and I think that those messages come naturally out of it. I haven't really considered the bigger intention of putting it out there beyond the actual content of the message. But I still want to say it's more intentional than not! When I put work out there I hope that people will relate to it in some way. I love making something that triggers a forgotten happy memory ☺
What Christmas/holiday song do you highly recommend and which one would you damn to the depths of holiday hell?
Bless Mariah Carey "All I want for Christmas is You" and banish the "Merry Christmas but I think I'll miss this one this year" song.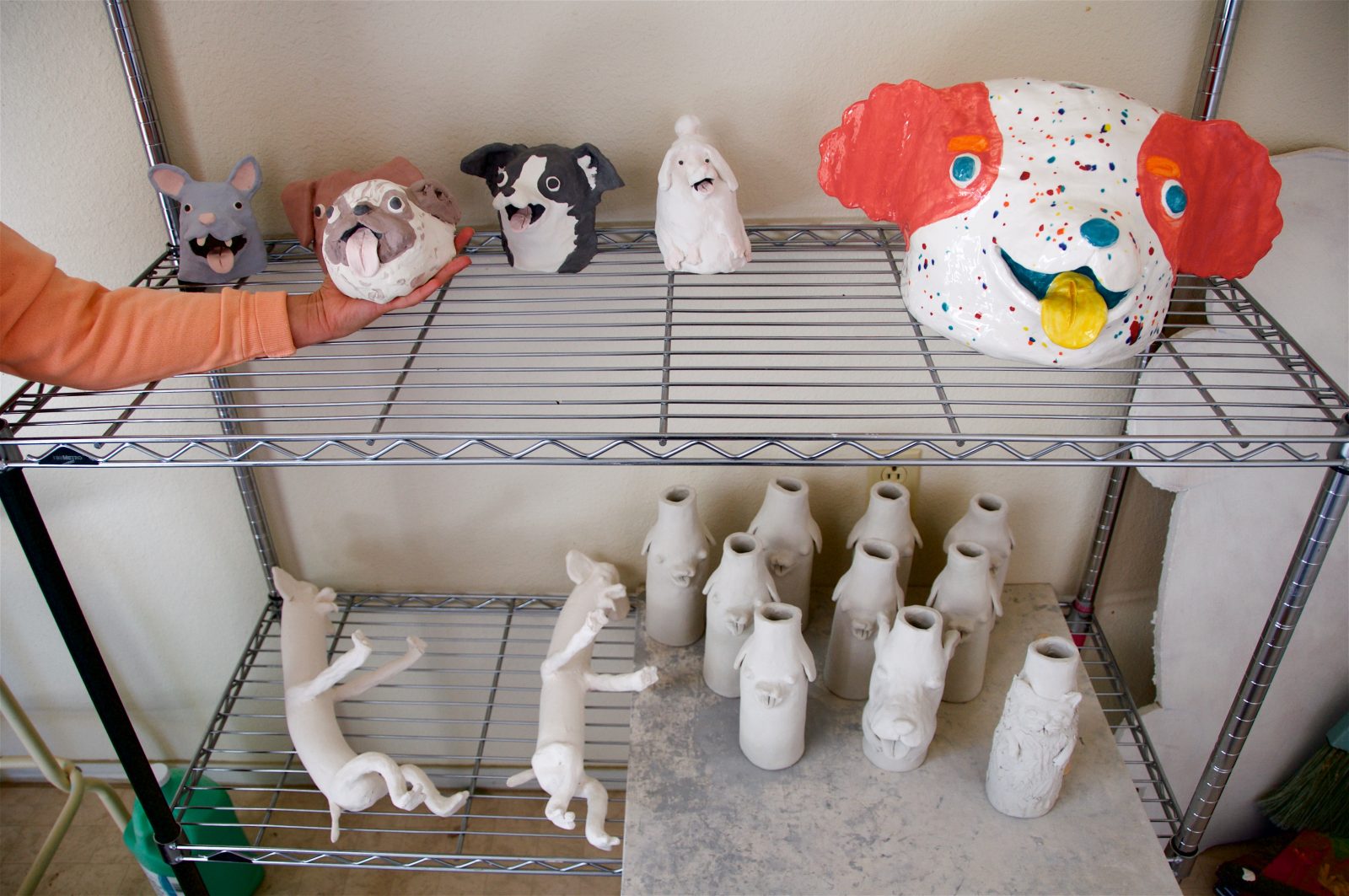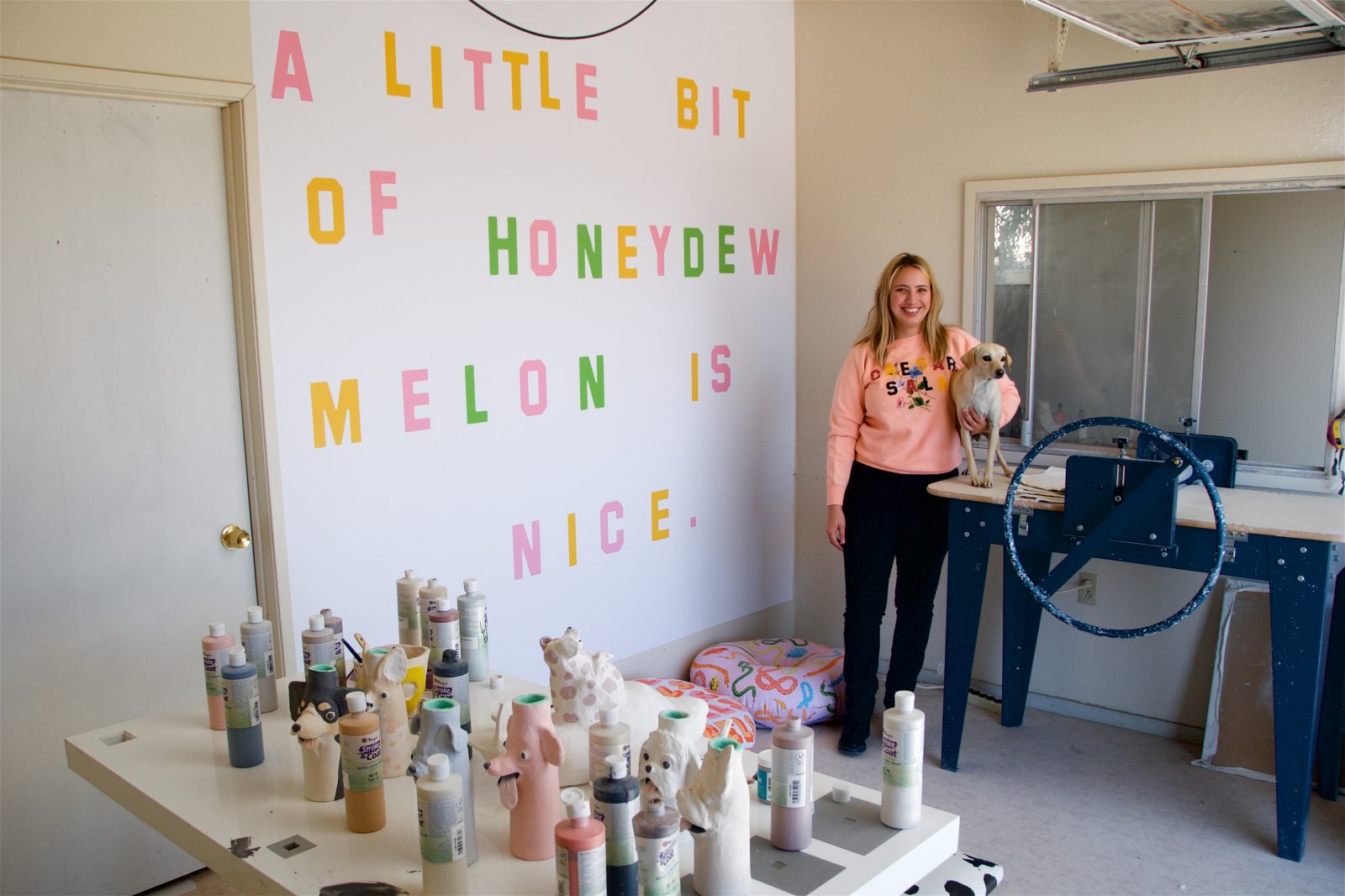 Snakes and Frogs Floor Pillow
I Ate A God Treat and It Was Just OK Art Print
Seafood Spread With Flowers Serving Tray
Parallel Movements Wall Clock
Fruit Basket Woman Art Print