Calendars are at the foundation of every successful brand & business you look up to.
A good marketing calendar is just a series of minor goals to help you achieve your major ones. With a little up front planning, you actually relieve that self-imposed,  "day of" decision making pressure, which frees up time to get deeper into your creative work. This is only one way to build a marketing calendar, so you'll likely adjust your approach according to your software and preferred workflow.
For starters, grab your notebook or open up your favorite note taking app or spreadsheet. The first half of this process is a lot of brain dumping. Then we'll organize your thoughts and you'll put them into a digital marketing calendar that you can follow. Since this process naturally brings up a lot of questions about goals, write them all down so you can revisit them next time you're in a creative lull.
By the end of this article, you should have a first version of a working marketing calendar you can put to use right away.
1. Write down the season or time period of focus
You want to be thinking about marketable or campaign-worthy time periods–spring, festival season, back to school, winter holidays, etc. Then write down the big, small and fun holidays within that time period. And if you'd like a more structured approach, you can also break out your marketing calendar by day, week, month, quarter or year.
2. Write down all the fun holidays
National Pet Day. National Pizza Day. April Fools. Write down all the holidays (and the dates) you'd basically want to tag your friends in. Also, any holidays you think your fans would show a particular appreciation for. Food holidays are reliably popular–as are anything to do with animals. There's plenty more, but those are a few that our social team has taken note of thanks to general internet activity.
PRO TIP: Visit National Day Calendar to get a monthly list of the good, the funny and the downright weird holidays that someone somewhere is celebrating.
3. Make a list of products to focus on
Think about small businesses or startups you follow who offer customers less than five products–in some cases, they only sell a single product or service. What do they do? They promote that product relentlessly. You, on the other hand, may have 30+ products for each of your 20+ designs. So, to cut the confusion, focus your customers' attention on what you already know draws a reaction. The rest of your products will benefit from strategically marketing your best sellers. That's known as a halo effect.
And just like Occam's Razor, "the correct answer is the most obvious". Once you've landed on the season and holidays you want to create a plan for, write down all the seasonally relevant products, product categories, and any best selling products. You can hack and slash to remove the unnecessary items, but it's better to put all the cards on the table to start out.
If it's spring, think hoodies, festival gear, indoor-friendly products, and a sprinkle of outdoors. Summer will have a primary focus on outdoor products with a big Back to School season kicking off in July (backpacks, carry-all pouches, twin size comforters, posters, etc). Fall and winter, think cozy home interiors and anything gift-able.
PRO TIP: Go to society6.com and scroll over each of the main navigation items. Write down any product that you think fits within your season or time period of focus.
4. Make a list of designs to highlight
Think best selling or popular artwork. This is a very similar approach to picking products to focus on. You'll keep promoting via social as you already do, but you want to highlight work you already know gets engagement. It's a numbers game. The more engagement you get, the more eyes Instagram will put on your posts. The more eyes on your work, the more click throughs to your Society6 shop.
You likely have a good sense of what's popular based on social, sales or IRL response to your work. Those three factors will help you decide which artwork to leverage for the next few steps.
5. Choose two days a week to promote products
If you have a business account with Facebook or Instagram, check your business insights to see when your audience is most active. That'll be your best starting point. Beyond your own audience activity, lunch time (weekdays except Friday) and Sundays are (generally speaking) popular social shopping times.
To keep it simple, make the days you promote consistent every week. I would make one product promo day on the weekend (because we often run promotions on the weekend) and the other during the week.
As for content, if you aren't already capturing your creative process, you should consider sharing your Work In Progress photos and videos on Wednesdays. You'll be tapping into a community of artists already doing the same.
PRO TIP: Product promotion doesn't necessarily mean you have to push images of your product exclusively. You can still publish art and promote your products in captions. You can leverage stories.
6. Pick a calendar app
Pick something that will be easy to incorporate into the technology you already use. This shouldn't be disruptive to your current creative or workflow. iCal, Google Calendar, and Outlook are all free and likely native to your current operating system (mobile or desktop). They're all great. Teamup is another great one if you work with a small team consistently.

All of the above calendars should meet your needs. You can easily schedule and remove events, reminders, meetings, and notes. You can color code things. Your calendars can be subscribed to from other calendar apps. You can invite anyone to your events. Depending on your operating system and mobile phone, all of the above will sync to a mobile version as well.
The key is picking a calendar and sticking to it.
PRO TIP: The next level up from a calendar is project management software like Asana or Trello. Both are great. They incorporate sub-tasks, easy team collaboration and calendar views making project completion a smooth process. That said, there can be a steep learning curve if you're just learning how to use them.
7. Create two calendars: "Marketing" and "Holidays"
The idea of a dedicated marketing calendar is to give you a broad view of the major events and themes you want to market around. With that eagle's eye look at holidays and marketable seasons or time periods, you're able to make educated decisions on how to fill in the gaps between particular events. #plannersgonnaplan
PRO TIP: Create a third calendar for "Social". You don't have to plan every post, but you want to make sure you're hitting specific events. That way you can also plan captions and visuals ahead of time even. If you want to get ahead on Instagram, check out Later. They're an official Instagram partner and allow for scheduling of Instagram posts.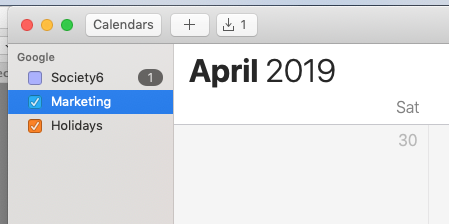 8. Add all your calendar events & space them out
You've laid everything out, now just a matter of dropping it all into your marketing calendar. Decide what products to promote and when. Decide which holidays are relevant to you and your audience. Figure out what artwork, products or artwork/product combos you want to promote. Once you have everything in your calendar, you can easily space things out and move things around based on what you think is attainable.
Things to include:
Holidays you want to promote on
Products/designs to focus on
Social posts (for the really important ones)
Art show announcements or reminders
Major freelance client project launch
Personal vacations (so you can plan ahead)
Deadlines for getting social assets/captions done ahead of time
Anything else you think is relevant!
PRO TIP: When announcing collaborations with major freelance clients, talk about what you learned in the process. It's a good way to avoid the self-congratulatory vibe while still dropping the name of a client you're proud to work with.

9. Prepare images and copy/captions ahead of time
Since most of us leverage social media as channels for our art businesses, preparing captions and images ahead of time is more than just a cherry on top. This the final step that makes this whole process worth it. If you really want to avoid the hassle of "day of" decision making, give yourself an hour to decide what imagery you want to use and maybe jot some quick captions for everything.
10. Stick to your marketing calendar for (at least) one month
The only way to grow your art business is to learn from it. By committing to your marketing calendar, you give yourself something to compare against when you update your approach. How will you know growth if you don't know where you were in the first place?
As in life, your business has an ebb and flow and you'll make decisions based on in-the-moment learnings, but by planning ahead with your marketing calendar, you start learning how to avoid solving the same problems over and over again. You'll also learn how to share information that compliments your larger themes or goals. It reminds of that one Einstein quote, "The definition of insanity is doing the same thing over and over again, but expecting different results."
"The definition of insanity is doing the same thing over and over again, but expecting different results." – Albert Einstein
By putting together your marketing calendar, you're taking a big step in the right direction. You can start to apply the method of thematic planning to all sorts of different projects, partnerships and marketing efforts.