Swedish student and artist Hanna KL knows what she likes. Pinks, purples, and palms fill her artwork and her amazing apartment is meticulously designed to match (think Lisa Frank as a minimalist). Her rad style is perfectly trendy, while always encompassing her unique, personal aesthetic. We sat down with Hanna to chat about her goals as a designer, her favorite 90's boy bands, and how she embraces her inner California-girl.
What are you currently studying? What year are you in?
I'm studying design with focus on sustainable development to receive a bachelor in fine arts. It's just general design so if you're extra interested in a specific field, you have to find a way to explore it yourself. I just finished my second year and have one more year to go.
How did you develop your aesthetic?
My parents are both artists who work with different mediums, so they introduced me to art at a young age. Our house is super colorful and there are plants everywhere, so I guess this had an impact on me, judging from my work.
Designer Karim Rashid has also influenced me a lot. Ever since I became interested in design I felt and still feel a really strong connection to his expression. Apart from that, I think I just grew into this style myself; none of my friends even share the same aesthetic! Now I just try to put what's inside my head on paper (or more like a file on my laptop).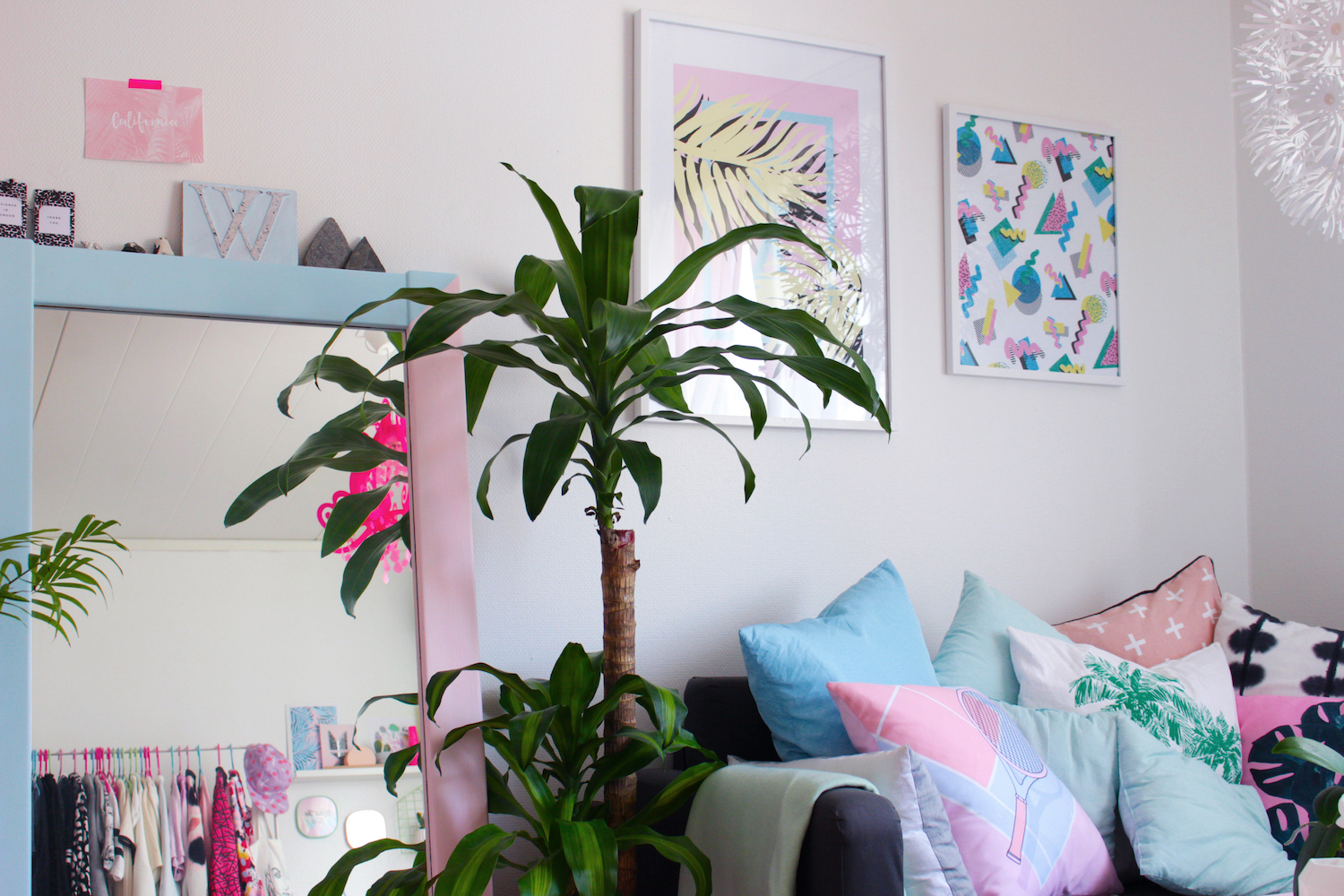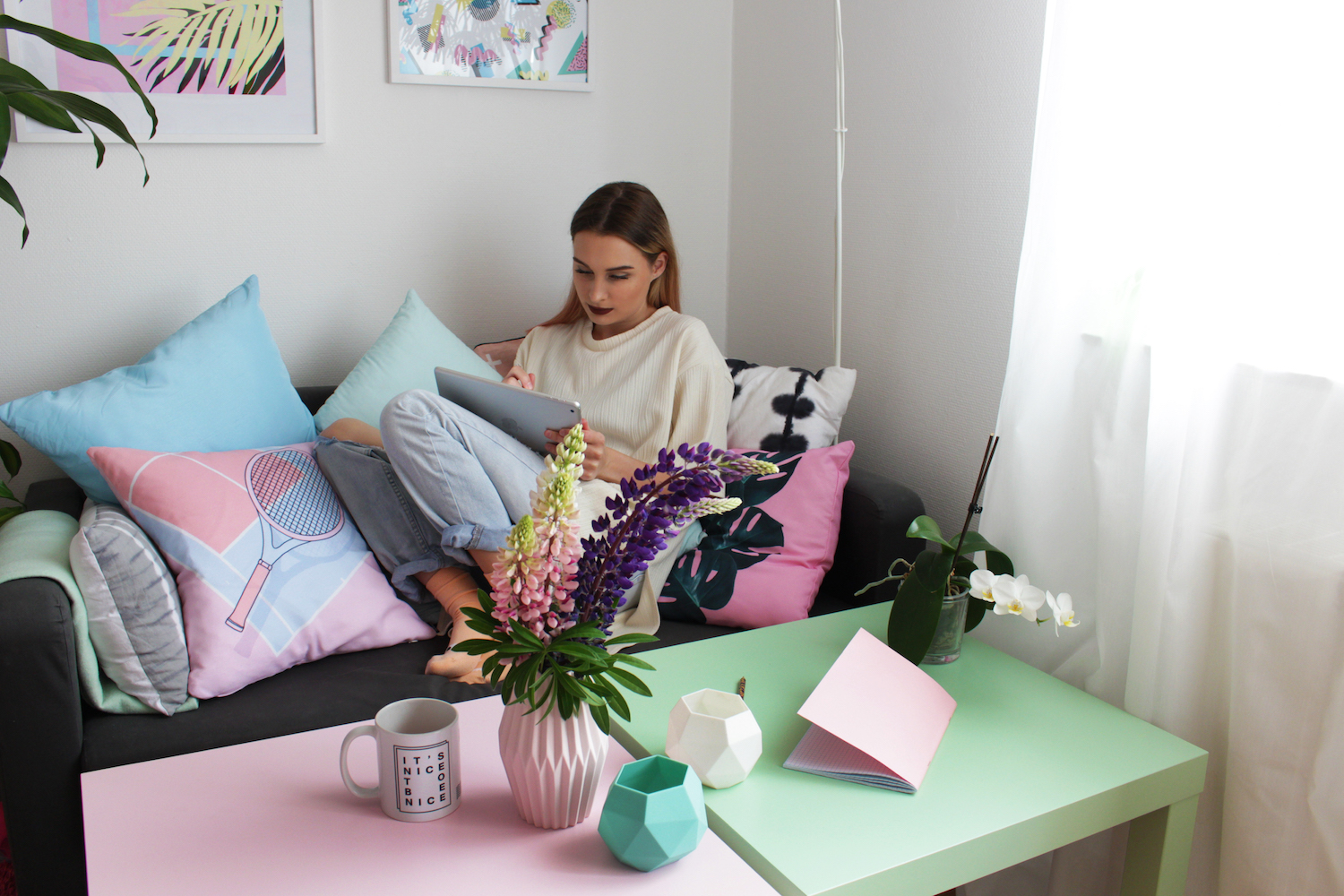 Where did your love of California come from?
I don't even know, as I've never even been to the US! When I'm feeling down, I open Google maps and type in Palm Springs and just walk around there and it makes me so happy! The vegetation, the houses, everything is so different from what I see everyday. I've never been to a desert so I can't actually believe that there are cacti bigger than people. Like, it just cannot be!
I might romanticize California a lot (which is what my friends say) because I paint up these amazing images when I talk about it. That's something I'll see for myself when I get there, but for now it seems like paradise to me.
How did you approach designing your bedroom/workspace?
I'm very materialistic and I love my things a lot, so I guess I try to give them a rightful place and that's it. I am obsessed with stuff that matches, so everything in my apartment looks great together.
Your style is largely influenced by the nineties, do you have any favorite music or movies from that era?
I'm so nostalgic over the 90's that I literally get a stomach ache when listening to songs that define the decade. I mean, "Mmmbop" and S Club 7's "Bring It All Back" and so many more songs that take me right back. I have a very wide taste in music and I'm obsessed with everything from The Moffatts to Alice in Chains. And then there's Westlife who came in the late 90s and changed my life to this day. My favorite movie is about the 70's though, it's Detroit Rock City!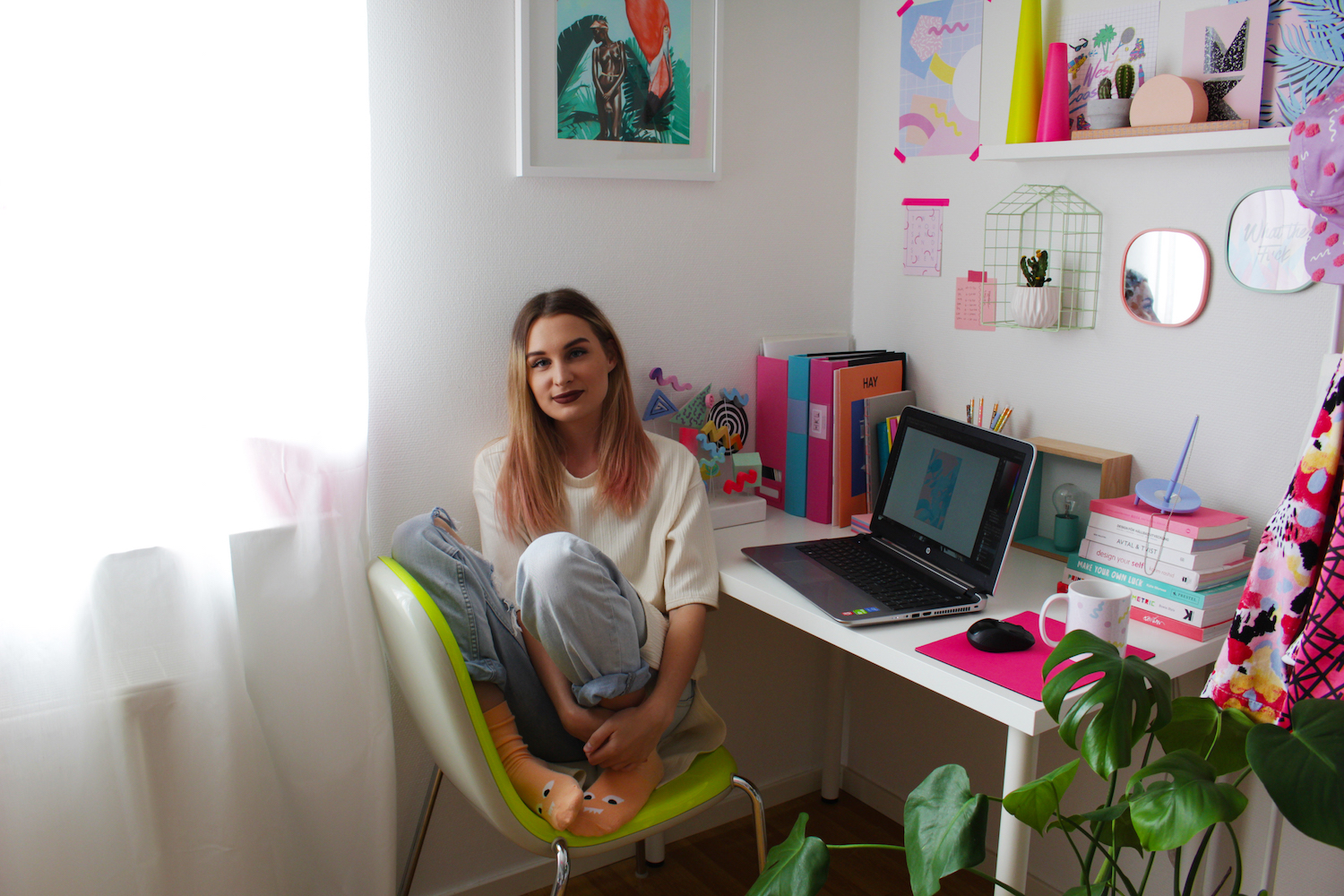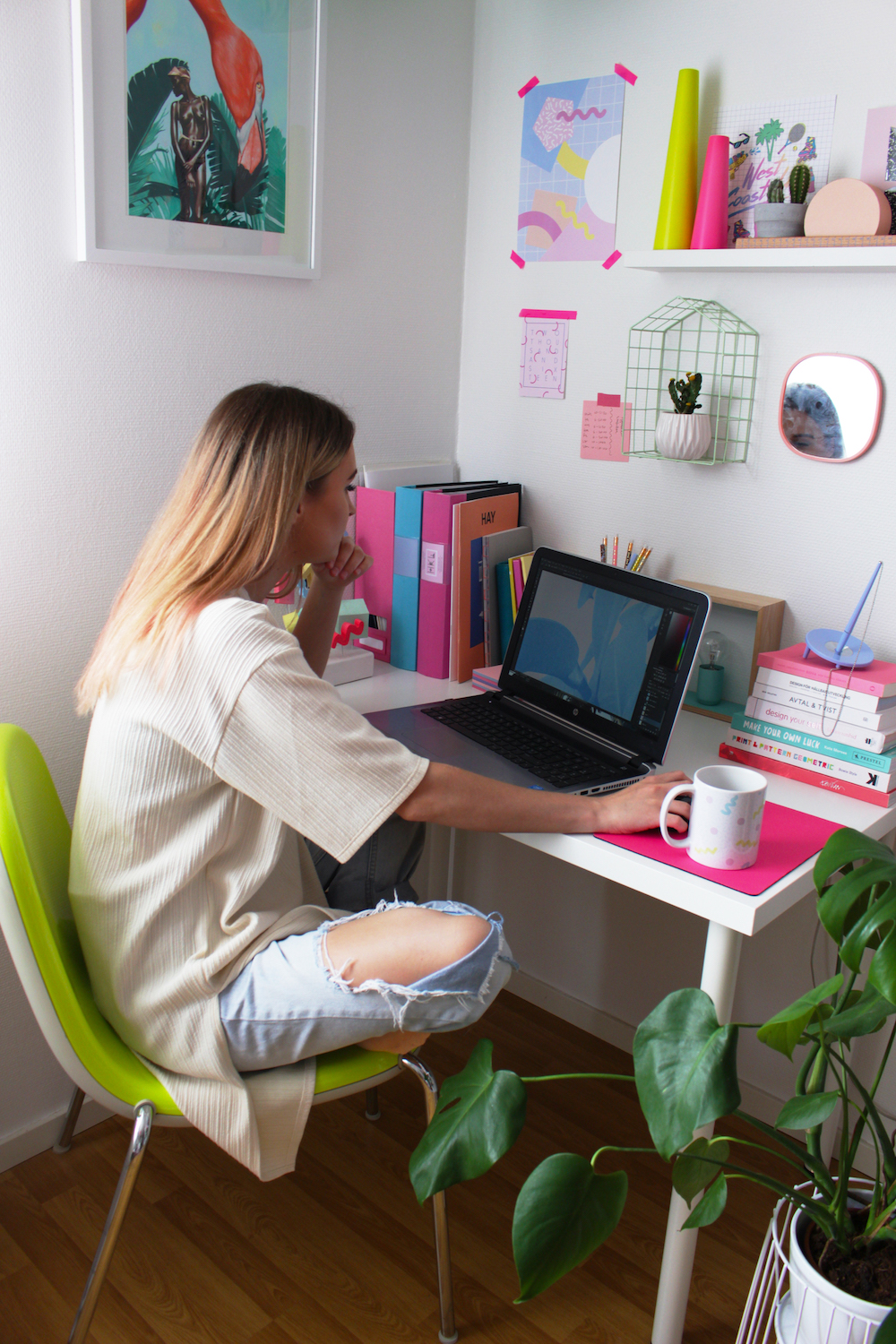 How do patterns and colors affect your mood?
A certain shade can seriously make my day. And I love wearing black, but I'd never buy anything dark for my home.
Walk us through a day in your life/studio.
If it's a day off from school, I usually wake up around 9am and then I spend an hour or so with my iPhone checking instagram and stuff. Then I make a lot of coffee and write a list of what I have to do that day (like email a bunch of people or go shopping for new post-it notes). Then I open my laptop and try and get things done. I takes me four minutes to walk to university, so I can go there anytime if I need to print something or get anything from my desk.The city I study in is quite small which is good because I don't get distracted by things to do; I can usually get a lot done if I want to. We do have quite many lakes around campus though, so sometimes I go for a walk around them.
What are your favorite sources of inspiration on the internet – any blogs or sites you look at?
Just like everyone else I love Pinterest and Tumblr. I'm obsessed with my own tumblr blog "colourful-design" and I find a lot of inspiration in what I choose to post there.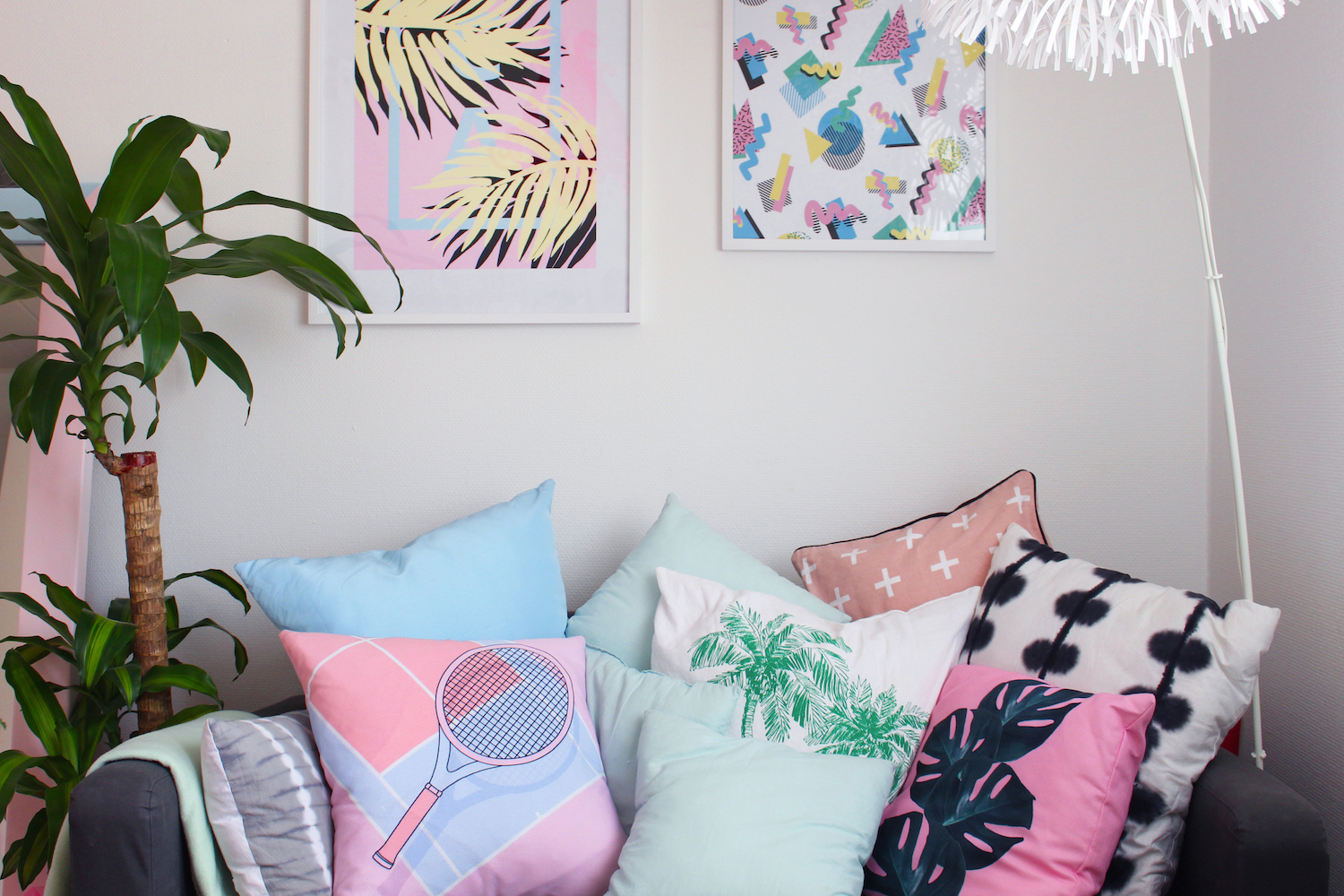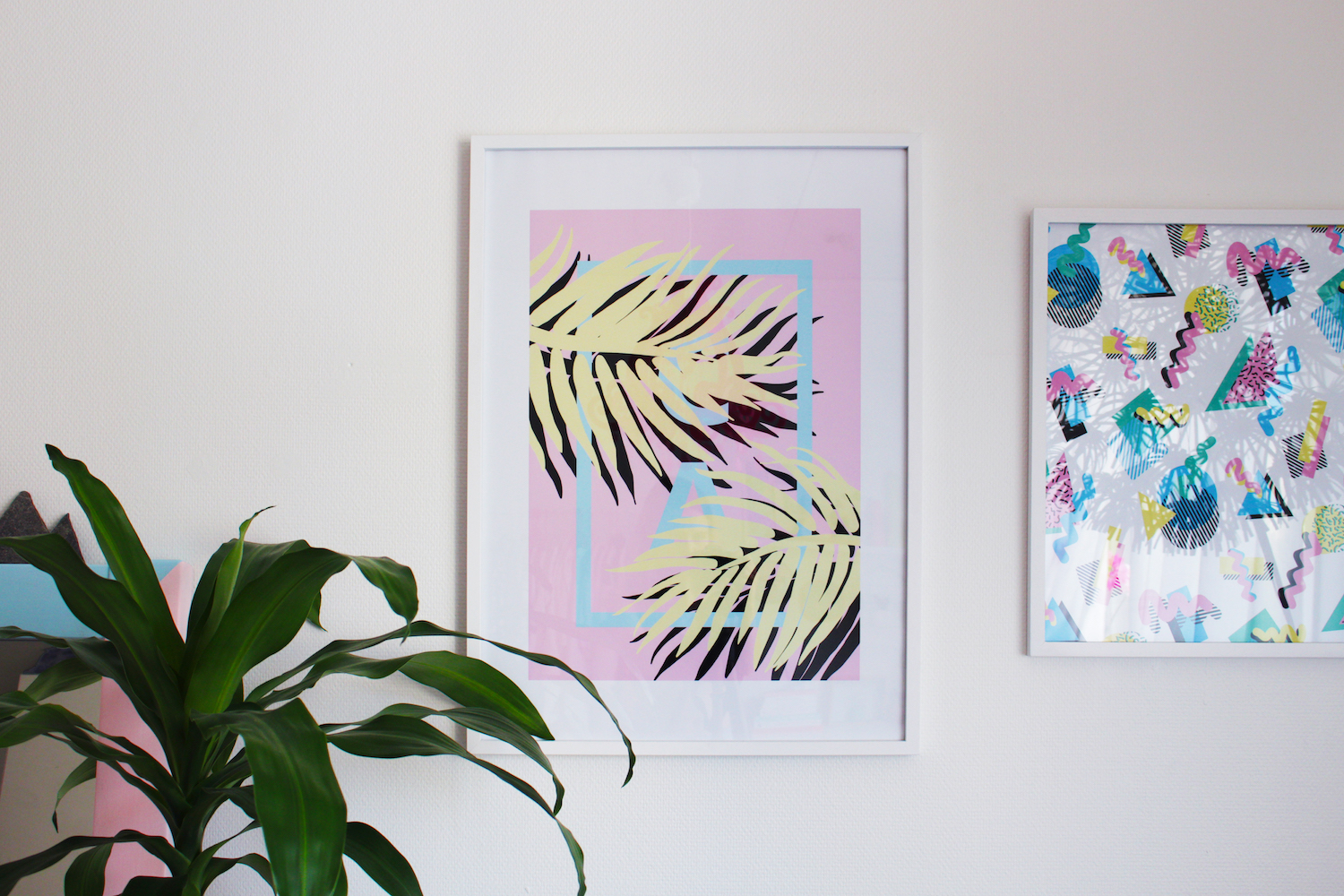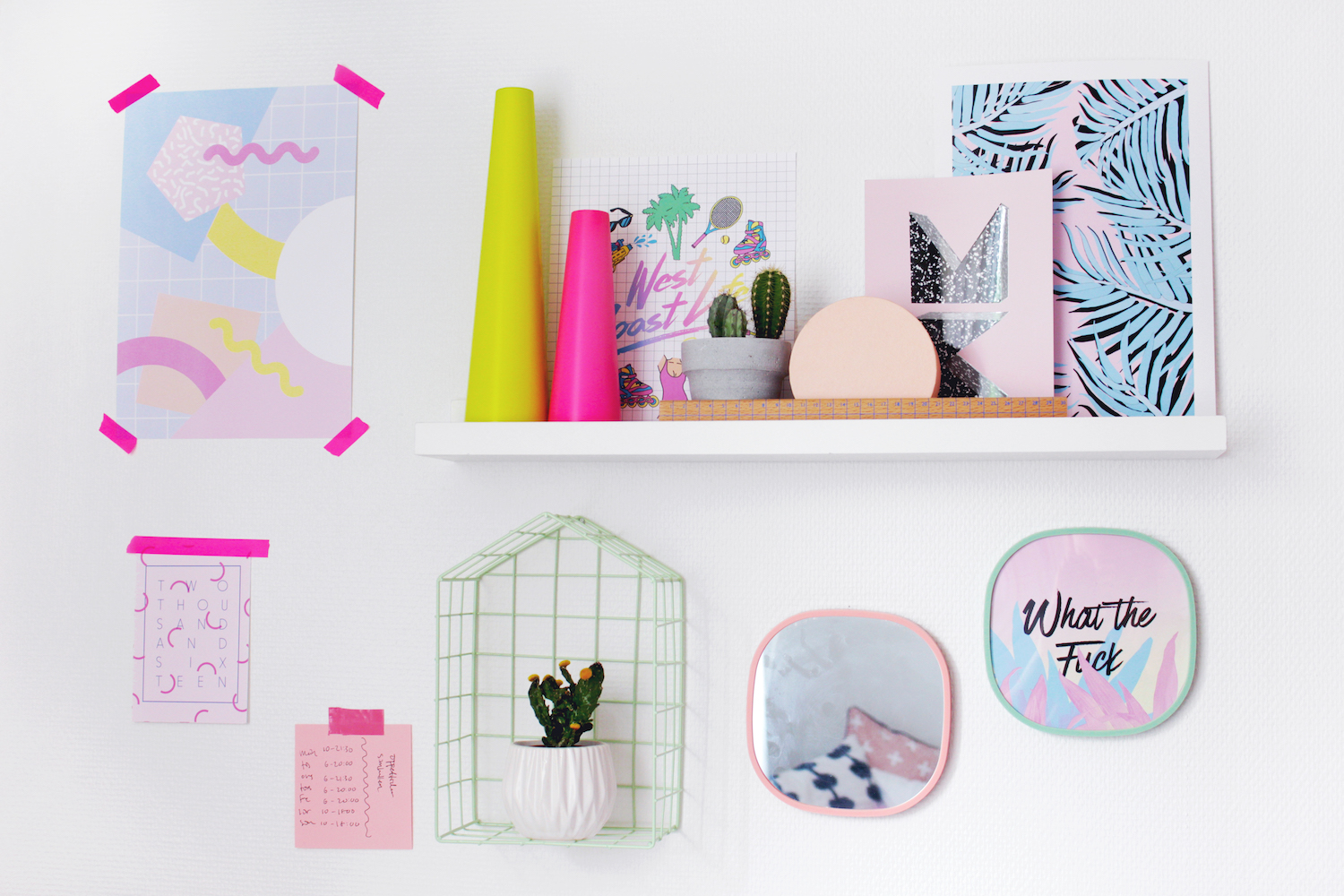 Your Instagram is so on-point and consistent with your style. What are your tips for a killer Instagram?
Omg thank you!!! I do spend a lot of time on it! Uploading one single post can take me several hours. I always try to imagine what my feed will look like if I do this or that. I often post images for only a second to see how it appears with the current look, and if it doesn't fit I'll remove it and post it later. My number one tip is to decide what style you want your feed to have and try and make all the images look good together. Don't make it too messy, but don't make it too clean either!
What do you hope to do after graduating?
I recently set up my own business, so my plan is to freelance as I'm doing now, but hopefully with more clients. I'll also have more time to put myself out there more to make my name/portfolio/brand stronger. I'm planning to eventually move to someplace in Cali, but I'm not sure when. I'm afraid I'll like it too much and never move back to Sweden! I want to go there not only because it's my dream, but it's also where my audience is. I'm having a hard time with the Swedes, not sure what they want, but all my business is abroad. Another goal is to create my own independant design magazine, I think about it all the time.
What is it like to see your prints on Society6 products?
It's so cool! I now have a bunch of stuff from my own store and I always get surprised because the colors look better on the item than on the computer screen, which is like whaaat, how!? It also means so much to me that people actually want my work in their everyday life.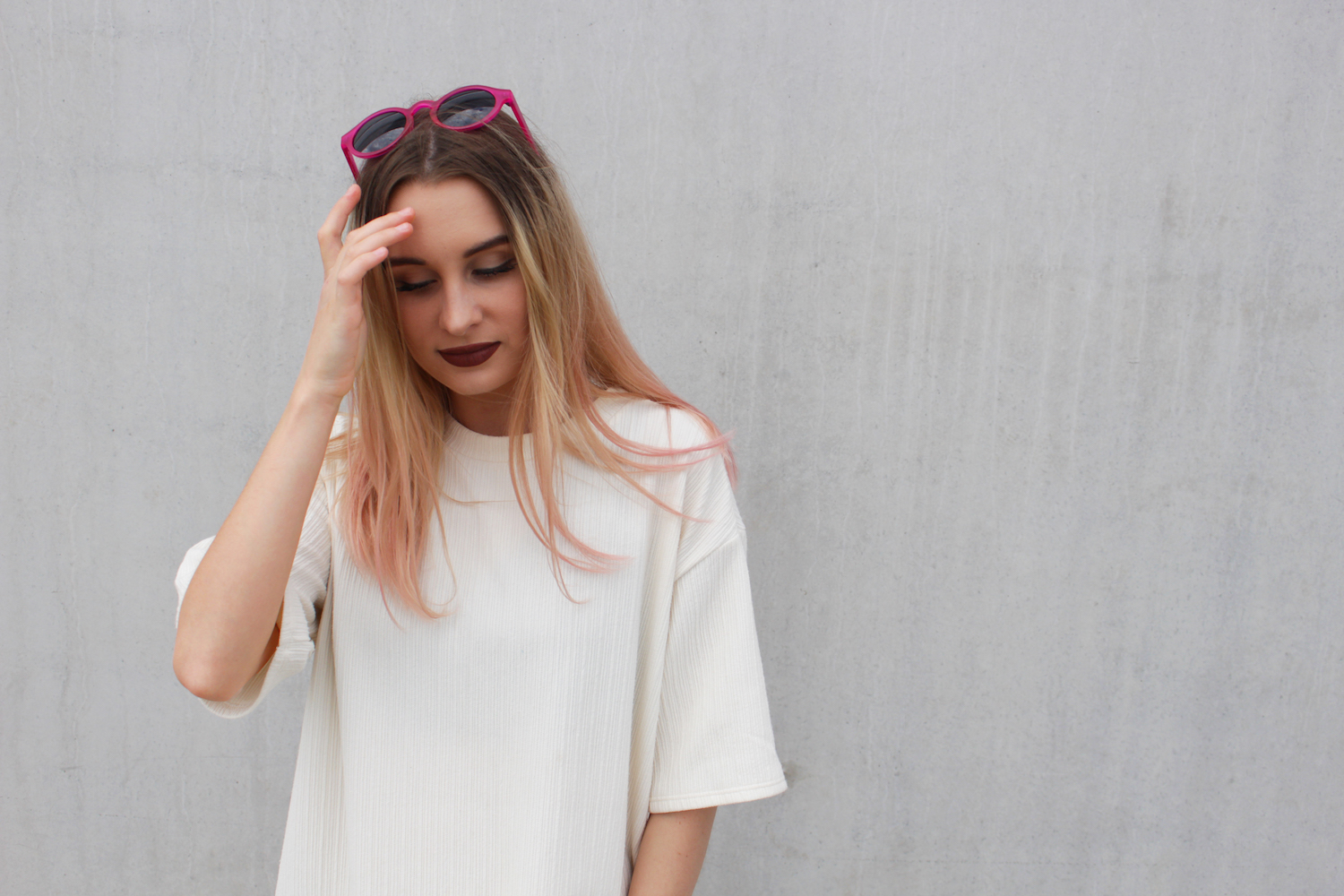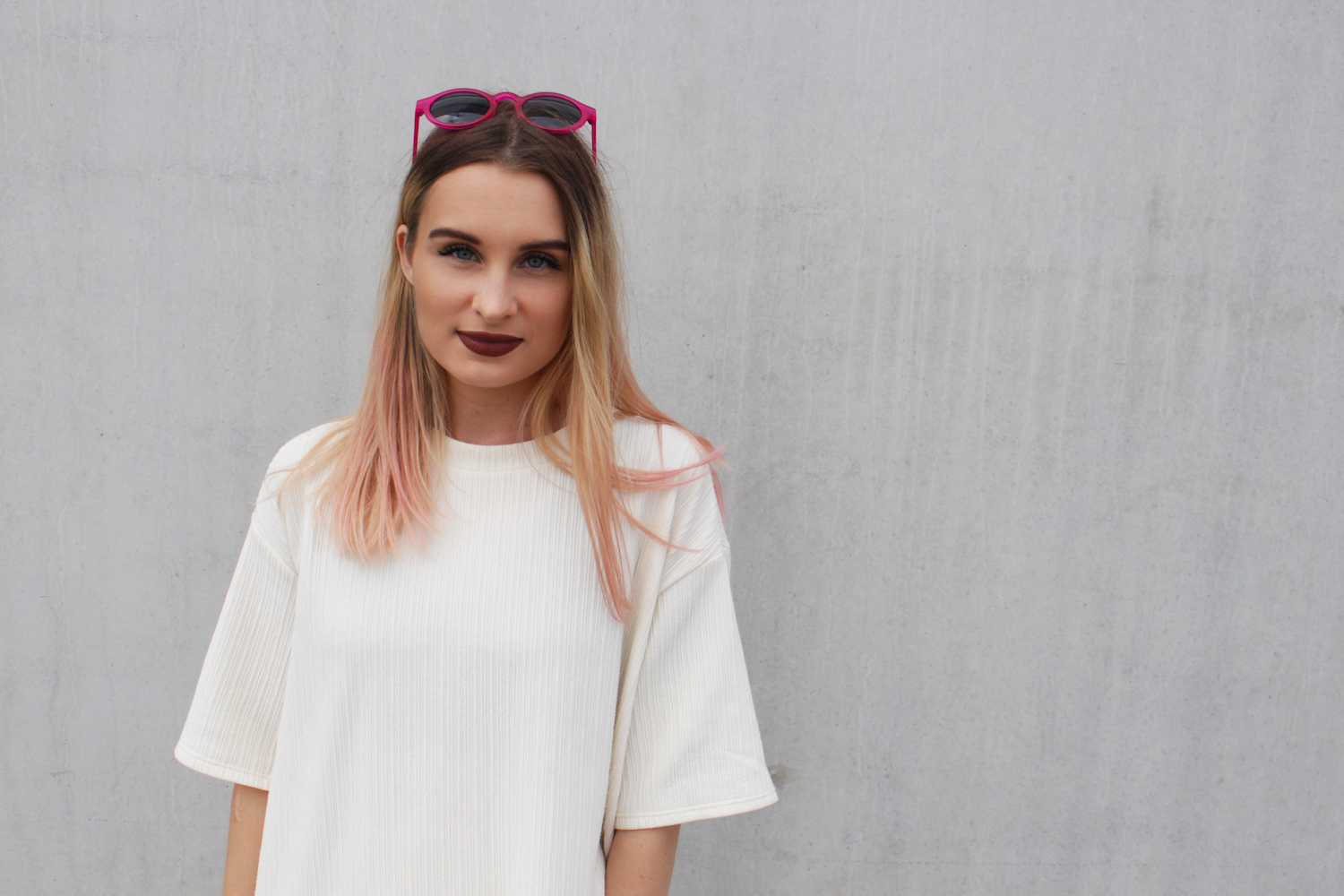 Describe the feeling you had when you knew you wanted to pursue art and design as a career? Was it a defining moment? Did you always know?
I studied music in high school and at that time I had no idea what I wanted to do in the future. In my last year I thought I might be interested in design so I chose a design course and it became the subject where I got the highest grade in all of my years at high school.
I never knew what field of design I was most interested in, until last year when I realised I wanted to stick to graphic design. My friends and teachers had been telling me that all along, but I hadn't actually realized it for myself. Everything honestly started really growing when I opened a Society6 shop. I can't see myself doing anything else now but no, I didn't always know!
by Hanna Kastl-Lungberg
$30
Fly away Shower Curtain
1348
by Hanna Kastl-Lungberg
$68
All I know Throw Pillow
146
by Hanna Kastl-Lungberg
$17.60
Wont waste another day Beach Towel
562
by Hanna Kastl-Lungberg
$38
by Hanna Kastl-Lungberg
$20
It's nice to be nice Mug
133
by Hanna Kastl-Lungberg
$15
Hold my tennis racket Throw Pillow
209
by Hanna Kastl-Lungberg
$17.60
If you could see inside my heart Art Print
423
by Hanna Kastl-Lungberg
$20