Hello, there. It's Nada and Stephanie: the editors behind the Society6 blog. Upon discovering that we basically wore the same outfits every day at the office, we decided to challenge ourselves in the spirit of a new year to wear bold colors and prints for an entire week. We courageously journaled about our experiences to share with all of you. The week had it's ups and downs, as we wandered far beyond our comfort zones into a realm of vibrancy and pizzazz! Read along to find out how we did.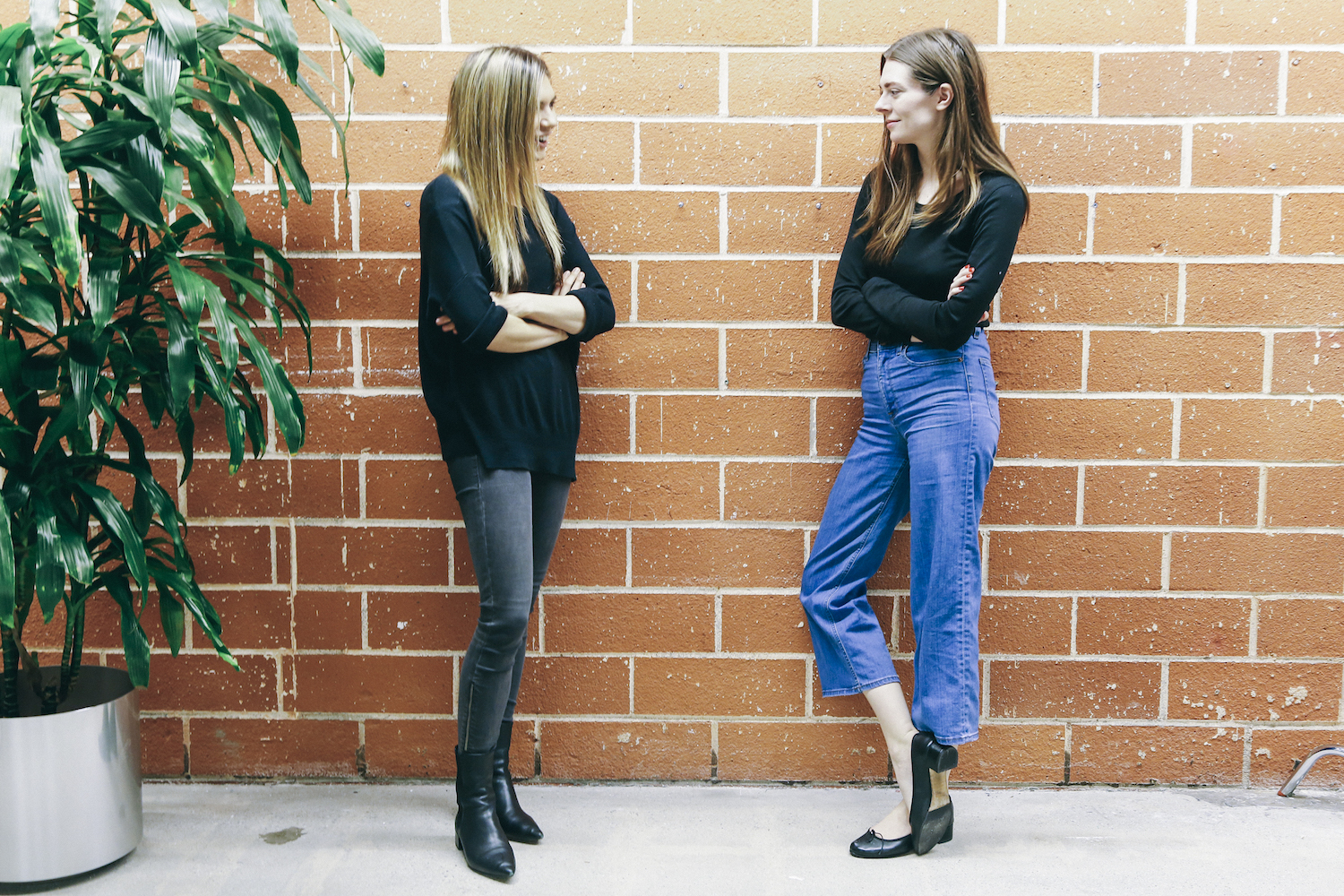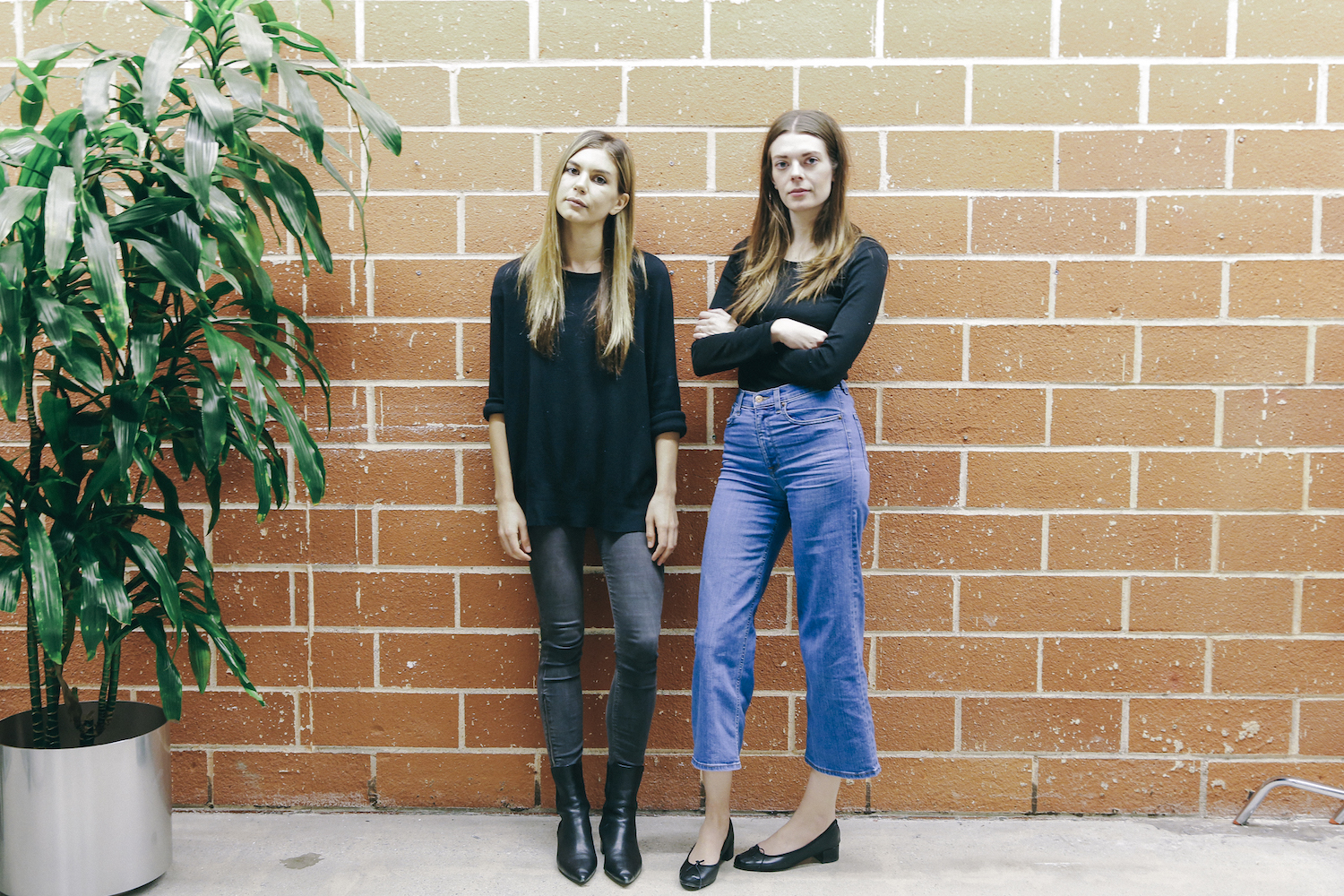 Stephanie (right): I would describe my personal style as "trying to be French". Usually this means I end up looking like a JCrew model after an 8 hour red-eye, but I'm cool with it. I'm comfortable. When I get dressed I think "would I wear this when I'm 60?". AND YES OKAY I'm 28 and already dressing for my old-woman self, but more decisions now mean more martinis later.
Nada (left): I would describe my day to day style as, ohhhhh no! I slept in! SOS! Which often translates to: I'm going to wear a black shirt with black pants and black boots and when you ask me about it I will say that it is an intentional uniform, when in fact it is out of pure laziness. For me, the less people notice me, the better! I can't handle that kind of stress in my life.
MONDAY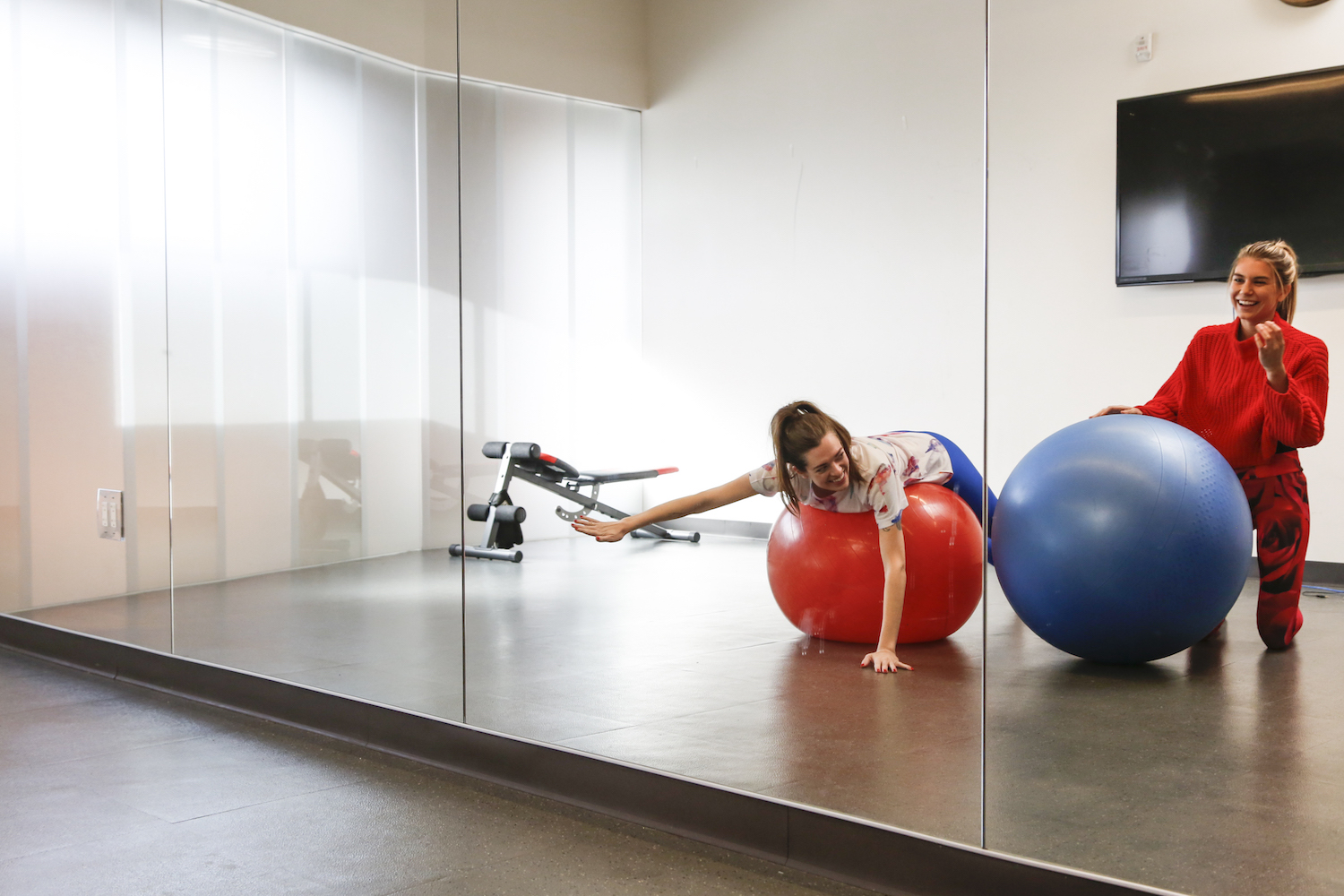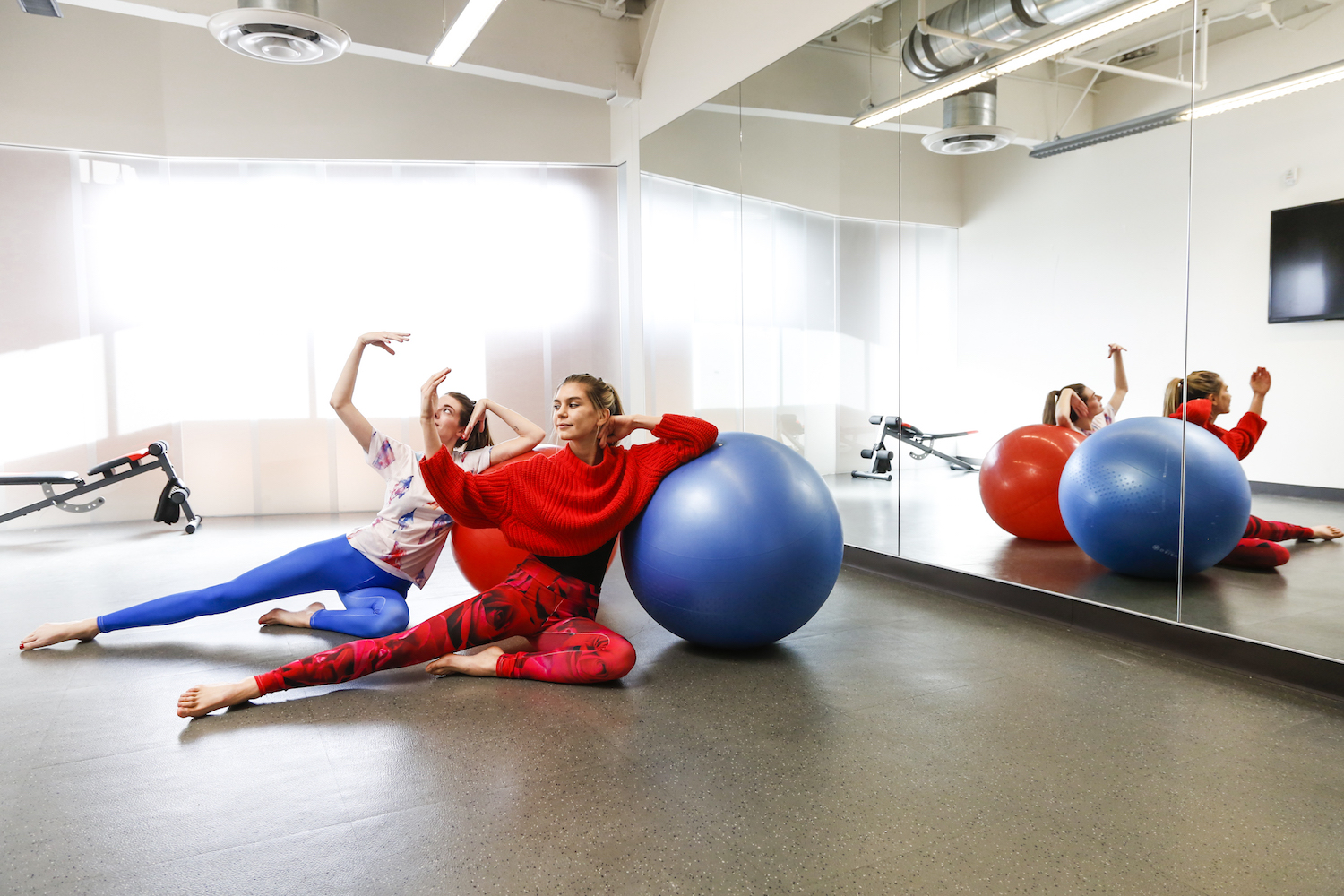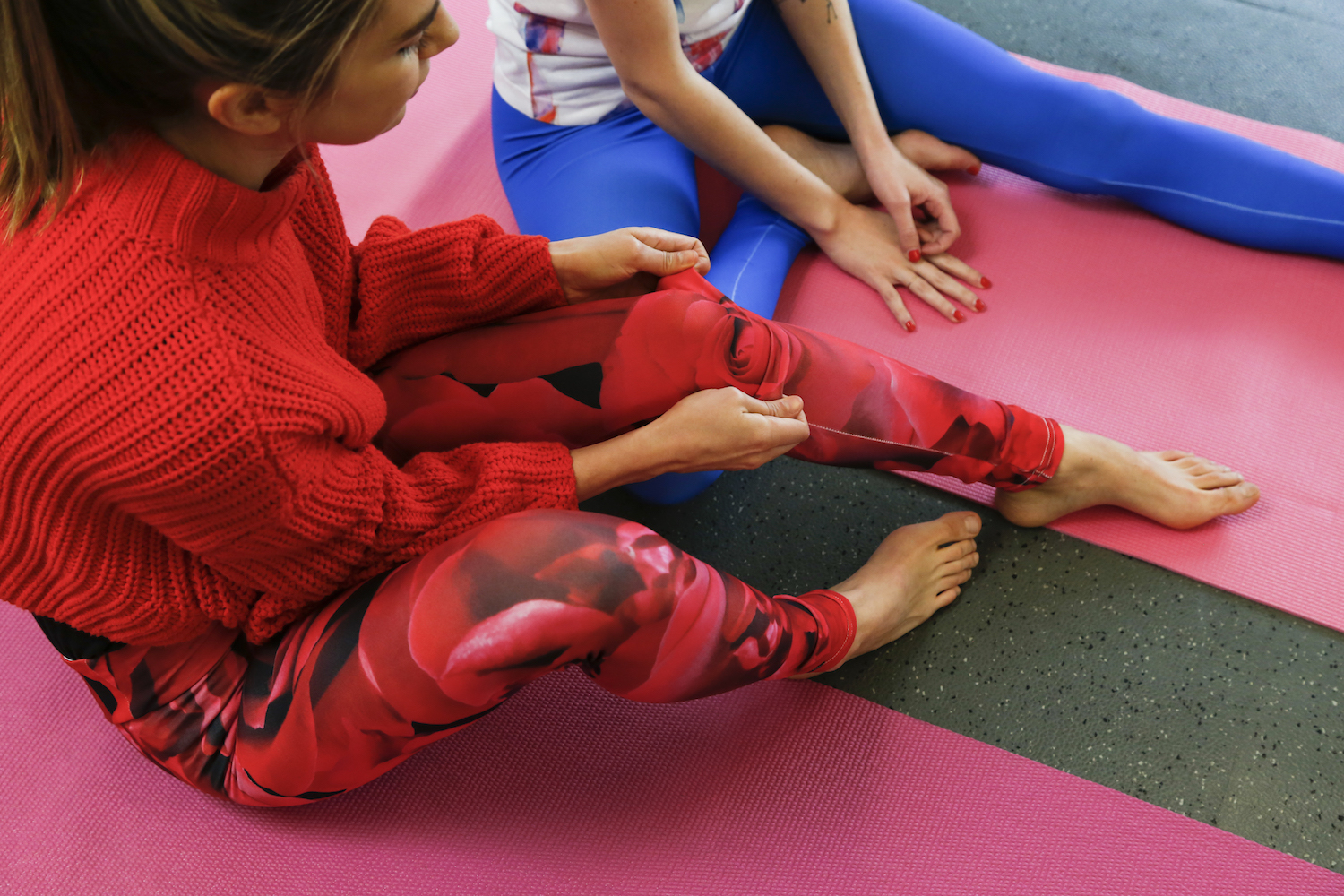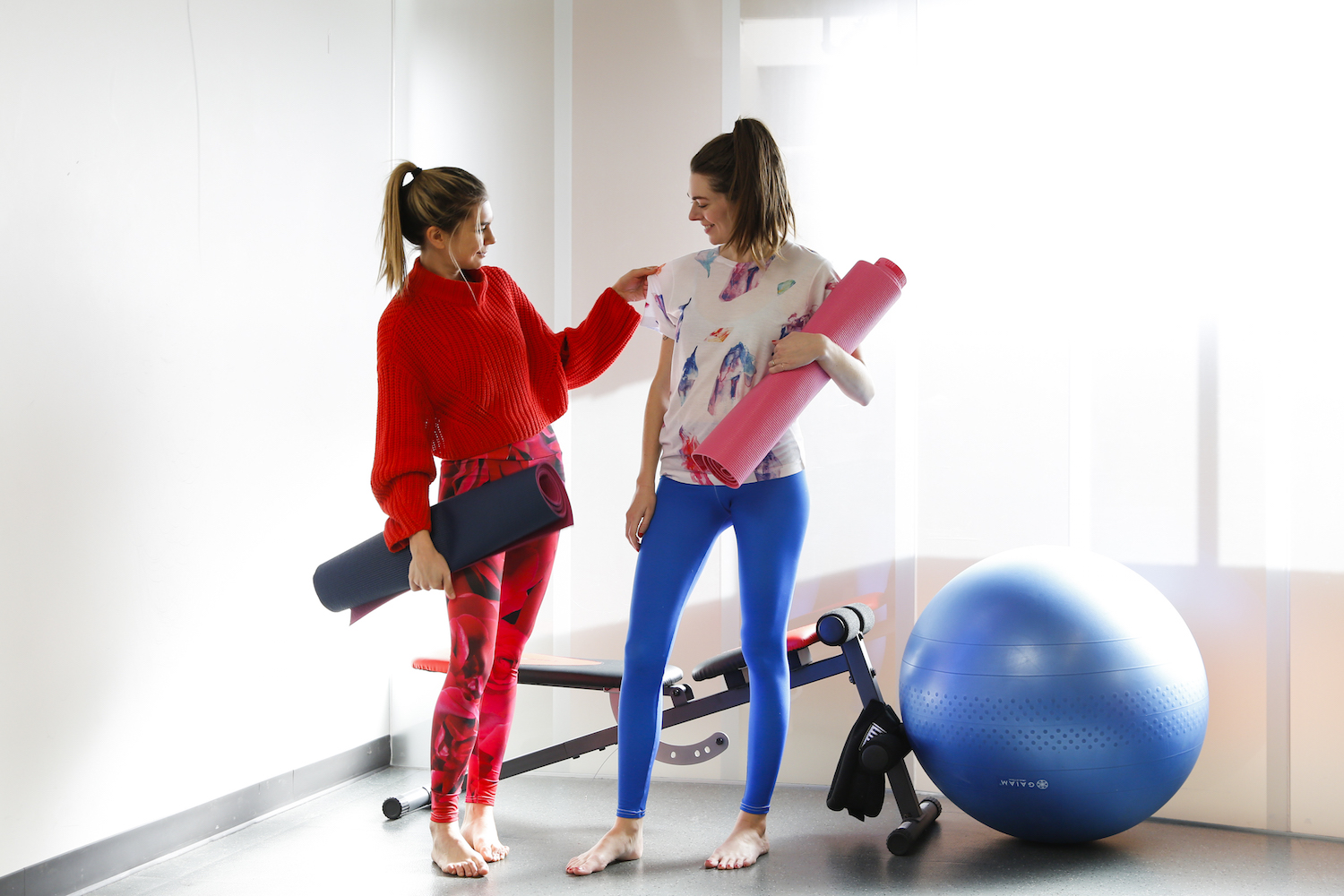 S:  The first thing I noticed was how comfortable these leggings are. The bold colors were kind of messing with my whole zen-vibe (which let's be real, never existed and never will), but they did give me a little energy boost. Thanks S6, I'm basically an Olympian now.
N: Okay so the exercise balls are way harder than they seem. I was exhausted after two minutes, but mostly because I was wearing the bright red and it was making my eyes hurt. Luckily I felt pretty comfortable since no one else was around, and because the leggings were very cozy and stretchy.
TUESDAY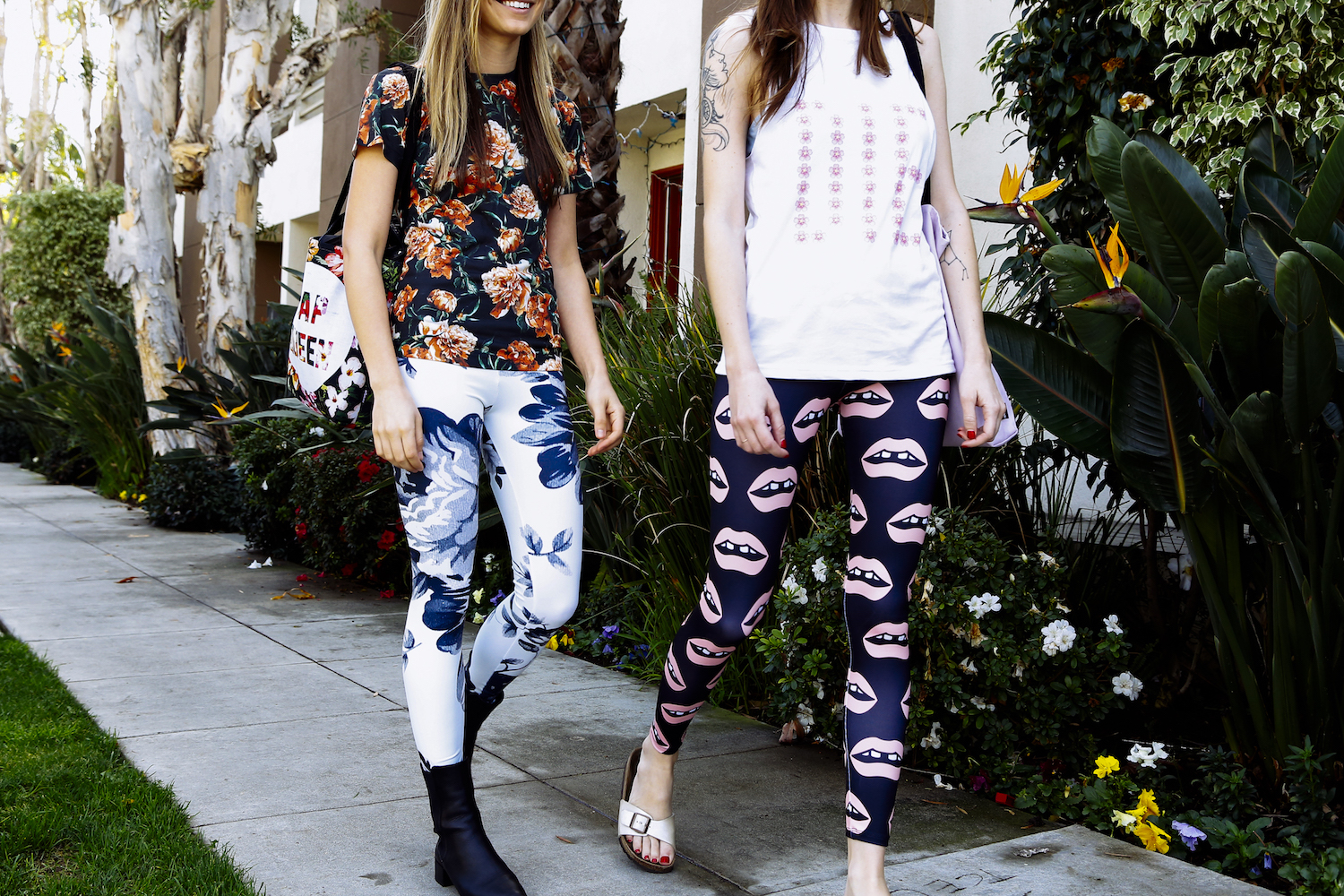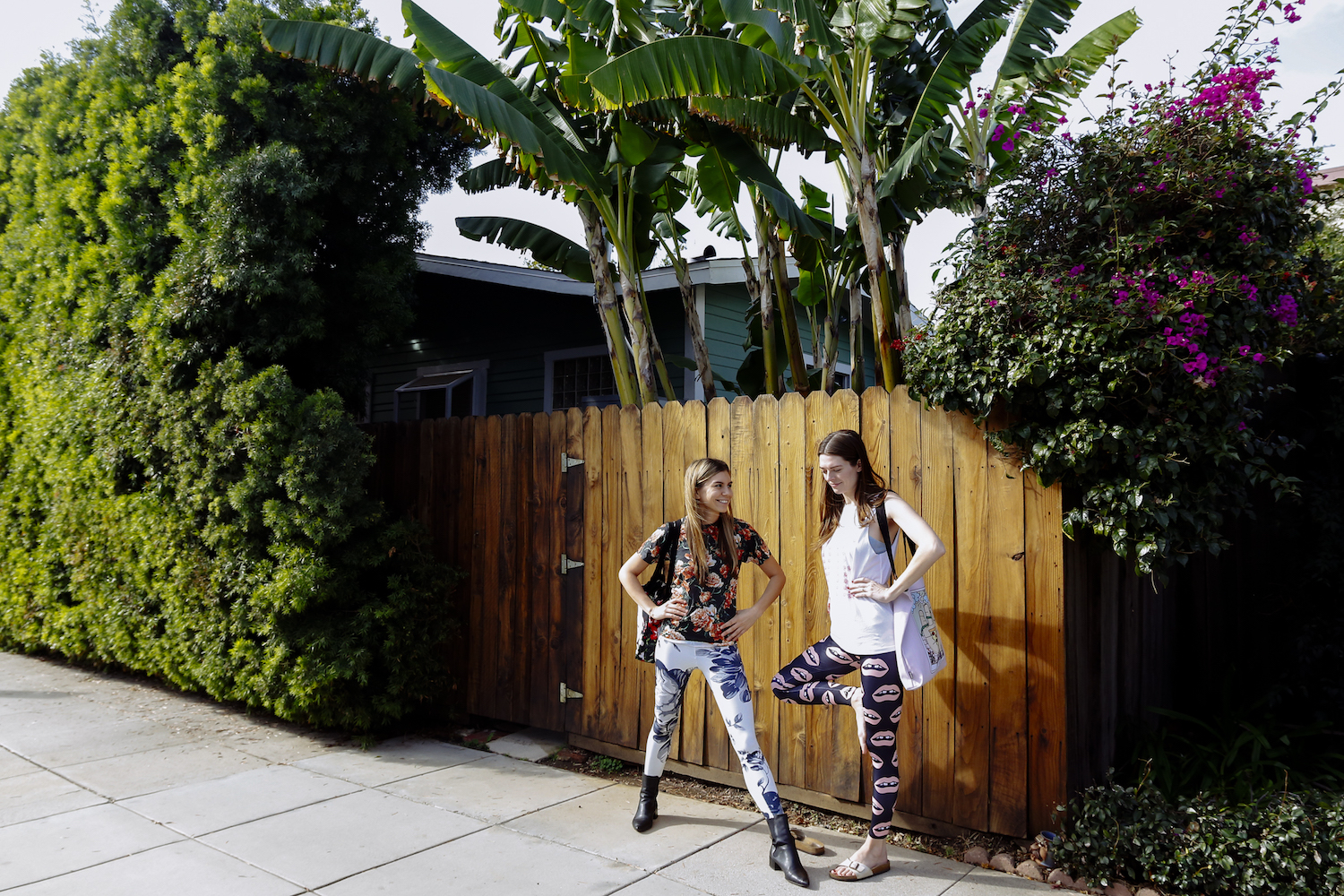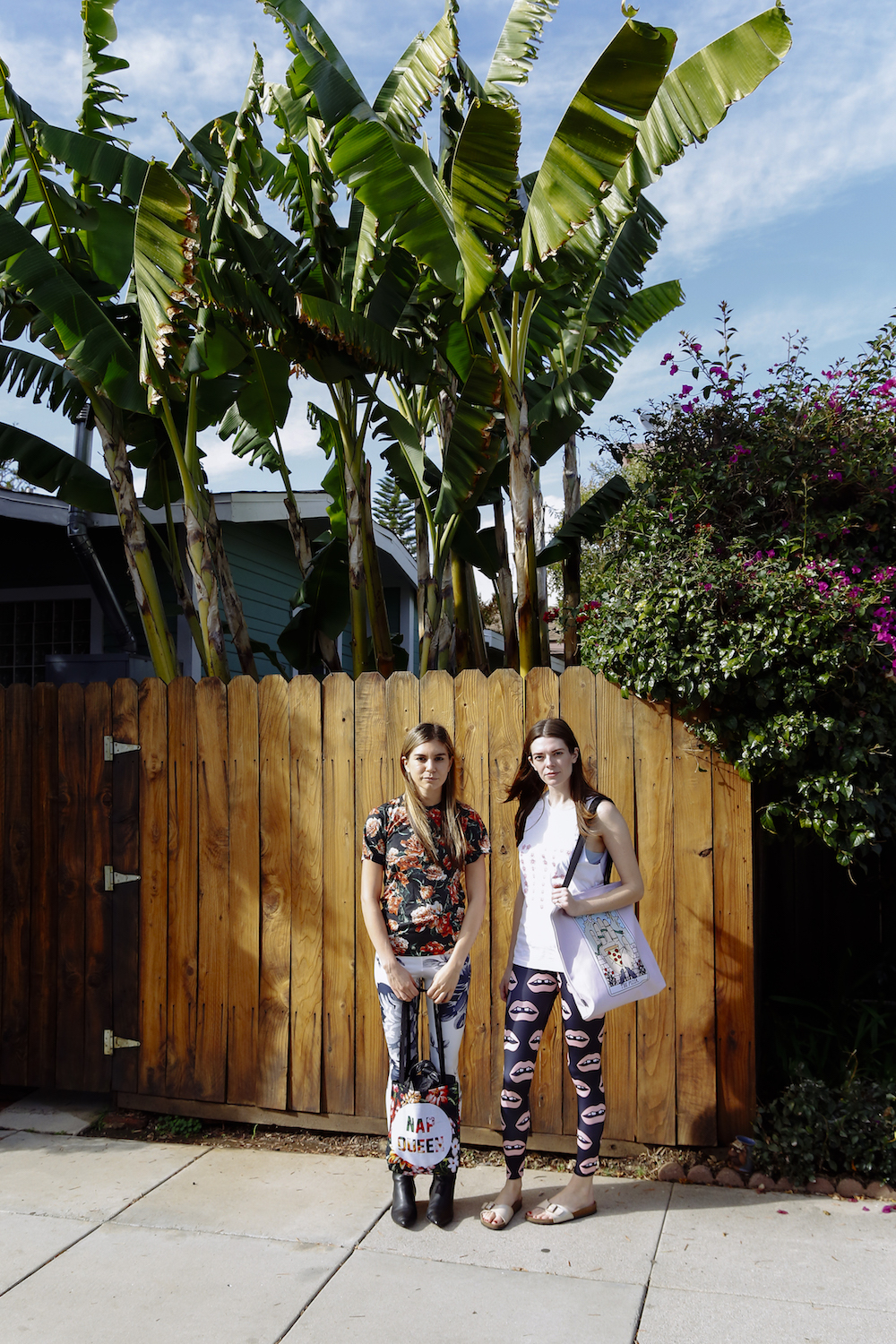 S: Today I felt like someone who actually understands how to use Snapchat. Even the dogs that walked by were confused by my existence. I will say that this outfit, while psychologically the equivalent of stepping on a phone charger in the dark, was actually quite physically comfortable. I love the prints separately (and am v jealous of the tasteful gap tooth on my leggings) but together it just felt too youthful to me.
N: Oh my god! I tried to do the print on print thing but I don't think it worked for me. I feel like I subconsciously tried to lean into bushes as a sort of camouflage move and it did not work. I would have probably felt better if I wore each piece separately. I could definitely see myself in the floral leggings with a chill sweater or a pair of black jeans with the tshirt. Too much of a good thing, perhaps!
WEDNESDAY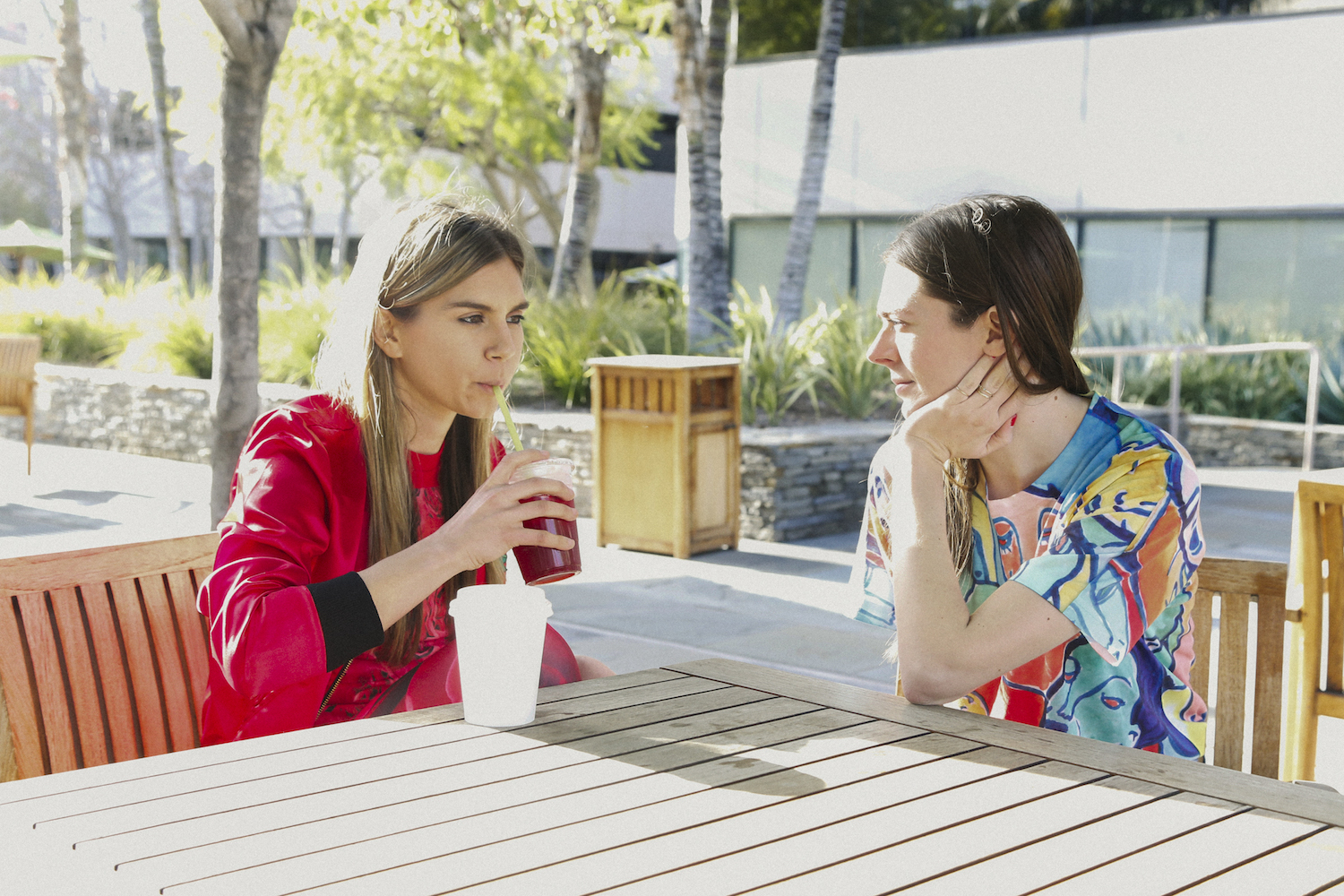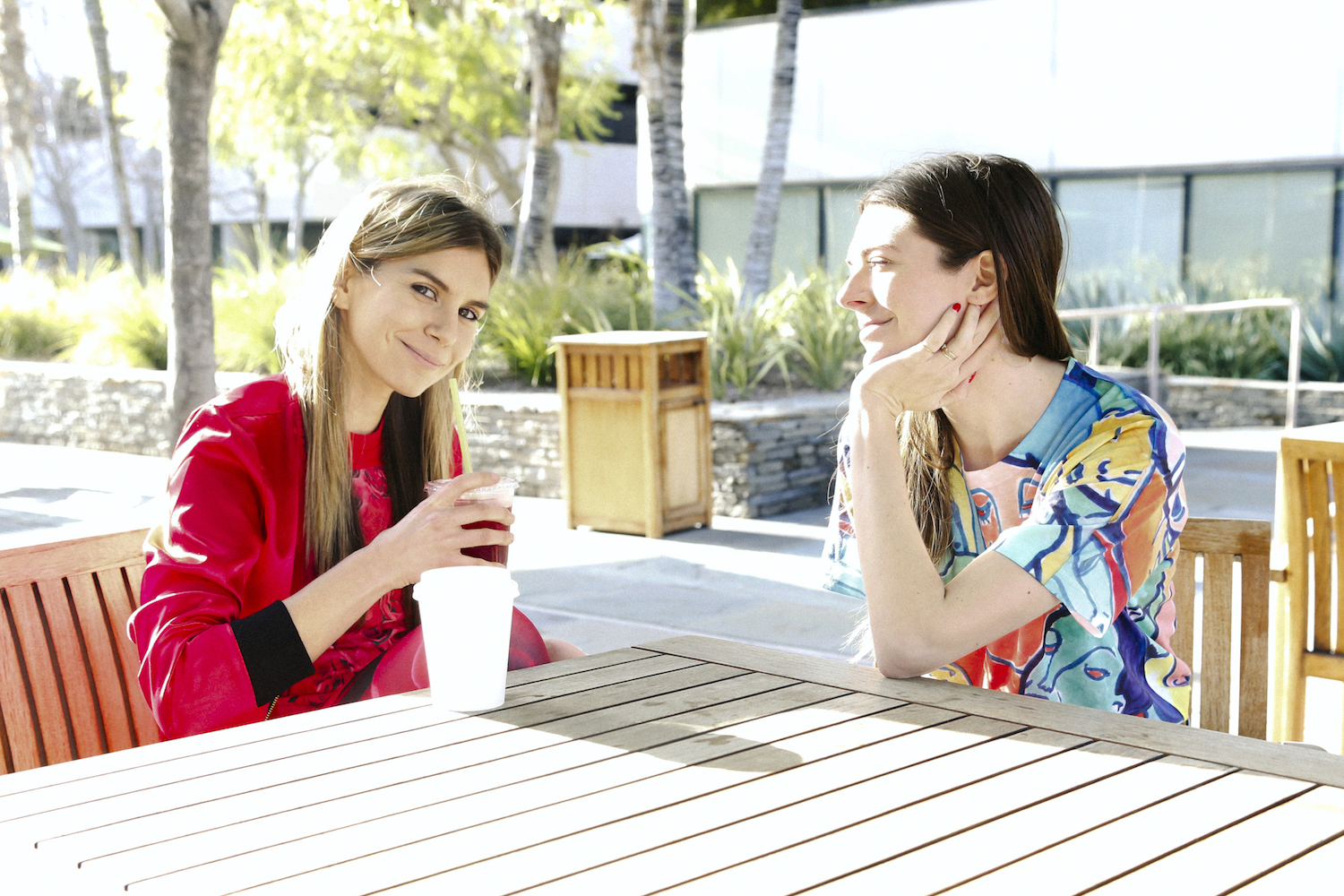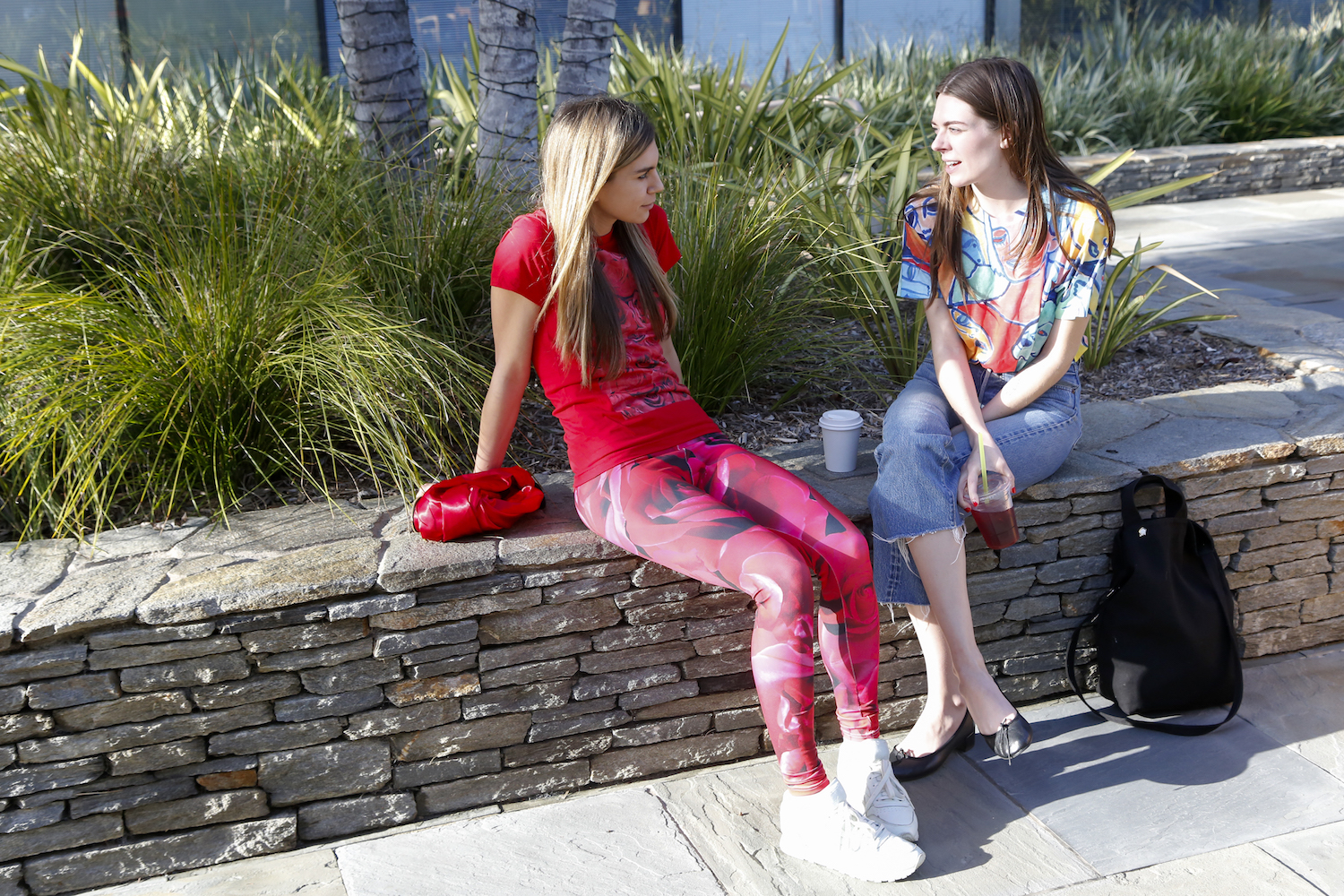 S: Today was my favorite look so far! Maybe it's because I love the artwork of Clara Lopez so much or because this shirt feels like crowd camouflage. Don't look at my face, look at this face! Or this face! Just please look at ANYTHING THAT ISN'T ME.
N: I have never been stared at so much in my LIFE! My entire outfit was rose themed and in the moments where I forgot what I was wearing I thought, why are these people looking at me? And then I remembered. I did get some compliments, however! The barista was vibing my look pretty hard and at that point I just decided I would fully embrace this new, rose-colored me.
THURSDAY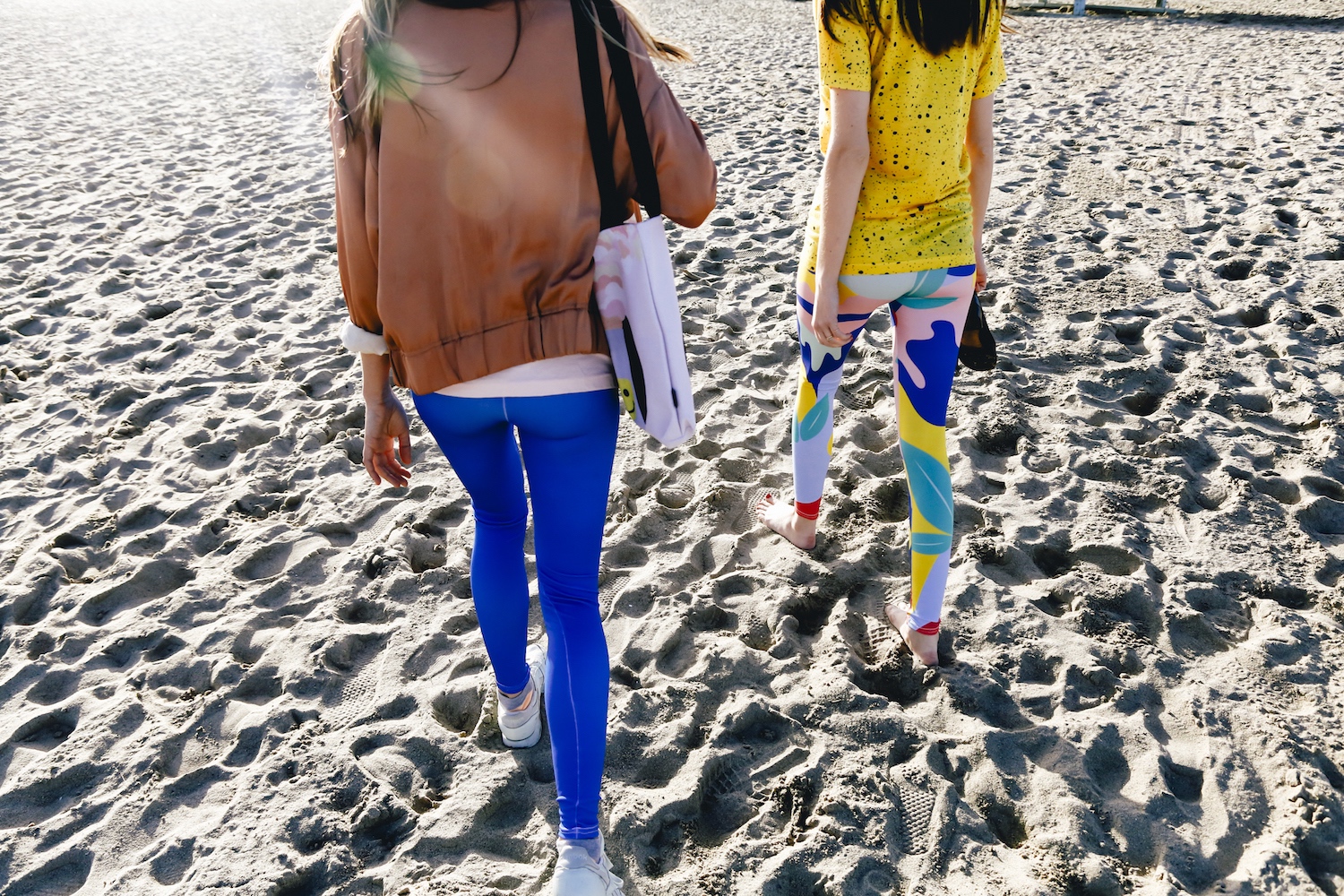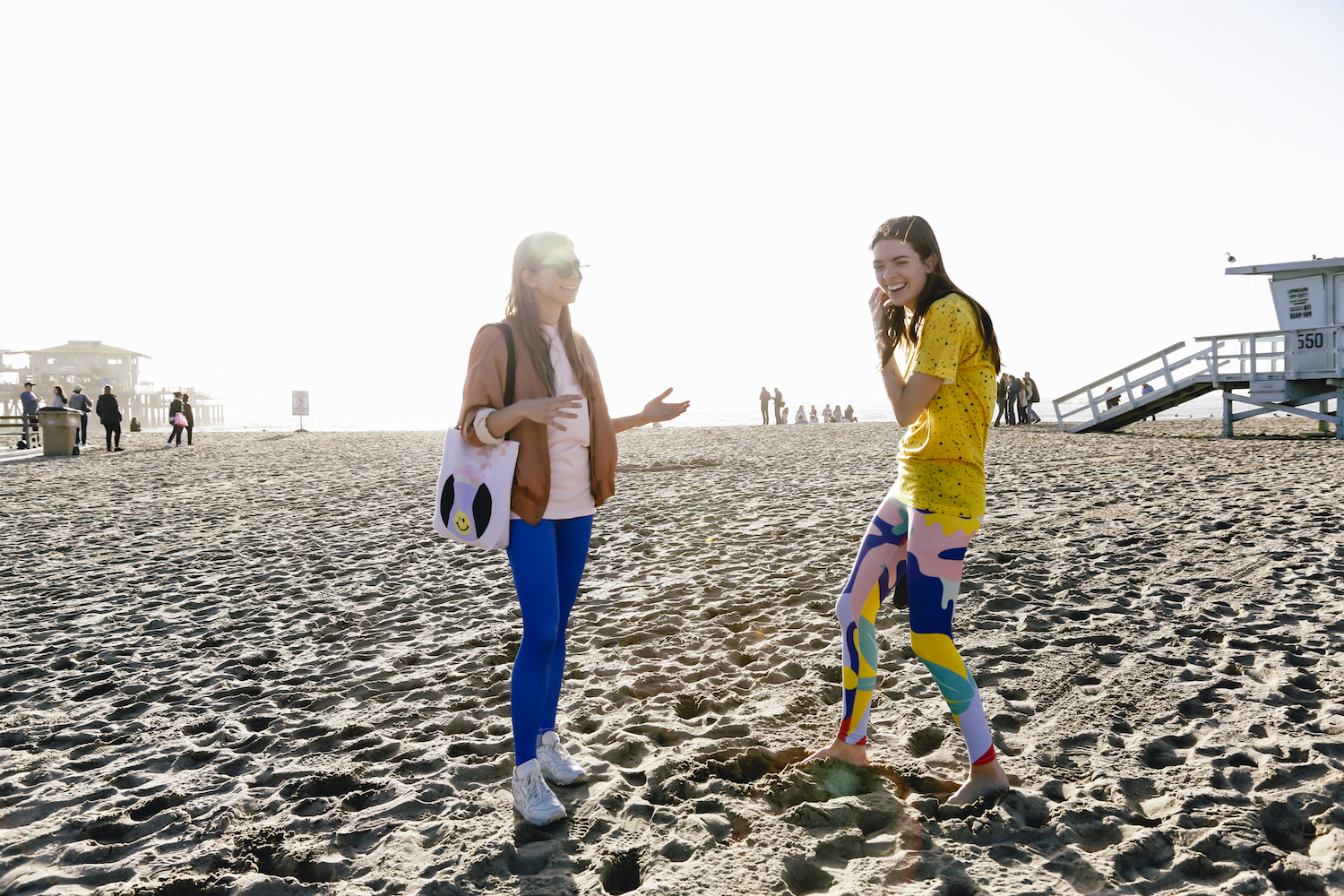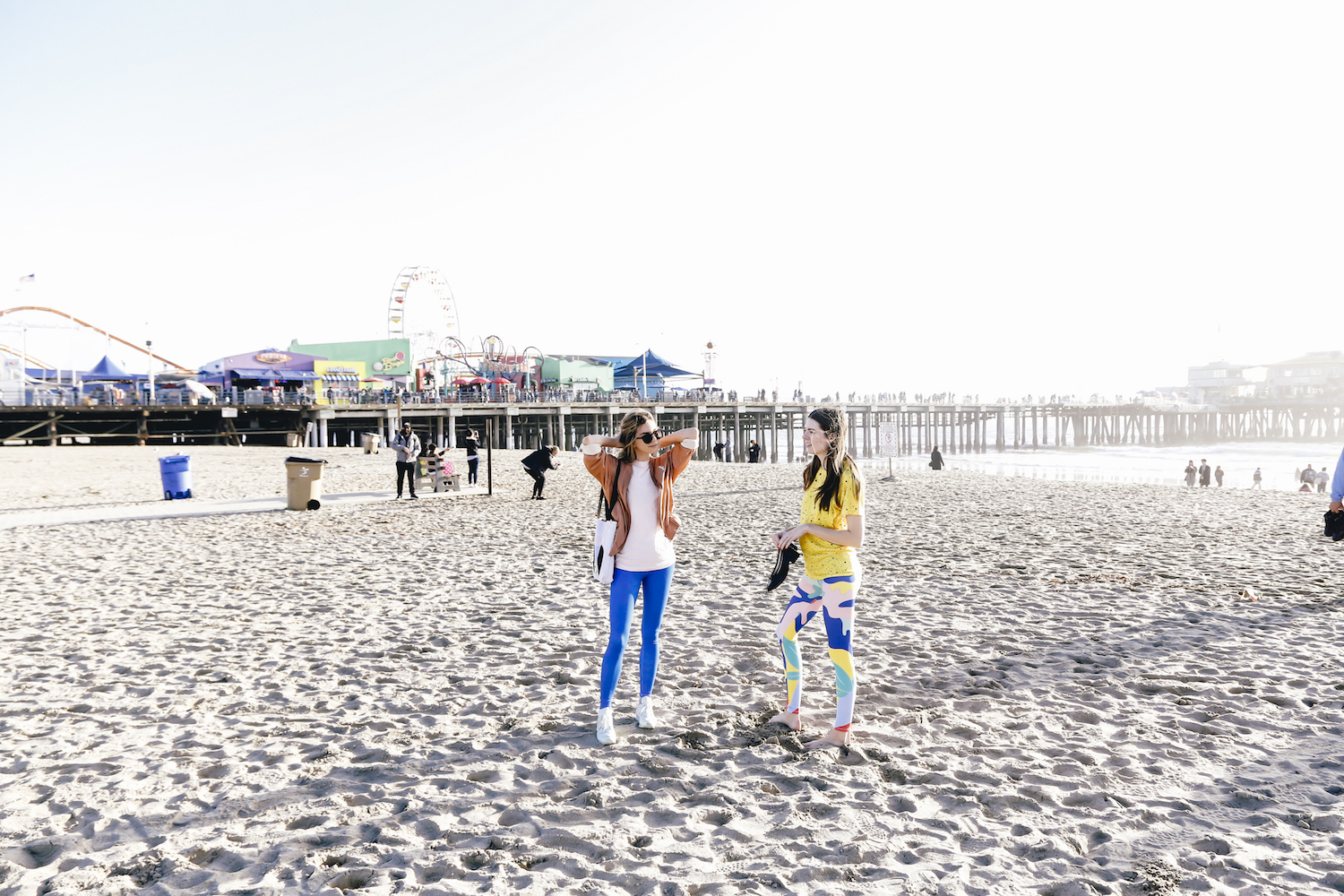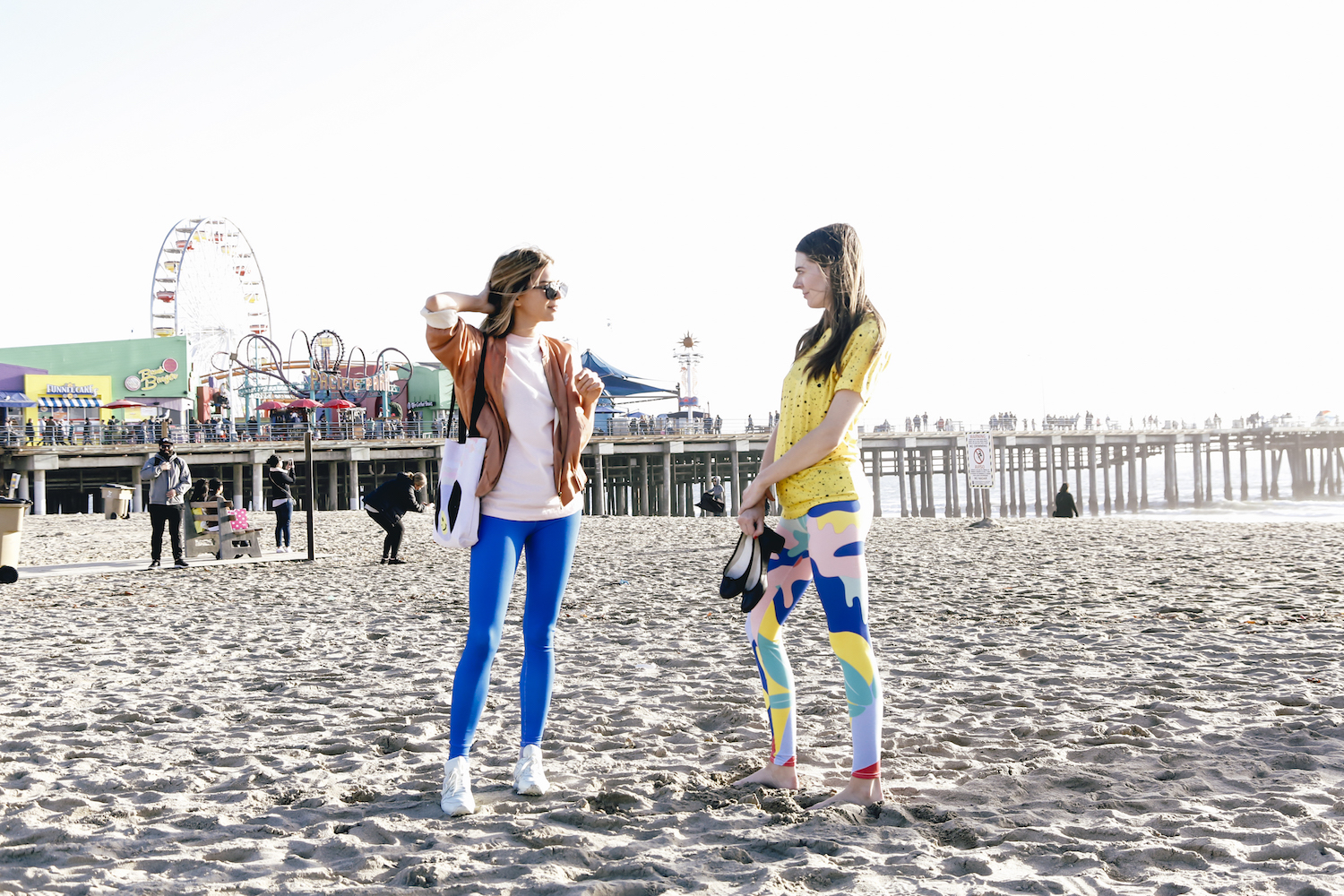 S: Because the Santa Monica pier is a bit of a ridiculous place, you'll see people wearing anything. WASP-y polos with embroidered crabs, European zip-off cargo capris, and whatever the eff I'm wearing. On one hand, I felt more free here, on the other, I realized that freedom came from people accepting me for the carny they thought I was. I'm beginning to think that this is all about the making the right combinations. I love these leggings and I should have paired them with a cute black crop so that I'd look straight out of this world, which I'm so into.
N: BEACH DAY! I decided to go for bright and pastel hues, and I think I pulled it off? I felt like I blended in well since the Santa Monica pier is tourist central, everyone is kind of wearing whatever they want. I never thought I'd say this but I maybe? Like? Pink? What's happening to meeee?
FRIDAY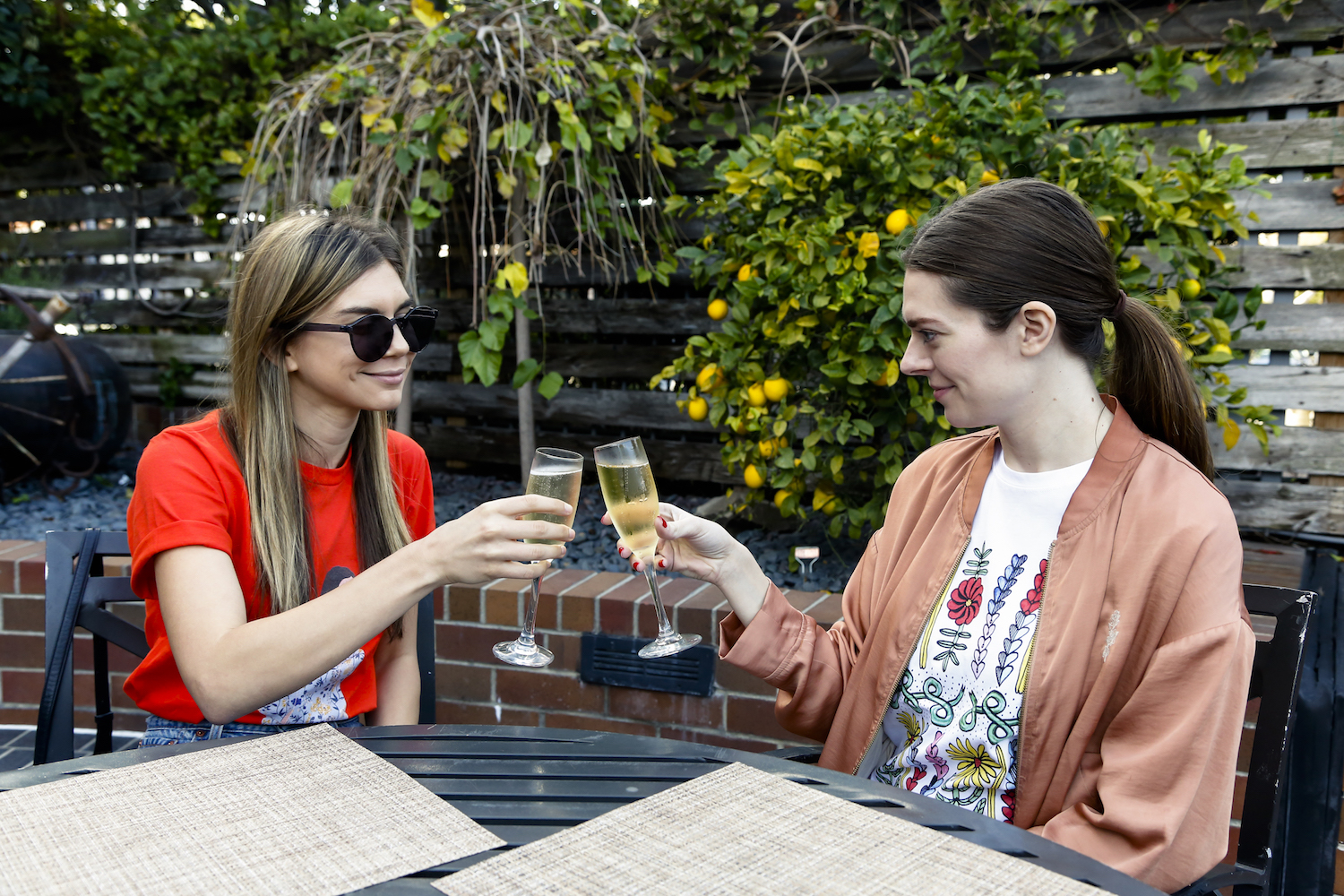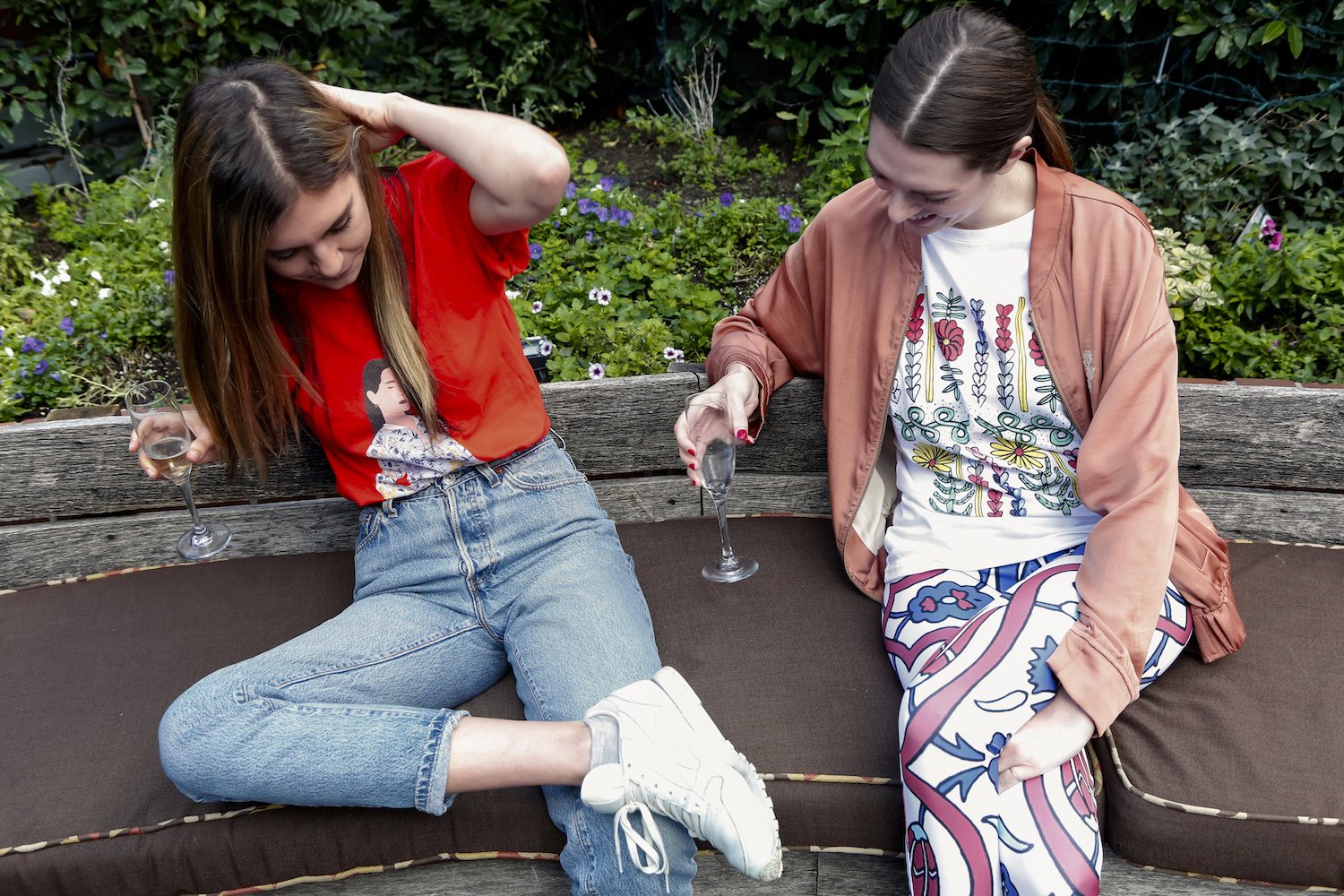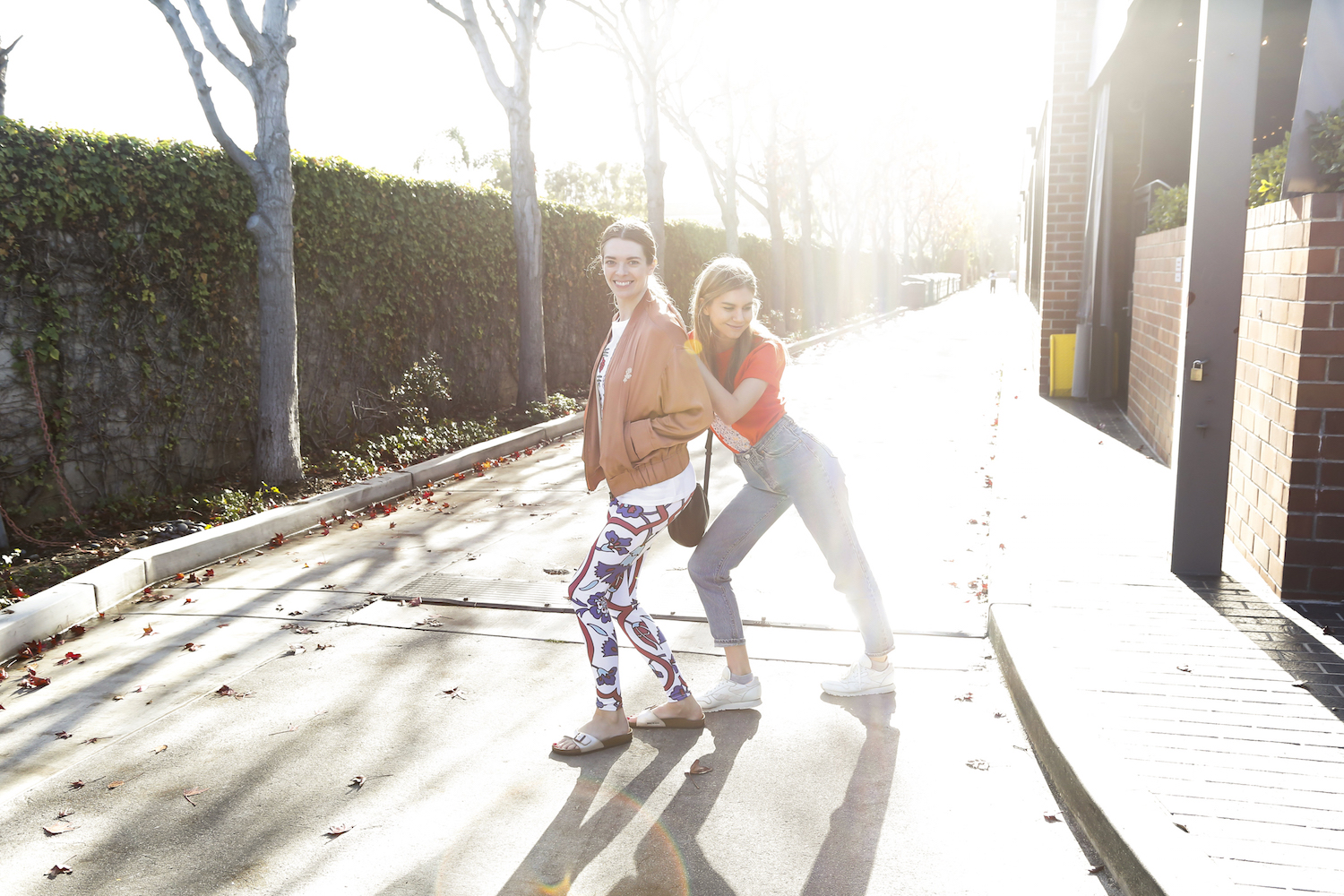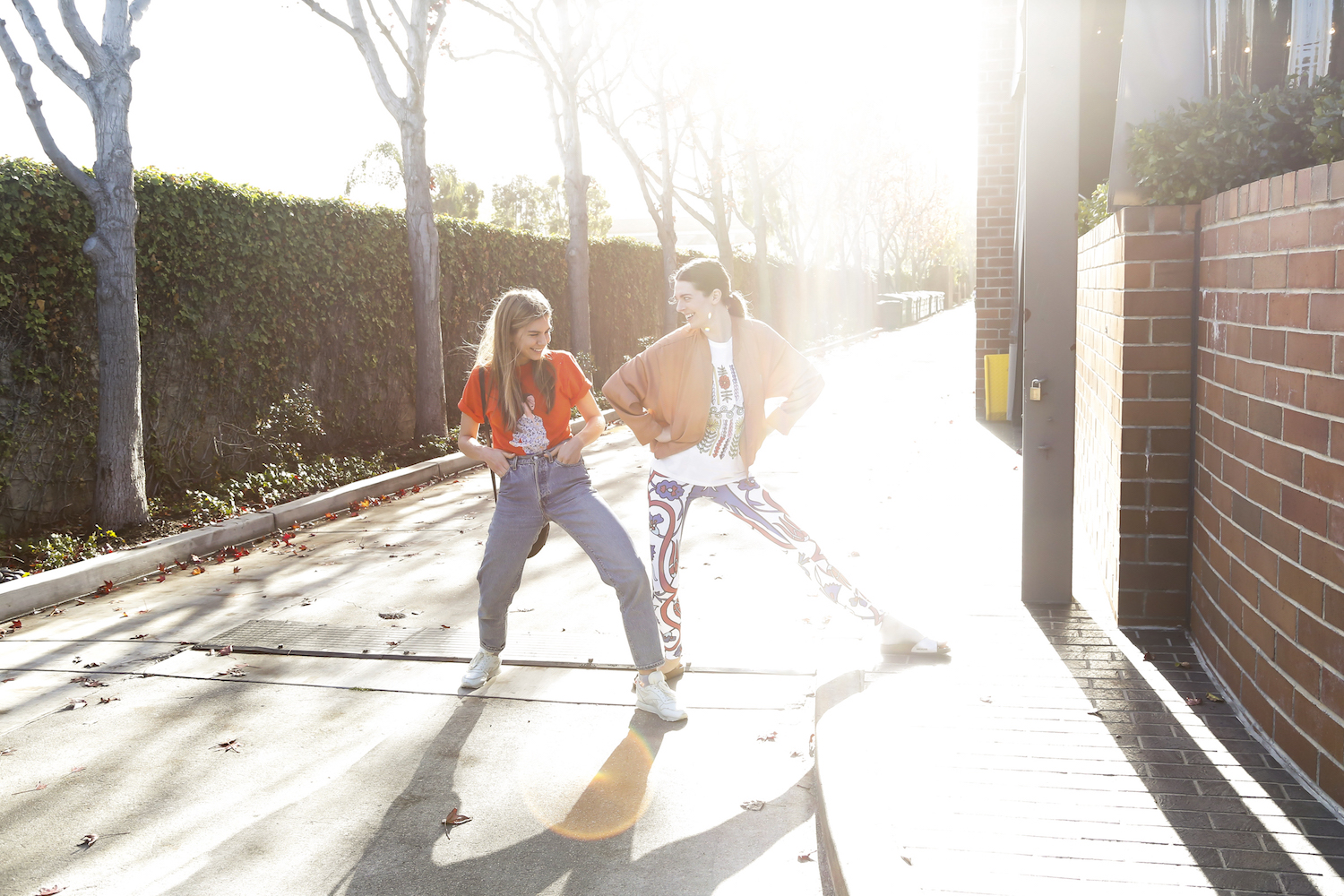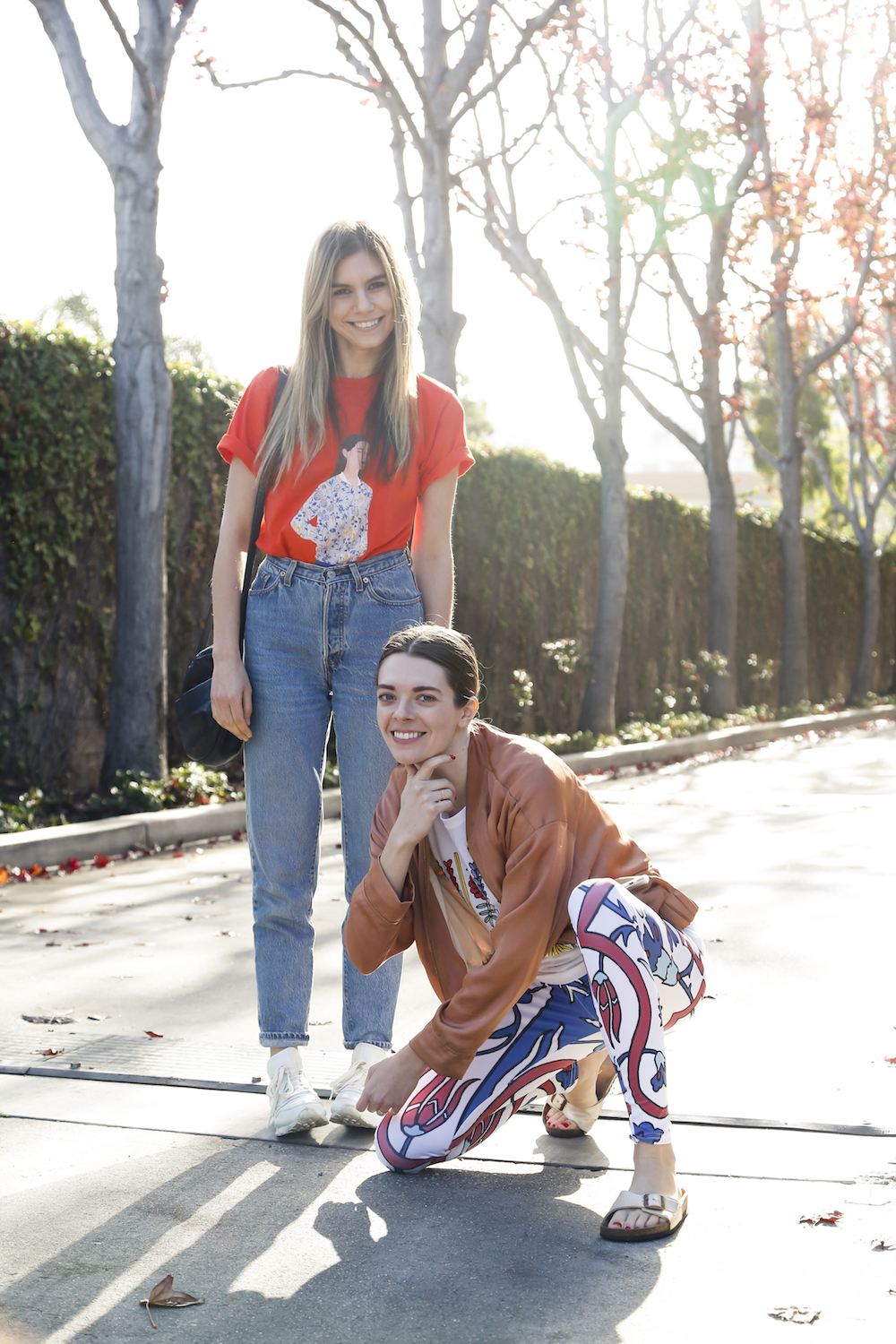 S: I thought by Friday, I'd feel comfortable with all of this boldness. Cool, you know? Like, maybe even considering looking up the price for tickets to Burning Man. Yeah, none of that happened. I just still couldn't stop thinking about how other people saw me vs how I want to be seen. Perhaps I care too much about the opinions of others, but we'll leave that thought for another week. For now? More champagne, please!
N: TGIF, y'all. Ok so prosecco will likely make anyone feel like they are a supermodel, right? This was probably my favorite look because it was the most low key. I paired a red tshirt with some vintage levis for just a pop of color. I probably should have done this from the beginning but when it comes to challenges, I like to go bold or go home (but if given the choice, would prefer to always go home).
S: So, all in all, wearing the actual opposite of my chosen wardrobe took a lot of mental energy. A lot of people roll their eyes at the idea that personal style has meaning, but I strongly believe how you choose present yourself says a lot about the person you are and the person you want to be. Wearing bold colors and patterns requires a Devil-May-Care attitude that I honestly just don't have. I don't want the devil to care! I want him and the strangers who stared at me all week to go far, far away so I can go back to dressing like a senior citizen who is classy AF. However, all these bright colors and patterns did bring out a bit of my vibrant inner-child, which reminded me I need to tap into her more.
N: Likewise, I felt v exhausted by all of the extra attention I was getting. Style is a personal expression and if you're loud and spirited on the inside, you'll probably gravitate towards bolder patterns and colors. But if you are little wallflowers such as Stephanie and myself, you'll probably go for a more neutral look that reflects your eternal need for chill. I did, however love adding little pops of color here and there, it definitely helped expand my tolerance for color and I would probably do it again. Overall, this exercise challenged my preconceived bias towards the multicolored world of style, and it really wasn't as bad as I thought it'd be!
Photos by Samantha West.
Waiting All Over Print
36
Speckled Yellow All Over Print
85
Folk Whitework Biker Tank
15