Bright colors, curvilinear shapes, dynamic portraiture—get ready to step into the universe of Illustrator Lo Harris and come out the other side filled with joy.
We spoke with the New York-based artist about the importance of trusting one's own artistic voice, buying Black art and fostering a supportive artist community.
I've had the pleasure of diving into the Lo Harris Universe in preparation for this interview—congratulations on all your success! You've collaborated with many clients: AOC, Little People, Big Dreams, VH1, and, most recently, Old Navy. How has all your work with these clients been for you?
Working on these collaborations has been a very affirming process. Recently, I've been very, very fortunate in that I've gotten to work with some fantastic clients who come to me for my voice—not to copy someone else's style… My best clients are the ones who have studied my work and are interested in the content and storytelling choices I've made.
My confidence as an artist has definitely gone up with all this. But I still think it's really important for artists to find their own voice and style. If you are interested in client work—because not all artists are—the right clients will come to you, but you have to be willing to say no to things and set boundaries for what you will and will not do. There's nothing worse to me than taking on a project I'm not completely invested in and then feel like it's dragging on forever just because my heart wasn't in it.
We collaborated with you on an exclusive design called "Gratitude" in celebration of Black History Month. It was inspired by discovering, collecting and cherishing Black art, which aligns with Society6's mission to fuel creativity around the world. Can you speak more on the importance of collecting and cherishing Black art?
First of all, support today's artists. I think it's lovely to look back at the big names within fine art and Black artists. I remember thinking about Gee's Bend quilts—it's this spot in Alabama where the community is very well known for making these beautifully ornate quilts. Recently, a big art institution has decided these quilts hold tremendous value because they go back to slavery. They're now considered multi-million-dollar quilts. (And honestly, these artists should be compensated.)
It kind of reminds me of this Alice Walker short story I love called "Everyday Use," which takes place in the 70s. It's about a mother and two daughters. One of the daughters is back home with the mother in the countryside. The other daughter went to the city, got an education and developed all of these ideas of putting Black art on a pedestal and made available to the elite. So she comes home, and her mom has this quilt. The daughter's like, "Mom, this quilt needs to be in a museum." And the mom's like, "It's for your sister, so she can stay warm." The whole story is this push and pull between the relationship that folks at that time had to their slave ancestry.
That story is interesting to me because on one hand, there is this importance to really cherishing and collecting and valuing Black art, valuing these quilts. But I also think it's important to appreciate where the art originally came from.
I love creating work that people can access. I think people put so much of an impetus on the more inaccessible form of art that they kind of neglect the everyday artists. Everyone's idolizing Basquiat, but then they're ignoring Darius from down the street who has amazing work. If you want to collect a Basquiat, you have to collect a Darius too. It's important to take note of the everyday artist… It'd be such a shame if an artist felt under appreciated and not seen and then as soon as they die, everybody suddenly cares…
So I just love how accessible Society6 makes sharing art. When I started drawing and creating prints, I did not have the capital, access or space to even think about printing and shipping my work.
Who are the Black artists that have influenced you? What specific pieces of theirs inspired you?
I've been influenced a lot by artists outside of visual art. I love Black writers: Toni Morrison, Audre Lorde, Bell Hooks. I feel like so much of my work is about wellness and self-reflection, and I feel like so much of my content draws on the empowerment from Black writers.
In terms of my visual aesthetic, I can't say that I explicitly look at a certain person's art and say, "Yeah, I'm going to do it like that." I think in the future, when I have the knowledge, time and capital, I'd love to explore what it would look like to translate some of my work into quilts because I think quilts are such an African-American thing… Black people love quilts. It's a very southern tradition as well, and I think a lot of aspects of my work lend themselves to quilts and quilting—it's similar to how I fill in shapes.
I do have a mentor named Christopher Myers who's been working with me on my second children's book. He's been such a guiding light. He has taught me a lot about the esteem of my work and how I can advocate for my work… He is the head of the Make Me a World Imprint at Random House. He really went out of his way to try and gather me up, show me the world and open my eyes a bit more to my potential. So much of my creative life was tied to producing someone else's ideas. He's helped me trust my own gut.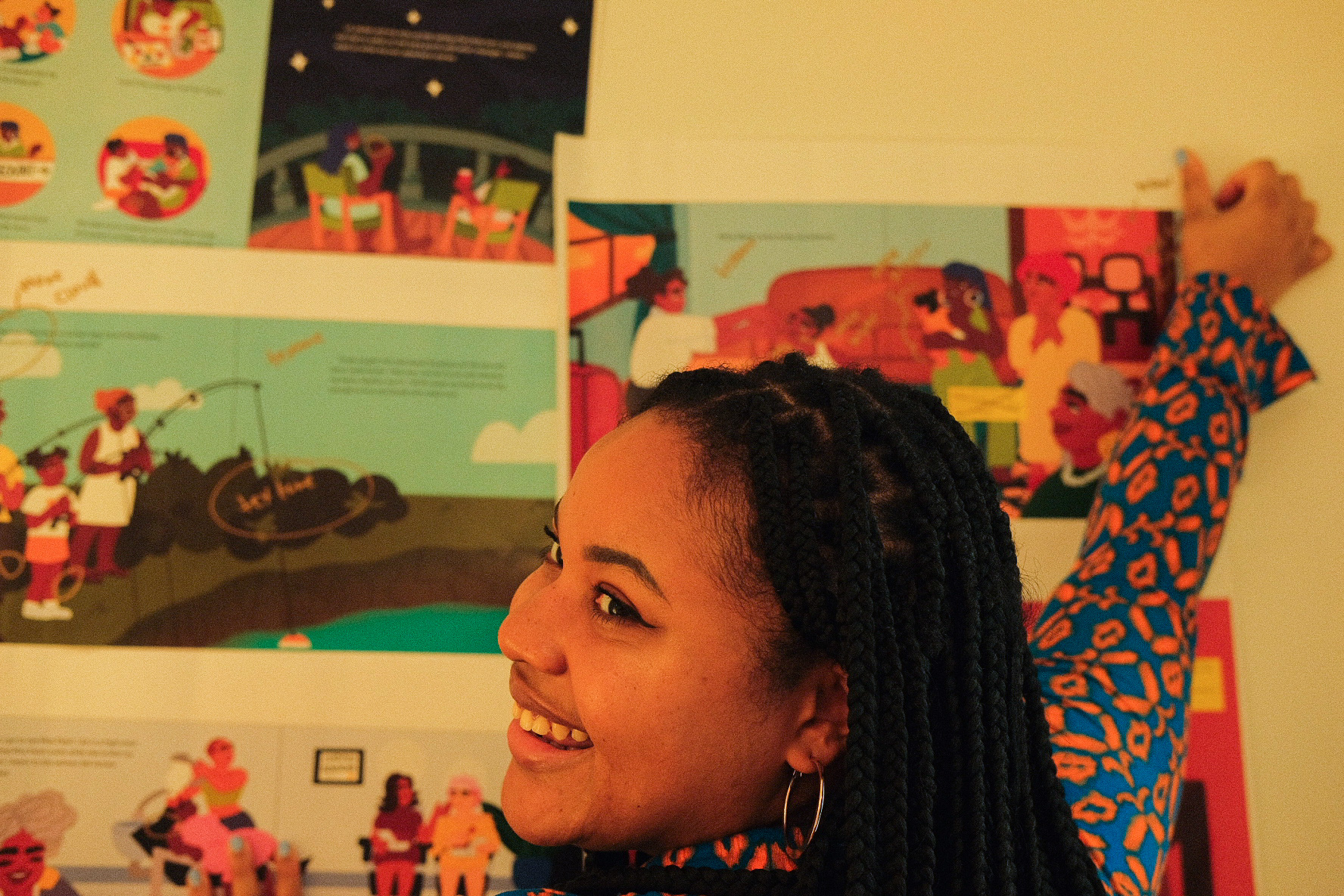 What are your favorite ways to support Black artists?
Buy from artists' shops. When one of my artist friends released her bags, I was one of the first people to buy that bag just to show her I believe in her work.
Supporting them monetarily is important, but also is networking. It depends on what the artists' goals are, but if they're trying to meet clients, I try to refer artists when I can—especially if that person has special skills. We're all part of the same ecosystem.
Who are your favorite Black artists currently? Any rising artists we should check out?
I have to shout out Shanée Benjamin. She is my contemporary. She does a lot of colorful work, and I see her expanding in different ways, like in fashion. She's not just drawing—she made these wonderful leather bags in a collection with Madewell. She's making me feel braver to venture out myself one day.
There's another artist friend, Queenbe Monyei… We voice messages and talk about the industry, finding your style and advocating for artists. She is thinking about creating her own publishing thing for Black and Brown artists, actually, and just being an advocate for Black artists so they can avoid shady agencies.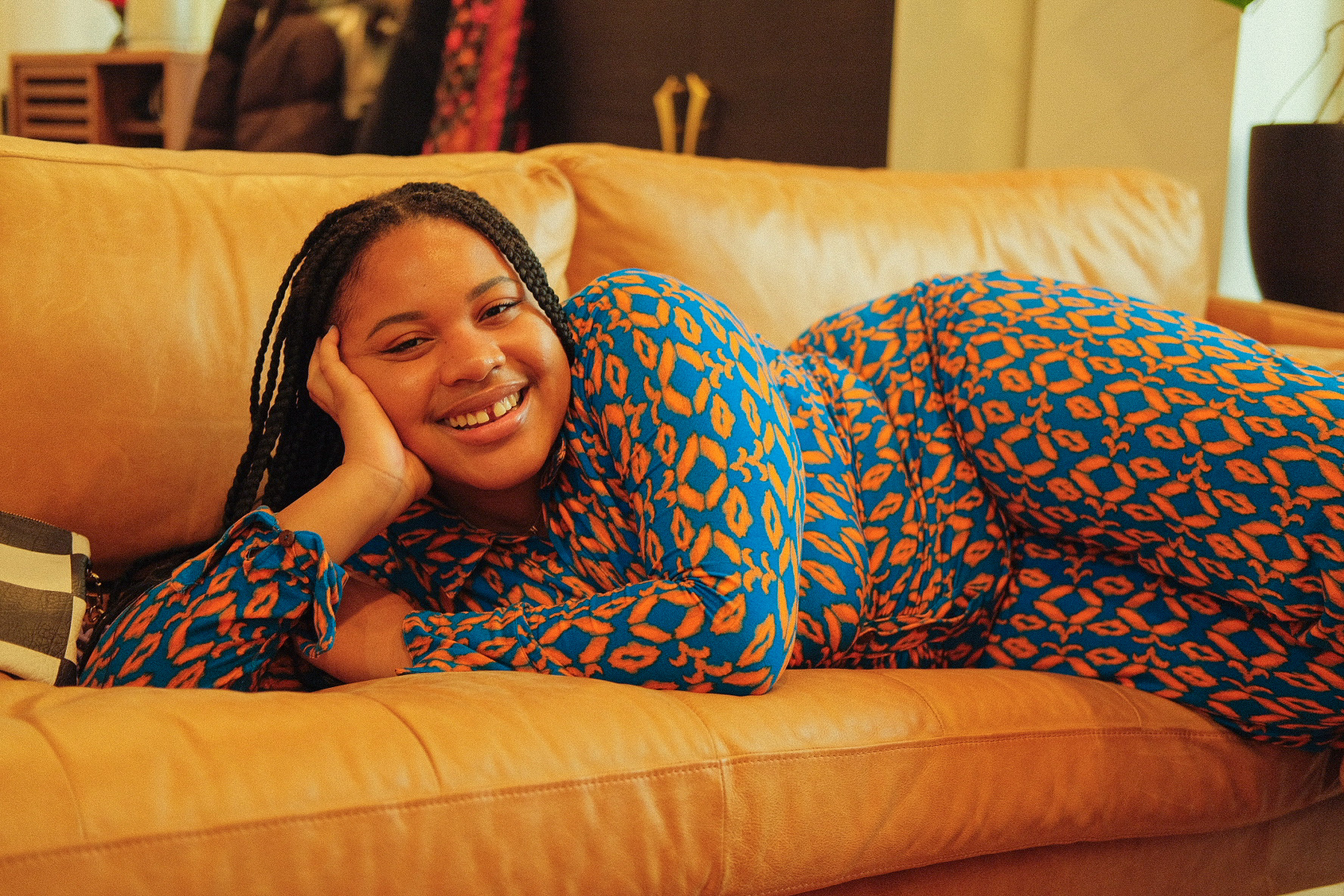 Lastly, what's next for the "Lo Harris Universe"? How do you see it evolving in 2022 and beyond?
I have a couple of other campaigns coming up, including a makeup campaign that I'm very excited about. I'd say, I want more collaborations—more Lo Harris and blank. I want to get out there, I want to talk, I want to share my work. I want to go to photoshoots. I want to be present. I want to show my personality because I think that it adds an element to the work that is invaluable.
I'm also interested in developing more of my vision boarding class with Nas Academy. We have a waiting list up, and we're still developing the class. So I'd like to continue to have these intimate class sessions where I work with creatives, and we talk about what they want out of their work and their goals.
In general I want to keep pushing the boundaries of what my work can do and where it can go: I've yet to do a mural, what if I could get my art on an airplane—wild things like that! I want to continue to challenge myself to translate my work in different mediums, physical locations and physical expressions. And to continue being authentic with myself and with my art. In the past, I was made to feel that I don't have the look to be on camera or that my place is behind the scenes. But that era is over. A lot of us, specifically Black women, have been told to keep our heads down, so I'm doing this for them. We don't have to keep our heads down. If you want to go out there, if you want to be yourself, you can be paid to be yourself.
Photography by Kate Ladera
We're continuing our celebration of Black History Month with an in-depth look at "Gratitude," an exclusive design in collaboration with Lo Harris. Follow along here.
Shop Lo's work below and check out their Society6 shop for more.