Value for money is perhaps the primary motive behind most household purchases as a young adult, and when life is coming at you from all angles, you need products you can rely on.
For those living with others, common items can wear out quickly, and replacing them can be an expensive and tedious task. Shower curtains, in particular, are always one of the first shared resources to tap out, but you can sustain their shelf-life and your physical — and financial — wellbeing.
Keep it Clean
Naturally, the first solution is to keep them clean. Because bathrooms are generally warm and moist (sorry), they're always the first place in the home that collects mold — which we all know can very quickly turn toxic, causing health problems galore. This means neglection is not an option. You can get a handle on mildew before it attacks by ensuring your curtain is always stretched closed rather than bunched post-shower (on the upside, this habit will also provide you and your guests a full scope of the glorious creeping vine design you selected upon move-in). Soaking your curtain in salty water or rinsing with white vinegar on a regular cycle also keeps mold at bay, and you can even take to your curtain with scissors and slice off the hem so water doesn't pool at the bottom.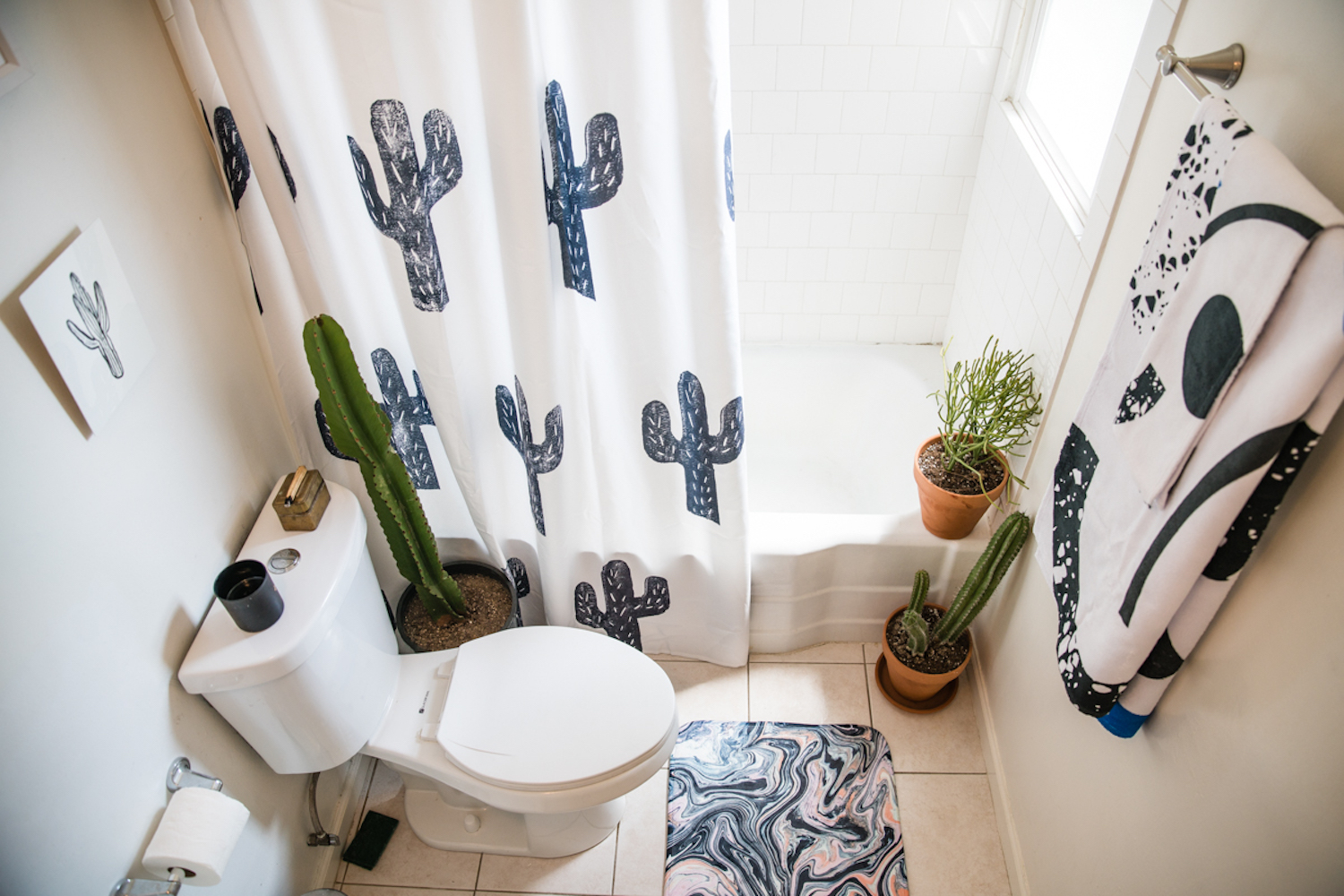 Wash It Well
If you don't have the time or energy to regularly wash it, every time it's your turn to clean the bathroom, take to your curtain with detergent and hot water (or simply rub lemon juice on stains) and leave it to dry in the sun. Nonetheless, this solution alone won't allow the curtain to reach its full potential, and is only really effective to stop mildew in its tracks before it starts. But if the worst has already happened and mildew has arrived with a vengeance, wash your curtain with two large bath towels and one cup of hydrogen peroxide each month. The towels will act as an exfoliator to scrub the curtain clean, and peroxide should make sure it stays bright and sparkly.
Use Protection
For those who don't understand why their curtain is perpetually soaked, the answer is a simple one: liners. Keep your curtain on the right track for longer with a plastic liner, which will serve as a much-needed barrier between water, soap and the polyester fabric. For those who enjoy a colorful curtain complete with vibrant prints and patterns, opt for a curtain that has a white underside to prepare for mildew striking. This will prevent you from ruining the reverse design with any spot stain removal.
Create (and Stick) to a Cleaning Routine
Finally, don't be fooled by some of the fancier options that are marketed as mold repellent — no curtain or liner is completely resistant when it hasn't been taken proper care of. So, instead of  pouring money down the drain on expensive styles that will only disappoint, give your shower curtain a little TLC. We guarantee that you can prevent the annual curtain turnover, and your original selection will stay in great shape until your lease ends and beyond.
Stamped Cactus Shower Curtain
Yellow Modernist Shower Curtain
by Madeline Louise
$69.99
PALMA DARK Shower Curtain
by holli zollinger
$69.99
body lines Shower Curtain
by franciscomffonseca
$69.99
White Grid Shower Curtain
Hiding Shower Curtain
by Sarah Eisenlohr
$69.99