Considering that sleep accounts for a third of our lifetimes—and that's not even counting the time we spend awake in bed—it's completely reasonable to consider (and reconsider) every home decor choice in your bedroom. 
Learning how to decorate a bedroom doesn't take an interior designer's eye or binge marathons of HGTV—just try out these tips to find a bedroom design that suits you, your sleep, and your tastes.
#1 Select a Subdued Color Palette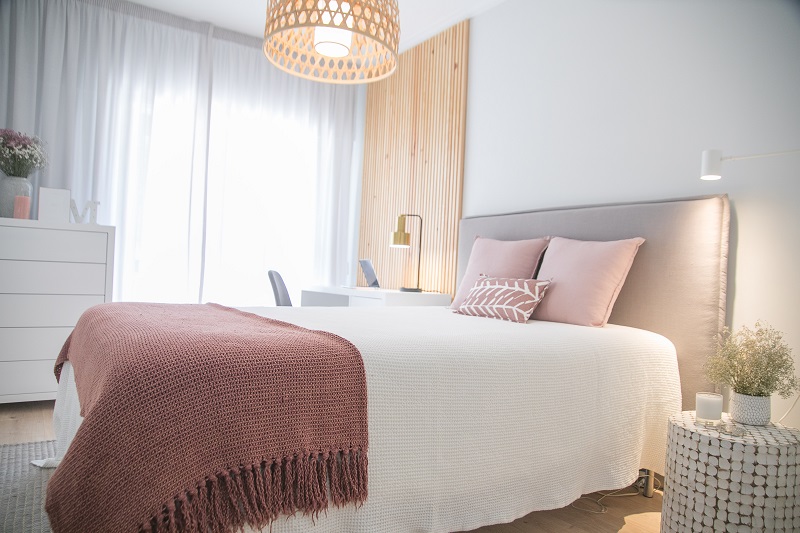 The color choices in your room represent the foundation of design. The wall paint, bed sheets, and furniture color palette make up the most fundamental elements to shaping your bedroom's aesthetic and atmosphere. 
Because this is a space for winding down and getting some shut-eye, try opting for more muted colors when decorating a bedroom. Lower saturation allows the eyes to rest, as opposed to a vibrancy that pops and heightens the senses.1 
#2 Keep Cohesion in Your Color Scheme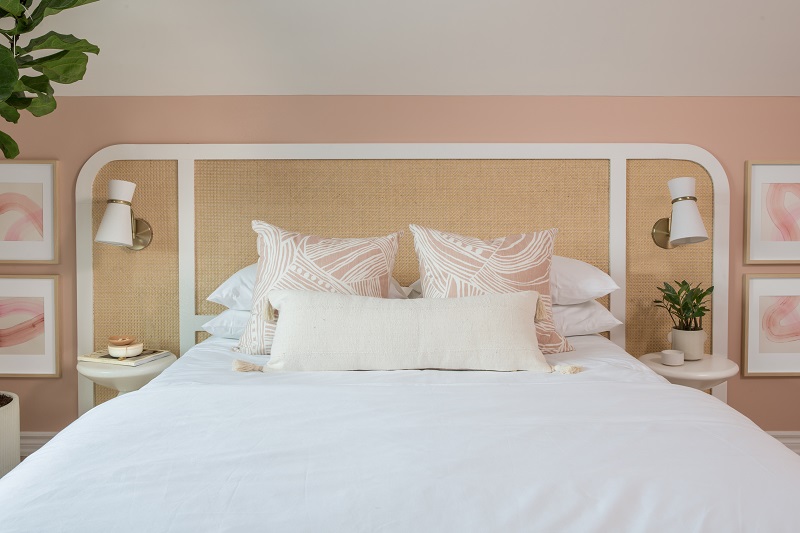 While a muted color palette helps, that doesn't mean you can choose any muted color and be done.
When choosing your colors, consider developing a color scheme that remains consistent throughout the whole bedroom. Pick blue shelving to match navy curtains, warm white lights against warm white walls, or clean greens that successfully mesh together even the most disparate decor items. 
The cohesion of a consistent color scheme imparts a sense of comfort and soothes the eye—not to mention creating a knockout room design.
#3 Utilize Stylish Storage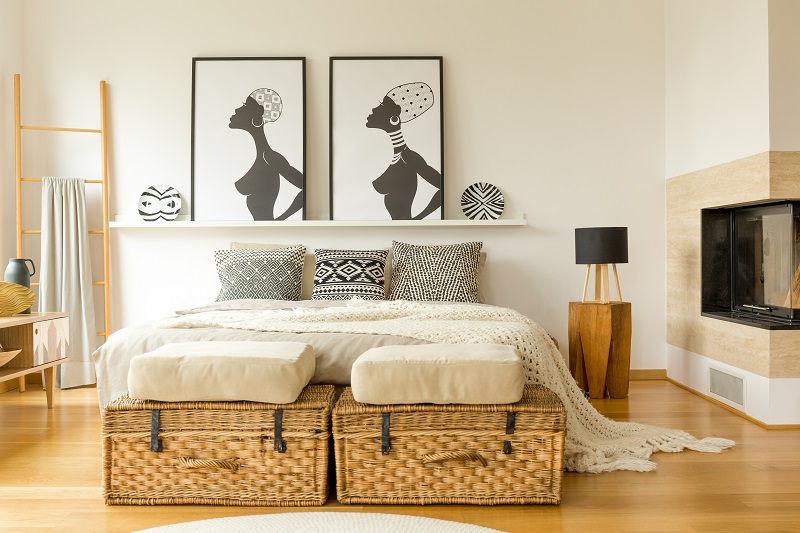 While we're all guilty of tossing clothes atop the bed or across a chair, organization is a true pillar of functional, fashionable bedroom decorating. Not only does it hide clutter but it can also make a valuable design statement. Any of the following are great ways to give order and style to your belongings:
Storage ottoman 

Vintage trunk

Decorative hamper

Colorful storage cubes
#4 Wallpaper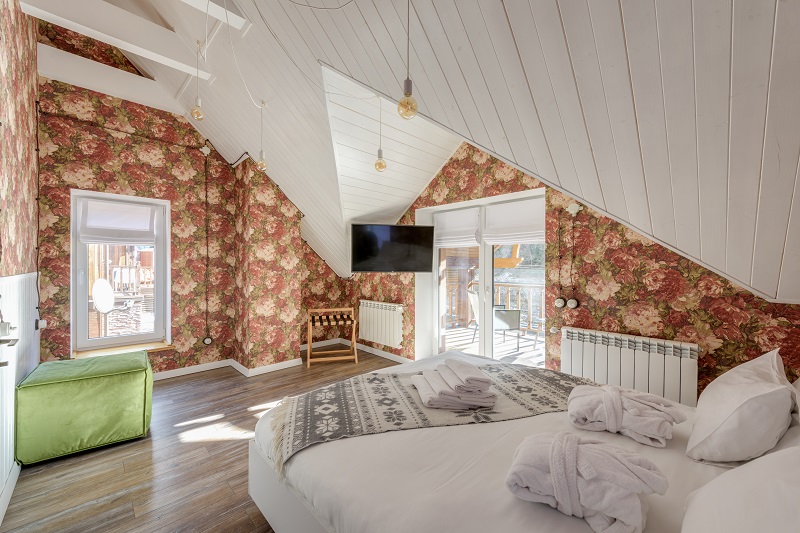 Wallpaper is a stellar way to introduce patterns into your bedroom decor. No longer a fad of the past, modern wallpaper is highly customizable and can even be "peel-off" (which is important when decorating your bedroom as a renter). 
You can choose to wallpaper your entire master bedroom or single out one façade to serve as an accent wall. An accent wall adds depth to your room, as it contrasts with surrounding solid colors and draws the eyeline into one focused point.
#5 Hang Decorative Artwork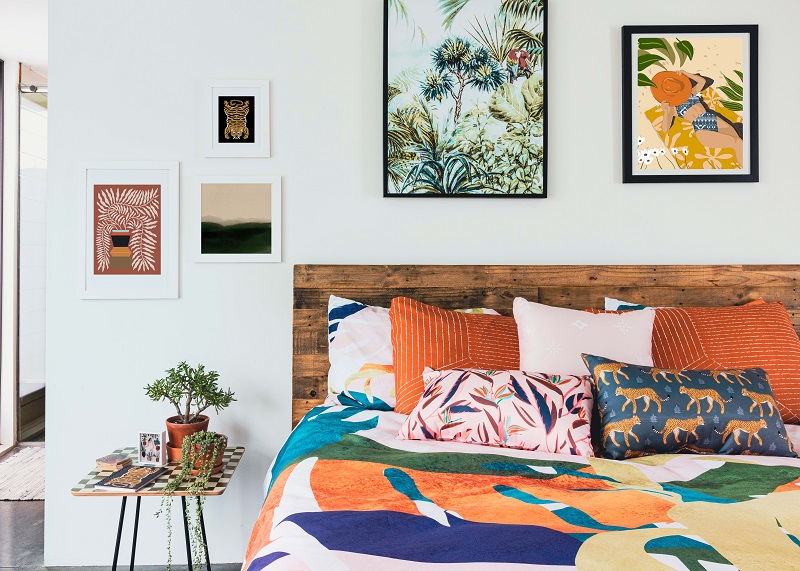 Another beloved wall decor option to decorate bedroom spaces? Eye-catching, modern wall art. 
Whether you're hanging a gallery acquisition or pinning up those band posters you just can't part with, there's no denying that art displays exude a certain liveliness in whatever space they're present. 
It's not only because art brings in graphic depth via illustration and photography but also because you choose the art. Various bedroom wall decor ideas will make your space more comfortable and mood-boosting, so you can enjoy a sense of calm and familiarity within your newly decorated room. In need of some wall decor ideas? Consider arranging your art in a gallery wall layout.
#6 Choose a Cozy Rug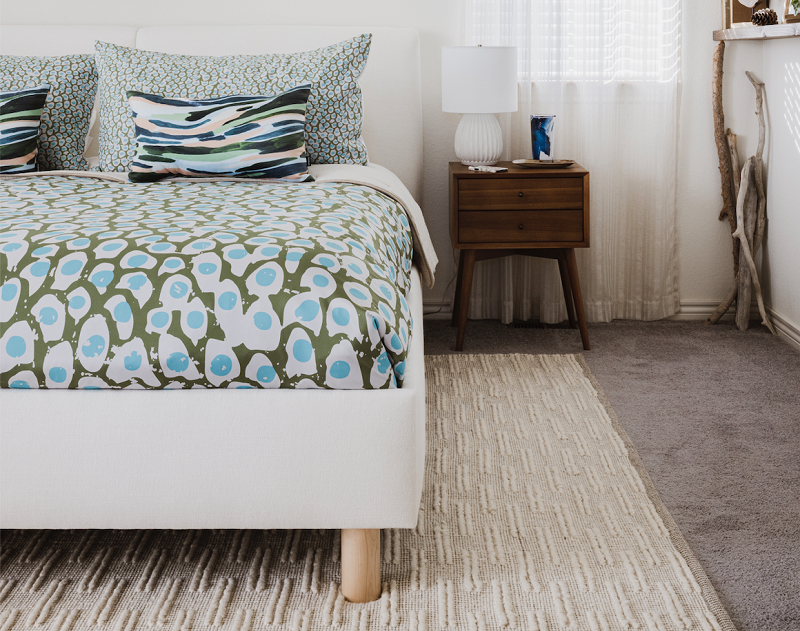 One well-chosen rug, along with the right bedroom rug placement, can change your entire bedroom decor for the better. 
Area rugs instantly add a cozy atmosphere, which is essential for sleepytime comfort. And with such a wealth of styles, shapes, and colors, a rug is a personalizable decor idea element. 
Play up the room to match a luxe atmosphere with a heavy shag rug; go boho with a geometric pattern; or stay minimal with a deep solid-colored area rug. This is a wonderful way to diversify textures in your master bedroom, adding interest without making it too busy.
#7 Incorporate Lamps and Lighting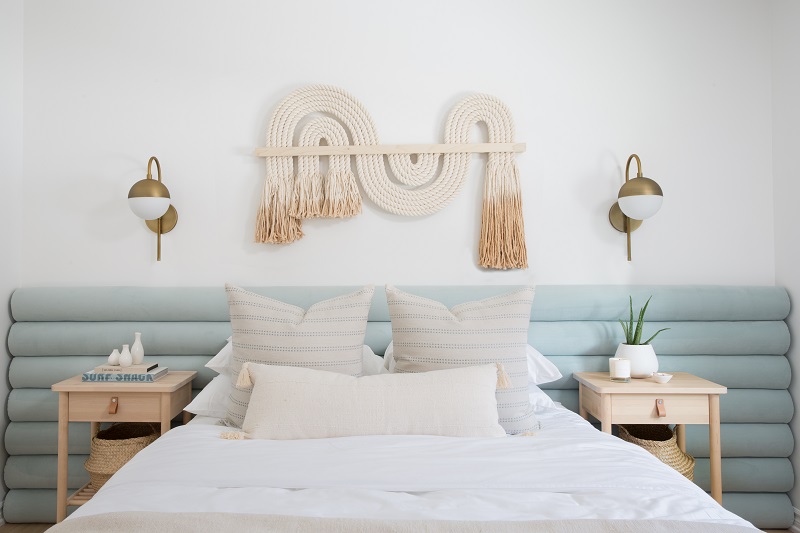 Light is essential in a bedroom, determined both by the windows and the lamps or light fixtures you choose. 
Though lights can act as striking decor elements, it's important always to consider lights' crucial function within your bedroom. For example, consider opting for an adjustable bedside table lamp or wall sconces if you're a before-bedtime reader. Alternatively, delicate fairy lights are great if you want a gentle ambiance, and stronger wall lamps could be useful if your window doesn't let in the best natural light.
#8 Don't Forget Window Dressings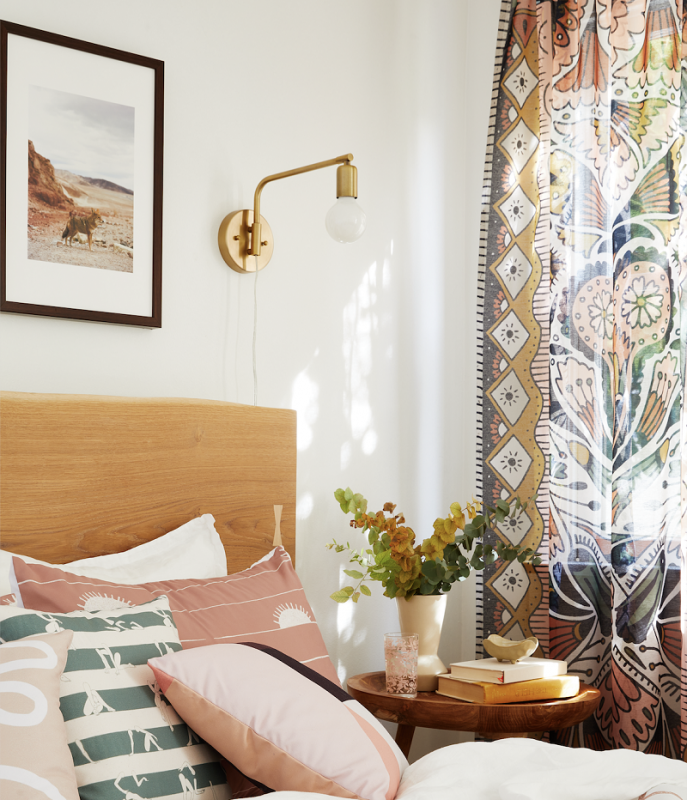 Windows are another functional aspect of a bedroom design that can be just as decorative as they are useful. The following are versatile options to dress windows of any size and shape:
Curtains

– Curtains are a go-to since they can be any material, length, color, etc. If you're afraid of too much shading in your room with

blackout curtains

, experiment with sheer fabrics like lace.

Valances

– These short-trimmed drapes are lovely additions to curtains or as stand-alone decor. Valances hide the wall hanging fixtures, which helps to "declutter" the view.

Frosted film

– Frosted window coverings offer privacy without the bulk of fabric. Patterned options also create enchanting light effects for a dreamy, whimsical feeling.
#9 Add Shelving
Need a bedroom idea to maximize storage space?. Installing wall shelves or organizing your library and trinket collection on a bookcase are two perfect compromises between wanting to display your belongings and wanting a clean, intentional feel behind your room design and arrangement. For added benefit, try a high-rise bookcase or shelves above the eye line, making efficient use of the entirety of your space. 
Creatively Curate Your Space with Society6
In deciding how to decorate a bedroom, there are many choices—after all, your bedroom is uniquely yours, which means its style is yours too.  
Whether you make it your own with your unique feng-shui-optimizing bedroom furniture arrangement or with a stunning collection of your favorite art pieces, being comfortable and empowered in your own oasis is more than important.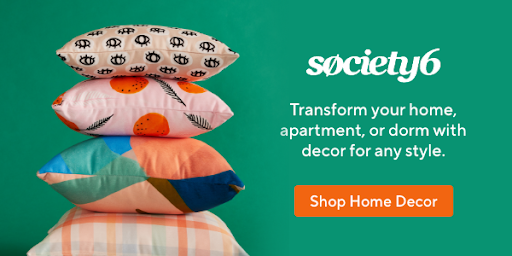 At Society6, we recognize the power in self-expression via design choices. That's why we bridge the gap between creative, imaginative individuals and hundreds of thousands of independent artists looking to embolden themselves and the wider world of those looking to get creative in and out of their bedrooms. 
With a wide product selection of home decor, wall art, clothing, and more, Society6 curates a space for artists to share their work and for others to support it. Figure out how to decorate your bedroom by browsing our collections today.
Sources:
Shift E-Learning.

The Psychology of Color: How Do Colors Influence Learning?

https://www.shiftelearning.com/blog/how-do-colors-influence-learning

 

The Guardian.

How many days does the average person sleep for during their lifetime?

https://www.theguardian.com/notesandqueries/query/0,5753,-50504,00.html