If there's a big, blank wall in your home that's got you stumped, we feel you. Deciding how to decorate a large wall can put your decorating instincts to the test. Are you best off with one big statement piece? Lots of small pieces of wall art and decor? And what about mirrors—are they a design do or don't?
Don't let that blank slate get you down. We've created a list of nine inspiring decorating ideas for a large wall that will transform that empty space into a design masterpiece that's all you.
#1 Go Big (and Stay Home)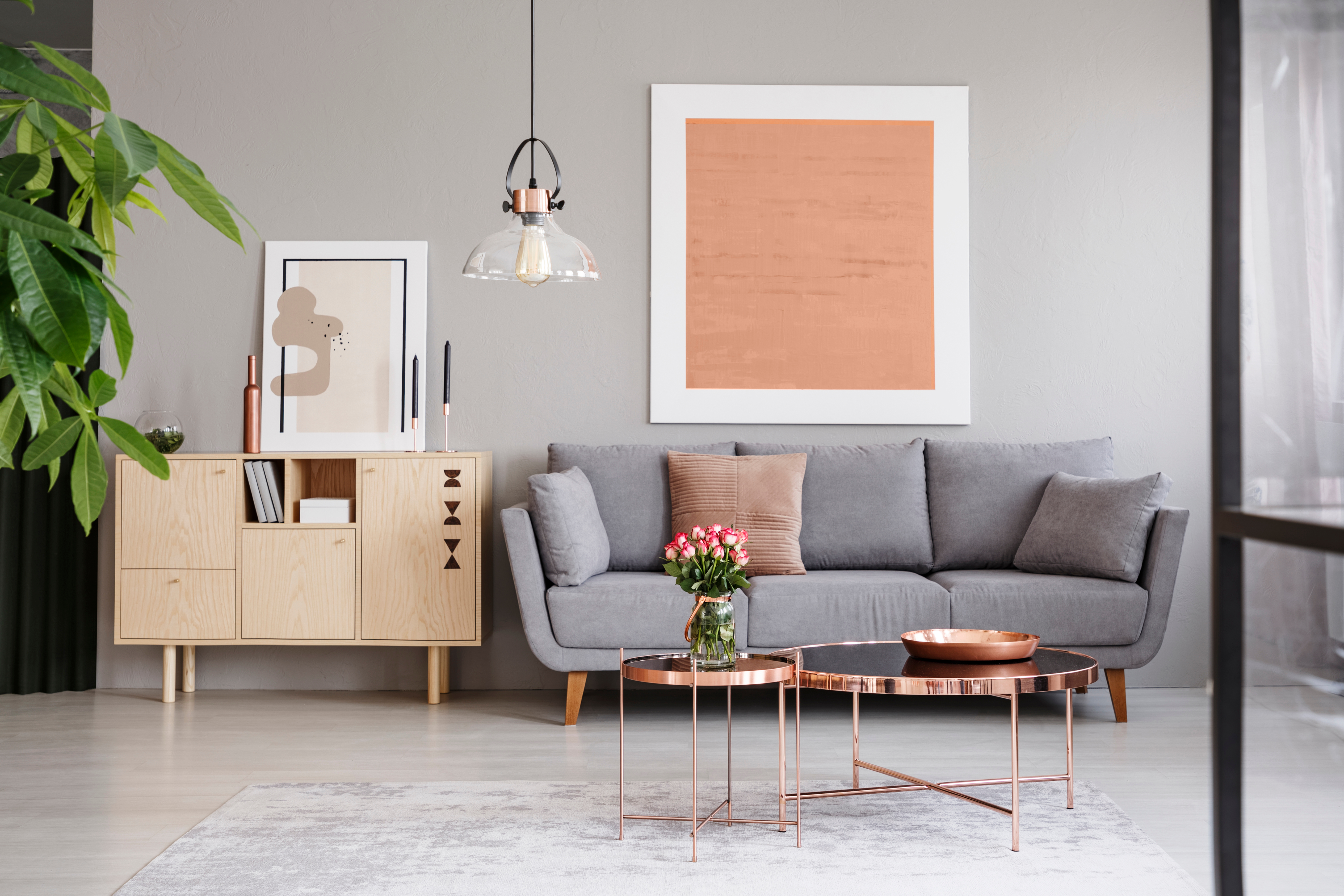 A large wall is the perfect canvas for a statement piece of art, whether that's a blank living room wall or an accent wall in the dining room. If you're concerned that a piece of large artwork might make your space feel crowded, don't be. An oversized wall art piece makes a space feel larger and roomier by creating a single focal point.
A few of our favorite options for large wall art include:
A single large-scale photograph
A large framed triptych or diptych
A multi-square mosaic
#2 Create a Gallery Wall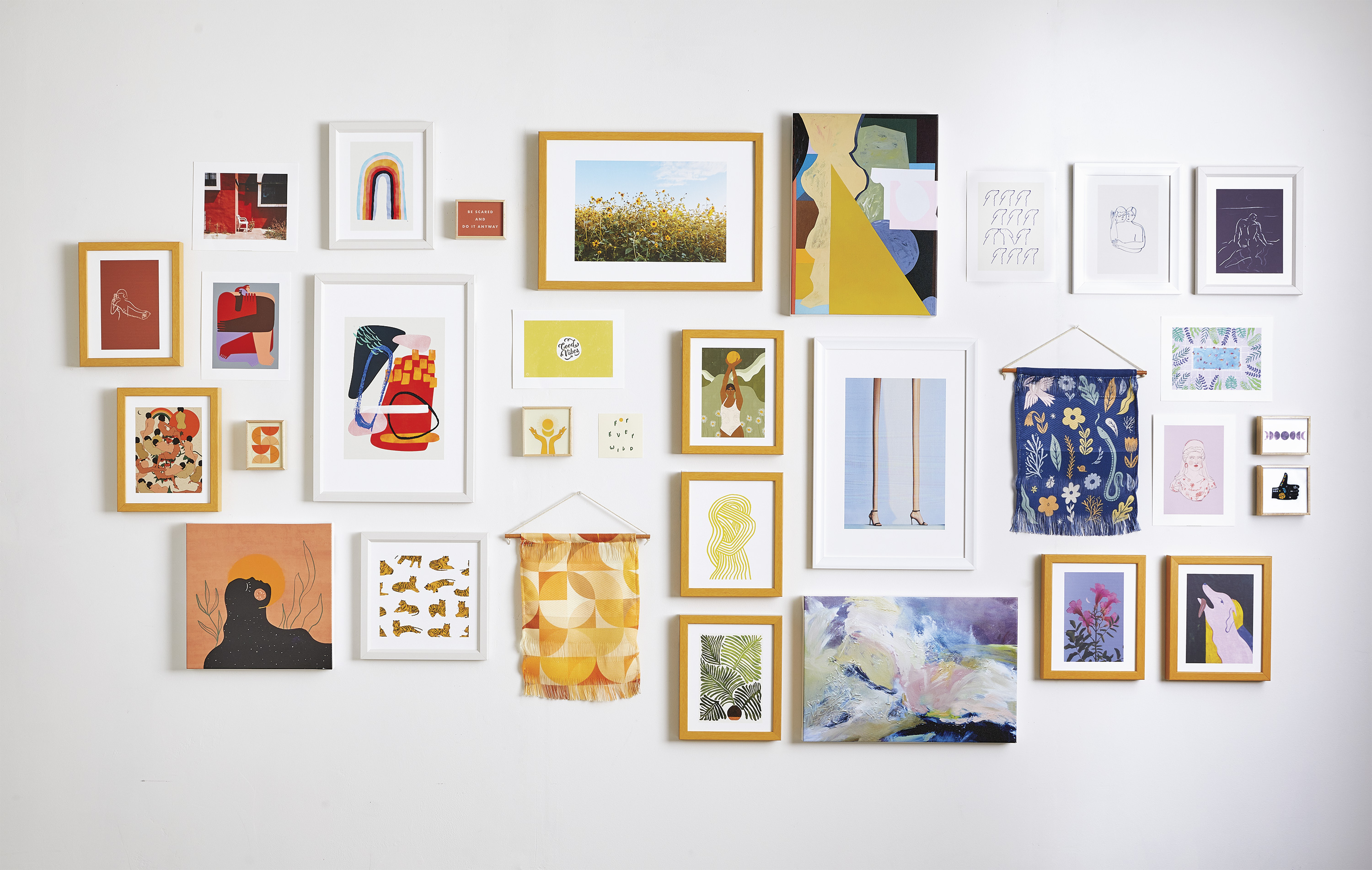 When you're considering how to decorate a large wall, one oversized piece isn't the only way to make a splash. Consider creating a gallery wall featuring varying wall art sizes or multiple small framed art pieces hung close together for maximum drama.
Creating a gallery on your wall is easy:
Gather a selection of artwork or photographs that you love.
Arrange them on the floor or on a large table to get a sense of the overall composition.
Mix up the sizes and orientations of the pieces, including a variety of large and small pieces.
Once you have a layout that you like, use a measuring tape and a level to mark the placement of each piece on the wall.
Hang the pieces according to your marked placements.
#3 Consider Adding Mirrors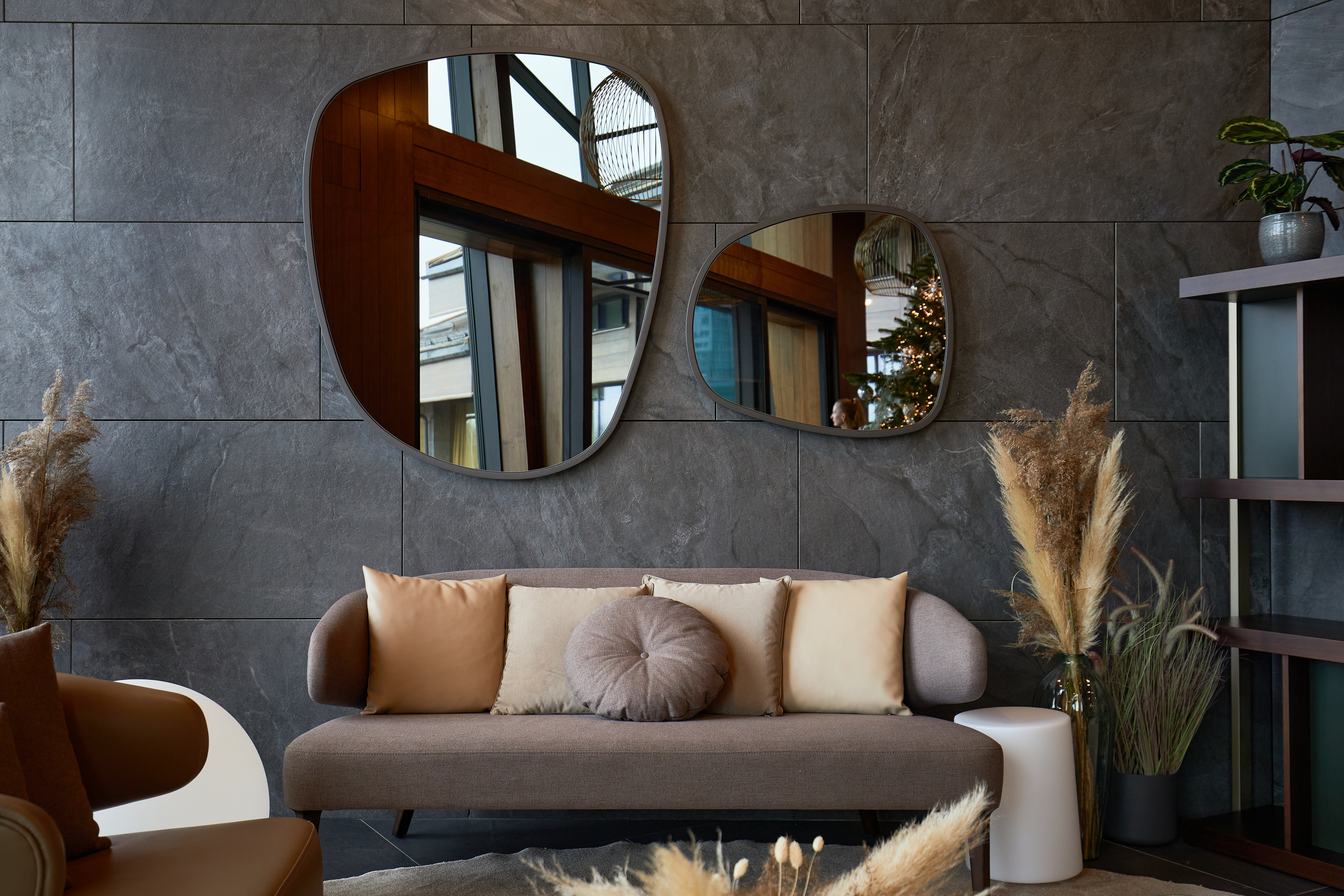 By hanging a mirror, that is. Mirrors are a decorator's best friend because they make any room feel larger and brighter. Try hanging a large mirror, or simply lean it against the wall for an instant update.
Can't find one large mirror? Try hanging several small wall mirrors in a group for a similar effect:
Choose a variety of frame styles and finishes for mix-and-match flair
Or paint the frames to match for more cohesion
#4 Add Some Shelves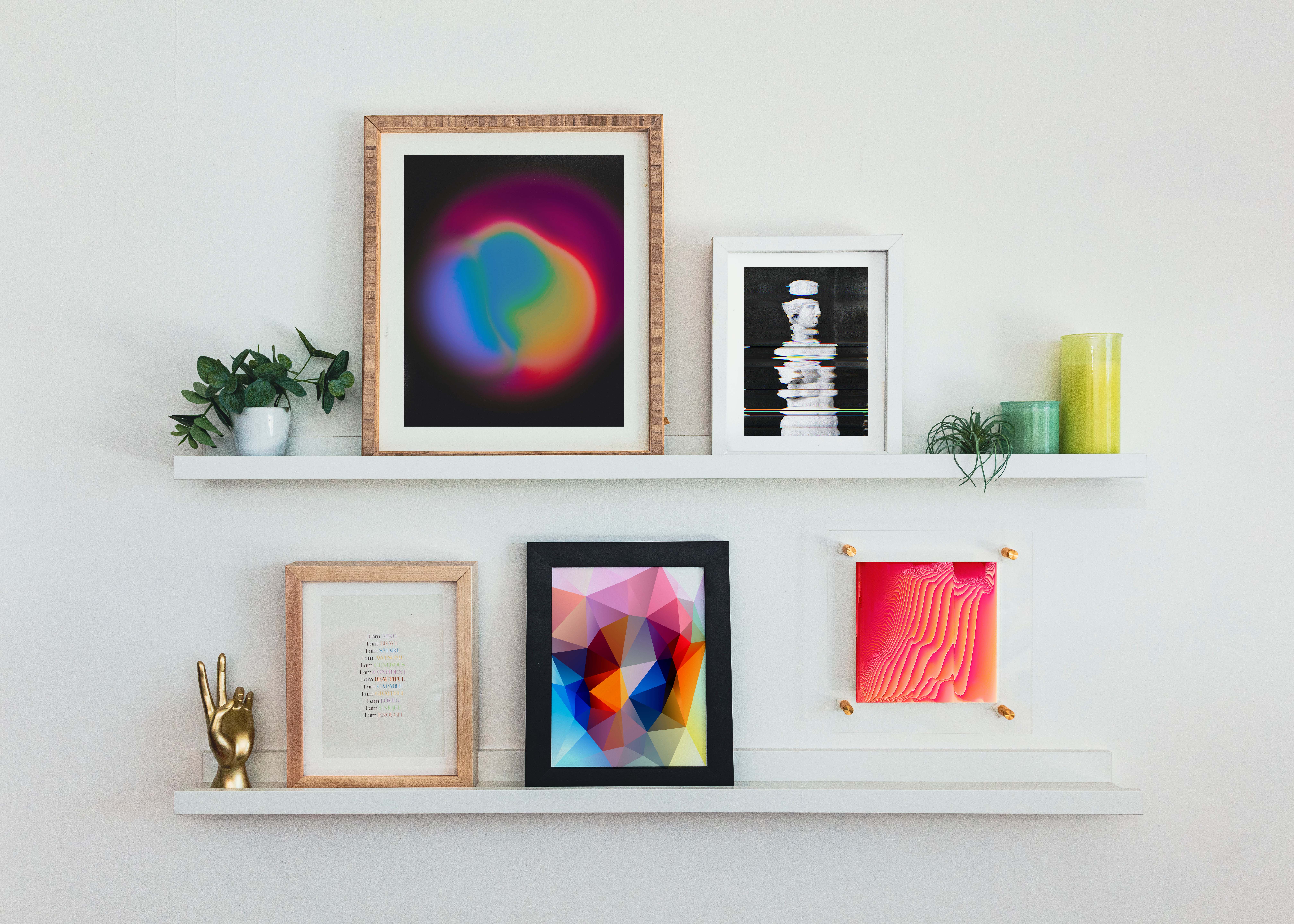 When you're hunting for big wall decorating ideas, consider adding a set of floating shelves or a freestanding shelving unit. Shelves are a simple way to add interest to a large bare wall and break the space up visually. Plus, shelves let you show off even more of your personal style by adding a selection of 3D items to your wall art.
#5 Hang Up Textiles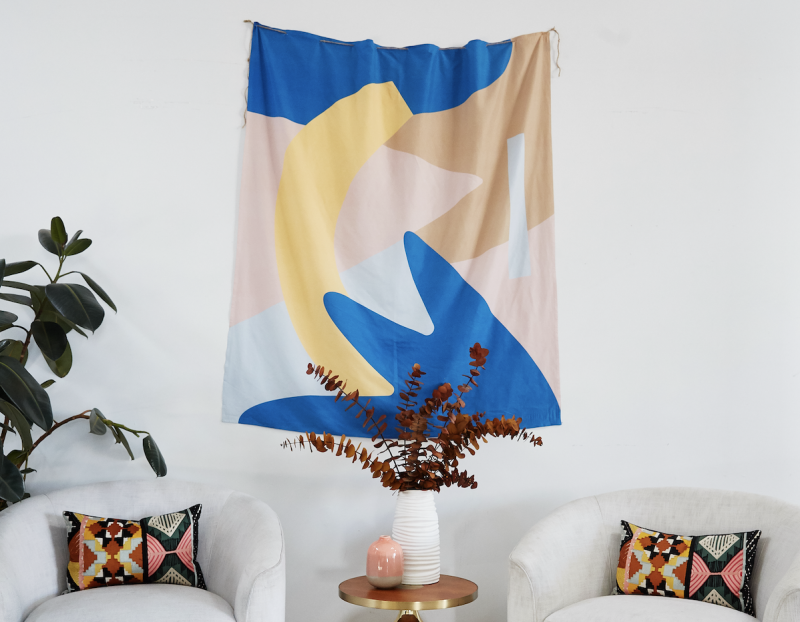 We've already established that large wall decor ideas are usually a great way to take advantage of wall space. Decorate a big wall with a large wall tapestry or wall hanging for a dramatic focal point that adds color and texture. We love fabric wall hangings because they're easy to hang without any need for wall anchors or other tricky hardware, and they come in colors and patterns to suit any style, from modern to traditional.
#6 Create a Decor Collection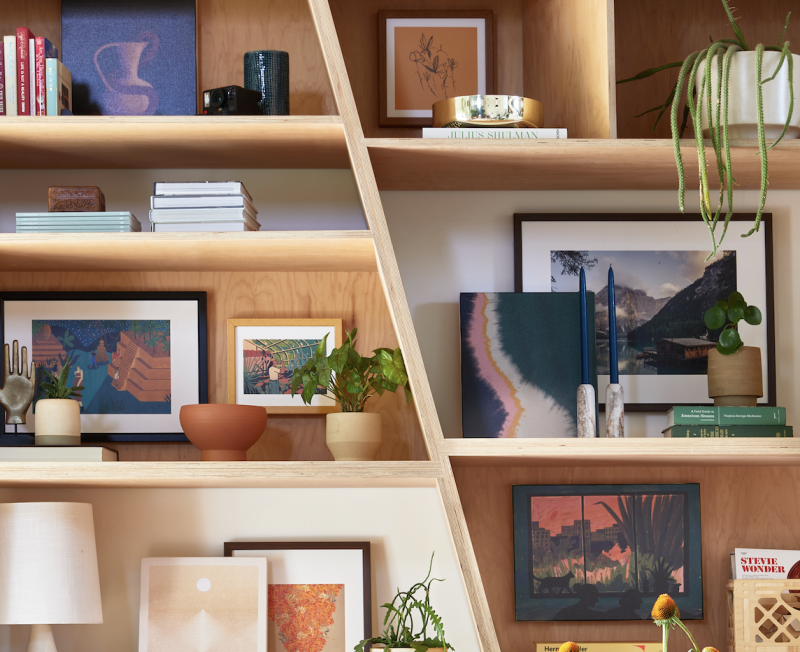 Whether you're searching for bedroom, dining room, or living room wall decor ideas, you can use what you already have to fill a bare wall. Put together a curated collection of display-worthy home decor you probably already have around the house. A few options you can quickly assemble:
Found objects – If you're someone who always picks up pretty leaves and interesting rocks on your travels, they can make a beautiful and meaningful display on a set of floating shelves.
Different kinds of plants – Add hints of greenery for varied textures.
Glassware collection – Round up all those vases, jars, and empty wine bottles you've been saving and group them together for a sparkling display. If you don't have enough on hand, a quick thrifting trip should net you a wide variety of glassware in all colors and shapes.
#7 Think Green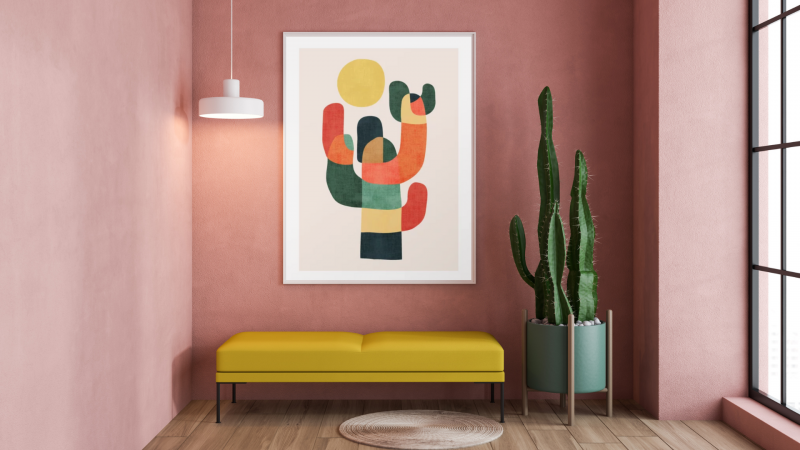 Tall potted plants can add softness and texture, helping to reduce the "flat" feeling of a large, blank wall. Use these tips to add some greenery:
Try corn plant, fiddle leaf fig, or dracaena placed on a console table for added height.
Add a corner shelving unit and top with a spiky snake plant.
Preserve floor space by hanging a trailing plant like Swedish ivy or pothos from a plant hook mounted to the ceiling.
#8 Try a Mural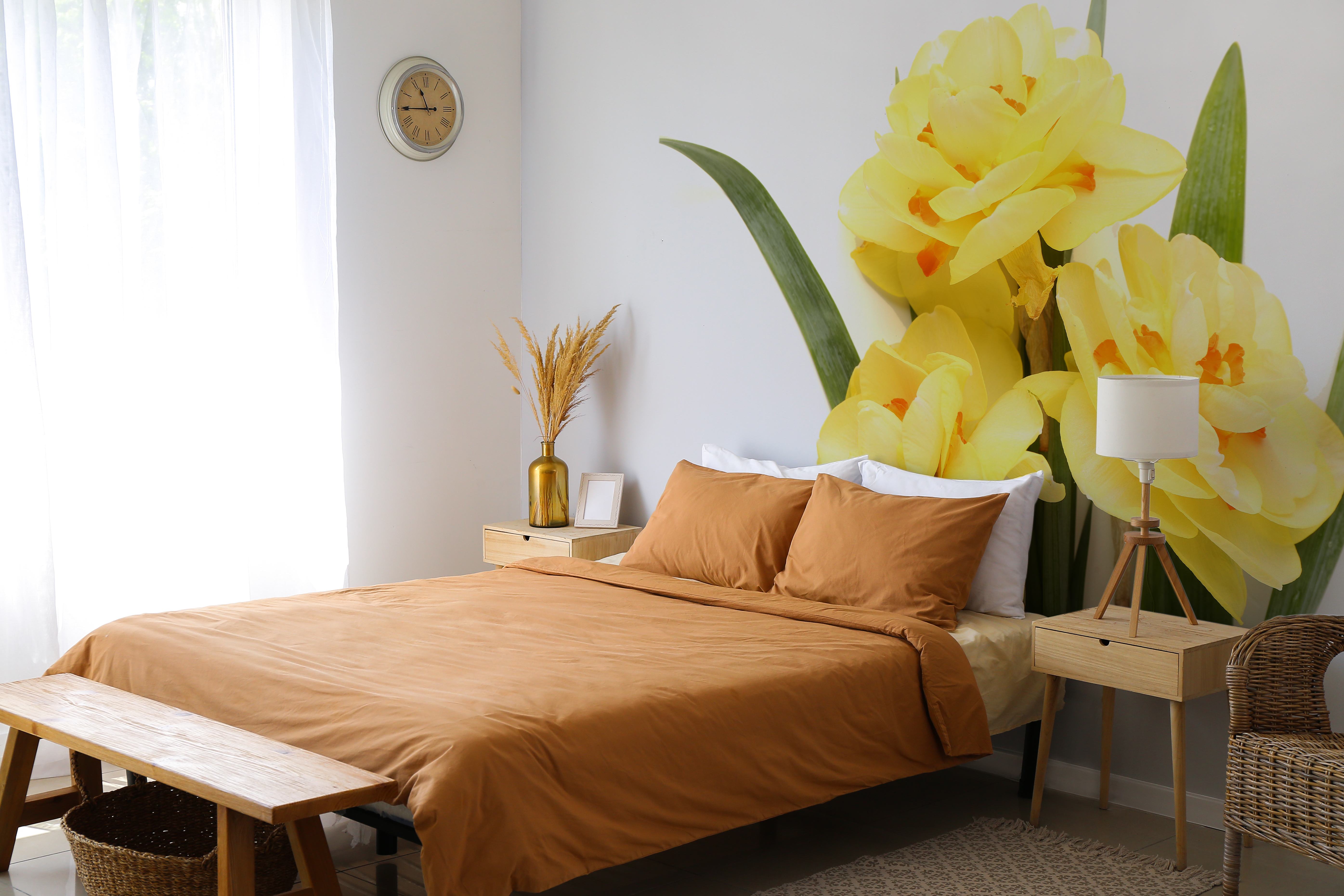 If you're feeling creative, a mural can give your space that one-of-a-kind touch. You don't need to be a pro painter to accomplish it—just follow these basic steps:
1. Create a graphic online using a design tool like Canva, or find a copyright-free image you like.
2. Print your graphic, mark with gridlines, and transfer it to your wall by following your grid.
3. If you have access to a projector, simply download your image, project it on your wall, and trace.
4. Once your design is on the wall, choose your paint colors and unleash your creativity.
Love the idea of a mural, but aren't so sure about executing one yourself? Whether you rent and aren't allowed to paint or would simply prefer a more foolproof approach, you can skip these steps entirely if you opt for a premade, peel-and-stick wall mural printed with your chosen design.
#9 Mix and Match With Wall Art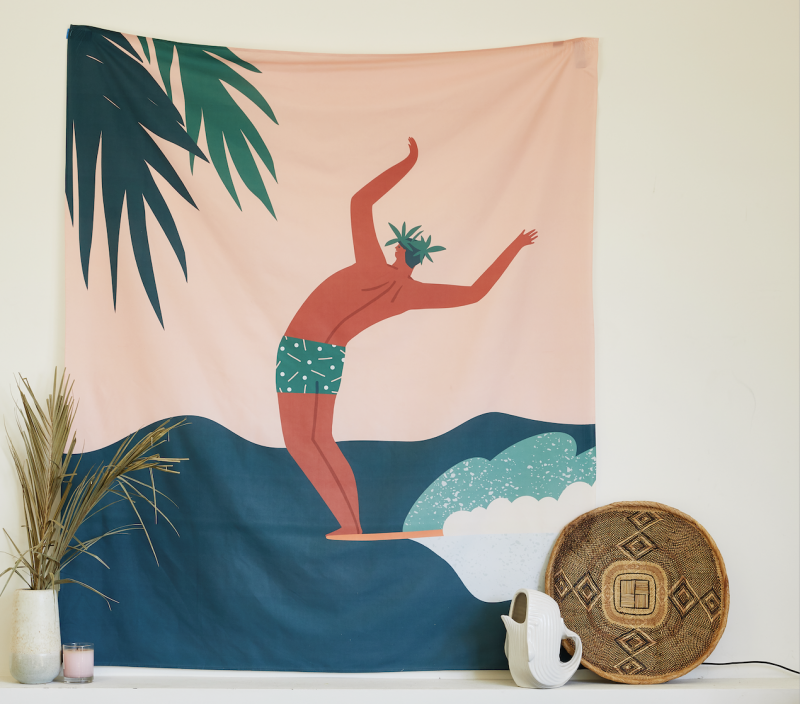 With a large wall, there's no need to limit yourself to one decor decision. If you're having trouble filling the large wall space, try a combination of several options:
A mural backdrop with floating shelves in front
A three-dimensional wall art centerpiece flanked by a few mirrors in different sizes
A central tapestry, with a tall plant on one side and a grouping of small framed pieces on the other
Don't be afraid to mix and match different styles and textures to create a look that's all your own.
Warm Up Your Walls With Society6
So there you have it—nine stylish tips for decorating a large blank wall. Whether you go for gallery wall ideas that showcase your favorite wall art, a collection of decorative items, or a showstopping mural, the possibilities are endless.
If your art collection needs a refresh, browse the inspiring selection of art, wall hangings, and more from Society 6. You're sure to find that just-right piece that lets your personal style shine through while supporting the work of independent artists and creatives around the world.
Sources:
Apartment Therapy. A (seemingly) counterintuitive trick that's a must for small spaces. https://www.apartmenttherapy.com/it-might-seem-counterintuitive-but-this-design-trick-is-a-must-for-small-spaces-with-personality-240834
Architectural Digest. How to paint a DIY wall mural. https://www.architecturaldigest.com/story/how-to-paint-a-diy-wall-mural
Galerie Magazine. How top designers have mastered the salon-style gallery wall. https://galeriemagazine.com/salon-style-gallery-walls/