It's no secret: We love our TVs, and we're not about hiding them in a cabinet to pretend otherwise. Still, they can be tricky to decorate around. They occupy a significant chunk of your wall real estate, and a big black box isn't exactly the most interesting thing to look at (unless it's currently displaying the Great British Baking Show).
So why not spruce up the space around your TV and turn it into a feature of your living room instead of an afterthought?
Decorating behind a TV can be easy with a few simple tips. From DIY accent walls to warm and cozy lighting, we've put together eight tips on how to decorate wall behind TV stand to add some pizzazz to your home theater setup.
#1 Surround It With Shelves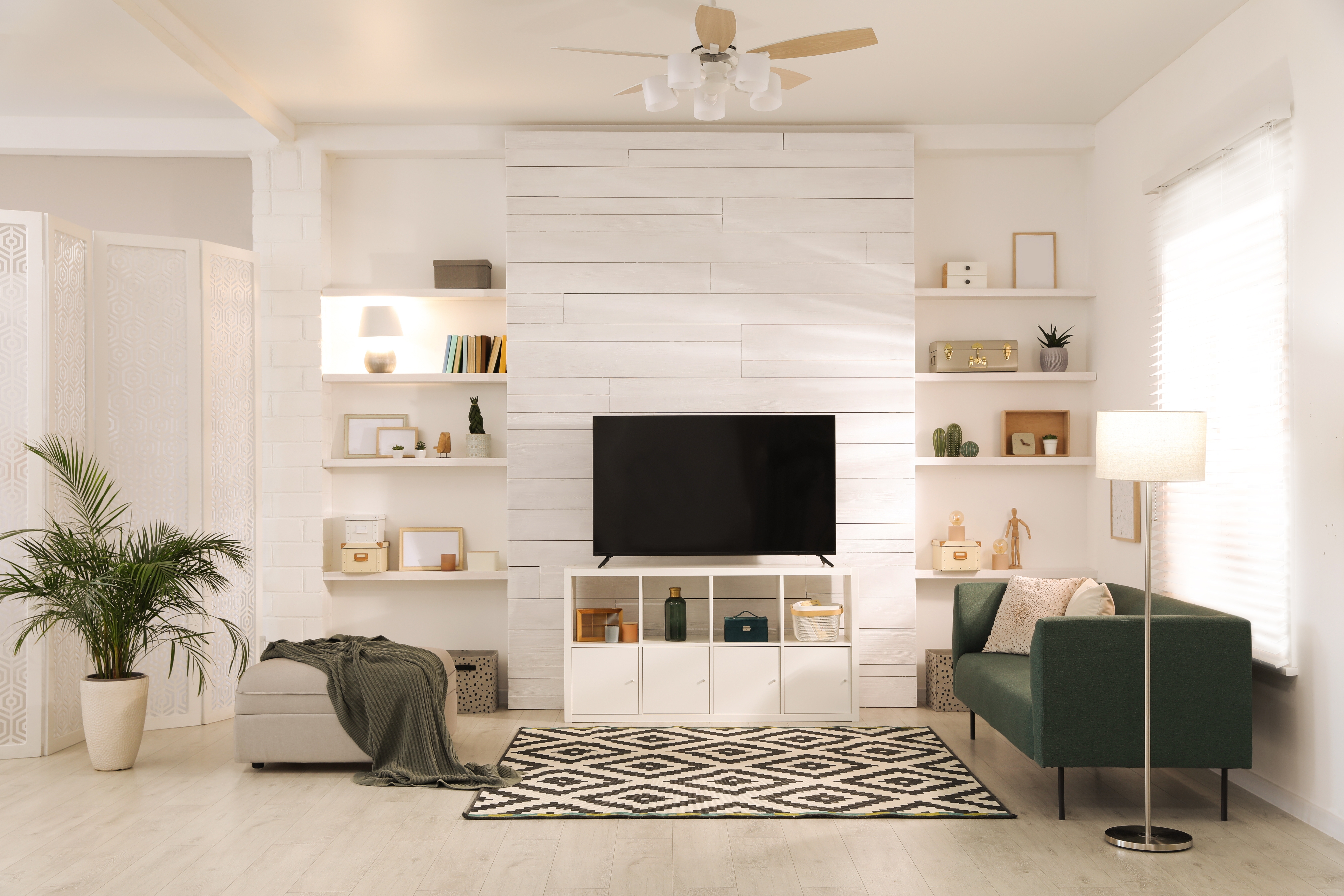 When searching for living room wall decor ideas, it's rare that we think of the TV as part of the decor. But the key is to fit in right in and work around it. One of the most effective ways to build your TV into your decor is to make it the centerpiece of a set of floating shelves. Try mounting a set of floating shelves on each side for a symmetrical look. Another idea is to add one long, horizontal floating shelf above to balance the length of the TV and draw the eye upward.
To create a display wall that incorporates your TV without letting it dominate the space, fill the surrounding shelves with ambiance-enhancing items like:
Battery-operated candles
Vases
#2 Make the TV Part of a Gallery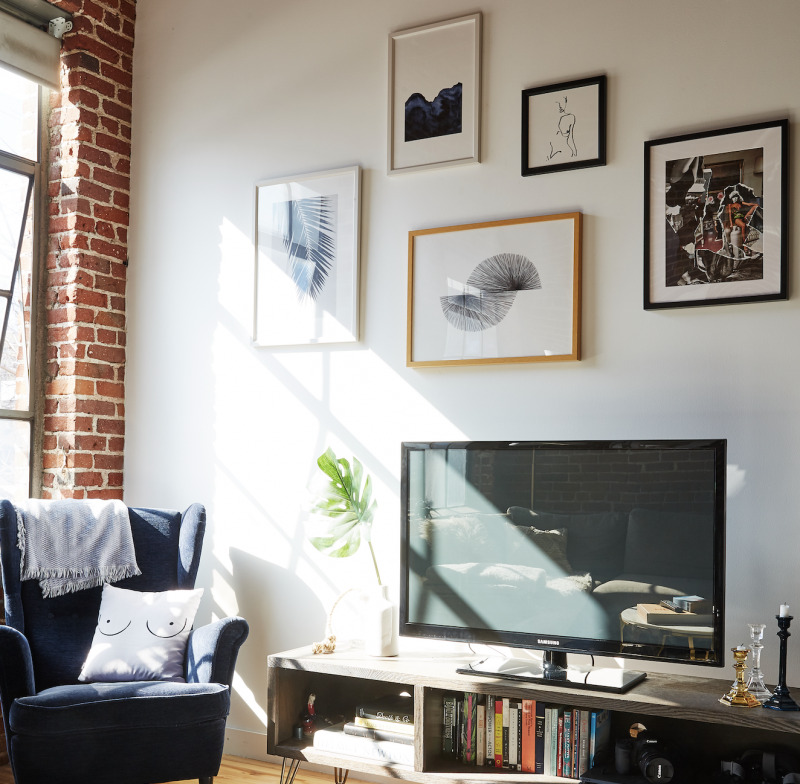 One of the most creative gallery wall ideas is adding a TV to the mix. A gallery wall is an effective way to make your TV look like it belongs as if it's an artwork piece itself, especially if you're working with a wall-mounted TV. Simply gather a collection of framed wall art and hang the pieces in a grouping around the TV.
Master the TV gallery wall arrangement by:
Choosing frames in complementary styles or colors
Mixing in some larger pieces with smaller ones
Choosing a theme for your gallery wall, like travel or nature
#3 Make a Mirror Wall
Whether you're trying to decorate a large wall or a small one, mirrors are a classic way to add depth and dimension to any wall space. They can make a small room feel larger, and they work especially well to decorate TV walls because they create visual harmony with the reflective surface.
Instead of one large mirror—which can sometimes fight with the TV for visual dominance—consider hanging a collection of smaller mirrors in various shapes and sizes all around the TV. Another option for wall decoration behind TV stands is to add several mirrors to a gallery wall as described above.
#4 Add Some Lively Greenery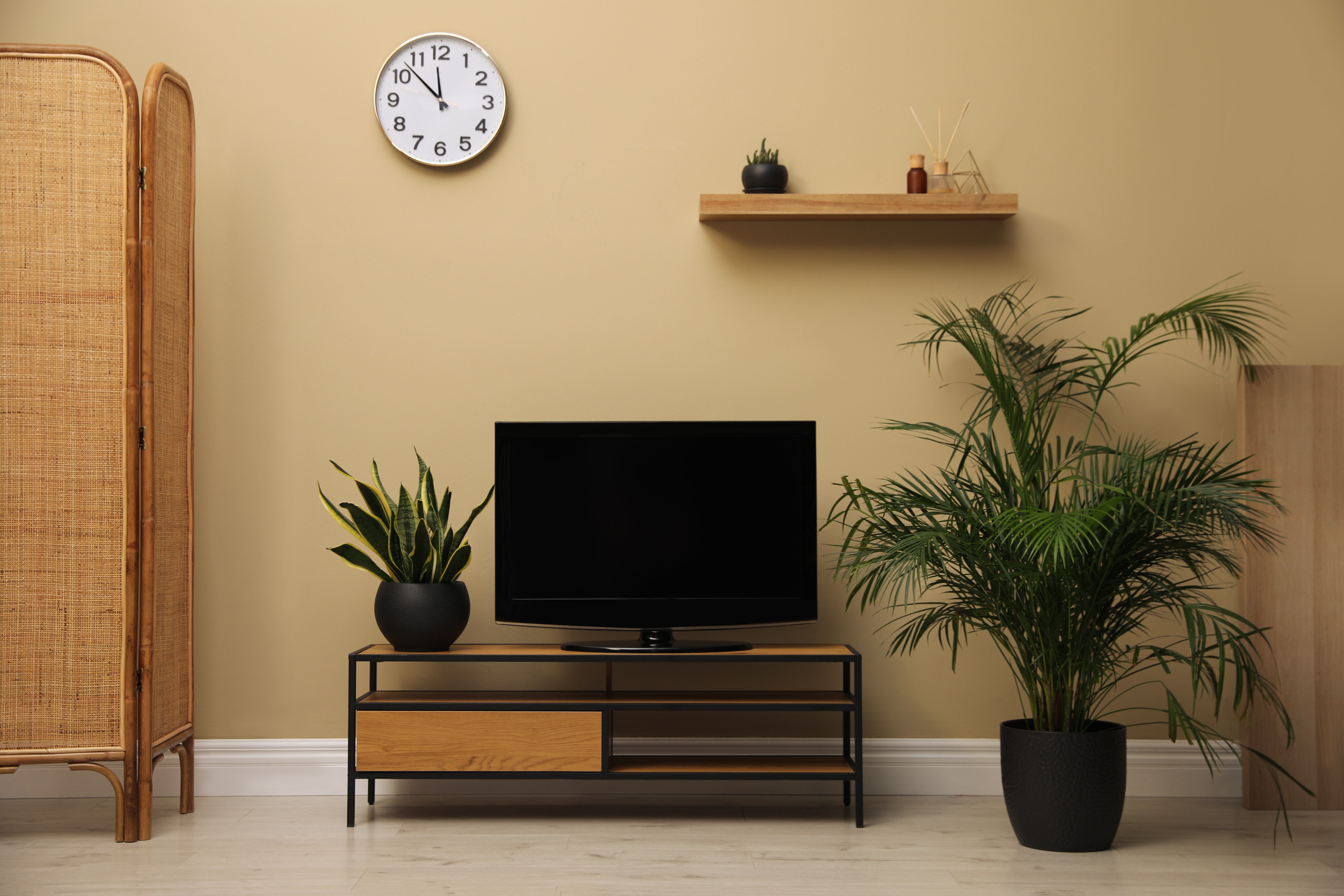 When it's switched off, a large TV can make a wall feel sterile and cold. Bring some life to the wall around your television by incorporating plants:
Hang a potted trailing plant in the corner opposite the TV
Create a vertical garden with wall planters
Place a tall plant on each side of the TV stand to add vertical interest and balance the horizontal length of the TV
After all, wall decor ideas aren't only about hanging artwork, framed photos, and shelving.
#5 Create a Wallpaper Accent Wall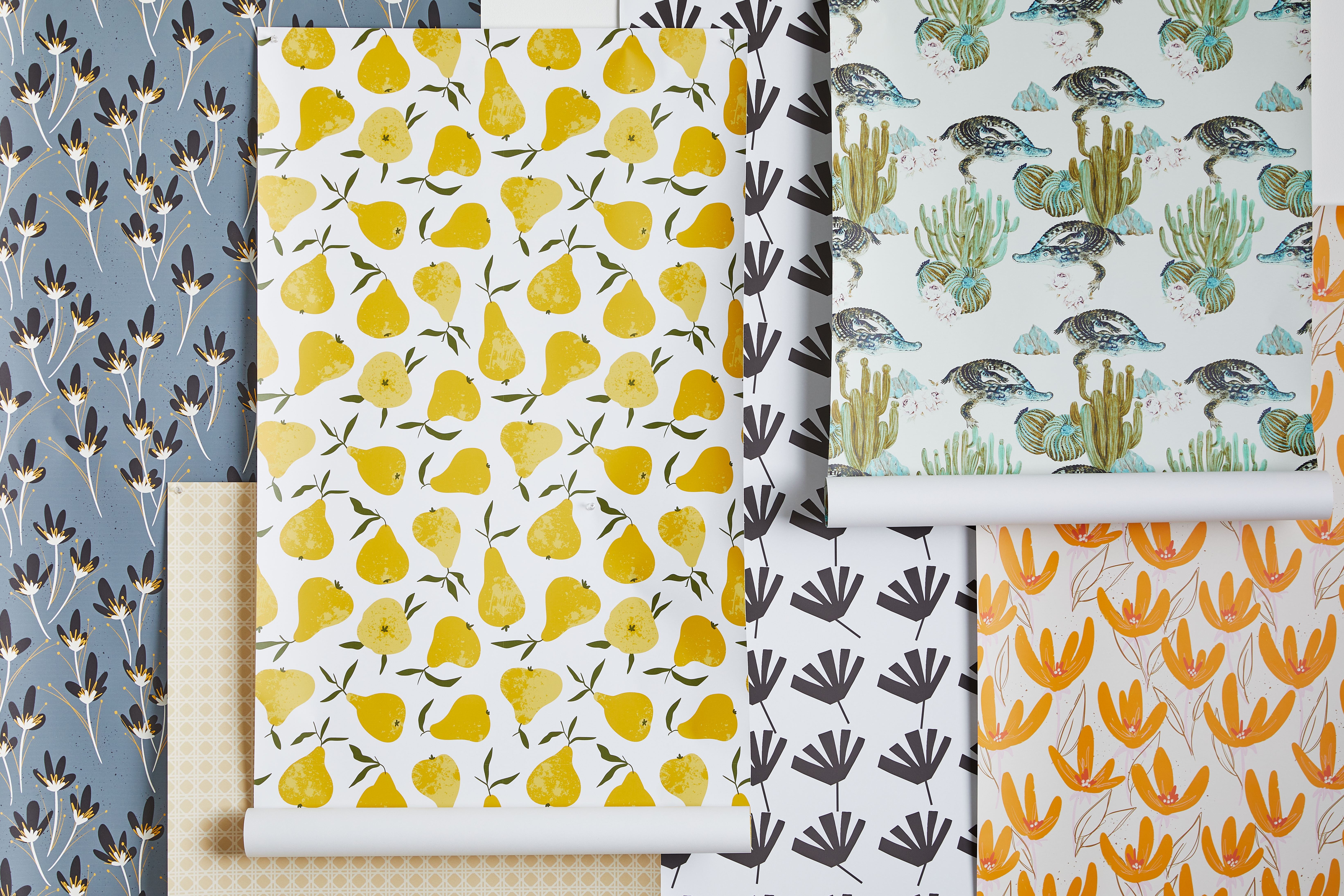 Want to decorate TV wall with something a little more dramatic? Consider making that wall a feature of your living room with bold patterned wallpaper. A few tips for choosing your paper:
Use peel-and-stick wallpaper to make installation (and removal) easy
Choose a large pattern that can hold its own against the TV
Use a vertical pattern if you want to make your ceilings feel higher
Go with horizontals to give narrow rooms a feeling of spaciousness
#6 Paint an Accent Wall Behind the TV
To achieve a patterned wall without the commitment of wallpaper, use painter's tape and two or more paint colors to create a simple pattern like stripes, chevrons, diamonds, or color blocking.
Follow these simple steps to create an accent wall in a pattern of your choice:
Paint your base color and let it dry completely.
Mark out a pattern like stripes, herringbone, or any other shape you choose with painter's tape.
Paint your second color and let it dry before removing the painter's tape.
Continue with as many colors as you like, letting each color dry before taping off the next area.
Voila! Enjoy your striking new accent wall. Too nervous to make a mistake on your walls? Try out peel-and-stick wall murals.
#7 Create a Wooden Accent Wall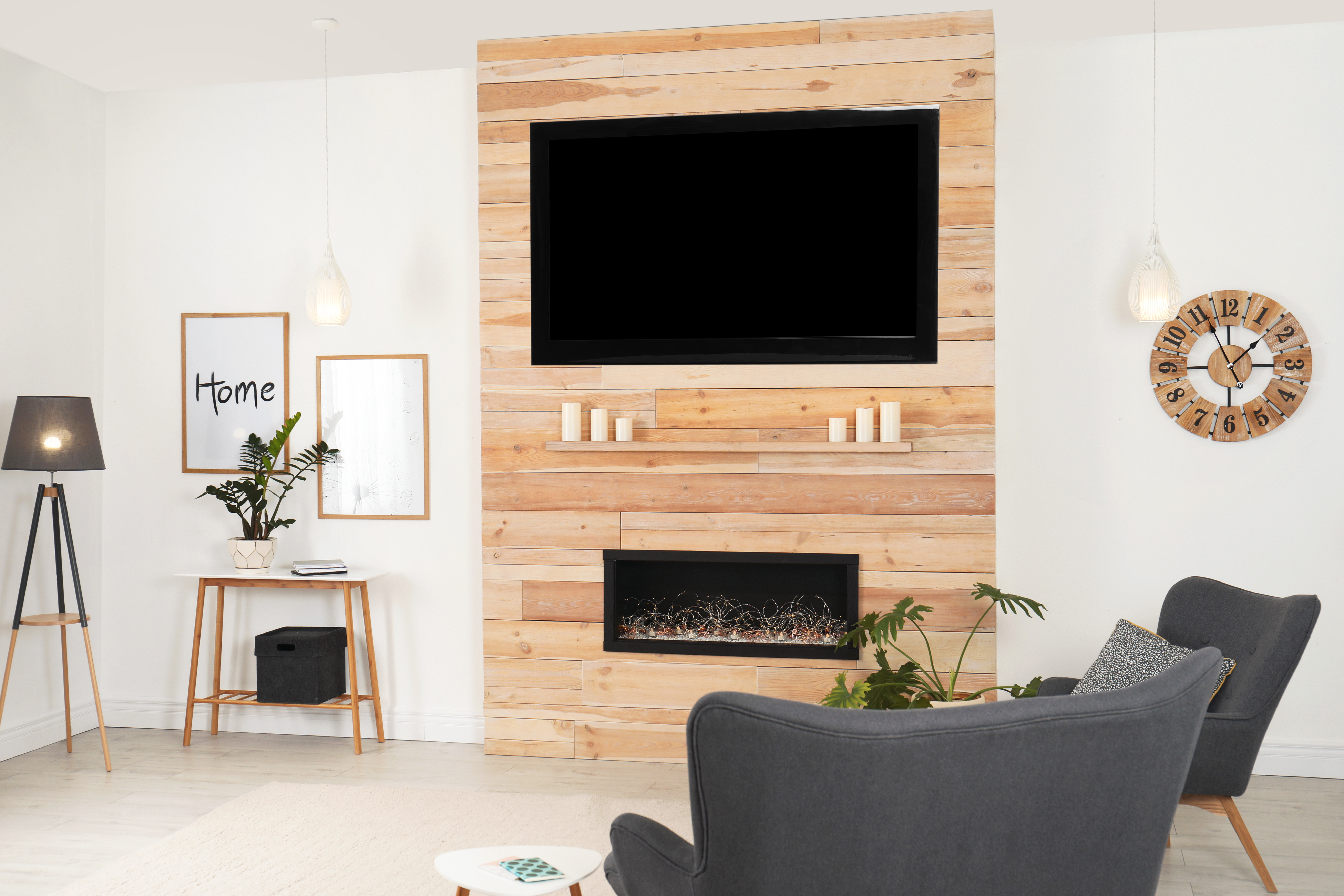 If you're a DIYer with a few basic tools like a brad nailer and sander, you can add eye-catching wood accents to your TV wall in a weekend. Here's how to decorate TV wall with wooden accents in two easy ways:
Modern molding – Use strips of molding to create a geometric pattern on the wall behind the TV. Paint the molding to match your wall for a clean, modern look.
Rustic paneling – Making a wood-paneled accent wall doesn't require much more know-how than installing molding, and it makes an even bigger visual impact. Install boards vertically to create a sense of height in the room. Try using reclaimed pallet boards for a rustic, weathered look.
#8 Experiment with Lighting
One of our favorite ways to add some interest and drama to your TV wall is by incorporating light fixtures. This doesn't have to require an electrician—string lights and battery-powered candles are simple and beautiful alternatives.
Here are a few ideas to get you started:
Mount a plug-in pendant light or wall sconce on each side of the set.
Hang a string of fairy lights along the ceiling above the set for a cozy, romantic vibe.
Place battery-powered candles in vases of different heights on floating shelves. Mount the shelves asymmetrically on the TV wall for a modern look.
For Wall Decor That's as Unique as You, Think Society6
We hope these eight ideas for that blank-canvas wall behind TV have inspired you to think outside the box. With a little extra attention, that blank space around your TV can become the star of your living room.
And when you're ready to add more art to your home, Society6 is your artist-designed hub for unique, bold, and creative pieces you won't find anywhere else.
With a wide selection of affordable and high-quality creations from independent artists, you're sure to find something that speaks to you. So go ahead—unleash your imagination with Society6.
Sources:
Better Homes and Gardens. Select the perfect wallpaper. https://www.bhg.com/decorating/home-accessories/wall-art/select-the-perfect-wallpaper/
Bob Vila. How to make this DIY accent wall in a day. https://www.bobvila.com/articles/diy-accent-wall/
This Old House. How to paint a geometric accent wall. https://www.thisoldhouse.com/house-one/21228088/how-to-paint-a-geometric-accent