It's the raddest coffee table book you'll ever own, a never-ending source of creative inspiration, and a vivid display of artistic genius. Damn right, it's the NEW Art Quarterly, and it's some of the best stuff we've seen to date. It's my privilege to announce the newest exciting edition of the Society6 Art Quarterly – No.2.2!
Perfect bound with a black foil stamped cover, our First Edition printing of the Summer 2017 Art Quarterly is a substantial 9 x12 inches. It features original artwork from 50 diverse Society6 artists, off-set printed in rich color across 130 pages.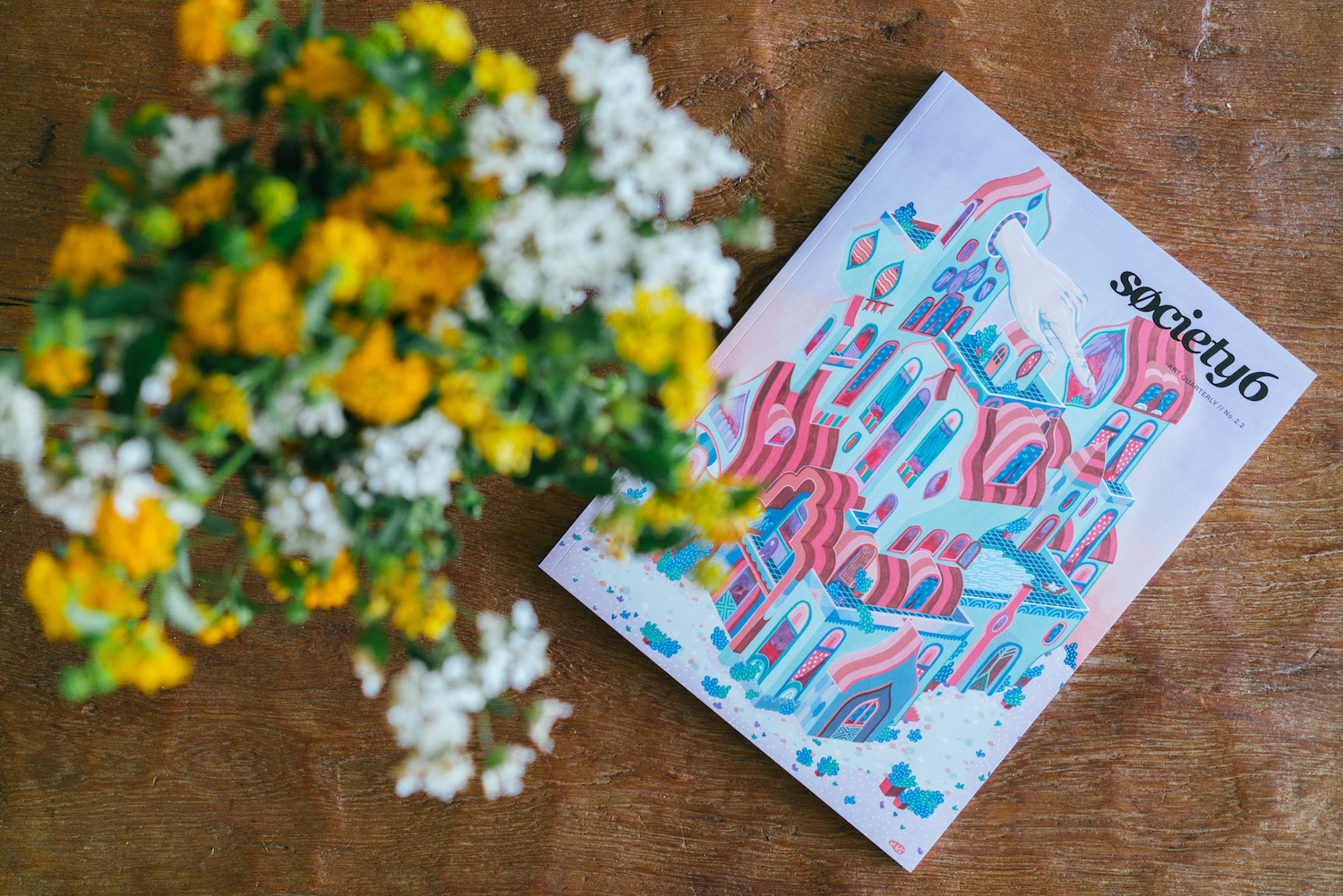 Our dedication to our artists goes beyond facilitating the sale of their work on various products. Whether through collaboration, exhibits, social media, features, emails, collections or videos, we strive to propel your work in front of as many eyes as possible. 
The Society6 Art Quarterly drops 4x a year and includes new work from active Society6 artists. Emerging artists will sit alongside community veterans in a celebration of the diversity in media, style and subject represented within the S6 family. With thousands of artists uploading daily, we may not be able to fit everyone in, but we're thrilled to establish one more way to spotlight our talented members.
And now, let's introduce the artists of Society6 Art Quarterly No.2.2 in order of appearance:
Martynas Pavilonis – Mouni Feddag – Kubism – Matthew Taylor Wilson – Thomke Meyer Illustration – Derek Eads – Mike Creighton – Nick Sheehy – Esteban Isaacson Labarthe – Rick Crane – Rebecca Flattley – Alan Linnstaedt – Sarah Matuszewski – DeadButCool – Beth Hoeckel – Pamela LS – Andrea Ucini – Loll3 – Chris Piascik – Karina Boissonnier – Sylvain Bilodeau – Ahmad Mujib – Phazed – Sophie Beer – Archan Nair – Saddo – Randee Armstrong – Gemma Correll – Aleksandra Kalisz – Tarmasz – Myxomatosia – Valeriya Volkova – Daniel Taylor – Stephanie DeAngeles – Édgar MT – Raluca Bararu – Camila Rosa – Jovana Rikalo – Beatrice Menuel – Julia Lillard – Roland Banrevi – Teddy Karas Onyszkow – Riccardo Cusimano – Hraun Photography – Tanya Shatseva – The Junkers – Anne Martwijit – Ciao Beltrão – Hugo Barros – Alexander Mostov
These art books are exclusively available through society6.com in extremely limited quantities. Grab one while you can!