As the woman behind

Twig & Twine

, Heather Williams has been whipping up stunning floral arrangements to spruce up the chicest of affairs for the past eight years now. And for the last five, she's operated out of a storefront that doubled as a beloved spot to pick up pretty little gifts, cards, home goods, and other perfectly curated goods.
Though the budding location in East Hollywood was never short on foot traffic (one of the area's hottest breakfast and brunch spots is just a few doors down), Williams ultimately made the decision this year to simplify her workload and focus all efforts on her floral design business as opposed to trying to juggle retail as well. And because she also happened to be looking for some personal new digs as well, the possibility of finding a spot to live and work under one roof arose — if it met some serious criteria.
As luck would have it, Heather found her dream space in the rapidly developing Highland Park area. It was in close proximity to cute shops and eateries, offered plenty of room for office and studio space, and even gave her and her pup/studio mate Georgie some outdoor space to chill, barbeque, and blow off some steam when she needed an easily accessible respite. Though, as anyone who works from home knows, it can be tricky to merge your work and home spaces, the floral guru knew exactly what it would take to make the transition easy, and ultimately the best decision for her business. We got Heather to tell us the secrets to successfully creating a home studio that's just as functional as it is inspiring.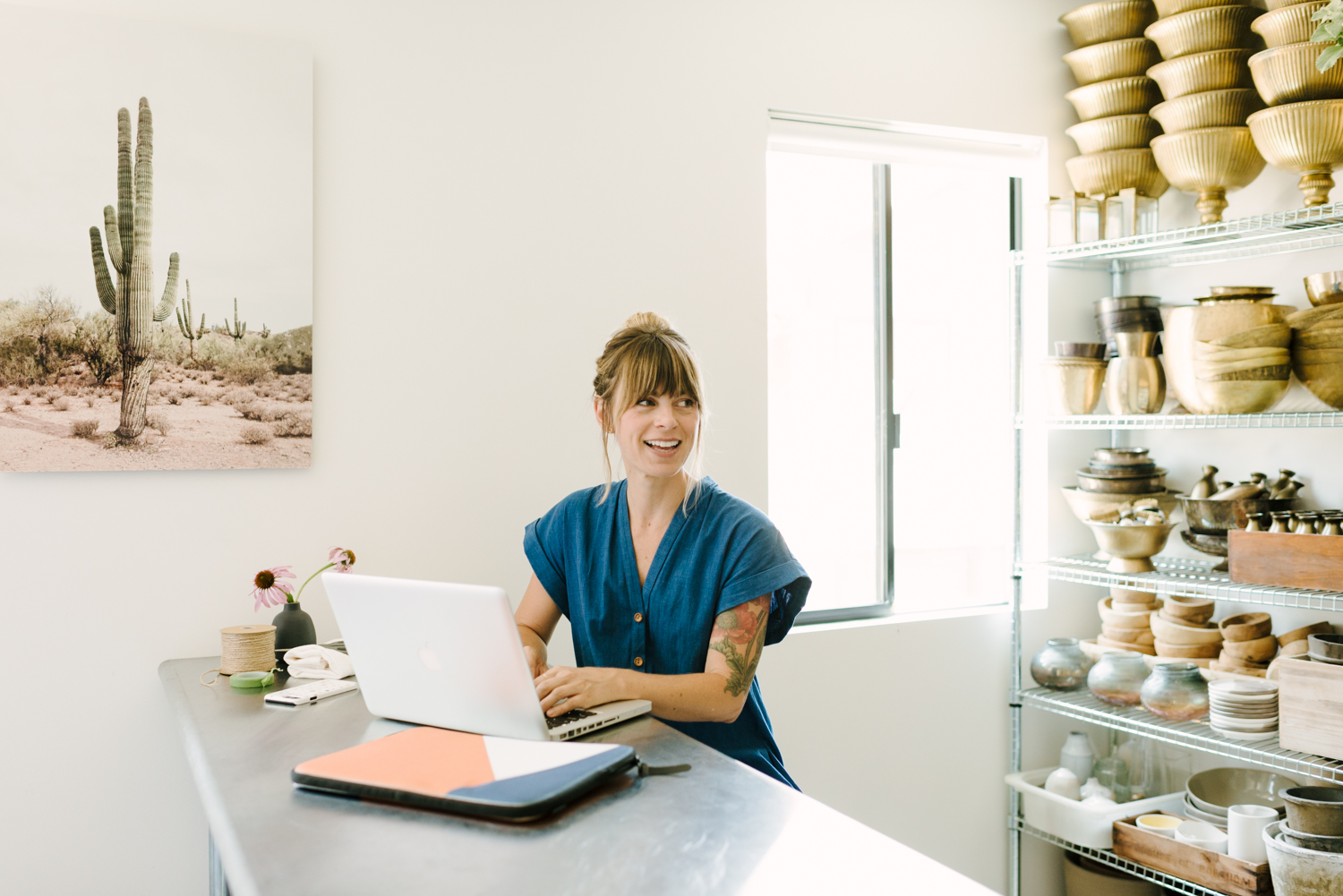 Find the Light
"Good lighting is key for most visual creatives. Being able to properly see your work, especially in terms of color, is of utmost importance. The two windows in my space provide great natural indirect light, which was a big selling point."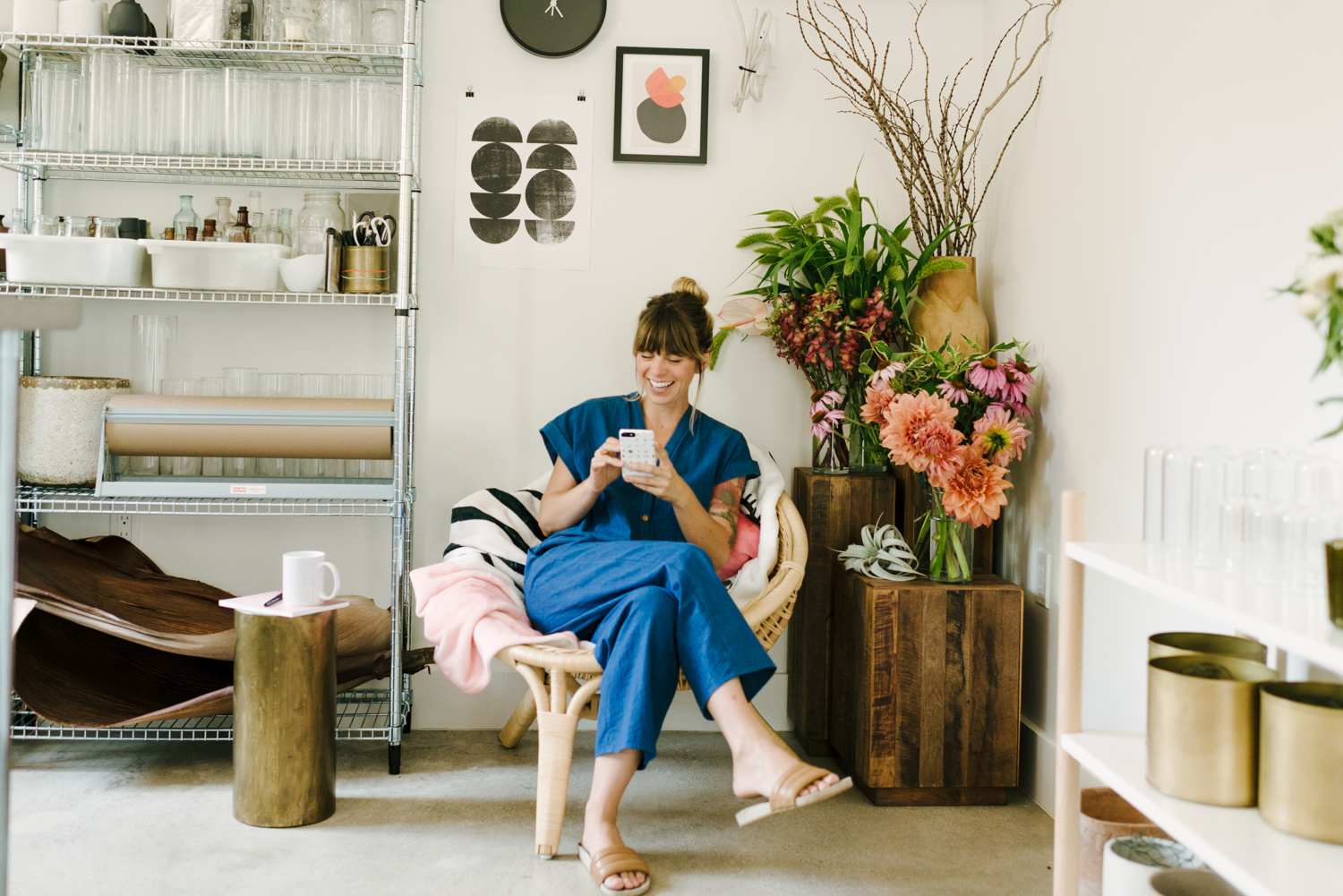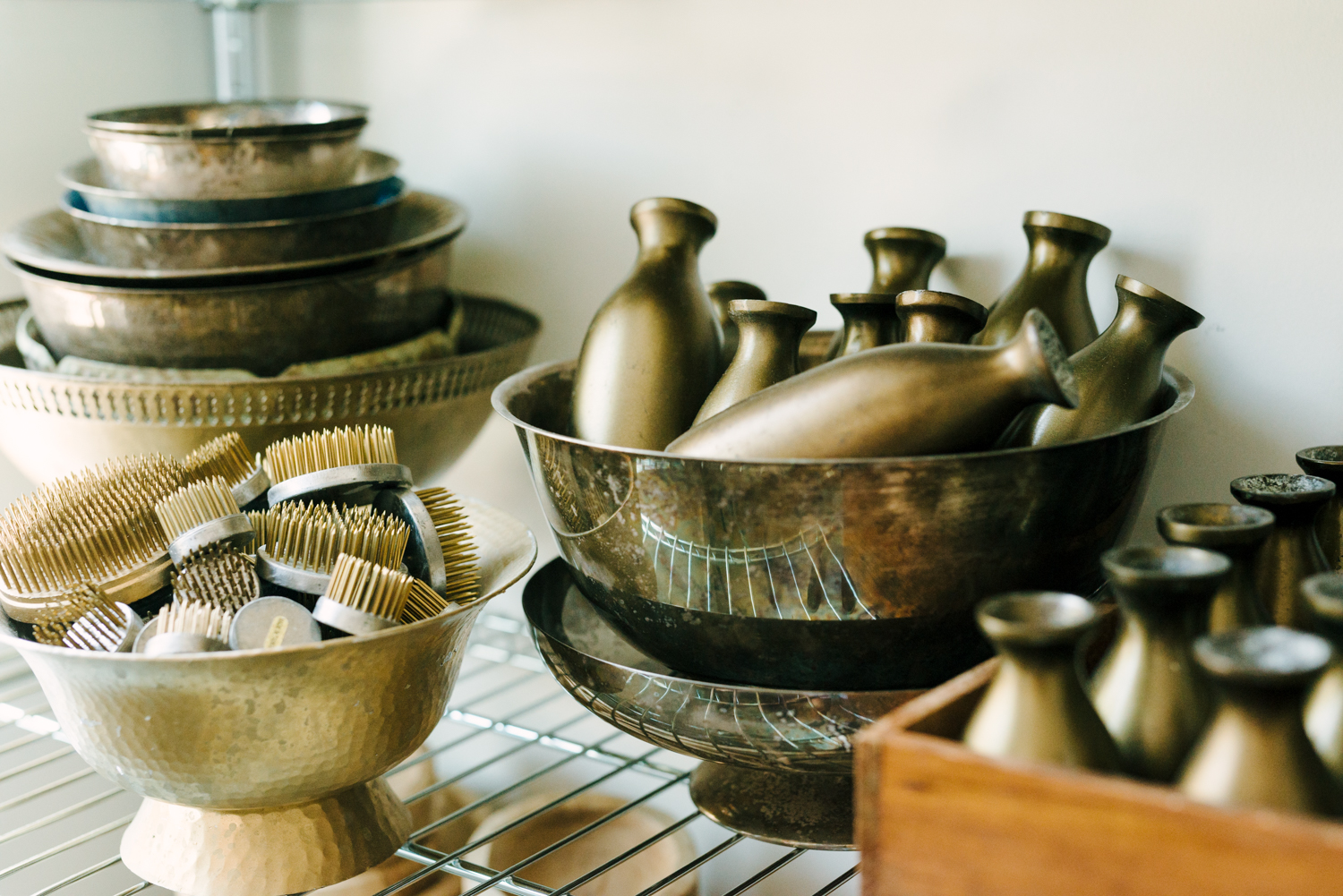 Racks on Racks
"Florists need a lot of goods and supplies to do their job, so having enough room to store vases, tools and other goods was essential when finding my new space. I use functional metal racks to store my goods so I can see what is on hand at all times."
Keep It Cool
"In the sweltering temps of East Los Angeles during the summer an AC-ed space is so necessary when dealing with as delicate and perishable a product as flowers. Also, it keeps me sane".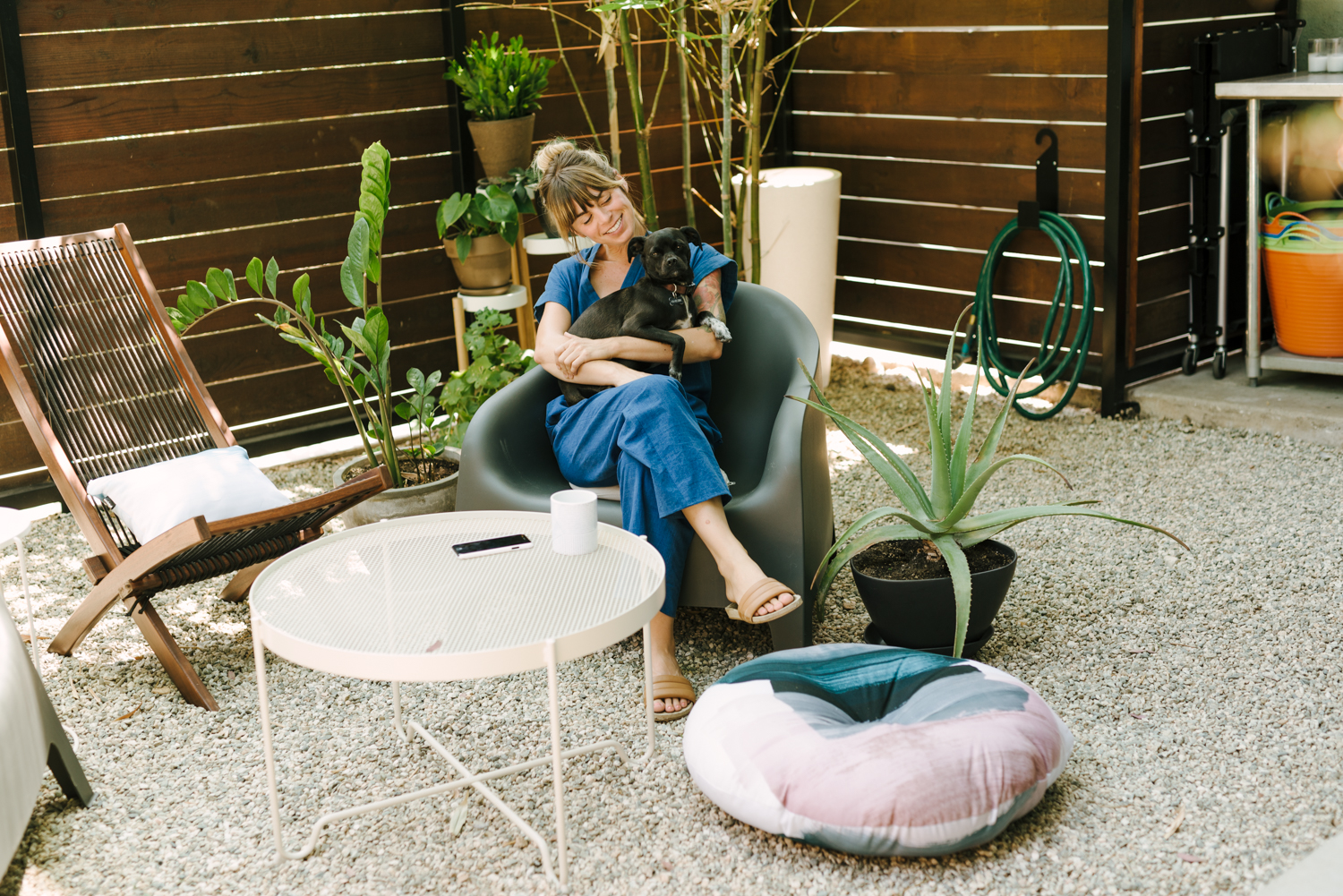 Make It Multifunctional
"Finding a location where I can live and work together was the perfect transition after closing my shop. I can work for a few hours in the studio then enjoy a nice home cooked lunch in my patio area and possibly even fit in a power nap to relieve the midday sleepies that often result from 5am market runs. My dog also loves being able to hang out in the adjacent patio while I work as well."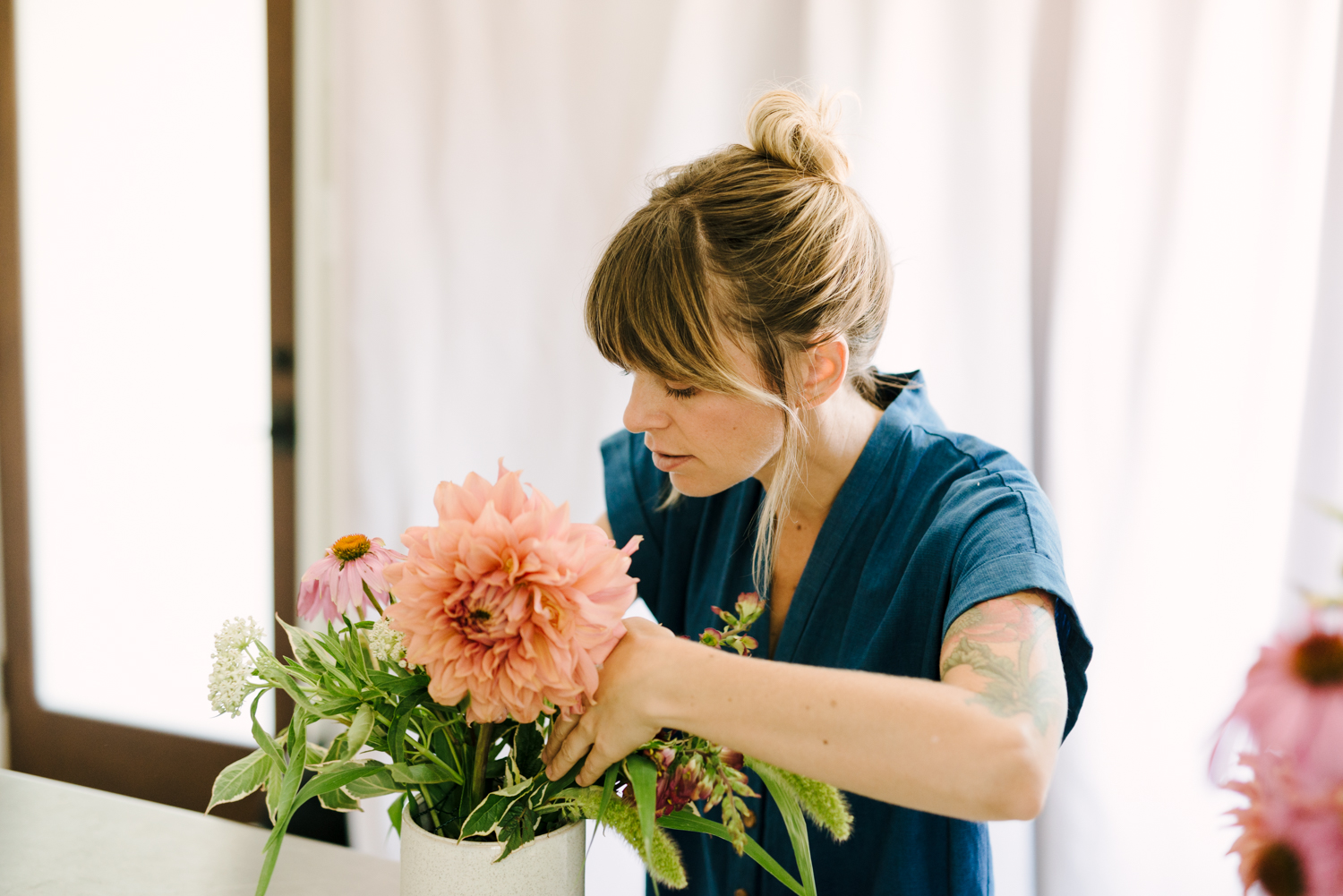 Location, Location, Location
"The Los Angeles Flower Market is located in DTLA and although I often head in that direction before the sun rises it's nice to be somewhat close to avoid sitting in the traffic LA is known for on my drive back to the studio. After closing the shop and not being tied down to the Silver Lake area I decided it would be fun to explore living in a new neighborhood. Highland Park is known for it's up-and-coming scene on Figueroa so finding a location a block and a half off a burgeoning street and a short drive to the market was perfect."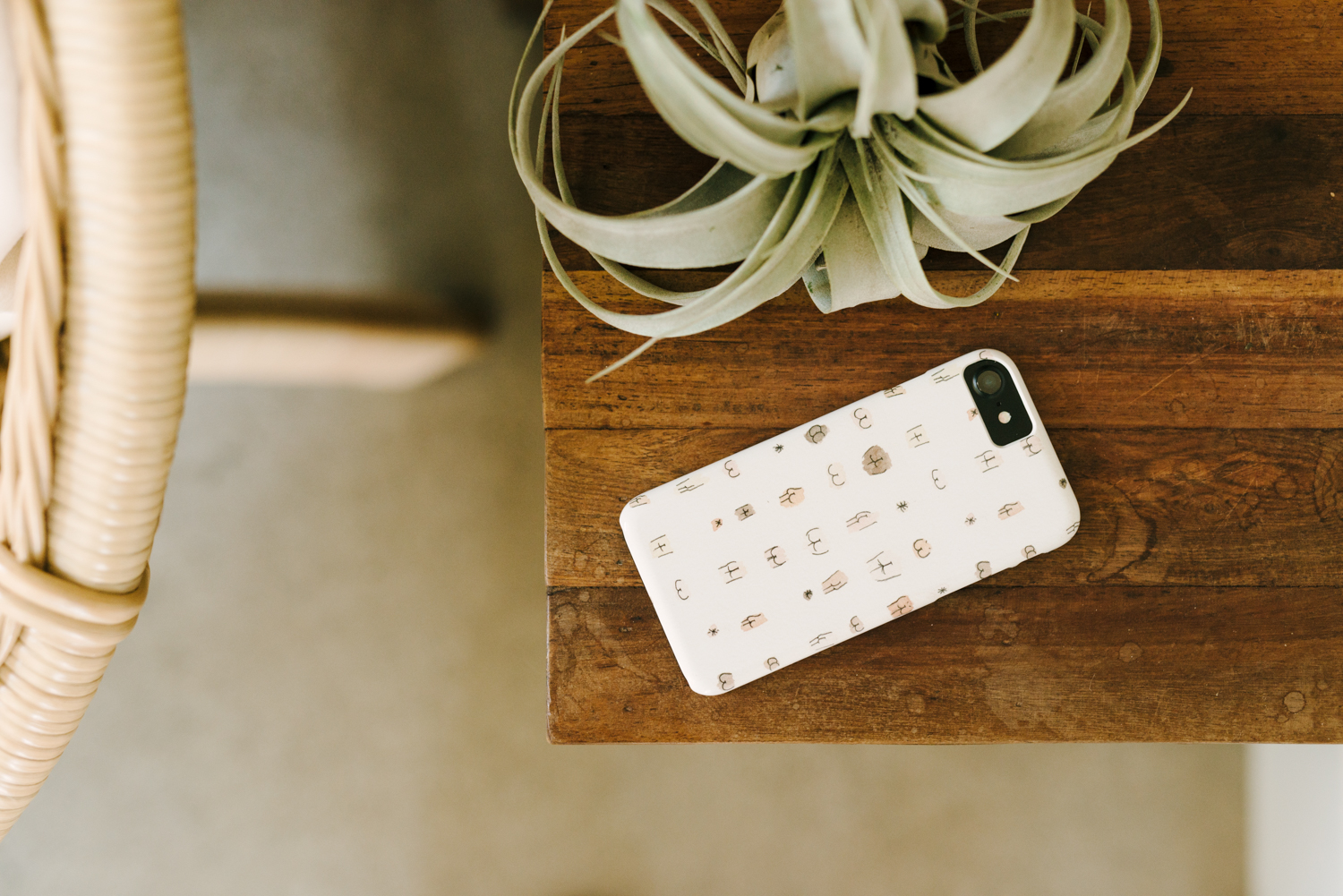 Lines Art Coffee Mug
by Summer Sun Home Art
$15.99
Butts iPhone Case
by Julia Heffernan
$35.99
Desert Cactus Metal Print
Back to Sail Laptop Sleeve
by Fernando Vieira
$36.99
Simply Midnight Black Wall Clock