Did you know customers
want
to hear about your art prints and wall art being for sale?
Even if someone isn't buying your artwork, the simple act of following and engaging with you and your creative process is their way of showing support. And if you cultivate that relationship through meaningful interaction, you have a good chance of turning that fan into a customer–even better, a repeat customer. Given that art prints are among the truest form of your art available for sale, outside of an original piece, no other product allows as much freedom and support from customers when marketing yourself!
If you're a fine artist and curious about selling through Society6, we recommend offering customers tiered pricing with open editions being the most affordable. This makes your artwork much more accessible to the average art buyer. You can offer originals ($$$), limited ($$) and open editions ($) if you're interested in getting your art in more homes and on more walls.
The growing wall art market:
To understand just how much money is being spent on wall art, we turn to the Global Wall Decor Market Size study by Wise Guy Reports, a market research and consulting firm. Using the description of their study alone, the wall decor market was valued at USD 60.7 billion in 2016 and expected "to reach USD 78.5 billion by 2025". Wall decor in this context is broader than just art, however, it's clear that the market for wall art is continuing to expand with no slowing in site. In other words, if you're not already, don't hesitate to ramp up your marketing efforts for any of your wall art products. Customers are saying, with their wallets, they want more.
For the purposes of this article, we're considering these products: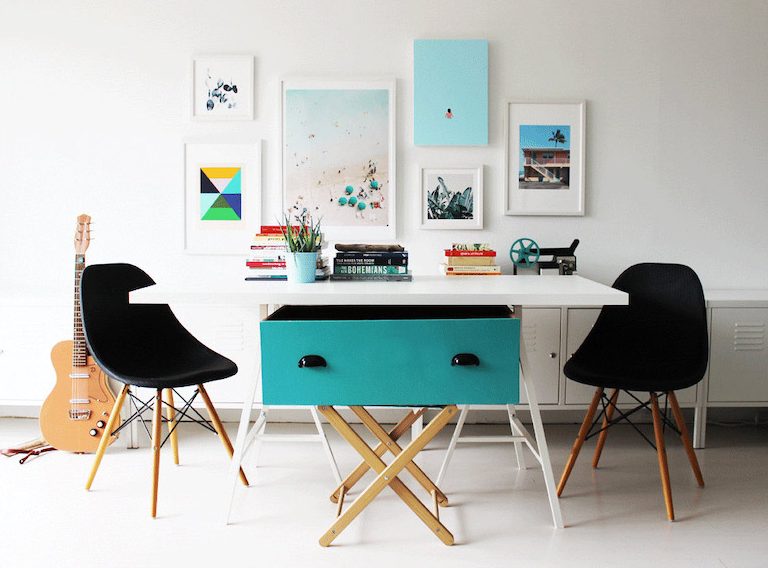 Why are people buying art prints and wall art?
The average buyer isn't looking to spent $3000 on a fine art piece, although there is certainly a market for that. Millions of customers visit Society6 every year looking for cool and affordable art. Their goal with a wall art purchase is to create a feeling in whatever space they're filling. That's the idea that encompasses any practical need for wall art products.
FUN FACT: Art prints were the first product Society6 ever launched. That was back in 2009, and all these years later, it's still a year-round, top selling product.
Reasons why someone buys art prints and wall art:
Make a living space feel the way they want
Moved into a new (or first) house, apartment, dorm
Decorate a desk or office space *great for promoting mini art prints
To hang in a nursery or kids room
Great and meaningful gift
Make an AirBnB space look cooler/modern
Hang up in a boutique shop
Looking for affordable art
Tie a room's theme or decor together
+ more
Who is buying art prints and wall art?
This list is a reflection of why people buy art, but with the intent of putting "types" of people into a relatable context. If you know anyone that fits the mold below, feel free to use them as a reference point for how you create visual and written content to market your art prints and wall art.
Types of buyers:
Home and apartment owners/renters
First time art buyers (dipping toes in)
Students
Parents
Friends and family
Anyone who works in an office or at home
Interior designers
Boutique shop owners
Hotel and rental property owners (like AirBnB superhosts)
Just about anyone!
When do people search for wall art?
All year long! If you only ever promoted one product category (wall art), this would be it. The lulls in search don't really merit a slowing of marketing efforts. Wall art is impermanent and easy to swap out any time of year.
When potential customers search for "wall art" via Google, Society6 shows up on the first page. We're up there with Wayfair, Target, and west elm to name a few. Using Google Trends, we can identify seasonal trends and the best times to promote these products. As you scroll over the graphics, you'll notice a popularity score. A score of 100 is peak popularity relative to overall search volume for the last twelve months.
A great time to promote your wall art is January through March. What's interesting is that January sees a definitive peak in search popularity in its first week even though you'd think the holidays would be more popular.
Since art is such a personal thing, we expect that everyone is getting/giving gift cards for the holidays. And after traveling for the holidays, everyone settles back into their own living spaces. That combined with all the "new year, new you" campaigns and sales kicking off, customers are looking for new wall art and art prints.
From a marketing perspective, that rolls pretty organically into all the spring "refresh your space" campaigns. That's why January peaks, but then we see strong search for wall art all the way through March.
The next best time to promote your wall art is mid-to-late summer. This is likely due to a big back to school season. There's a lot of movement into new apartments, houses, and dorms. Also, people are getting ready for post-summer dwelling in general. They've spent the summer outside and they're ready to prep for the inside months–fall into winter.
Finally, holidays are always a great time to promote your art prints and wall art. This one is pretty obvious because it's the biggest gifting season of the year. Even if you live under a rock, there's no ignoring the holidays. This applies to most products you sell, so we recommend focusing on products your audience has shown the most positive response to. By leveraging your best selling products to get potential customers through the door, all your other products will benefit.
How do I promote art prints and wall art on social?
You have a lot of flexibility when it comes to promoting wall art. There's different kinds, different setups and it's common for customers to tag the artists they purchased from out of support. It's a product that has traditionally been hung on a wall with space for it to shine, but with more affordable art comes customers less afraid to experiment with creative displays of art. We'll cover a handful of popular ways artists and customers are highlighting the wall art in their lives so you can consider doing the same.
Hold up your unframed artwork
This approach feels candid and authentic. The fact that you're holding up a finished piece feels more like an invitation into your process–and your customers end up feeling more invested in your success. You can also tease that what you're holding will soon be purchasable through your Society6 shop.
View this post on Instagram
View this post on Instagram
View this post on Instagram
Show your work on real walls
Once you get wall art sales rolling, you'll notice customers start to tag you. If you get tagged in any pics, ask if you can re-share. That not only gets a customer excited about their purchase, that simple interaction makes your customer more likely to become a repeat supporter and purchaser of your artwork.
PRO TIP: Take pictures with your phone in your friends' living spaces and then create your own mockups. Aim for bright, naturally lit spaces. Wall art is probably the easiest product to place in a photo since it's rectangular.
View this post on Instagram
Use mockups from our site or create your own
Seeing your artwork in a real setting helps your customers get a sense of your art in their space. The next best thing to an IRL photo is a 3D rendering of a space with your artwork. You can pull from our site or create your own. Also, if you google "wall art mockups", you'll find plenty of pre-made imagery to use that will show off your wall art.
Show off the diversity of your wall art
Ironically, wall art isn't just for walls. Get pictures of cool setups that your friends have and ask if you can swap out your art prints with what they have on display.
You can mockup your own artwork into photos you've taken. That's usually an easy way to create your own imagery. Keep the process easy and take pics with your phone. Those photos should be plenty large for editing and reposting to whatever social platforms you're interested in.
View this post on Instagram
View this post on Instagram
View this post on Instagram
View this post on Instagram
Use our pre-written captions for social media
Struggling for words? You can never go wrong with providing your customers with practical education. Here's some captions that you can use to promote your art prints and wall art in general. Feel free to change these up or use as-is. They are meant to take the edge off the copy process. And of course, use emojis liberally.
General art prints for sale
If you love me so much then why don't you—make a gallery wall out of my art prints. I think that's how that phrase goes, right? Check out all my prints in my @Society6 shop. Link in bio.
Empty walls need love too
Art-less walls are sad walls. So make your walls 🙂 by hanging some of my wall art from @Society6. Link in bio.
Easy and meaningful gift
People love thoughtful gifts. What's more thoughtful than a piece of art for them to hang and remind them every day of what a great friend you are? Answer: nothing. Get to giftin' from my @Society6 shop. Link in bio.
Inspire the AirBnB superhosts
Rental home hosts! If you're looking to make your space more welcoming for guests, art prints, posters and framed pieces quickly create ~vibes~ for each room, AND they can help guide you in designing a statement-making gallery wall. I'm selling all sorts of wall art on @Society6. Link in bio.
Embracing your inner designer
So you're ready to start embracing your inner designer, huh? Wall art—posters and prints and framed pieces, oh my!—is one easy, stress-free way to start expressing yourself. And I'm selling them on @Society6. Link in bio.
Good for desk or office
You spend so much time at work anyway, why not make your space stylish? Decorate that desk! Get creative with that cubicle! Not everything has to be purposefully practical, and mini art prints can solve that problem. I'm selling them on @Society6. Link in bio.
Make home feel like home
Whoever put feng shui on the map deserves a medal. If I can help make your house or apt feel like home, I'd be honored to have my art hang in your living spaces. If you've ever been curious, I sell a curated selection of my artwork on @society6. Check out all my wall art via link in bio.
Don't forget to tag us @society6 if you post any pics! Our social team loves seeing all the creative ways Society6 artists promote their work–and sometimes will re-share on our channels.