NBD, but we got to hangout with one of our favorite musical artists, Grace Mitchell in her literal time machine/70's cabin/studio tucked in the Hollywood Hills. 
With wood paneled walls, tarot cards and music gear everywhere, it's no wonder she's heavily inspired by seventies era style icons like Patti Smith, Mick Jagger and Farrah Fawcett. We caught up with Grace to talk about her new music, living and working alongside her boyfriend and creative partner, and her newfound love of Bob Ross and knitting, which we're pretty sure is the new Netflix and chill. 
photos by Lindsey Byrnes
How would you describe the style of your home?
Very eclectic. When people come they love how it's a time capsule of the 1970s. It's a wooden cabin in the Hollywood Hills so we try to accentuate the nostalgia by adding lush plants, shag rugs, throw pillows, and psychedelic patterns. There's also some reproduction mid-century modern and western-antique pieces thrown in.
What is your personal style ethos? How different is the way you dress the way you approach decorating your space?
Not much different I'd say! I feel most comfortable in cowboy or chelsea boots, jeans, and a t-shirt and I think my house reflects that lounge-style attitude as well. I own a lot of unique and weird pieces in my closet and my house has no lack of bizarro signature pieces, like our Sigourney Weaver portrait from S6.
There's a definite 70s vibe to a lot of the s6 products you picked – who are your biggest style icons from the seventies?
Jane Birkin, Patti Smith, Mick Jagger, Jim Morrison, Diane Von Furstenberg, Farrah Fawcett, Lauren Hutton.
You live with your boyfriend who is also a musician/creative, can you tell a little bit about what that's like? How do you strike a balance between collaborating and living together?
I think I can safely say that we love living together. I have my own studio space and so does he, if ever we need time alone to work on projects. We spend most of our time in the living room watching movies on our projector and ordering take-out. We're equally messy and neat so there's no problem if we want to eat pizzas in bed or forget to the do the dishes. We work together on creative projects as well. He just started up a society6 profile to showcase his art and I've been helping him curate it. @peacedrone is his handle!
"I'm digging deep to my creative core and finding a lot of inspiring material to write about especially reflecting back on my time signed to a major label and what my career has been thus far."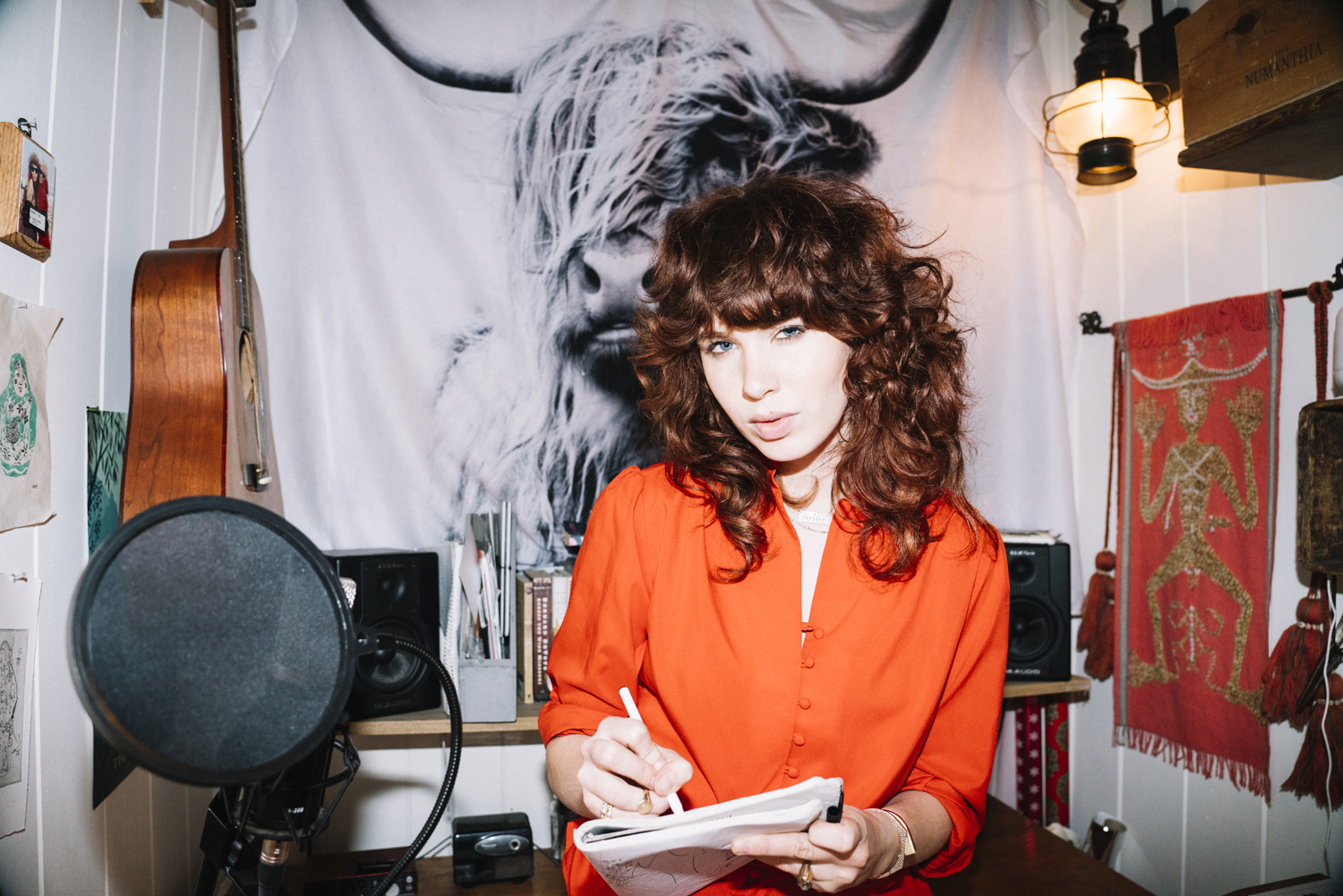 You're working on new music right now, how's that going? When can we expect to hear new stuff??
Yes! I just became an independent artist this year, and with that came many changes, the most exciting of which is making new music. All of my time lately is dedicated to working at home and in my studio writing new music and developing my sound. I'm digging deep to my creative core and finding a lot of inspiring material to write about especially reflecting back on my time signed to a major label and what my career has been thus far. My music is taking a more rock shape as I've been working on it, which is great because when I was growing up my palette was really rooted in rock and indie. At the moment, I'm in the studio writing, but I'm always giving little updates on my Instagram and Twitter. @gracemitchell
When you're writing, what are your go tos to get inspired: do you have a favorite book or song or maybe you meditate or journal?
I journal a lot. I have one particular journal dedicated to the album I'm writing currently that began when I left my label. I use it to archive all my epiphanies and life-realizations. I listen to Spotify playlists a lot especially the Modern Psychedelia playlist. Radiohead is a big inspiration of mine to kick-start creative juices and I use them a lot in the studio for sound references with my collaborator Isom Innis. I get a lot of inspiration and creative energy from traveling and being out in the world having experiences. I love to go on tour with Riley and watch him perform to get inspiration for my live sets.
How has your role changed as an artist/woman/human in 2018 if at all?
My role as a woman has changed a lot in 2018 because I have more responsibility than ever to be a voice for change and to stand up against misogyny and corruption. My role as an artist is ever-evolving and I'm privileged to have people in my life that believe in my art and that will support the creative endeavors that inspire me.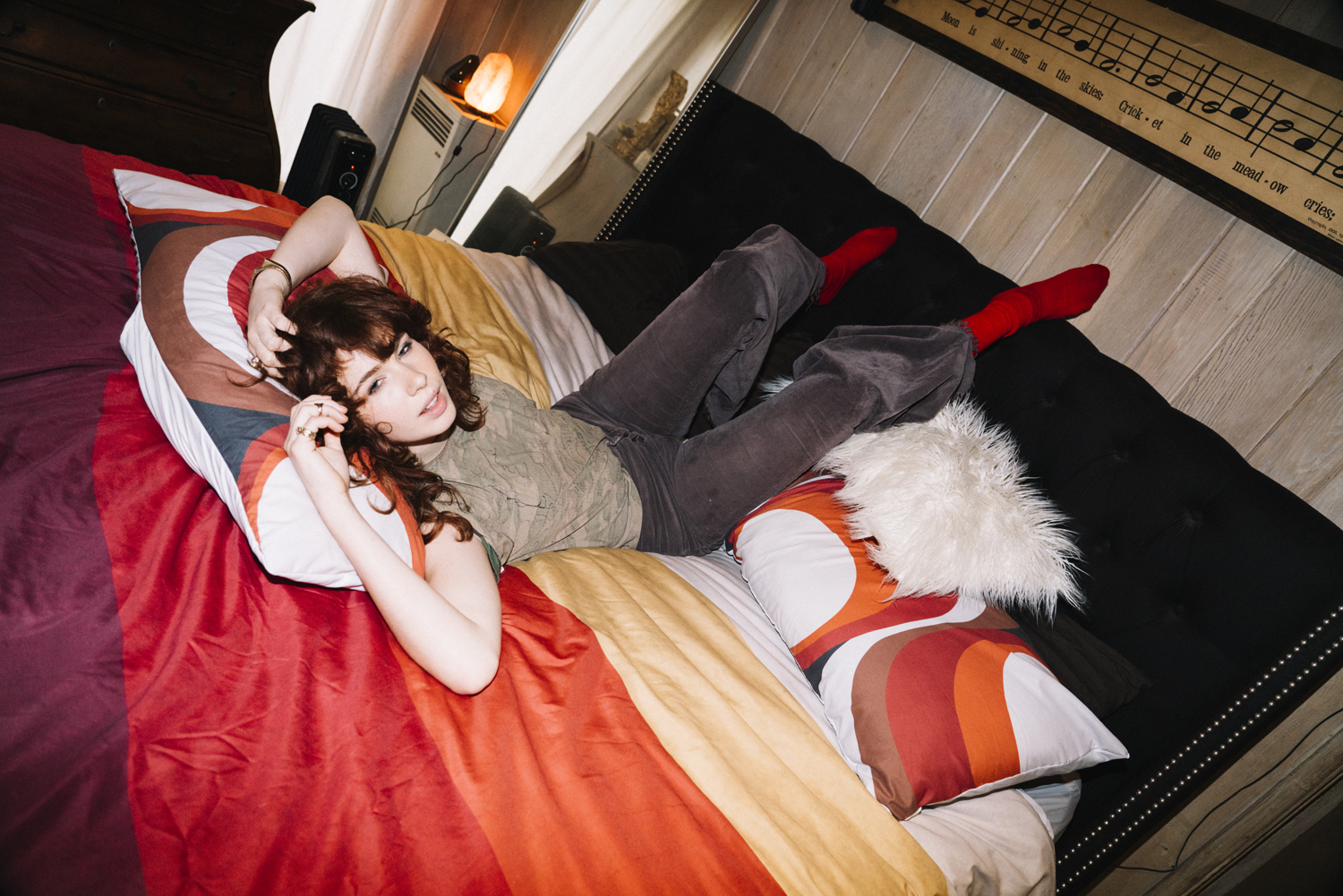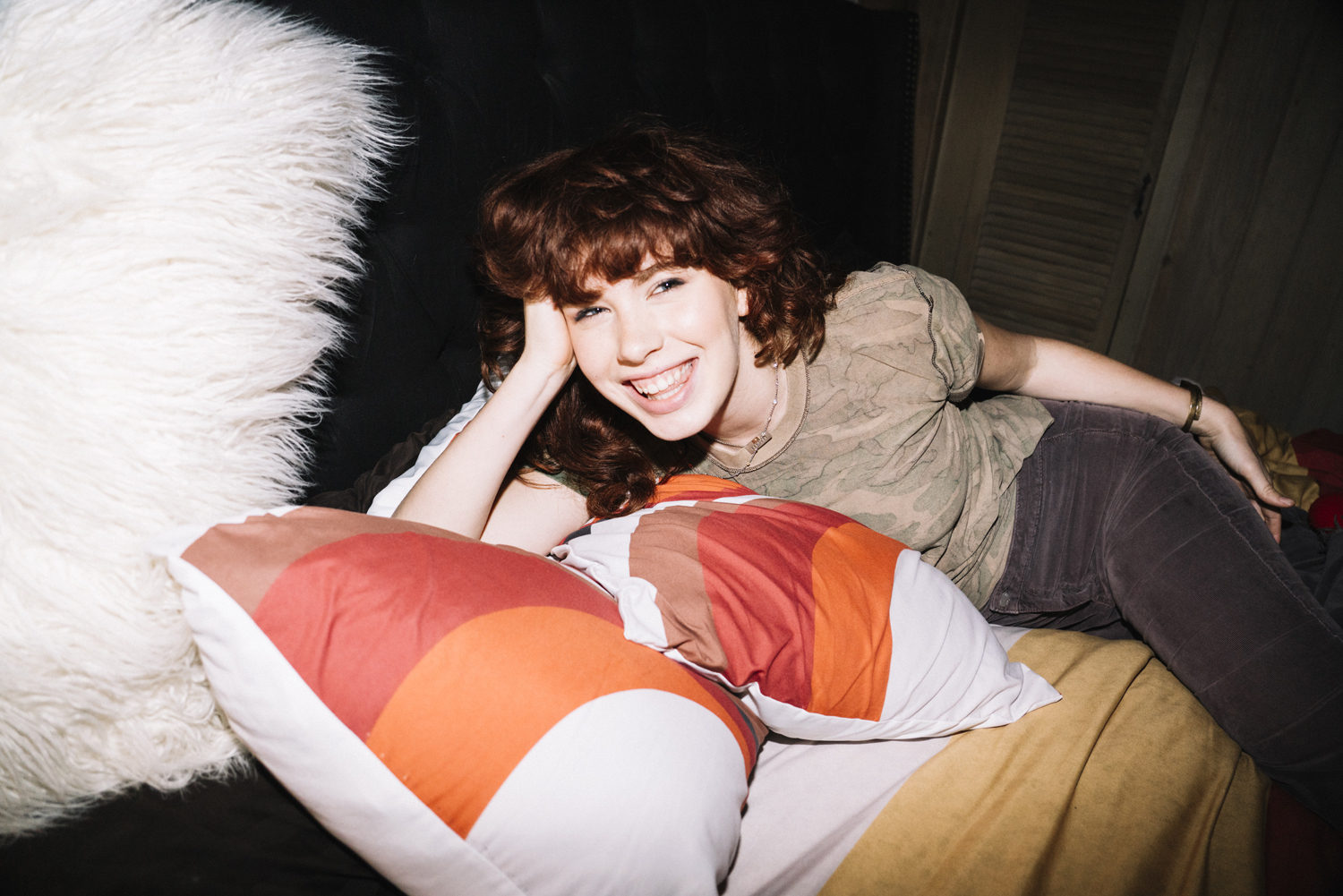 What are the themes you're covering in your new music? What do you find yourself returning to as a recurrent topic?
I'm writing a lot from my personal perspective which I'm actually not used to doing. Believe it or not, I typically write from the perspective of a character that isn't me, like someone older than me, or a boy, or someone with different political and social views. This time, I'm writing about my experiences with growing up, my parents, falling in love, and internal struggle. Sonically, I'm consistently using guitar and bass as my main focal instrument.
What are your thoughts on the way that culture uses "female musician" or "girl band" or "woman artist" as a qualifier? Do you think that helps or hurts women (it's great to highlight the work of women but does it also limit us to a category?)
I don't feel particularly alienated as a female artist though, I recognize that I'm not a P.O.C or non-gender conforming person. I find that there can be a certain level of fetishization involving a "woman-rocking-out". I try to take it in stride and use the sexualization to my advantage. I think of it as taking back control and when I'm on stage. I feel liberated emotionally, and sexually. I don't like when so-called musical higher-ups *cough cough* (Neil Portnow and the such…) dismiss female artists in their entirety and pretend like we haven't been over here demanding equal recognition and rocking out just as well as the boys do.
What are you listening to, reading, absorbing right now that you're really pumped on?
I'm really into Bob Ross and knitting at the moment. I've been listening to the Meridian Brothers, Khruangbin, Supermodel by Foster The People, Kings of Leon, Real Estate and I'm always listening to Radiohead. Pinterest is my favorite place for visual stimulation. I have boards for pretty much anything; personal style, home decor, knitting, vegan meals, merchandise, photoshoots, looks for onstage, etc. One of my most favorite things right now is that Riley bought the entire series of these amazing guitar books off of Amazon called "The Guitar Grimoire" by Adam Kadmon and they're essentially a wizard's manual for playing guitar and they look like something out of Lord of The Rings. Eventually I will be adding shows to the lineup but for right now, I'm writing music and tilling a creative garden.
"My role as a woman has changed a lot in 2018 because I have more responsibility than ever to be a voice for change and to stand up against misogyny and corruption."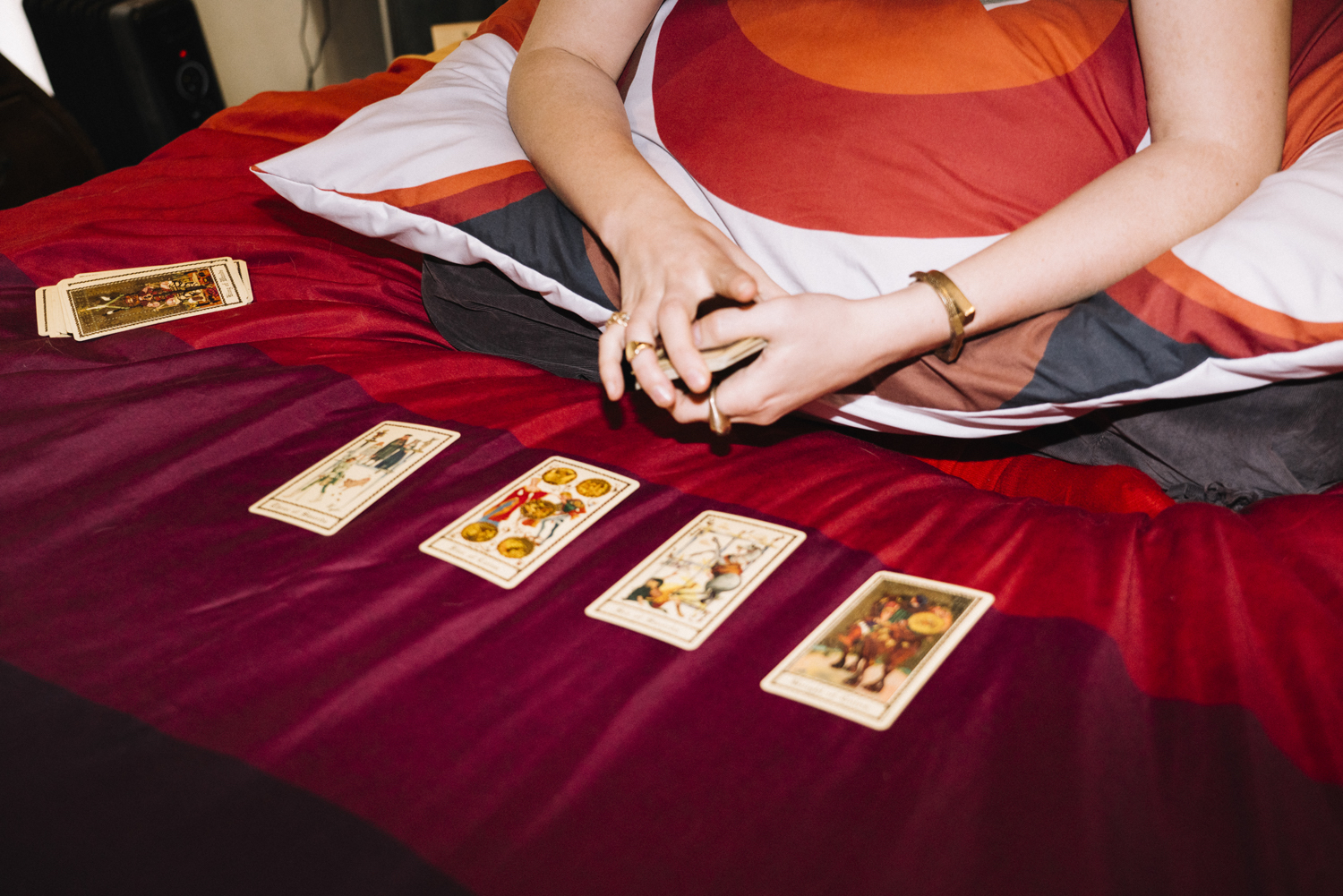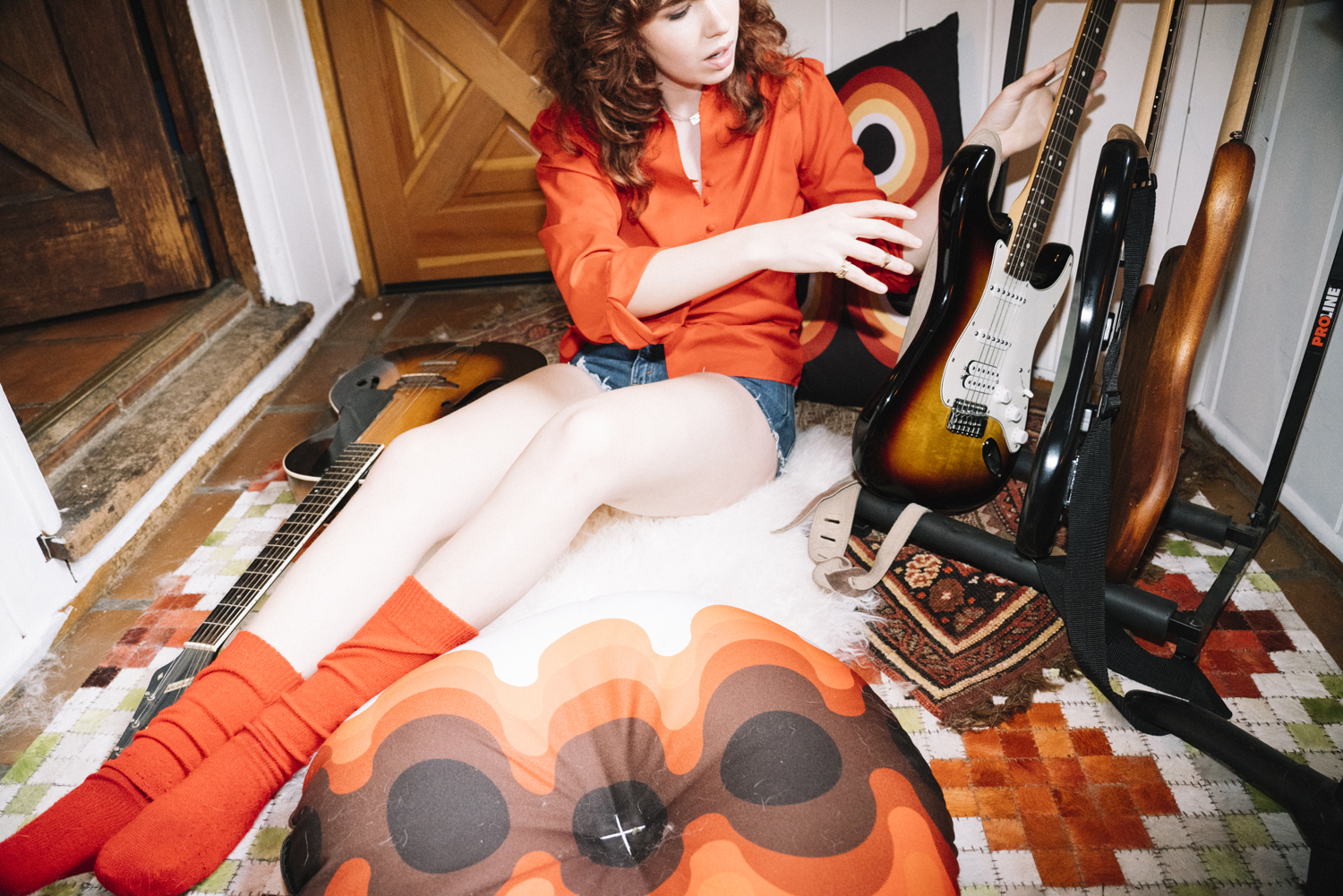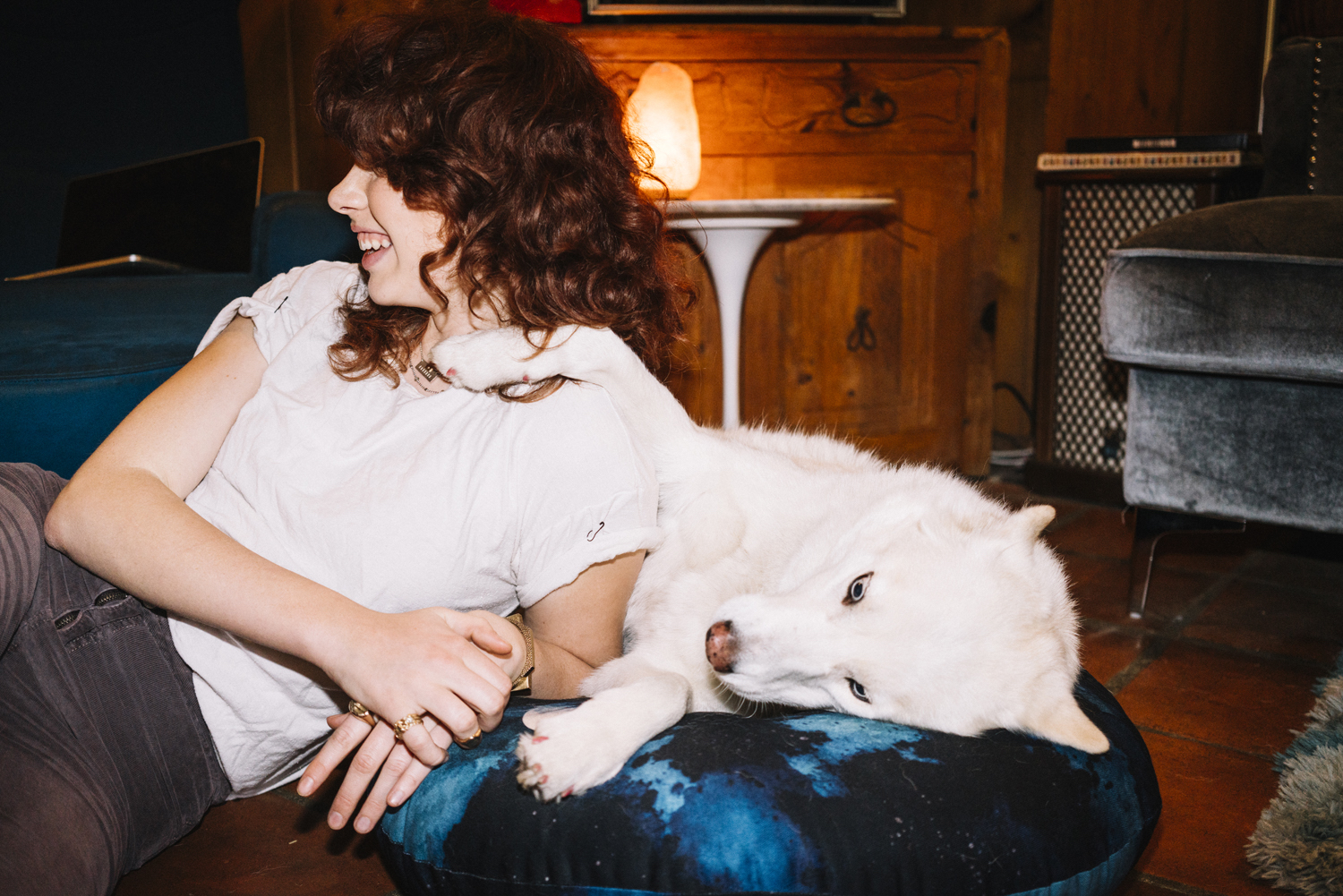 Distant Peaks Comforter
156
by SpaceFrogDesigns
$144.99
Big Sur Framed Art Print
353
by almostmakesperfect
$35.99
Portrait of a highland cow Wall Tapestry
8057
Retro Video Cassette Duvet Cover
by Alisa Galitsyna
$138.99
Indigo Sky Floor Pillow
1293
by SpaceFrogDesigns
$89.99
Glowing Spirit Floor Pillow
539
by Inspired Images
$79.99