Joe Baker's illustrations are curious, but catchy—once you start down the rabbit hole you don't ever want to look away.
Here, we interview Joe in his Melbourne studio to talk 90's Nickelodeon, working with musicians and how you know when your work is good enough to start charging for it.
Hi! Tell us a bit about yourself, how did you get started making art?
Hi! my name is Joe Baker. My artist name is Baked Lab. I grew up in a small town where I spent a massive chunk of my life daydreaming and doodling. I really got into drawing after my parents gave me a Robert Crumb book in my teen years and that coupled with my interest in ridiculous 90's animation and skateboard graphics made me want to pursue art forever.
Your work is a bit wild. It has a wonderfully surreal, melty, dismembered, at times disturbing, yet joyful quality to it. How do you come up with the subject matter for your work?
My ideas come in small bursts at random times, usually brought on by something I see in relation to my mood. If I find those ideas either funny or confusing I will write them down and expand on them in the studio. All my ideas come from a positive place, despite the disturbing content of some of my work, I think my sense of humour is just a little strange. I'm constantly baffled by some of the things that end up in my sketchbook, so I spend a lot of time figuring things out. My end game with my personal work is to try and create things that are both conceptually whacky or slightly controversial yet still be visually appealing.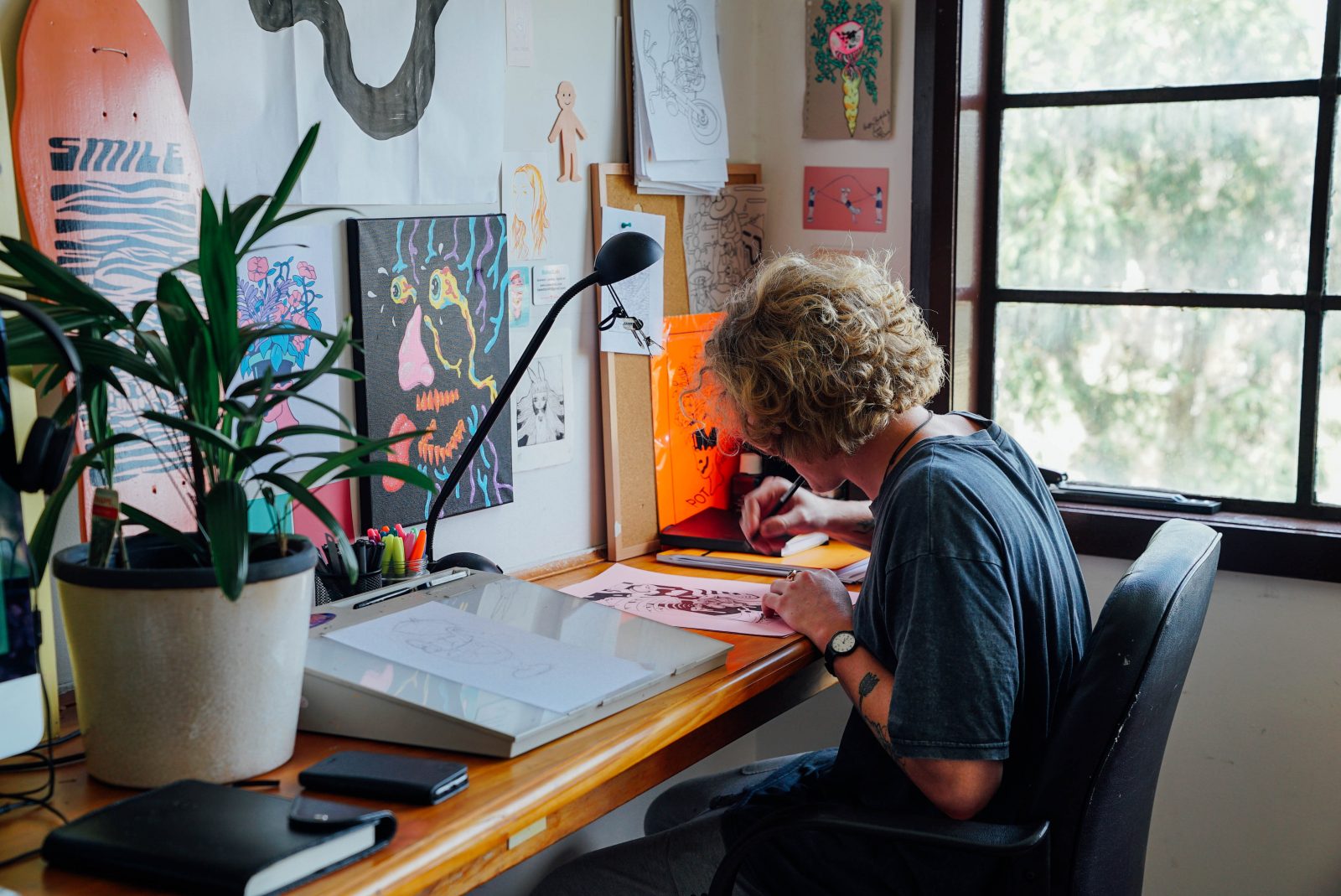 After you've come up with the initial idea where do you go from there? What is your creative process, and work-flow between analog and digital? 
Everything I want to refine as a digital artwork starts as a rough pencil sketch, then I go through about 3 or 4 more pencil sketches to get the form and composition of the drawing correct. I transfer that to a lightbox and ink the pencil sketch onto a new piece of paper then scan to the computer to rework again using illustrator and photoshop to add colours and shadows.
I switch up the process every now and again and I'll just scan in the pencil sketch and see what I can do with the pen tool in illustrator, although, I prefer inking things by hand. It makes me feel like a comic book artist in the nineties. I have also been experimenting with pens and markers without a pencil sketch and I've been enjoying those results. It's a lot more raw and exciting to see what happens when you have no initial plan to start with.  
What do you listen to while you work?
I enjoy silence when I'm refining ideas and finalizing my pencil sketches. I love cranking the tunes when I'm ready to ink something or lay down my colours. I also love listening to comedy podcasts like You Made It Weird or Harmon Town. These are especially good to listen to when I'm doing my stream of consciousness exercises.
How did you develop your style? Who or what are your main influences?
My style is a product of watching animations like Ren and Stimpy and looking at drawings by Robert Crumb and Jim Mahfood. Although, I have experimented with a few different mediums in the past like collage, 3d animation and photo manipulation. I think these have contributed to how I approach abstract form, compositional layouts, and shadow placement in my illustration work.
Musically influenced artwork came a little later in my life when I started making nightclub posters for my friends and I was introduced to a huge amount of cover art on the records they collected and watching music videos constantly.
Also, during my time at university, I was introduced to surrealism, pop art and contemporary video and sculptural installations, which were always an exciting experience. I'm hugely inspired by the minds of artists like Patricia Piccinini, Paul McCarthy,  Roy Lichtenstein and René Magritte.
You have a great sense of color how do you choose your palate?
My colour choices are often affected when I listen to a certain musical genre. Muted reds, warm yellows and pinks start to really look good to me when I'm listening to hip-hop or electronic beats. I also have this weird selection process where I liken the colours I'm choosing to really tasty food… If three colours look delicious to me, I'll use them. Also, I tend to use a lot of pastels and candy coated colours to help soften the more disturbing concepts in my work.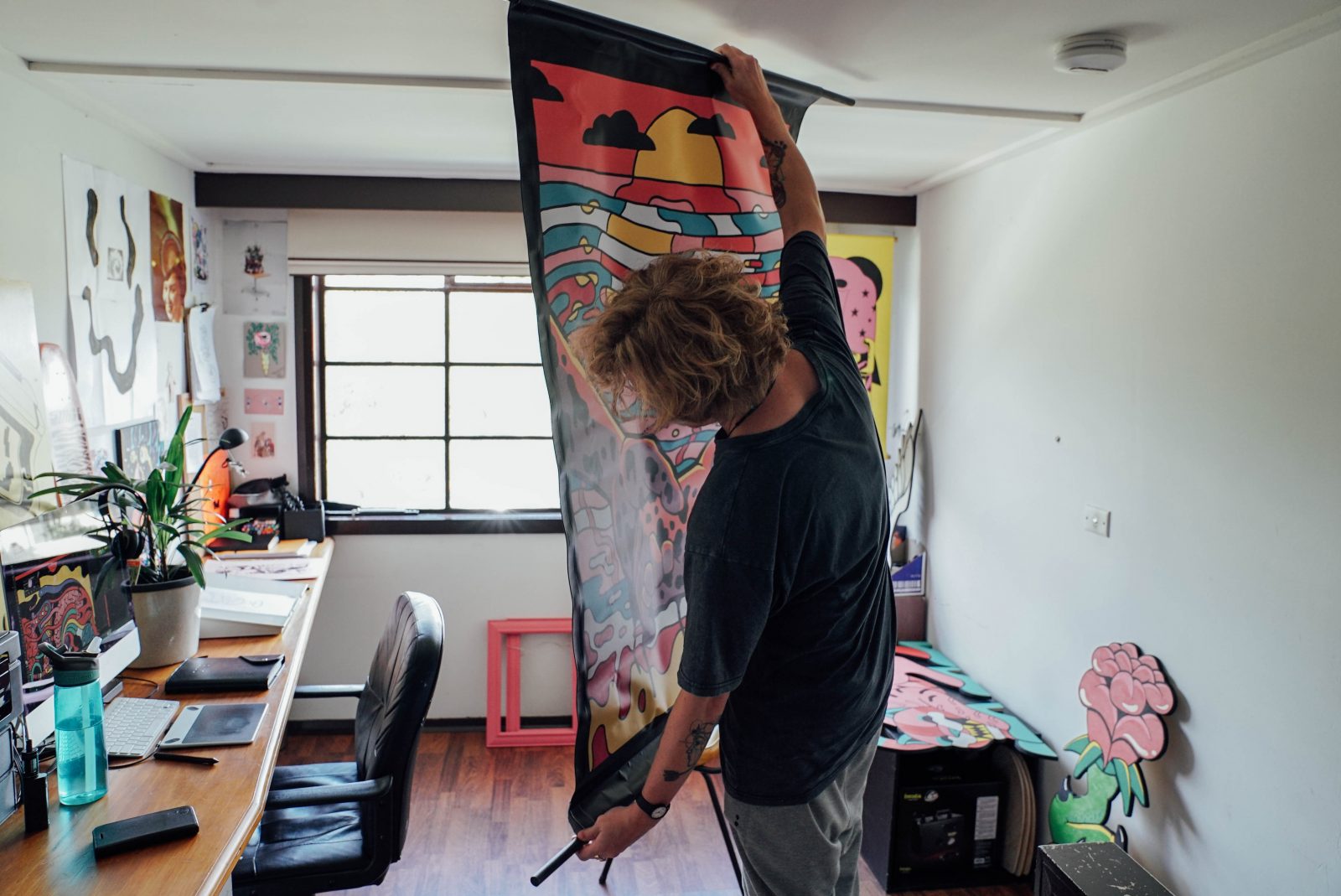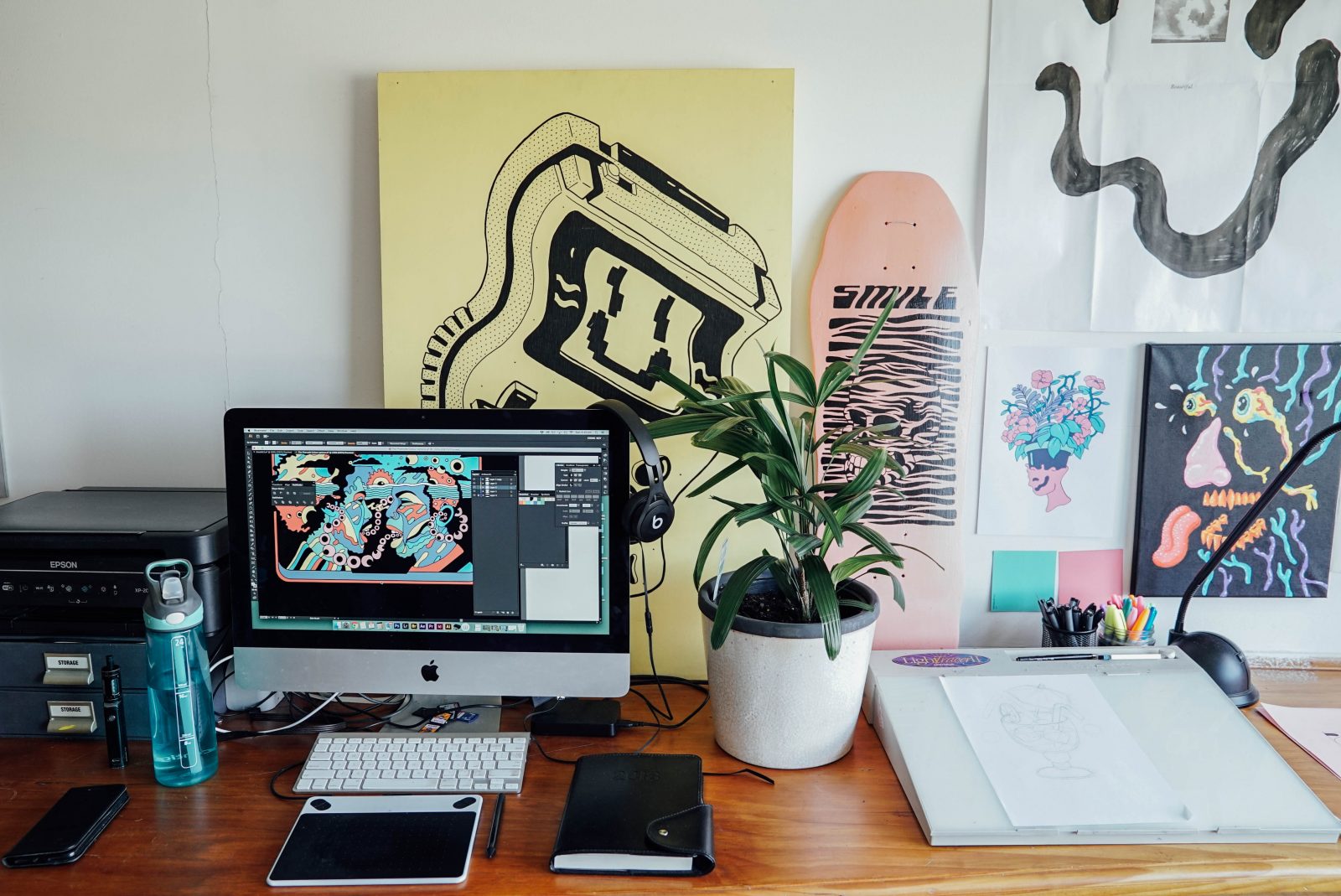 Tell us about some of the collaborations and commissions you've been working on recently. How do those differ creatively from your personal work?
I still make posters/promo for events and I've been doing a lot of work for musicians recently, album covers and clothing design. I try to find a nice balance between my personal and client-based work. Usually, a client will trust me to create something based on a reference of my work, which is handy due to the different styles in my work. When I'm working with a musician I like to get a good understanding of their creative direction. I want them to spill the beans on every aspect of the project and send me their music so I can start the artwork. Translating music into visual art is always a fun and challenging experience, it doesn't always work out, but when it does it's a really rewarding collaborative experience. One of the highlights of my career so far is the vinyl cover I illustrated for Calvin Valentine's record "Eugene".
How did you transition into being able to support yourself making art full time? Any advice for aspiring artists on how to make that happen? 
Put your work first, get better at what you do, then repeat that process until you can start putting a price on your work. I did a lot of work for no money when I first started out which was fine because I knew I wasn't a good artist. I wanted to get better and build long-lasting relationships with people that would eventually start to pay me based on the quality of my work. I'm a harsh self-critic so it took me a long time. I've only just started making money from my art and I'm truly thankful to everyone that has supported me to get to this point. Just work very hard, support the people that support you, encourage yourself every now and then, don't take on more work than you can handle, pick the right jobs for you and don't forget why you started in the first place.
Finally, who are some of your favorite S6 artists?
I really like the work of Natalie Foss, Rachel Peck, and Hanna Kastl-Lungberg.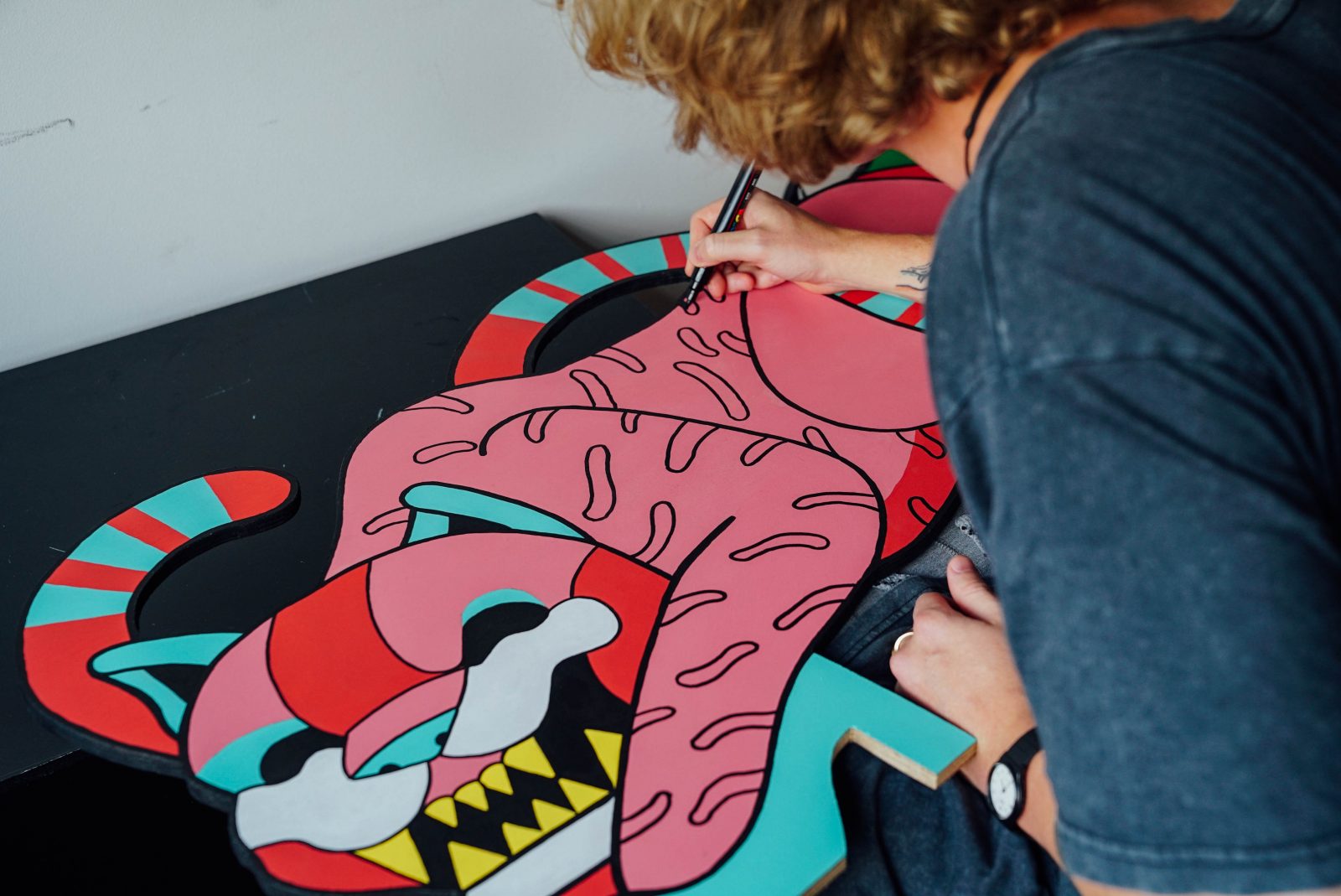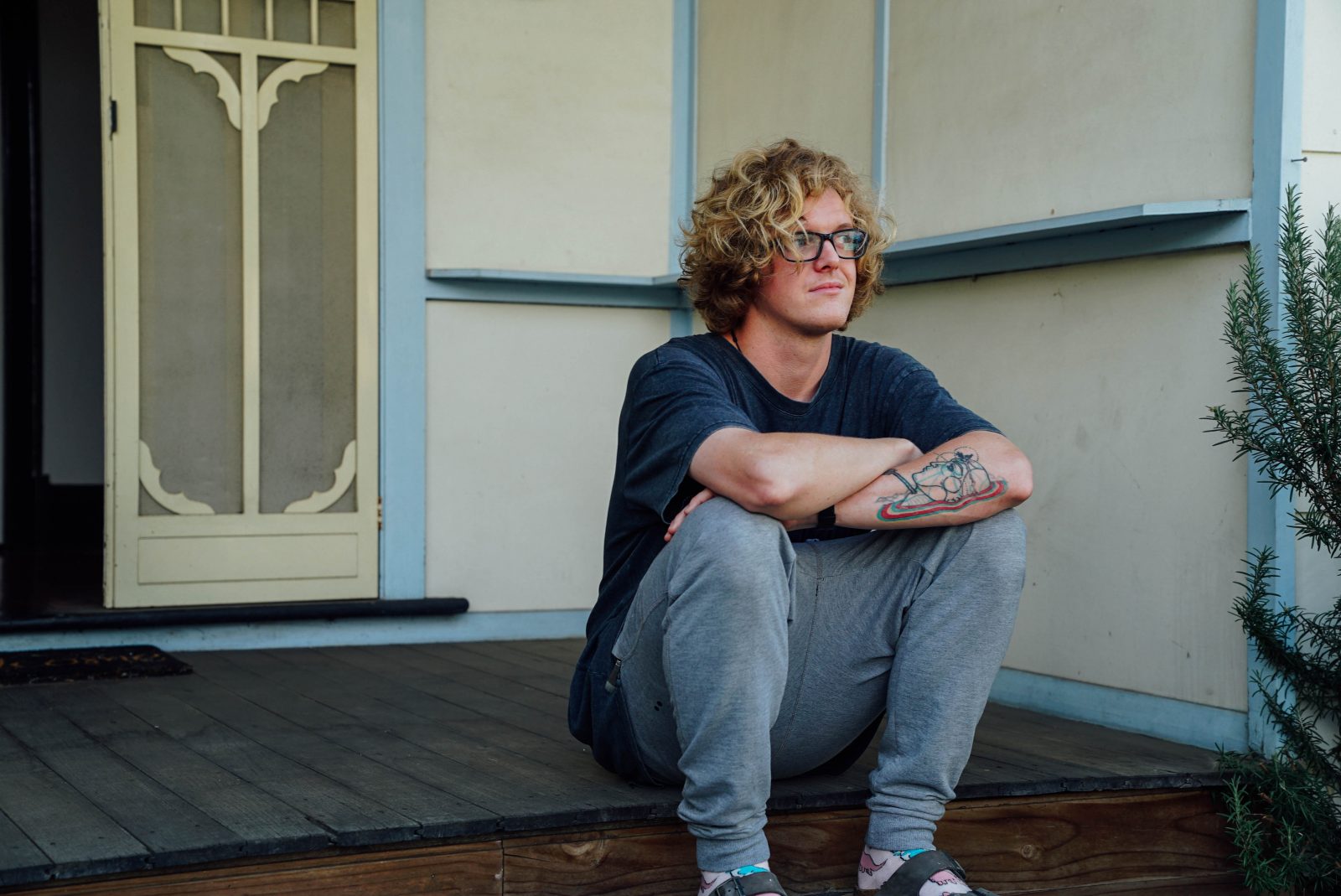 Plugs & Nugs Wall Tapestry
15
Where are we going? Leggings
34
Pure Heat Canvas Print
49
On the edge of chill Long Sleeve T-Shirt
161
It's ok to Melt Metal Travel Mug
152
Summer brooze iPhone Skin
40