If you already send customers to Society6 via your website or social accounts, you could be earning more money!
More specifically, if a customers buys from your shop because you sent them there, you'll earn your usual markup plus an additional 10% of the sale price. With some recent updates to our affiliate program, we're excited to open this up to all 50 states in the US and internationally. This post is geared towards artists, however, there are general lessons to learn if you're interested in how to make the most of our affiliate program.
These quick questions will tell you if the Society6 Affiliate Program is for you:
Do you want to make more money on the sale of your artwork?

Do you send customers to Society6 to see your artwork

Do you send customers to Society6 to see other people's artwork?
If the answer is yes to any of those questions, continue reading. In less than 30 minutes, you could be setup to earn an extra 10% on the sale of your artwork for any customers you are responsible for sending to your shop. In fact, you could be earning 10% on any customers you send to Society6 that buy from others artists too.
Below is a list of the most popular and easy-to-do tactics to increase your earnings through the Society6 affiliate program.
This article is for you if:
You have a website

You promote your artwork on any social media platform

You have an eye for good or trending art and design (and like to share it)

You have a blog or create home, art/design, or lifestyle related content

You send email newsletters regularly

You create Society6 collections

You list (or want to list) Society6 products on your website
All of the above are valid reasons to join the Society6 affiliate program, but let's get into the nuts and bolts of how to actually start earning an extra 10% on purchases made by traffic you're driving to Society6.
1. Sign up for the Society6 Affiliate Program
Time required: 2 minutes
This is the only must-do step. Apply via the "join" button below to apply, then come back here for practical methods to making more money any time you send customers to Society6 (your shop or otherwise).
2. Add or update any "Shop" links on your website to include your affiliate link
Time to complete: 5-10 minutes
If you're already sending fans to your shop via your website, but haven't signed up for our affiliate program, you're missing out on free money.
PRO TIP: The nice thing about the word "shop" in your navigation menu is that it can be perceived as a verb or noun. If you don't like how that feels, you can use something like "my shop" or "store" which changes the word to a noun. I use "print shop" on my website. I've seen artists use "art prints", "prints", "to buy prints >>", or even "reproductions". Whatever you choose, just make sure to include your affiliate link is accurate so you're not missing out on the extra earnings.
3. Add or update any social media bio links to include your affiliate link
Time to complete: 5-10 minutes
This is pretty much the exact same thing as the above tip for your website. Your link should be the same. Once you're approved for our affiliate program, just update any social media bio links to include your affiliate link.
PRO TIP: If you've got the neat freak gene like me and prefer clean looking links, we recommend a free link shortening service like bit.ly or tinyurl.com. On bit.ly, for example, you can use custom copy on the back half of your link. Instead of putting bit.ly/xYzasDF in your bio, you can customize it to read bit.ly/MyPrintShop. You can create up to 50 links for free using bit.ly before getting into their paid services.
4. Add a link to your products from your website
Time to complete: 15-30 minutes
If you don't already have a site with product imagery linking to your Society6 products, this is an easy opportunity to point people in the right direction. Pick your more popular pieces and link out to your Society6 shop. Again, making sure your affiliate link is accurate so you don't miss out on that 10%.
PRO TIP: Focus your customer's attention on images of your best selling products, then link directly to them from the "shop" section of your website.
Example #1: Jon MacNair's website
Example #2: Isabelle Feliu's website
5. Use "swipe up" links and promote your friends via IG stories
Time to complete: 10-20 minutes
By sharing artists and their work via Instagram the last 9 years, we've learned that recommendations are one of our most clicked-through items. While sharing someone else's artwork might seem a little counterintuitive, you actually deepen loyalty and respect for yourself in the process by elevating your peers.
To start, you will need a business account with at least 10,000 followers. That's Instagram's rules, but when you get there it's so worth it because you can start learning a LOT about what kind of content your fans respond to. Data is gold in the land of e-commerce. You can make good decisions with accurate info. The idea of being that "business-y" about it may sound unappealing, but it doesn't make its value to you any less real. It's entirely your call whether you choose to experiment with that info. Ultimately, the more you know, the quicker you're able to grow your art business.
So, how do you actually do this?
Share a round up of imagery from your favorite Society6 artists. Talk them up in your stories. Mention why you love their work or why you love following them.

Make sure to tag them because that's what fans are interested in.

Add your custom affiliate link for every frame you add a "swipe up" link to. You can send your fans to their shops or a collection you may have created featuring all their work.

Once the story is no longer live, review what people engaged with and make some notes about why you think that is. Try again in another week or two. Or make it a once a month thing.
Adjust how you promote other artists based on the what you learn from your analytics.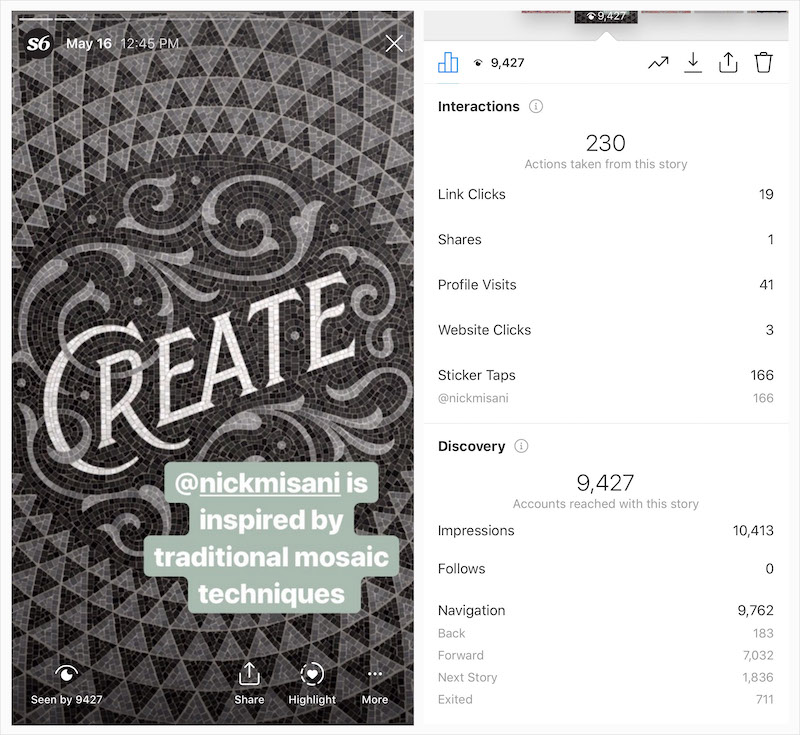 6. Build and promote themed collections
Time to complete: 30+ minutes
To promote collections and earn affiliate credit, you need to manually add your affiliate code to the collection URL. Using the example below, you must include "?curator=yoursociety6handle". If I wanted to earn credit for sending my fans to Leah Flores' collection "Adventure is Calling", the link I share with potential customers would look like this:
https://society6.com/floresimagespdx/collection/adventure-is-calling?curator=mysociety6handle
What appears in red must be included. That affiliate code is how we know who should get 10%. In this instance, Leah would earn her portion of the sale of her artwork as normal, and whoever sent traffic to this collection would make 10% of the sale price.
We promote themed collections via email and in virtually every campaign we run. It's a really effective way to help customers hone in on what they're looking for. You can do the same. The time commitment on this is as much or as little as you want. I say pick a theme where you can feature your most popular artwork, then feature other great artwork like it. You'll earn 10% of anything bought through your custom link, and it'll be 10% on top of what you already earn on any of your own artwork.
You can put together a "best sellers" collection or anything else that sums up your artwork well. If you have a specific series you want to promote, you could make a collection with those. Collections become increasingly valuable as you leverage them more. It's such an important part of our business and we think you can benefit from doing the same, particularly as an affiliate of Society6.
All in all, the Society6 Affiliate Program is a great way to earn additional income doing what you've already been doing. If you have links to Society6 on your website, we recommend joining the program and using your affiliate link to start earning more!