As you thumb through your favorite magazine for home decor, envy often strikes hard and fast. You come across a feature about some very-on-trend bathroom decor ideas for small bathrooms. As you flip through the pages, each bathroom oozes more style and creativity than the one before it.
Eying your own unadorned bathroom walls (and a shower curtain that's seen better days), you find yourself wishing you could make your guest bathroom look magazine-worthy—at only half the cost.
Luckily, we've compiled 13 small bathroom ideas on a budget so that you can have your stylish bathroom (and save your money, too). Whether you're aiming to infuse your bathroom with coastal chic vibes or an air of eclectic sophistication, we have a bevy of bathroom must-haves that'll fit your space—and your budget.
#1 Use Shower Curtains for a Colorful Flair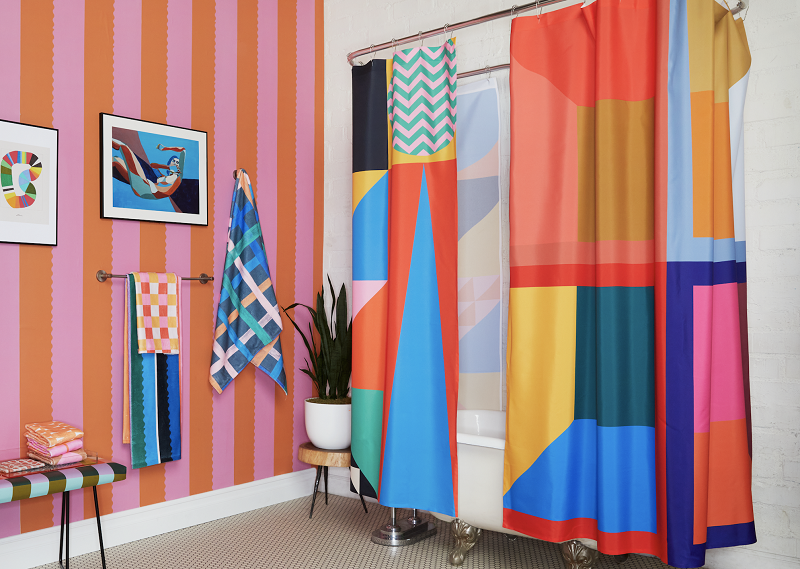 Curtains give any room a pinch of panache. Why not bring some of that pizazz to your bathroom? Updating your shower curtain is one of the easiest budget small bathroom ideas. When it comes to small spaces, every square inch counts. Choose a shower curtain that doubles as a work of art and rivals your creative spirit.
#2 Add a Bold Pattern With Peel-and-Stick Wallpaper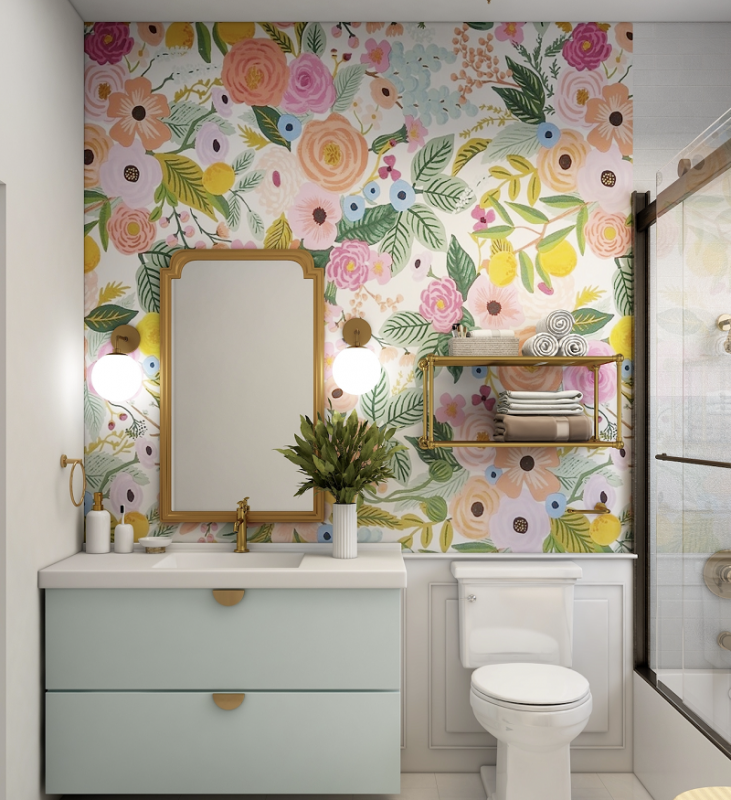 If you're looking for a small bathroom idea on a budget, look no further. Save yourself a whole paint job by using wallpaper for a thrifty DIY bathroom refresh. Consider lining the back of your linen closet or wallpapering the cabinets under your bathroom sink. It instantly gives your bathroom a fierce personality upgrade. 
#3 Stick With One Color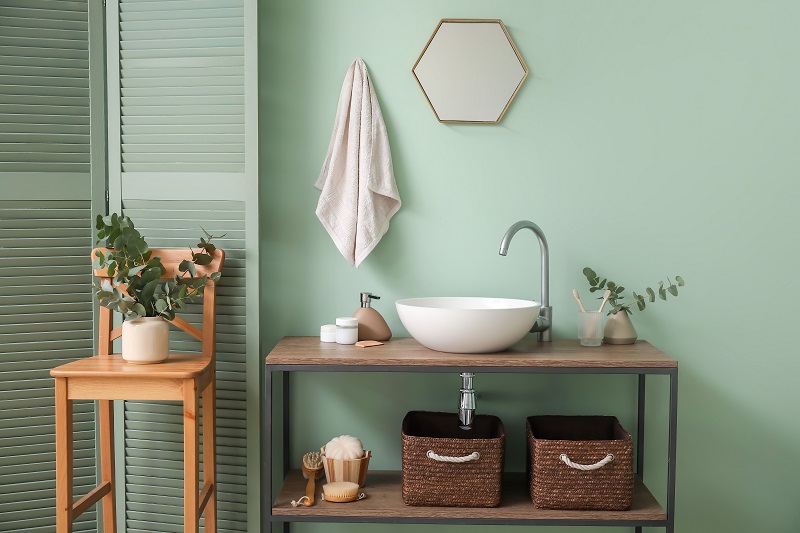 It may seem like too much of a good thing becomes a problem, but when it comes to small bathroom ideas on a budget, it simply does not. Do you fancy the color blue? How about green? Opt for green towels, a bathroom vanity mirror with a green frame, green-inspired wall art, a green tile color scheme,  and whatever other green items your heart desires. Check out your local thrift stores for some funky (yet fiscally responsible) finds.
#4 Splurge on Hand & Bath Towels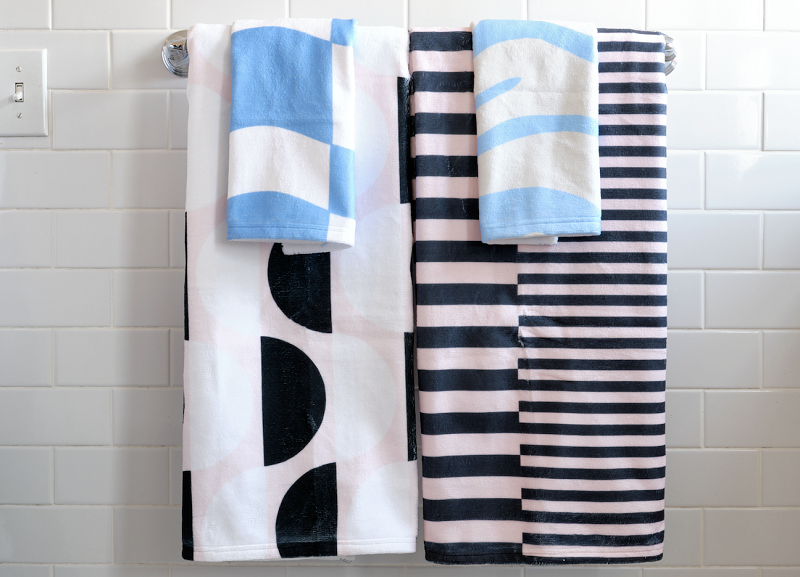 Hanging a few hand or bath towels accentuated in bold patterns immediately adds warmth and sophistication to any small bathroom.
#5 Craft a Mix-and-Match Gallery Wall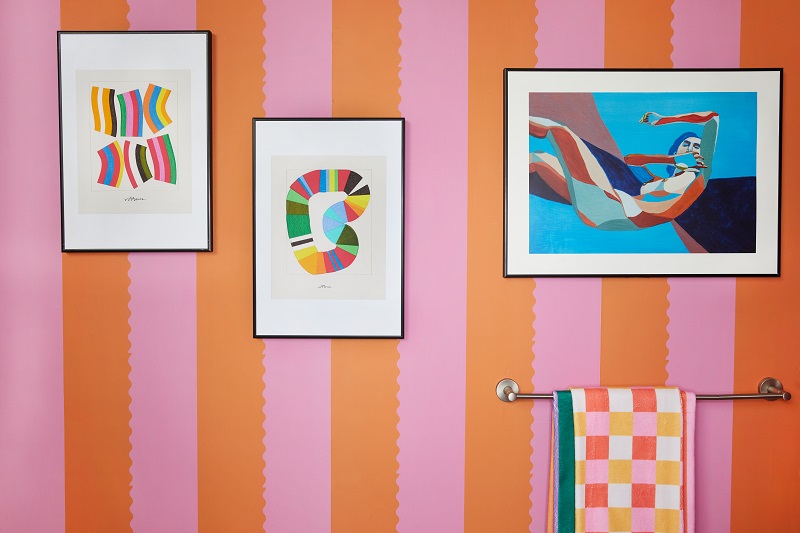 Gone are the days of out with the old and in with the new. Now's the time to blend the best of both worlds. From disco balls to dancing skulls, decorating bathroom walls has never been more chic.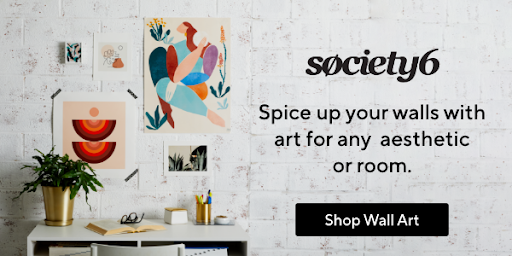 Treat yourself to a new art print and hang it alongside some of your favorite photographs and paintings for the ultimate retro meets modern gallery wall. Need some inspo? Check out our favorite gallery wall ideas!
#6 Refresh Your Bathroom Hardware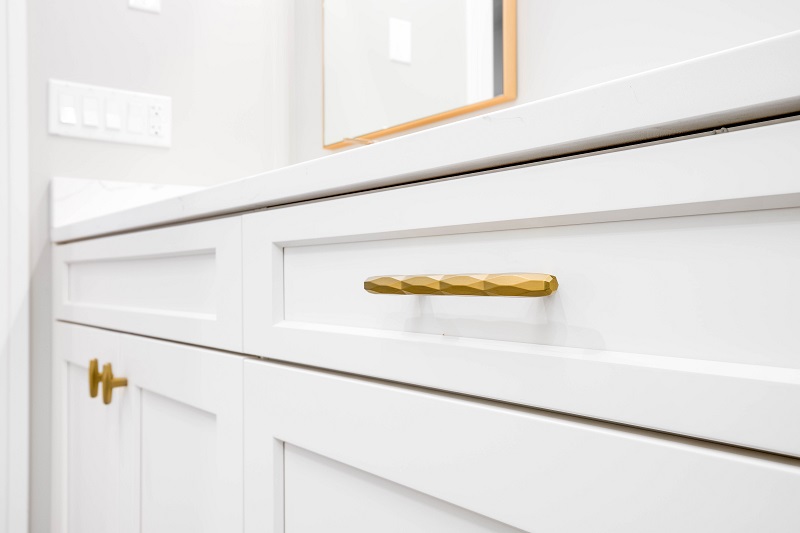 You don't need an entire small bathroom remodel to feel new; replacing knobs and handles will do. From understated bronze to fiery crystal, new hardware for your shower head, cabinet knobs and sink faucets can give your bathroom that "brand new" feeling.
#7 Store Your Bathroom Accessories in Style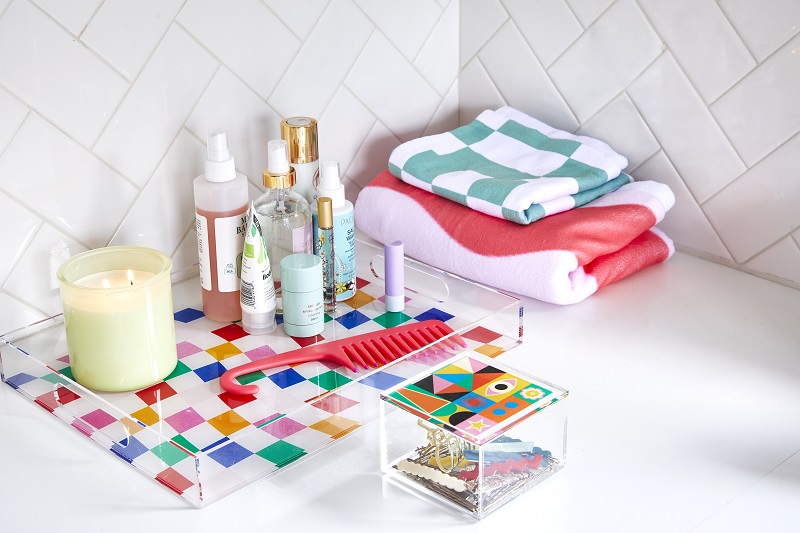 This cheap bathroom idea for small bathrooms doesn't require much. Leave a lasting artistic impression on guests by using decorative acrylic boxes and trays to keep your essentials, like hair ties, Q-tips, and other small bathroom trinkets.
#8 Install a Bathroom Shelf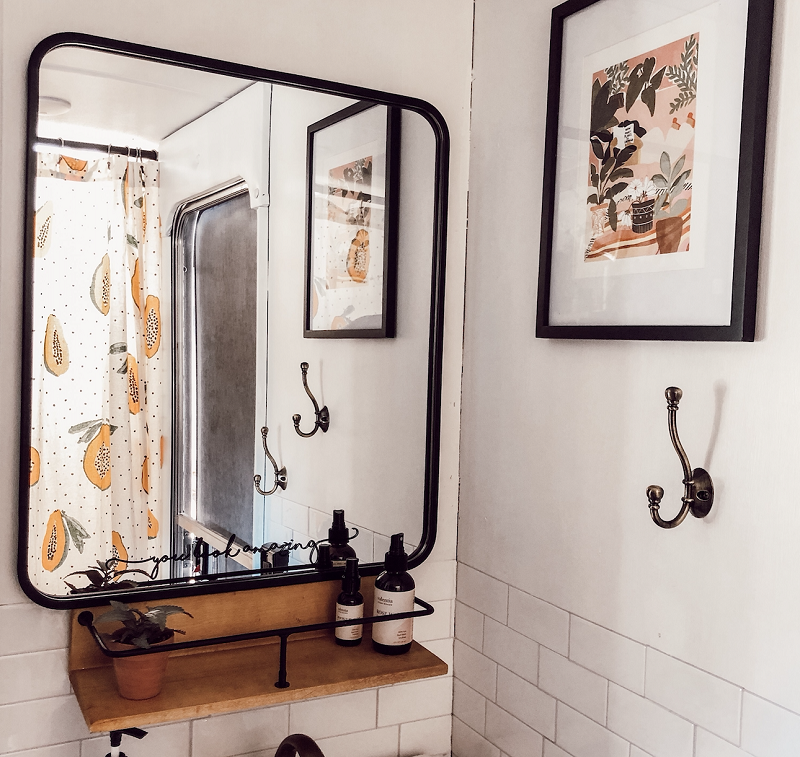 Add to your limited floor space by installing a floating shelf over the toilet or under your bathroom vanity mirror. You can use it to host a variety of items, like old decorative books or some seasonal scented candles. 
#9 Bring The Nature Indoors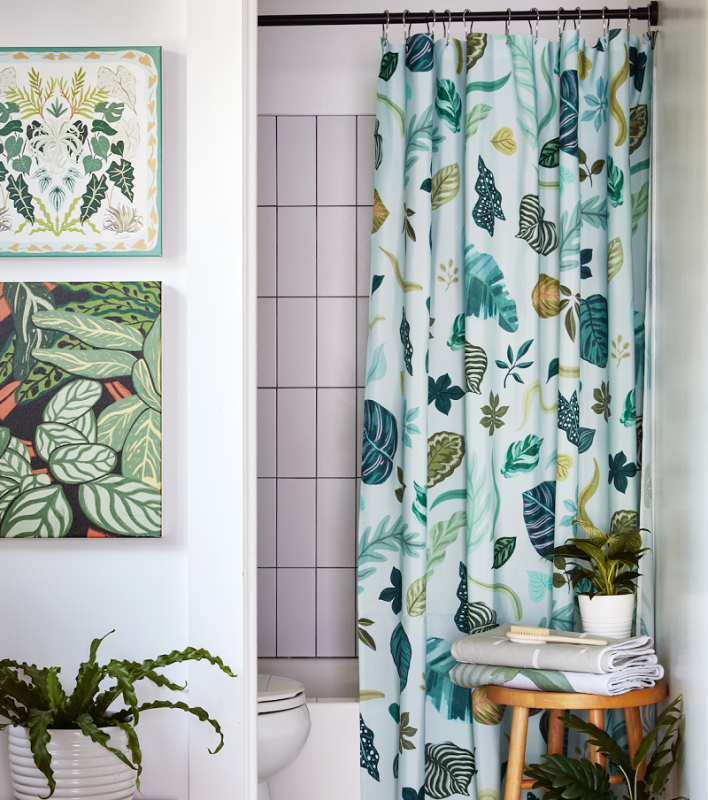 Your small bathroom may not have enough space to include your favorite foliage, but that doesn't mean you can't turn your small bathroom into a lush jungle with the right leafy shower curtain and bath towels.
#10 Treat Yourself to a Colorful Bathroom Rug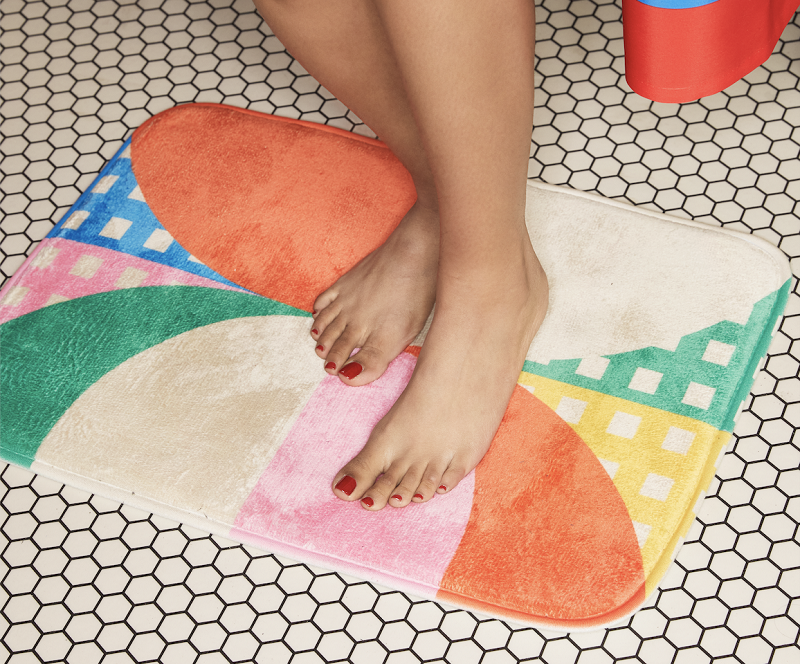 If you're on a budget, small bathroom ideas like colorful rugs and bath mats can create a lasting impact. Whether you prefer a rainbow of colors or have a more neutral hue in mind, you can use a rug as the focal point of your floor space  or to complement your shower curtains and wall art.
#11 Start the Day With Decor That Evokes Positive Vibes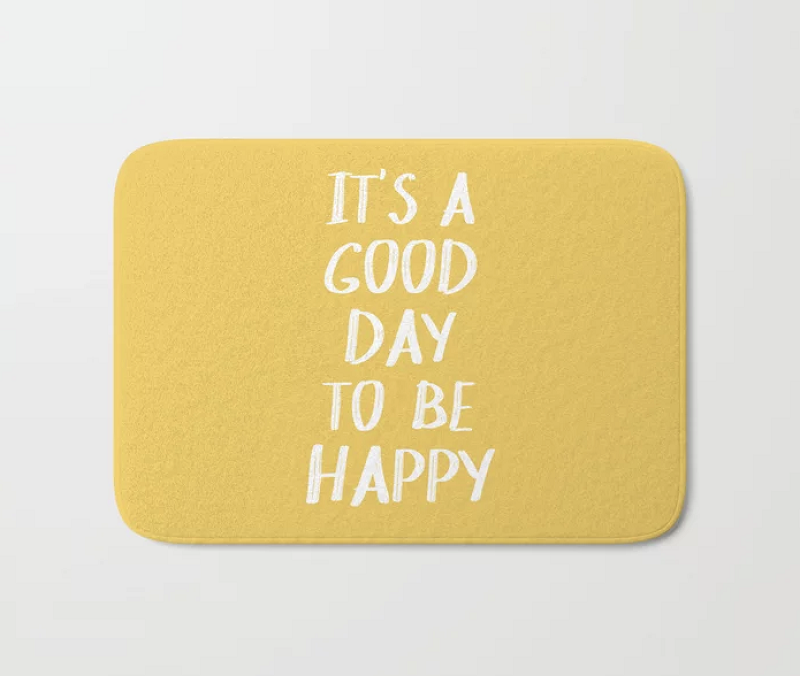 With the right decor, you can start every day with a smile. Something as simple as a sunshine bath mat or a bold yellow mat reminding you that "it's a good day to be happy" is all it takes to start the day off right.
#12 Incorporate the Use of Knick-knacks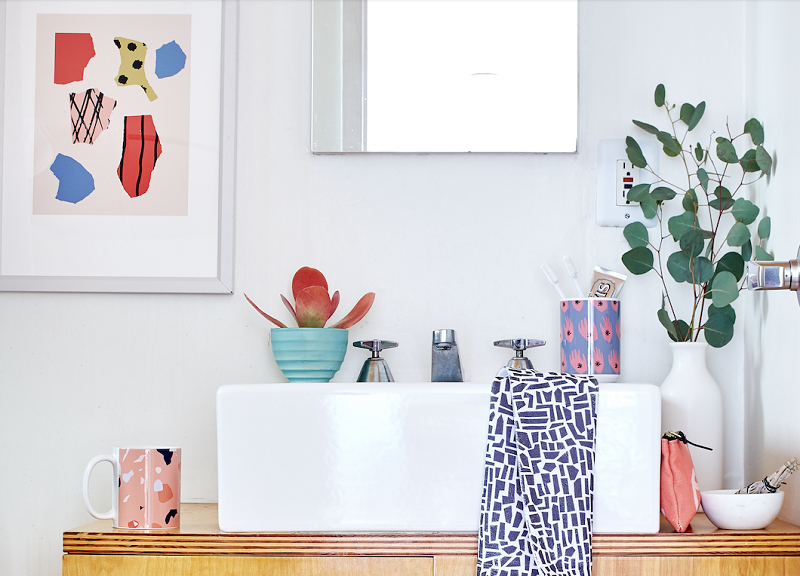 Since you're working with a smaller space, focus on undersized decor. Not only are mini art prints affordable, but you can also choose from endless color schemes, quotes, and art styles to go with the bathroom vibe you're creating.
Let Society6 Inspire Your Next Bathroom Refresh
A grand bathroom remodeling or bathroom renovation isn't always the way to go. Even, small bathroom ideas on a budget can refresh your bathroom like a perfectly placed candle. Just a few innovative design ideas can make it worthy of a home decor magazine (or at least, one step closer).
Society6 understands the importance of filling your space with creative pieces that complement your style. With a global community of artists creating works of art you can proudly place anywhere in your home, you can find decor that complements your taste and feels unequivocally you. Need help bringing these ideas for small bathrooms on a budget to life. Shop our bathroom home decor today.
Sources:
Washington Post.

How to Make a Gallery Wall.

https://www.washingtonpost.com/lifestyle/home/gallery-walls-the-evolving-art-of-nailing-it