Apartment life isn't always easy, but it does present a challenge to get the most out of your space.
Just because your living room may be small, doesn't mean you have to sacrifice the type of furnishings typically designed for a larger area — especially when it comes to a piece as practical and necessary as a coffee table. Hosting can even be made even easier if you get a little innovative with your interior design, and non-traditional tables of all shapes and sizes can really add originality to your lounge. Impress guests with your flair and up your entertaining ante with these creative positions for your coffee table.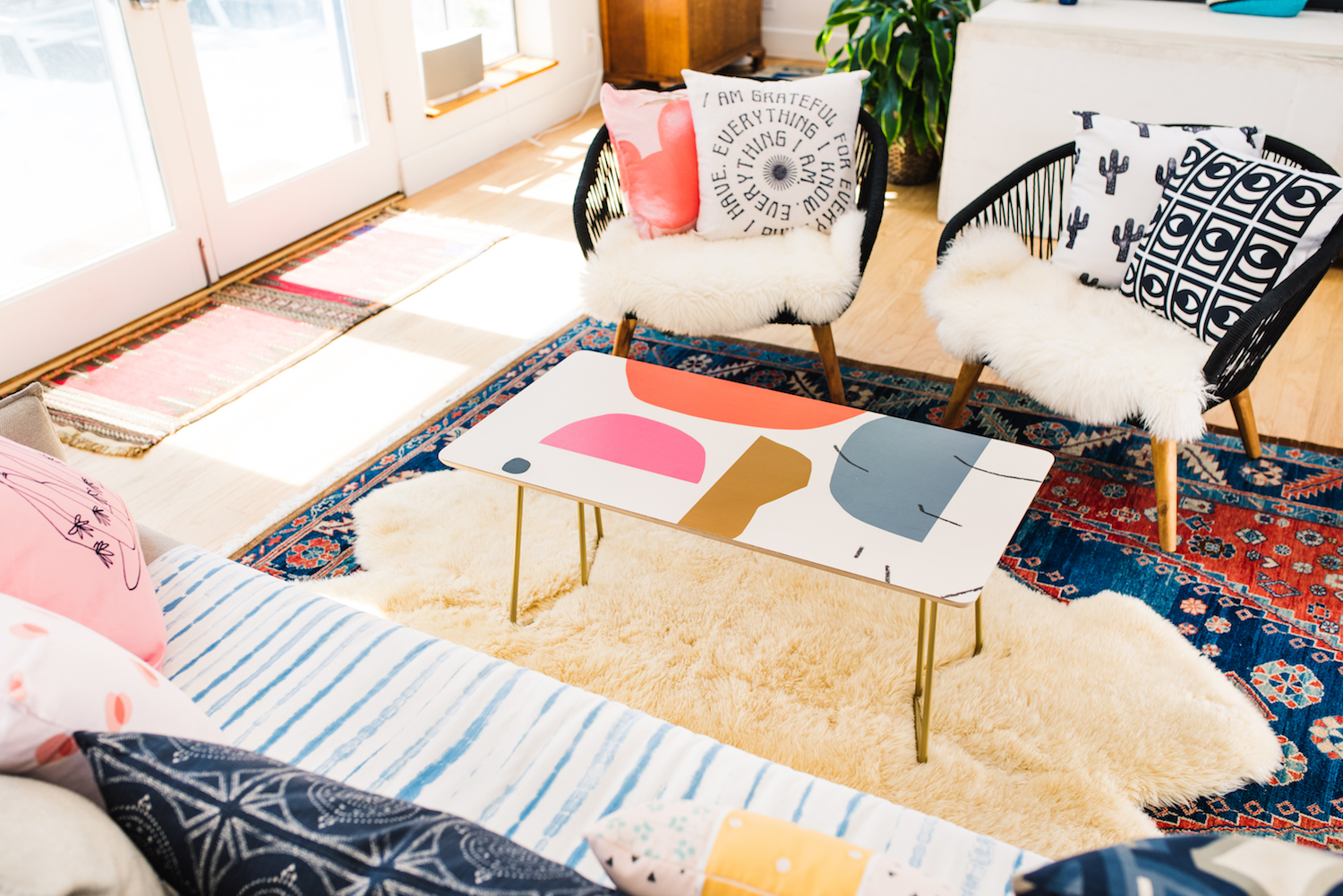 1. Give Your Couch a Little Support
Coffee tables can be whatever you want them to be, so consider investing in one the same length and height of your couch to act as a buffer between the wall and your sofa. Not only will this move will leave ample room between the seating area and far wall (read: the TV) for late-night games of Twister, but it will also allow you to casually rest your popcorn and remotes behind you when you're all settled in for movie night. Plus, if you're in an open plan space, the couch-coffee table combination will serve as the perfect divider between kitchen and living room.
2. Turn Up the Heat
Many old apartments will have unused fireplaces sitting stagnant as the focal point of the living area. This is the perfect place to insert a baby table to display your ceramics, fresh flower arrangements and photo frames. A small space doesn't mean you have to relegate your knick-knacks into that dusty box under your bed. Instead look for exciting new solutions to show off your prized possessions.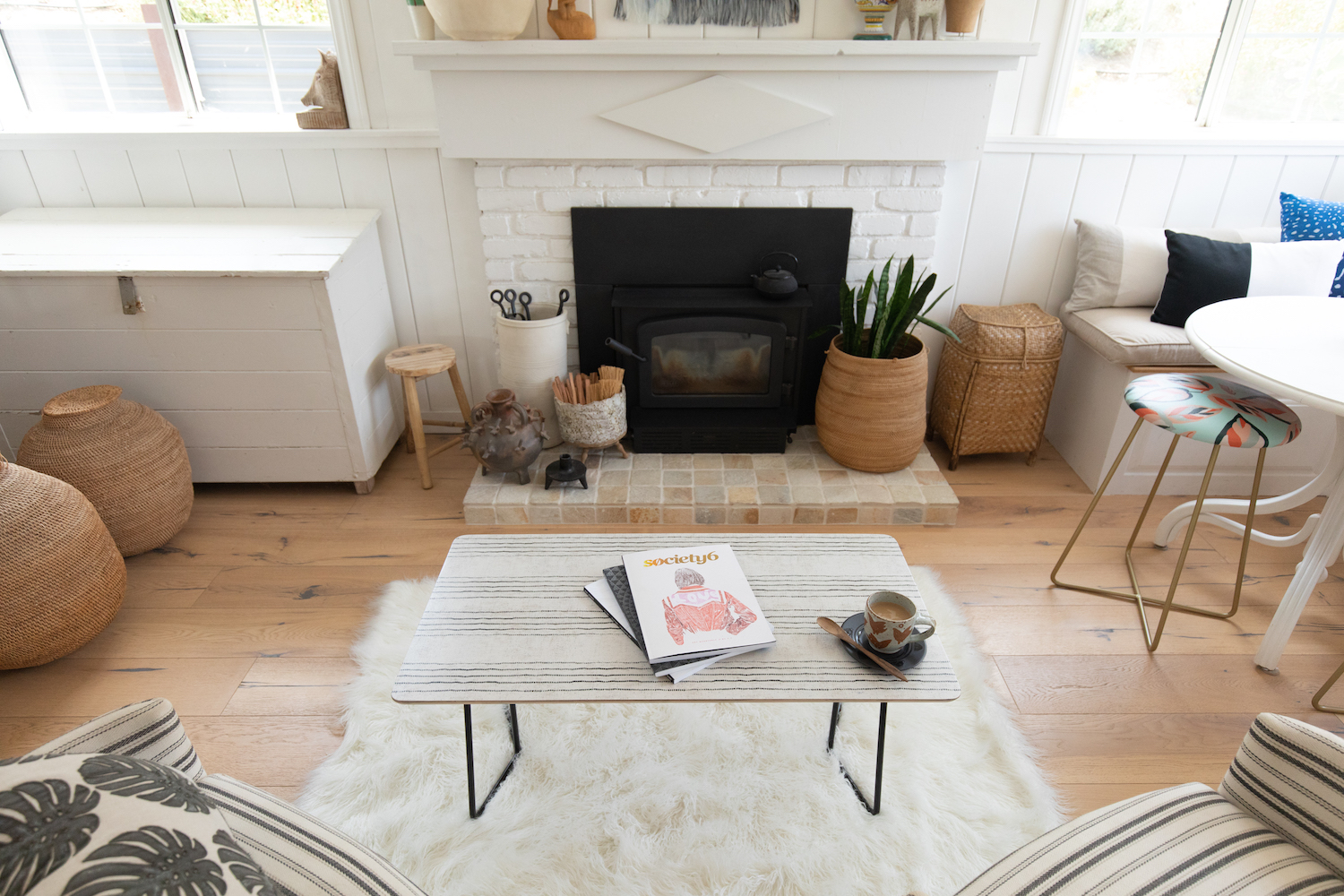 3. Enter: The Television
Your TV won't stay on the wall, the cables are too thick — we get it. Don't despair, use a coffee table to prop up your television instead, then decorate its surrounding area as you please. If you're worried the TV won't adhere to your home aesthetic, pick a coffee table that announces its presence. Bright colors are key, but don't fall into a trap of a disorienting pattern. You wouldn't want your table to compete with screen time, after all.  
4. Layer Up
Have an old set of drawers that need sprucing up? A couple of dining chairs you don't use? Maybe a guitar case that is permanently propped and serving no purpose? Pop a coffee table on top for an extra shelf and push your new furniture amalgam against the wall for a new, highly-practical feature. This will give you room to breathe, and can serve as a liquor cabinet, a personal library or simply a place for you to house all those candles you never had room for. Imaginative storage, here we come!
LINEN STRIPE RUSTIC Coffee Table
by holli zollinger
$249.00
Terrazzo Treasure Coffee Table
by Elisabeth Fredriksson
$249.00
Sky Coffee Table
by Elisabeth Fredriksson
$249.00
PALMA DARK Coffee Table
by holli zollinger
$249.00
Stolen Faces Coffee Table
by Mind Over Pattern
$249.00
Vintage Rose Garden Coffee Table
by Mind Over Pattern
$249.00
Earthy Terazzo Coffee Table