Lisa Turtle totally approves.
Fanny packs, along with the 90's, are back in full sling and it's not just their cool factor–they're also incredibly practical. They offer the ultimate in convenience when it comes to keeping the basics safe for a night out, traveling or making the most of a multi-day, festival bender. This might be obvious, but fanny packs are commonly used to carry keys, cash, credit cards, phone, chapstick, makeup and license without the bulk of a backpack. The belt length and width of Society6 fanny packs also allows it to be comfortably slung over a shoulder or around the waist.
In this article we'll cover all the technical details required to start selling fanny packs in your artist shop.
How do you enable and sell fanny packs?
Refer to the creative asset details below. If you already have some patterns for sale in your shop, this will be a pretty easy product for you to enable. If you're not selling patterns, you have two fully customizable panels to design and you'll want to use the downloadable template.
Creative asset details:
Pixel dimensions:

2700px (w) X 1800px (h)

Orientation: Landscape (3:2 ratio)
DPI: 150
Template: Photoshop (psd)

Not automatically enabled in your shop
Quick look at the product:
Fanny Packs
Product Category: Bags
Exterior: Canvas-like exterior, black stitching, padded back and zippers
Interior: soft, polyester interior w/ card pocket and chapstick pouch
Product size: 15in x 5.25in (38cm x 13cm)
Belt length: 23in to 52in

 (58cm to 132cm)

Belt width: ½in (1.27cm)
Use our template if you're not enabling patterns. This is a fun product so have fun with the design! You have the top and front panels at your creative disposal. On a two-panel, cut-n-sew product like this, our template will be the best way to create a fanny pack your customers will love. If you'd like a breakdown of the most important considerations when designing products, check our surface design guide.
Download the fanny packs template >
To edit this product, hover over your avatar (top right of site) and click on Manage My Posts. Find the creative you wish to apply to fanny packs and click the vertical ellipsis, then click Edit products. Filter by category Bags to show your fanny pack for the creative you're interested in editing.

For patterns, please review, position and scale creative on fanny packs prior to enabling. As long as you meet our minimum dpi and pixel dimensions, you should be able to quickly and easily enable this product.
Important considerations for editing fanny packs
This product is two panels. Make the most of them! You have control over the top and front panels. A zipper divides the two panels.
Using the fanny pack template
You may notice that the template dimensions are 18″ x 12″. This is the size of the printed fabric before it gets cut and sewn into the final product.
Download the fanny pack template. It gives you greater control over fanny packs to create the best possible final product.
Creative must fill the entire bleed area. This ensures your customer receive the product they expect. Any bleed area left empty will result in white being printed on the final fanny pack. That's a quick way to have a customer return your product and, subsequently, you miss the sale.
Keep critical creative elements within the "safe area". This is particularly important for any floating designs (with solid color backgrounds) or typography. If you want your creative to intentionally reach the edge of your fanny packs, it must also reach the edge of the bleed (as seen above).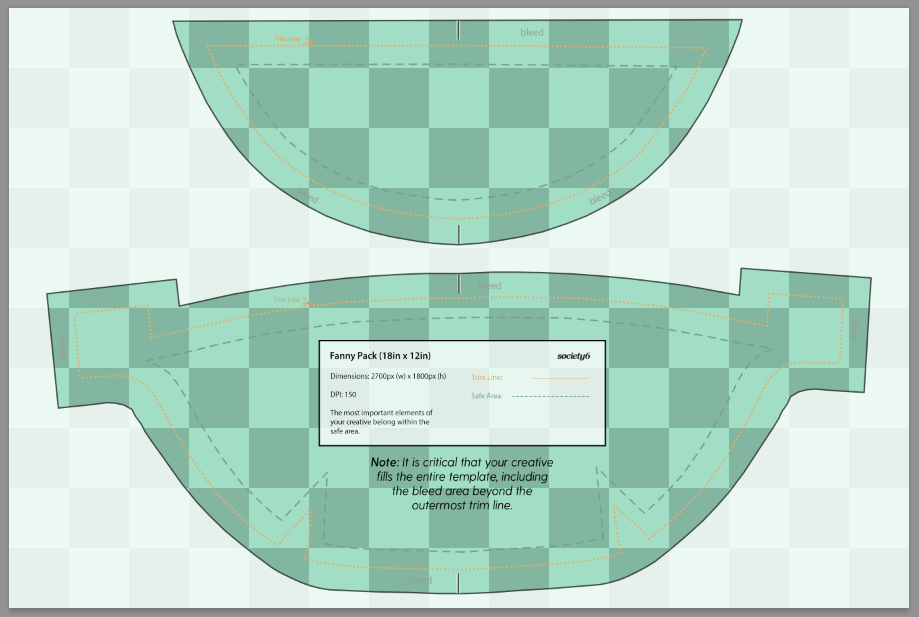 Hide the Overlays layers before saving your file: Key, Safe Zone, Trim Line and Bleed Line. Do this once you've confirmed that your creative fills the entire bleed area. In Photoshop, click the little "eye" icon next to the folder, or each individual layer, to hide it. You shouldn't see any layers from the template when saving your file.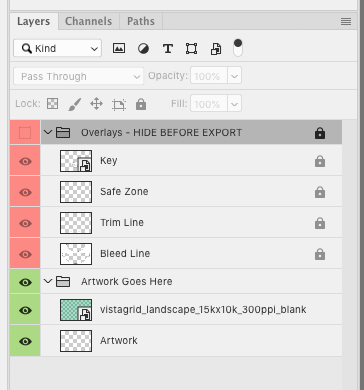 Product details for fanny packs
Fanny packs can be found under Bags. Customers can hover over Bags in the main navigation menu to find Fanny Packs. They can be found under Bags in your artist shop as well.
The fanny pack is back! They say fashion is cyclical and those people probably held onto their old fanny packs—but for the rest of us looking for a rad new accessory to our party/festival/everyday look, look no further. Our fanny pack features an adjustable waist strap and is made from a durable yet comfortable canvas-like material. It's comfy enough for the everyday but durable enough to take on whatever kind of hikes you're into.
Durable poly poplin, canvas-like exterior
Soft polyester lining with interior card pocket and chapstick holder
Foam padded back for extra comfort
Brushed nickel metal hardware
15″ (W) x 5.25″ (D)
Adjustable belt fits from 23″ to 52″ around
PRO TIP: Make it a complete look by playing your fanny pack design off an equally rad all over graphic tee or hoodie.

We can't wait to see what you come up with!
Featured banner artwork by Hillary White