Don't let the summer be a bummer—take some time for yourself with these expert summer self-care tips from DIY expert Kristin Guy.
Are you feeling a little burnout? No, I'm not talking about last weekend's sunburn…I'm talking about how we need to try and slow down! You know…unplug, getaway, unwind and decompress?! And while everyone isn't able to peace out and take a plane to somewhere exotically remote this summer, we can all still carve out an hour (or three!) to recenter and relax. In fact, we're making this mandatory on your way too long to-do list…ASAP.
So block out your calendar, we're scheduling in a time-out solo-style and setting up the perfect patio retreat for some quality R&R. Sound good? Peep below for five refreshing tips to get you set up for the perfect you-retreat by the weekend. Oh and…your phone isn't invited, okay?
1. Create an Oasis
We all know our surroundings heavily affect our mood, so let's turn our patio/living room/any-hiding-place-we-can-find into a lush, tranquil retreat. My ideal zen den is super cozy. Start building your retreat with a blanket as the base and stack on a generous layer of super soft pillows to get lost in. Surrounding yourself with nature is also a calming detail—and if you can't get outdoors, gather round some potted plants from the house and settle into that lush green state of mind.
2. Refresh
Hydration is a thing, people—especially during the summer! And it can make you feel amazing! Where water is best (even the bubbly kind works) we can—and should—treat ourselves to a special sip or two to make our quiet time feel extra luxurious. This time of year screams "lemonade", and I've got a spritzy twist on the classic that is perfect to pour for yourself—or friends—all season long. Grab the recipe below for this Sparkling Rose Lemonade and no judgment if you want to turn this into a spirited bevvy for happy hour! In fact, it's encouraged. Cheers!
Sparkling Rose Lemonade
INGREDIENTS (Serves 4 – 6)
1/2 cup sugar
4 cups water
2 cups fresh squeezed lemon juice
1/3 cup pure cranberry juice
1 oz rose simple syrup (*recipe below)
Sparkling Water
Rose petal ice cubes
DIRECTIONS
Add water and sugar into a saucepan on medium heat and stir until sugar dissolves, set aside to cool. In a large pitcher add sugar water, lemon juice and cranberry juice, stir well. To assemble the drink, fill glasses with ice and fill 1/3 – 1/2 of the glass with pink lemonade. Add rose syrup and stir well before topping off with a tonic float. Feel free to adjust quantities to your desired fizz and rosy preference!
For the rose petal ice cubes, simply fill ice cube tray half way with distilled water and add a few rose petals, allow to freeze before filling the rest of the cube tray with distilled water and topping with more rose petals.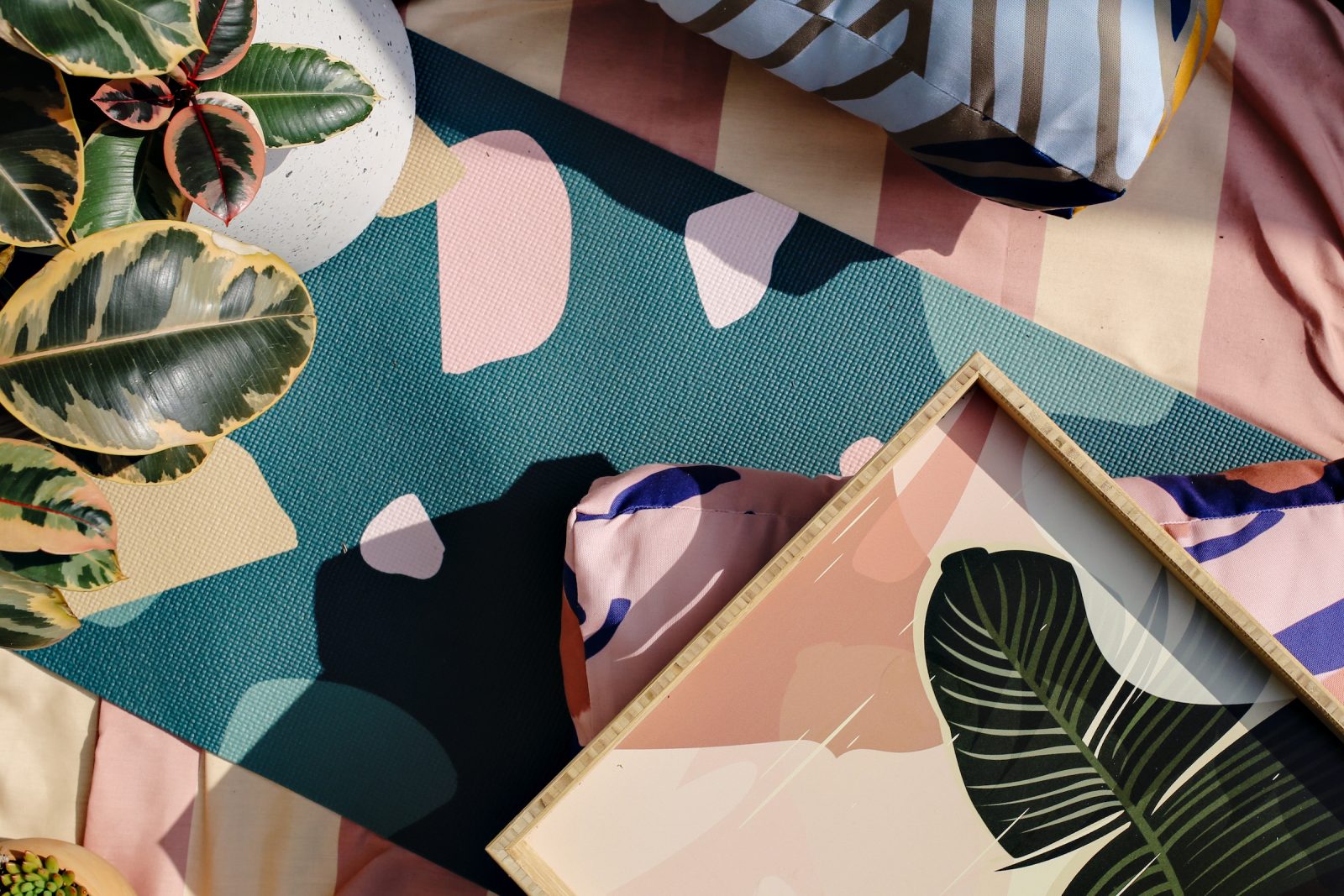 3. Get moving
Sometimes when we least feel like it, a little physical activity can actually go a long way in making us feel better. Go for a walk or set up your own private yoga studio. Just a few basic stretches paired with intentional breathing will set you on a more positive path. Plus, it's easier to get moving when you've got cute accessories to enjoy the process with–hello super stylish yoga mat and towels!
4. Make it a Mini Spa
Running out for a facial sounds divine, but we're trying to limit any unnecessary stress. So put down those car keys (or metro card) and plan for a little DIY at home. It's amazing what you can create from just a few pantry items you already have— like a youth-glowing probiotic mask that will have you looking like 10 hours of sleep in 10 minutes. Pretty much anything you put into your morning smoothie will have some sort of positive effect on your face, Spirulina powder included. This is a very simple, very lovely way to treat yourself right—and if you make too much, throw any leftovers into a blender with some frozen fruit and consider it a two-for-one special!
DIY: Skin brightening Probiotic Face Mask
INGREDIENTS
1 tsp spirulina
1 tsp raw organic honey
¼ cup islandic or greek yogurt (unflavored)
DIRECTIONS
Mix all ingredients in a small bowl, using a facial brush paint mask onto clean face and allow to sit for 10-15 minutes. Wash with warm water and follow with your favorite facial oil.
5. Log Off
I know scrolling though your feed of inspiration might sound like a nice way to get lost, but it's doing you no good in this time of rest. Hide your phone, turn off any alerts and settle into a state of analog. Creativity comes from more than photo perusing—try your hand at water coloring, a crossword puzzle or just crack open a good old fashioned book and let your mind wander into a new place free from anxiety. If you must have some noise distraction, set up a bluetooth speaker (that can work with your phone at a distance) and catch up on a few inspirational podcasts or a new album you've been wanting to spend time with. Sometimes getting lost in your own thoughts is just enough self care to get you back on track.
Here's to making the time for time outs this summer!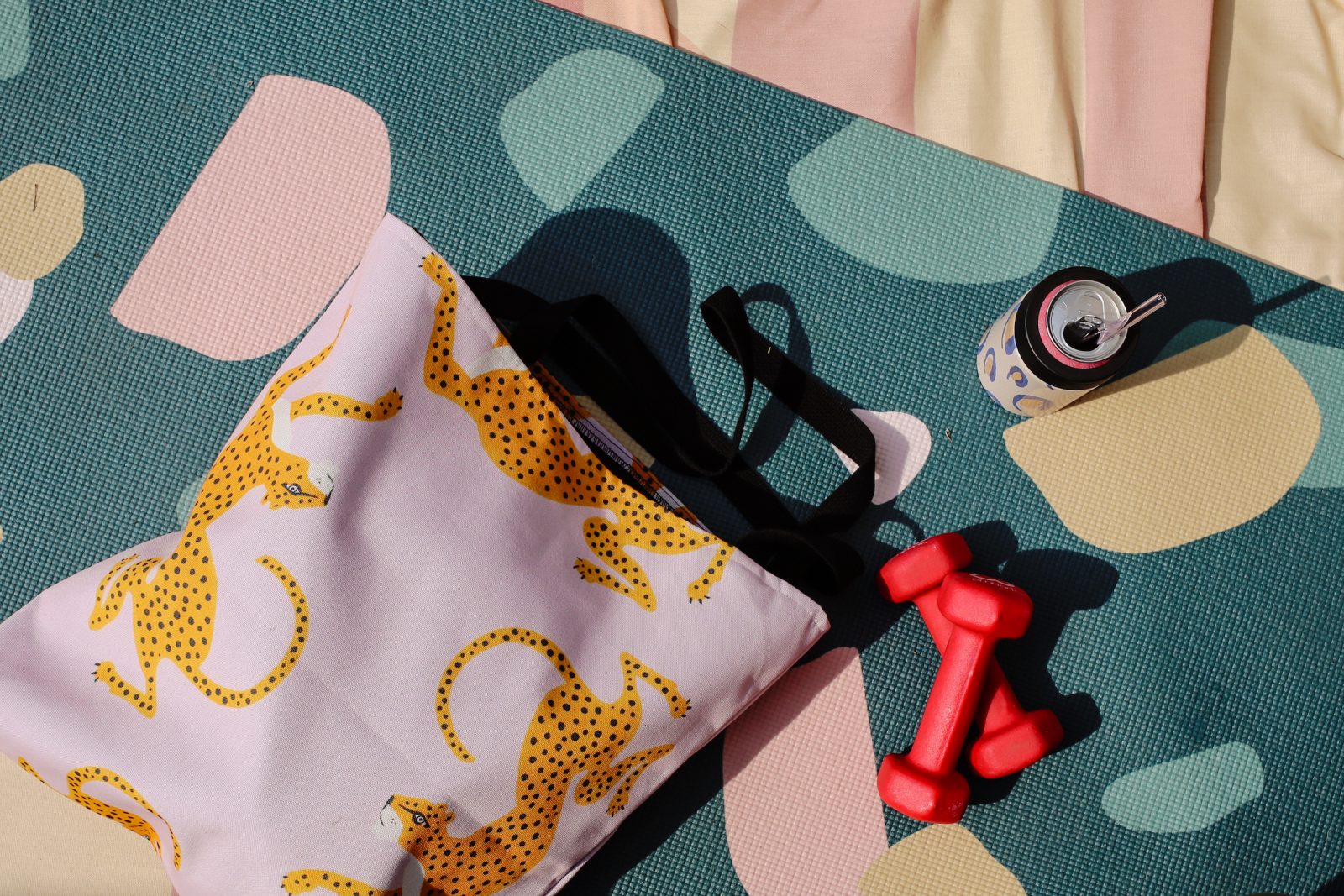 Leopard Race - Pink Beach Towel
Nomade I. Illustration Serving Tray
Dark Green Terrazzo Yoga Mat
Leopard Race - Pink Tote Bag
Striped Shadow 3 Picnic Blanket
October Outdoor Floor Cushion
Leopard Outdoor Floor Cushion