They say that youth is wasted on the young, but illustrator Natasha Lillipore isn't squandering a second.
The 24 year old's tough but sultry, tattoo-inspired illustrations have caught the eyes of big brands which have allowed for amazing collabs like a set of emojis for Topshop x Nordstrom and a mural for the Fenty Puma pop up in LA, which means Rihanna knows her name (RIHANNA!!). We sat down on a warm LA day to chat with Natasha about being a woman in the arts, gaining the confidence to share your work and how she stays busy, but sane. Read on below:
Hi! Tell us a bit about yourself! How long have you considered yourself an illustrator?
Hey! I live in Orange County with my fiancé, Javier, and our cat, Rikee. I guess I've kind of always considered myself an artist, but I've been doing illustration professionally for about four years now.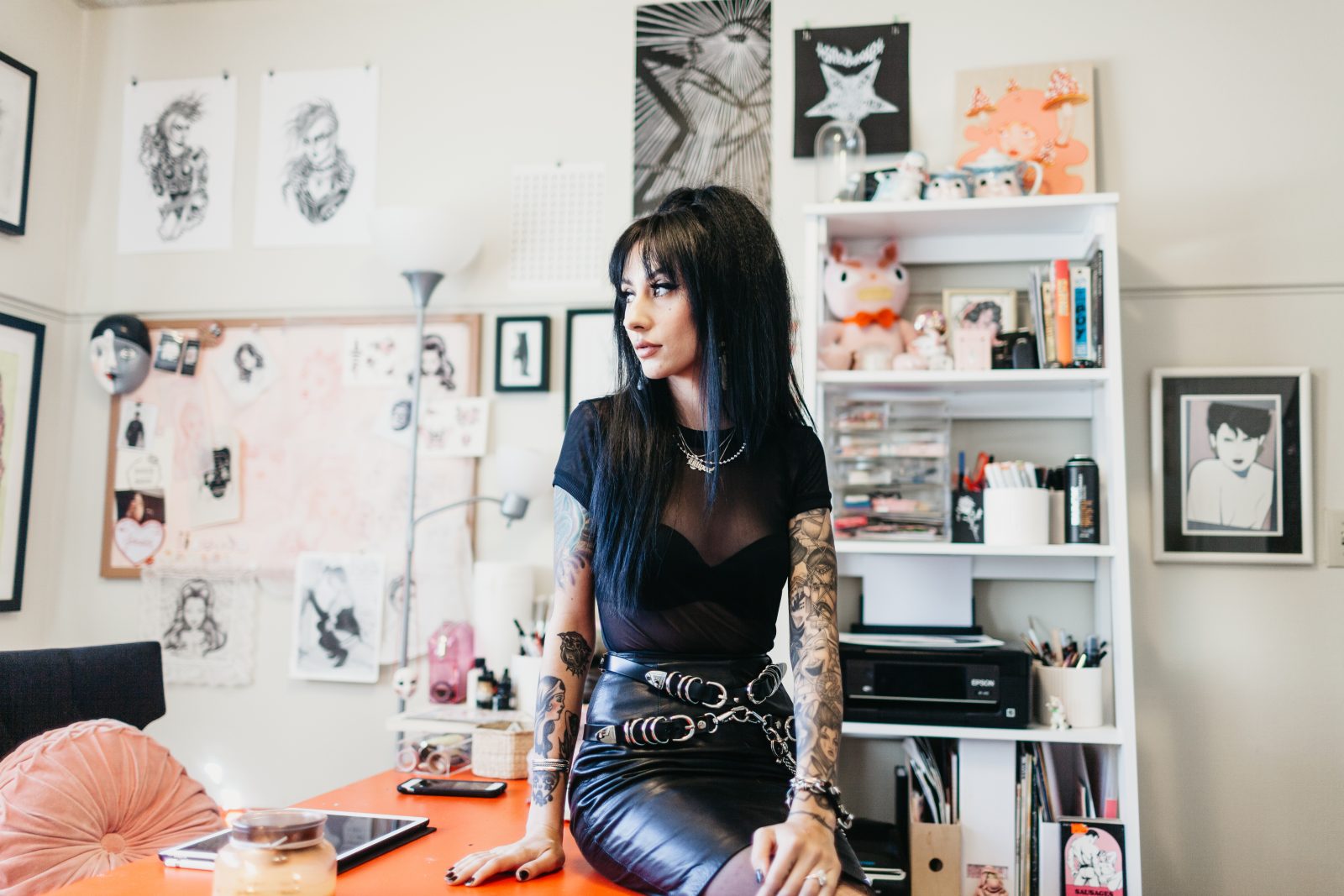 It certainly culturally ubiquitous, but is it weird to be your own "brand"? Do you ever just feel like "ughhh I don't want to keep this up!"?
Sometimes it can be a little strange, for sure. When I was running my online shop I was so busy doing everything from designing the merchandise, working with manufacturers, photographing the items, shipping orders and literally everything in between, that it didn't really allow for me to have the time to actually realize what I was accomplishing. It's so much work, but now that I've taken a break from it I can really appreciate how cool it is to be able to create the things that I love and have people enjoy it. I'm able to step back now and feel proud about it, but there's still so much I'd like to accomplish!
In a lot of industries, woman (and young women in particular) aren't taken very seriously. Have you found this to be true for you in the artist/creative community or are people more receptive?
I've mostly had really great experiences and I truly feel and see that the community is becoming more receptive to female creatives. Right now especially there are a ton of really fantastic female creatives who are making their mark and it's so great to see that people are supporting us. However I have been in a few situations where things have happened that have made me feel like if I were a male I might get more respect from the start of a project rather than having to negotiate and really fight to have people take me seriously.
You've collaborated with huge brands (Fenty x Puma, Topshop, Nordstrom etc), do the stakes feel higher when you're doing work that you know will be seen by millions of people? Or are you able to get kind-of lost in the process and shut that pressure out?
Oh absolutely! I'm not good at enjoying the process, so I'm typically a total stress case when I'm working on a big job. I've almost constantly been working on collaborations and commissions with pretty major companies since June of 2016, so it's left me with very little time to produce any personal projects. That also adds to the stress, because art was always a really personal and therapeutic thing for me and without that element it starts to feel pretty overwhelming. I'm really trying to find a balance.
I've also realized that self care is sooo super important. I've noticed that I tend to neglect myself while I'm working on a big job (which usually has an insane workload and deadline) because I get so consumed in getting the project done, but it's left me really worn out and drained. I've started making a point to go to yoga a few times a week and meditate every day, which is helping a lot. I think we get so caught up in trying to achieve "success" and there's so much pressure to do so, but there's not a lot of people talking about how important it is to take care of yourself at the same time.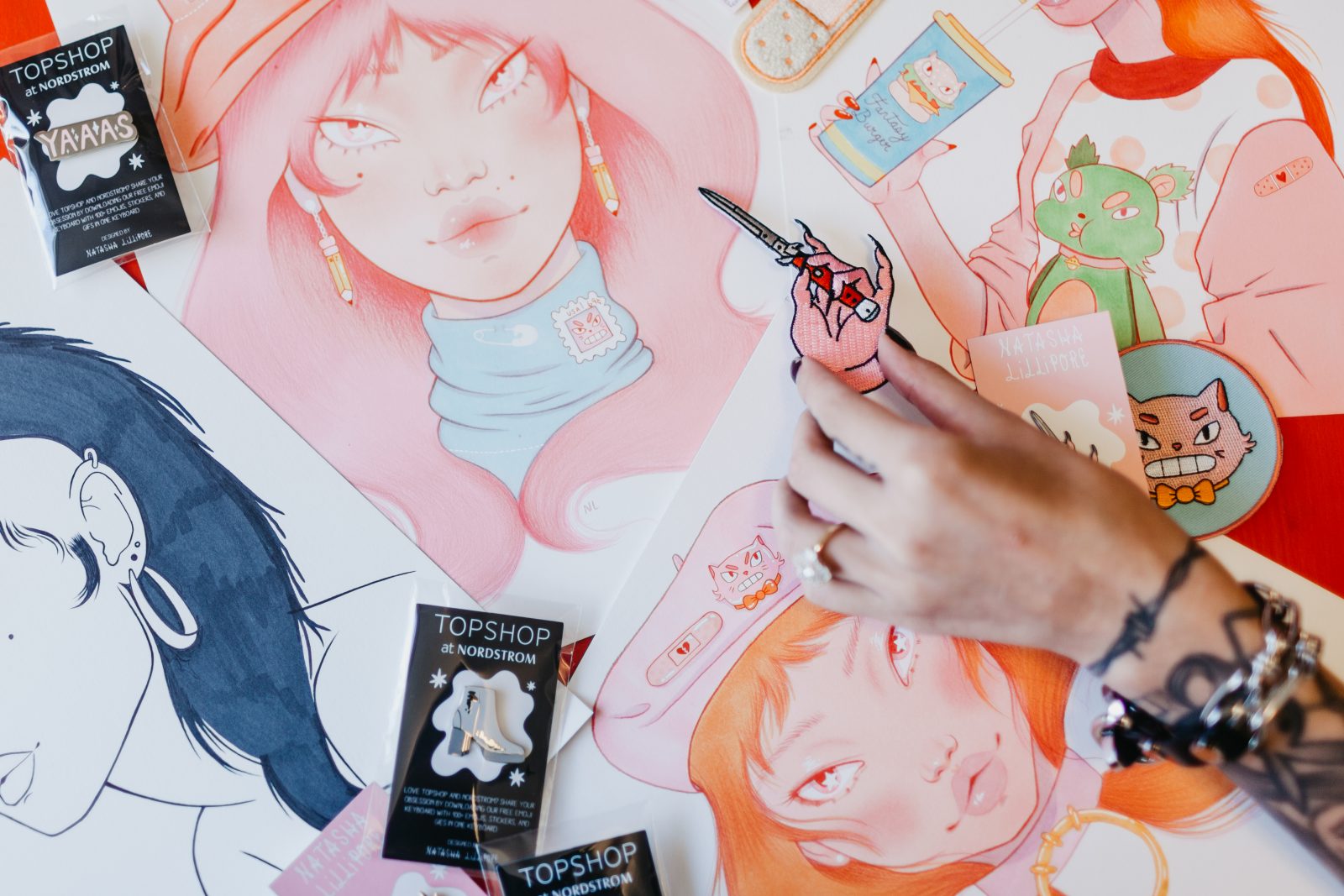 "I believe that there's no right or wrong way to be a woman."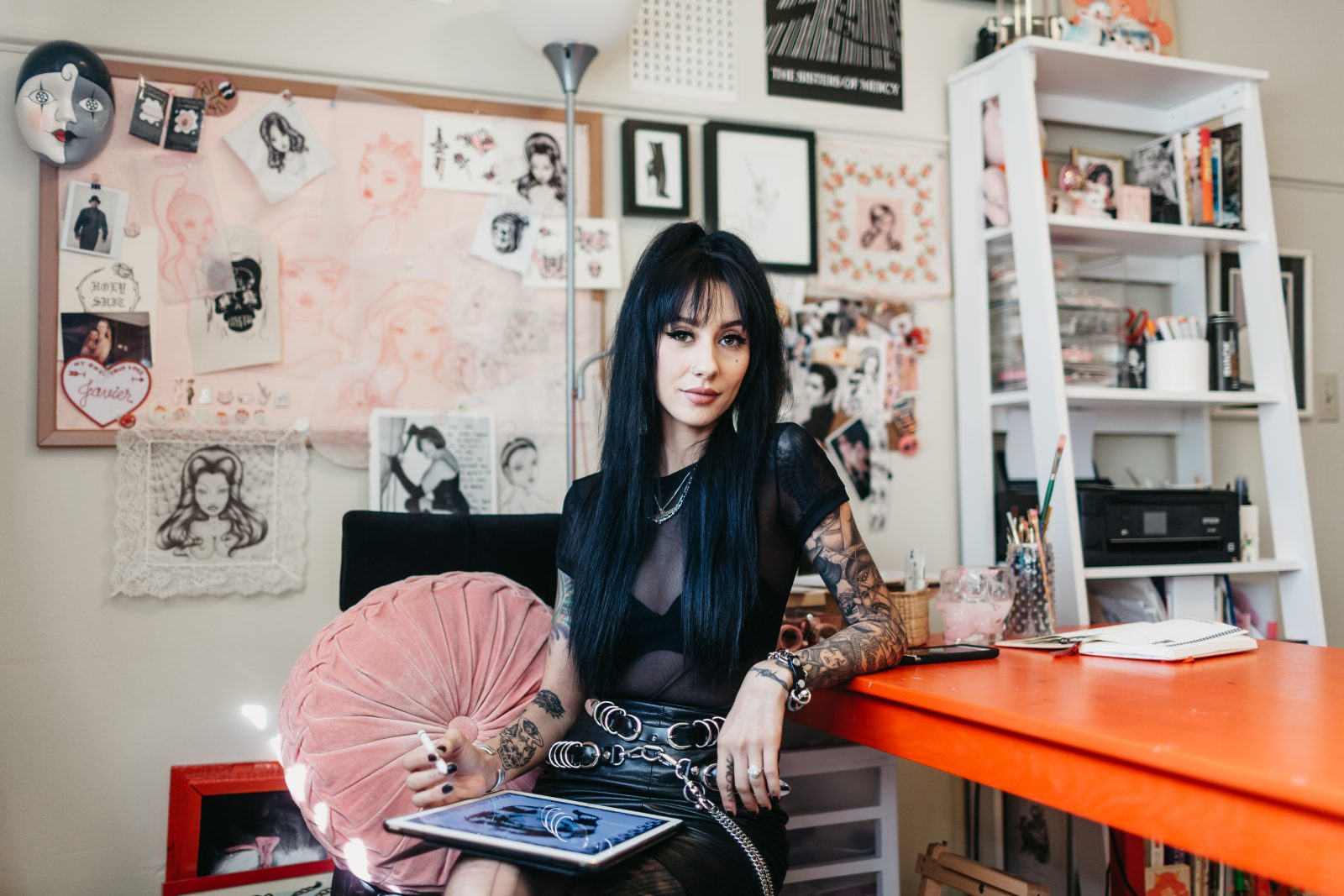 After you finish a huge collab, what do you find yourself wanting to do next?
I usually feel really drained after a big project, so I usually take a couple of days off to rest and try to replenish my mind and body. Typically after I finish a collab I feel really inspired to get back to my personal work, but I'm also usually exhausted so I've learned that I have to force myself to take a couple of days off and then I can get back to making things. I've really started to realize that I'm a workaholic…so once again I'm trying to find a balance.
Your fiancé is an amazing tattoo artist—is your work inspired at all by his style or by "tattoo style" in general?
Absolutely. I've actually wanted to tattoo long before I met Javier, but I've never really found the right opportunity to pursue tattooing. It's still something I would love to do, but I would want to do it the right way, if that makes sense. I really love and respect tattoo culture and the history that is behind all of what we see today. It's been really incredible watching Jav work so hard to get to where he is and he really inspires me to push myself. I love his style of art and tattooing and it's great to be able to witness his journey, I couldn't be more proud of him.
The girls in your illustrations seem to have a similar vibe to your own personal style—ultra feminine badass bitches. Do you feel that playing up the girly/feminine aspects of being a woman can actually give women power?
Totally, but I think what makes women (or any person) feel powerful is something that is unique to each individual. I believe that there's no right or wrong way to be a woman. I really love that I'm seeing more discussions about this very thing and that people are really starting to embrace true individuality over social norms and expectations of what a certain gender is "supposed" to be. I believe that people should dress however makes them feel happy, whole and good about themselves.
As I get older I'm trying to focus more on being as true to myself as I can be, both through my personal style and my art. It's sort of embarrassing to look back and realize how much time I've spent dressing to try to fit in or please other people, and at the end of the day I felt lonely and unfulfilled. When I moved to LA I was still a teenager. I didn't know anyone and all I wanted was to have friends and to be a part of something. I wore stuff that was fun or whatever, but a part of me kind of knew that it wasn't really me. I never thought I was that person and it's odd to look back at myself and think "What was I doing, I didn't even like that!" Basically, when I tried to be someone that I'm not, I felt powerless. Being true to myself gives me power. It's funny how clothes and personal style can affect you in certain ways, when really it shouldn't be that big of a deal.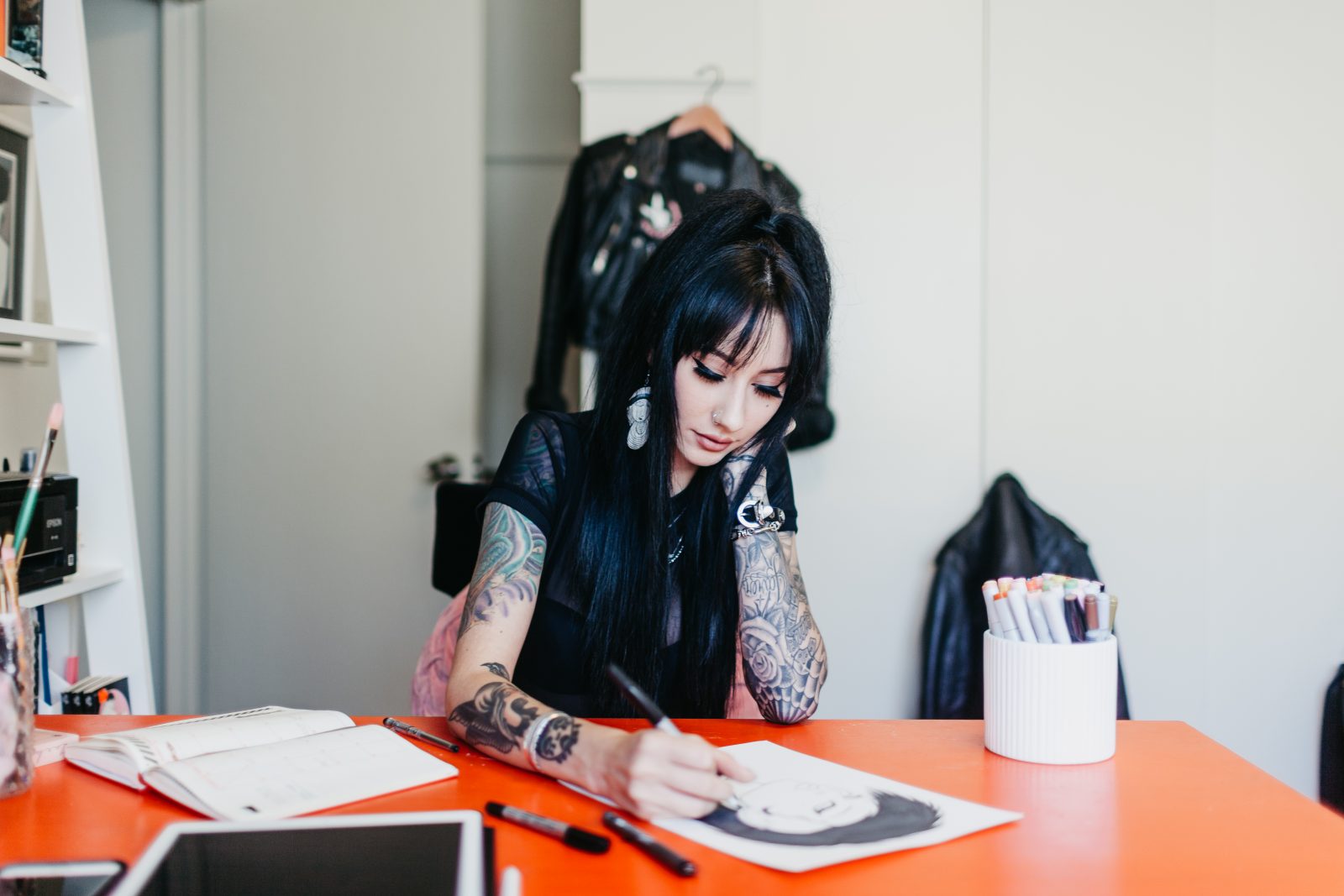 What's it like to plan and paint a mural?
At first it feels really different from working on a small piece of paper, but the process is pretty similar. Each time I paint a mural I feel like I walk away feeling a little bit more confident but also knowing what I want to do differently next time. It's really cool to work on a wall all day and step back and see your work on a larger scale. I'm still not really satisfied with any of the walls that I've painted, but I hope that as I do more I'll begin to feel more comfortable and maybe even start to like the outcome (haha).
What advice do you have for young girls who don't feel like their art or writing (or any creative endeavor they undertake!) is worth sharing?
Creativity is something that is usually pretty personal for people, so It can be really intimidating to share it on a public platform. I still struggle with it sometimes, but it can be so rewarding to open yourself up and see what the universe sends your way. I mean, Topshop actually found me through my posts on Society6, so you never know who will fall in love with your work! Basically, what do you have to lose by sharing it?!
Finally, you've accomplished so much already, but what sort of future projects do you dream about?
I'd really like to pursue fine art, so I'm trying to manifest some sort of painting apprenticeship or something along those lines. I'd also like to do more murals, especially on large walls. I feel like I'm at this weird place right now where I don't really most of what I've created over the past two years, just because most of it is work for other people. So right now I'm taking some time off from commission work to focus on making art for me. I'm in the very last stage of finishing up another big job, so I'm really excited to take some time to work on personal projects.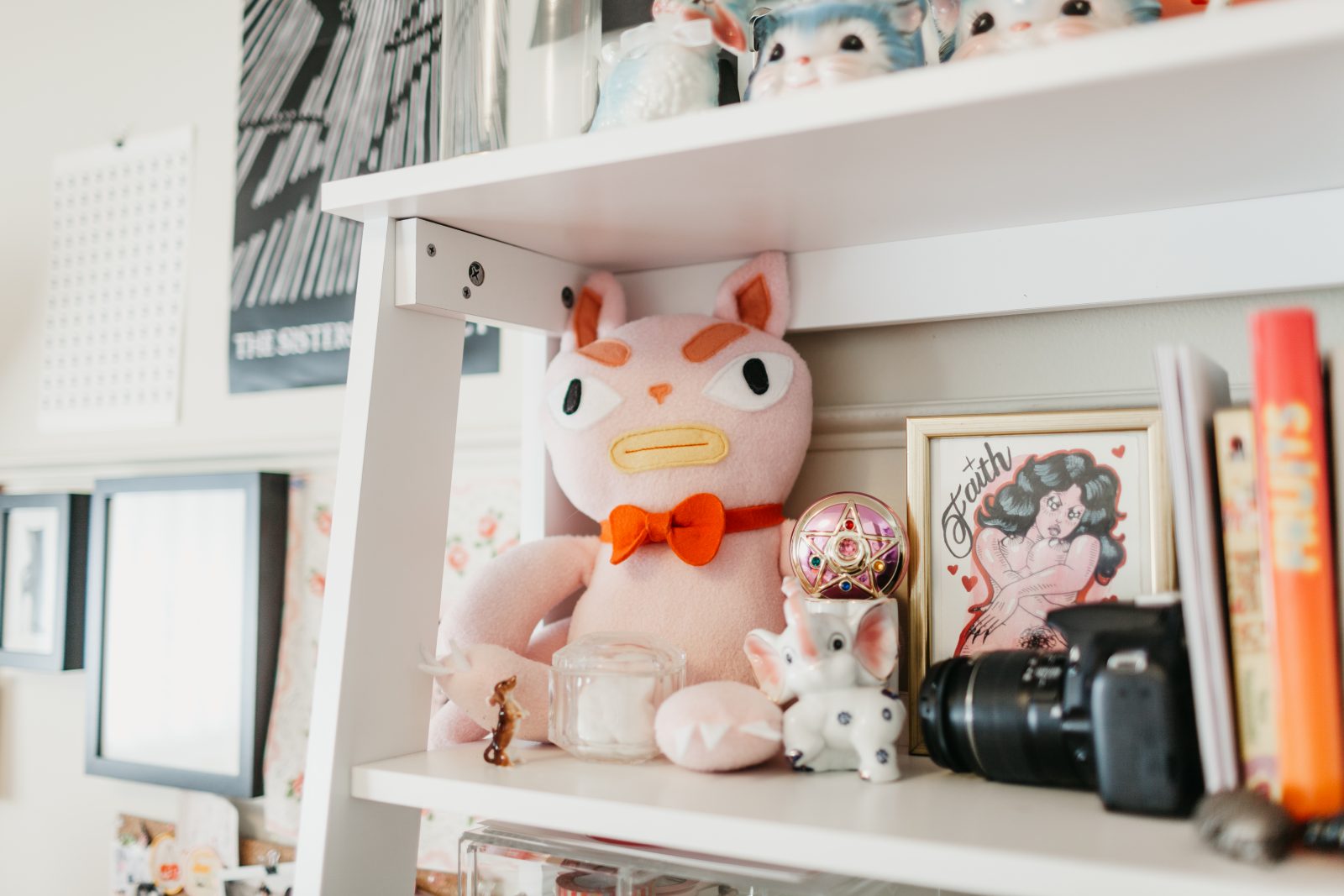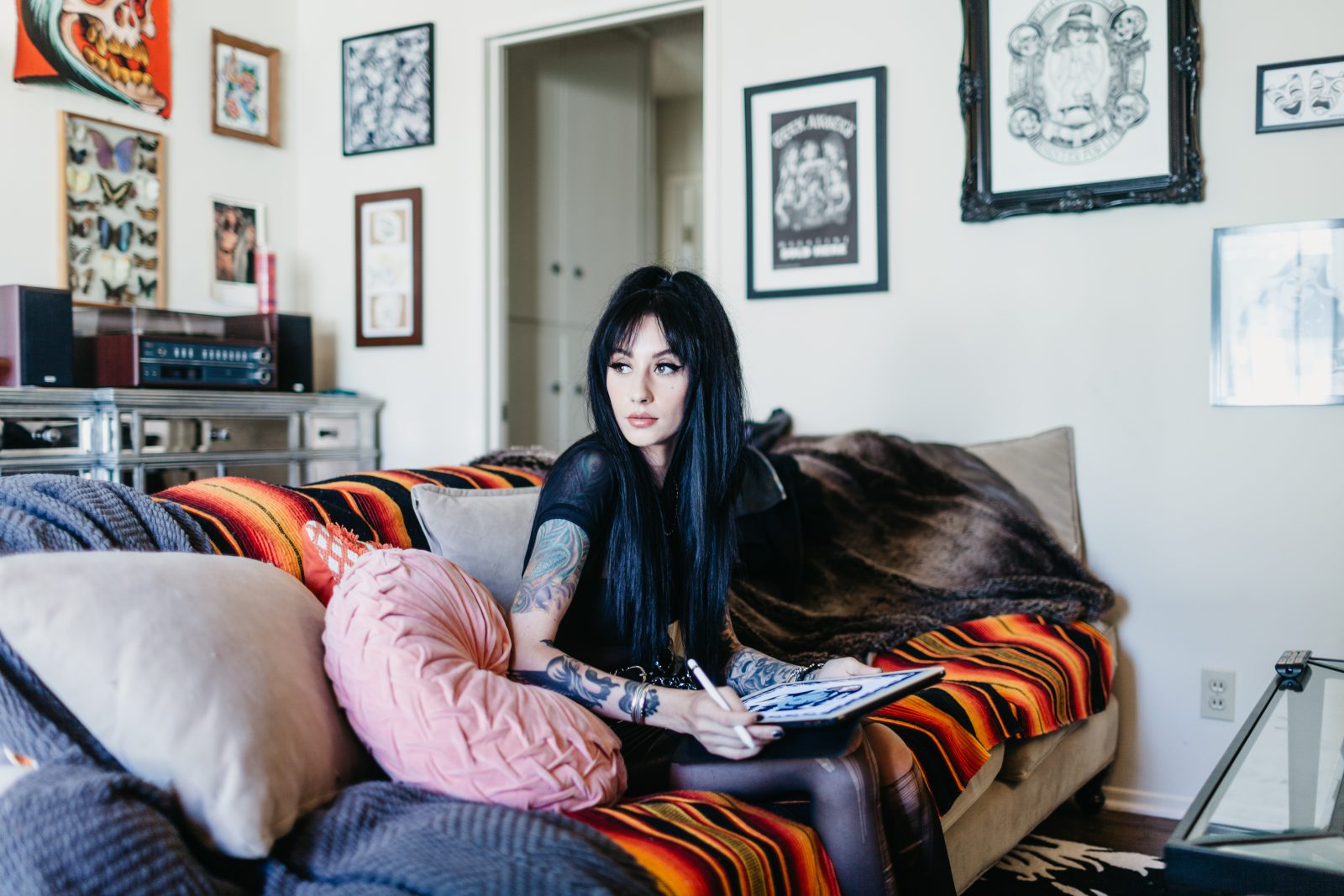 Fantasy Burger Beach Towel
Stick 'Em! Carry-All Pouch