Besides the living room, the kitchen has now become the focal point for gatherings.
It's where dinner is cooked, wine served, cocktails prepared, and the place that's allowed to be informal and casual. A kitchen can often be the place where your friends and guests feel like they can relax and let loose. To that end, if you'd like to make your kitchen more inviting, you can adjust minor things that can make a significant difference. Redoing your kitchen could start with something as simple as acquiring statement-worthy bar stools.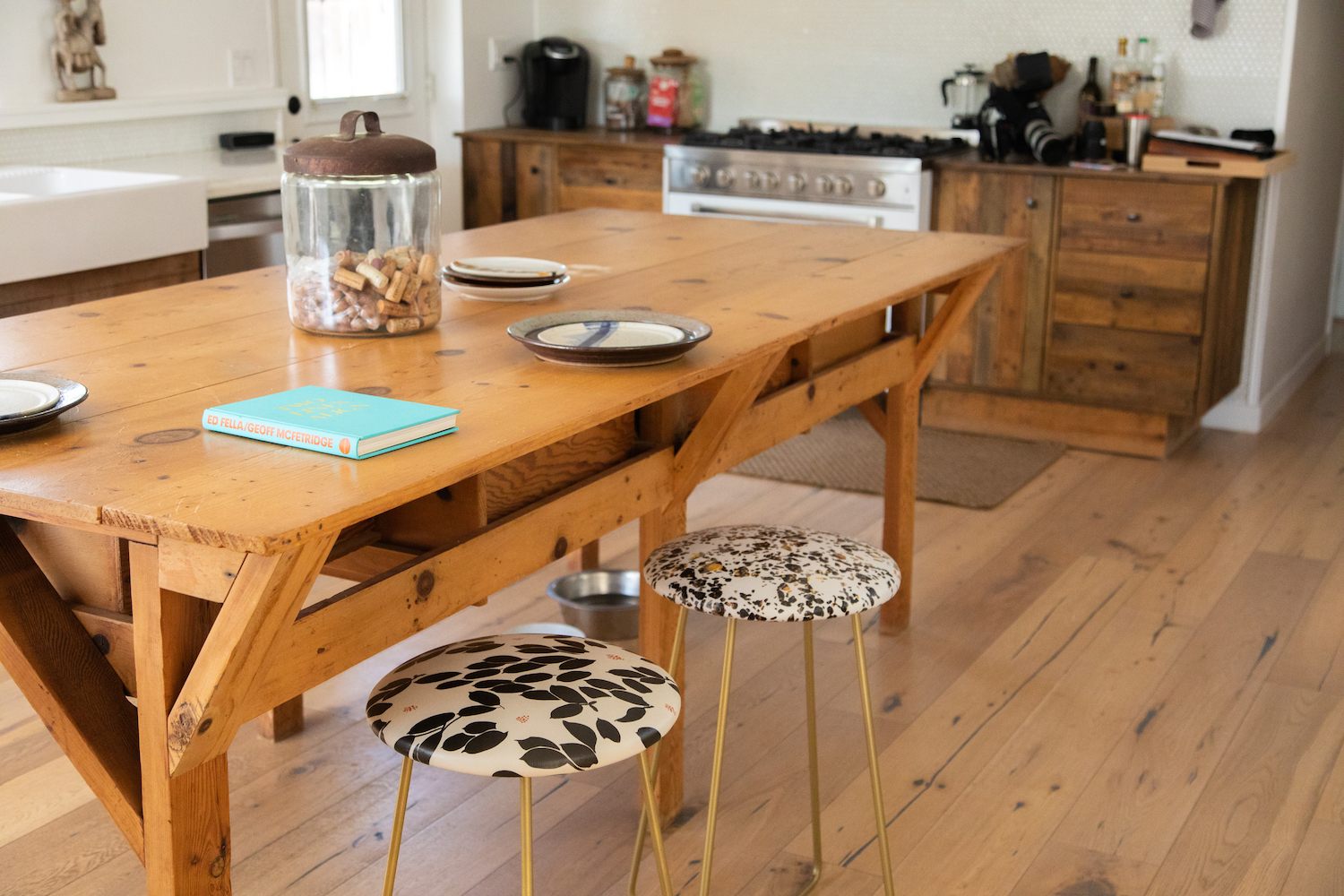 Begin with a Plan
Sometimes we get so used to seeing our kitchen that we forget the distinctive characteristics that set it apart. Take note of the things that you like about your kitchen. Are you a fan of the color of the walls or cabinets? Are there vintage fixtures that capture a particular decade? Do you like the tiles and the colors of the tiles?  Once you identify the features you like, you can begin to plan your kitchen redesign with that in mind.
Accentuate What You Like
The best way to accentuate the features you like is to have accessories in the kitchen that pay homage to the feature at hand. For example, if you have a kitchen with pastel colors that you really like, your bar stools can be a focal point to bring that out. Search for pastel bar stools and select a design or image that speaks to you, whether it's a color, graphic or a gorgeous watercolor artwork.
Another example is if you like that your kitchen is very modern, with clean lines through out. If these are features you wish to accentuate further, you might opt for bar stools that have strong geometric lines and shapes. Conversely, if you'd like to soften the room and make it more inviting, you might select warm, pastel colors or abstract designs that exude warmth and a sense of calm.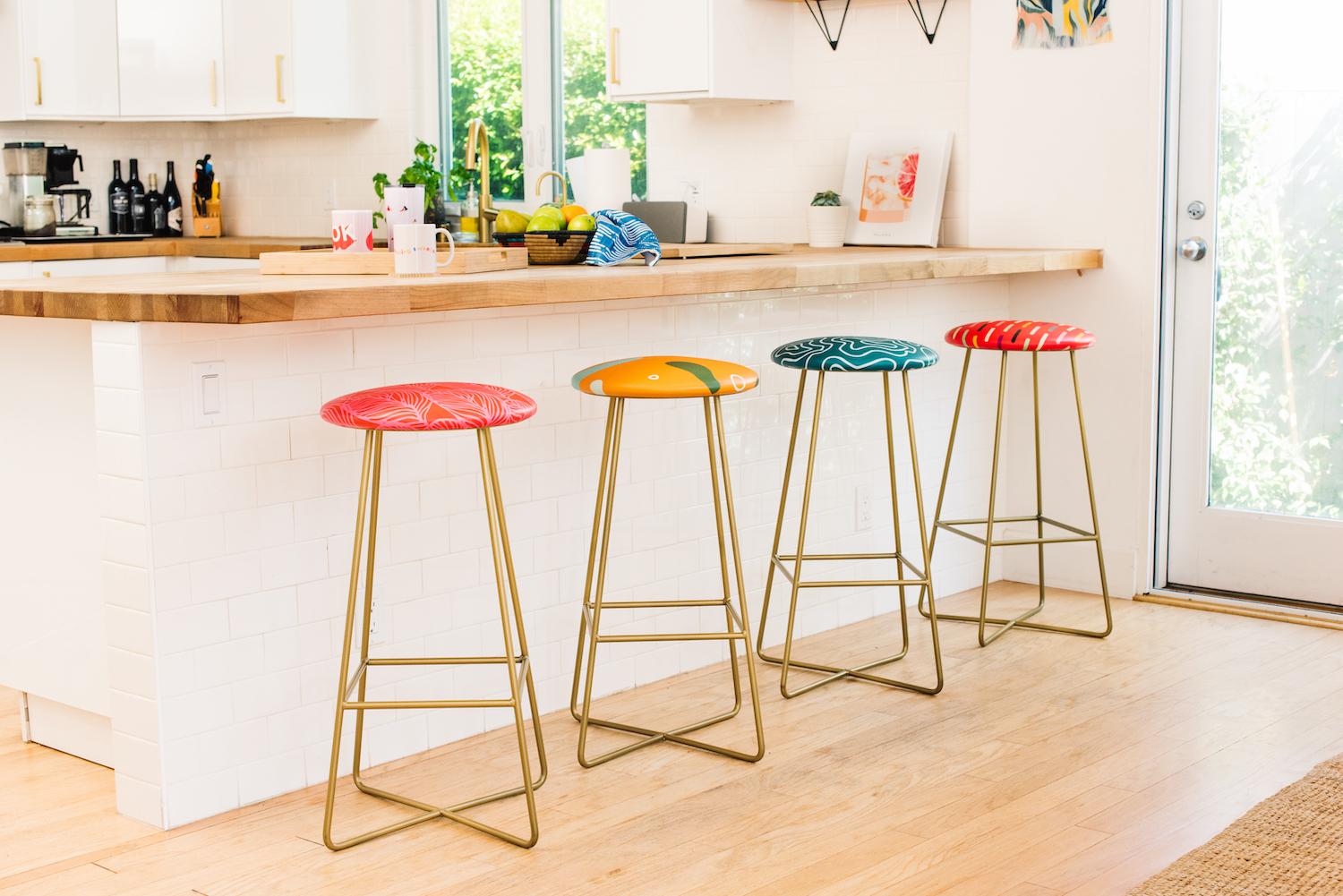 Brighten It Up
Whereas most rooms can benefit from ambient lighting, your kitchen is a room where brighter is better. From a functional perspective, it's important to be able to see what you're cooking or setting up, and from an aesthetic standpoint, a bright kitchen can make it look more expansive. An easy way to do this is with bright accessories, such as serving trays and bar stools with plenty of white space.
Embrace Bold Designs
If you really want your bar stools to make a major statement, look for a design or colorway that makes it stand out from the crowd. Consider selecting artists who already use bold, bright colors in their works or find illustrations that catch your eye and put a smile on your face. You can also find table/counter accessories that will further complement the designs you've chosen, ensuring they'll get noticed.
When it comes to redoing your kitchen, remember that you don't have to go all out. Shifting the attention to accessories can help detract from the features you don't like in your kitchen, while also accentuate the features you appreciate. Figure out what you like, and build from there. 
Written by Hina Khan
petaluma: pink leaf pattern Bar Stool
by sunshinecanteen
$199.00
AEGEAN JUTE STRIPE Bar Stool
by holli zollinger
$199.00
Magical Garden V Bar Stool
by Burcu Korkmazyurek
$199.00
Classic Retro Stripes Bar Stool
Geo / Yellow Bar Stool
by Summer Sun Home Art
$199.00
Boobs Bar Stool
by Natalie Catalina
$199.00
Fan Coral – Navy Bar Stool
by Cat Coquillette
$199.00