Just as our wardrobes need a refresh, sometimes our spaces do too.
Breathing new life into your living room doesn't have to be a costly affair either. Sometimes all that's necessary is a few additions and subtractions to make your space look more cohesive. The following are 10 items that can totally energize your space.
1. Create a Gallery Wall
Inject a fresh feel into your home with framed art prints from your favorite artist or designer. To find artwork that works for you, think of your interests, travels or times of the year that you love the most, such as summer. Statement prints are also great because they can serve as a daily reminder to get into that hustle mindset.
2. Sit on the Floor
In lieu of eating dinner at a kitchen counter or dining table, serve dinner around the coffee table and with guests sitting on colorful floor pillows. Also, your furry companions will love hanging out on these.
3. Hang New Curtains
Replacing your window curtains, or hanging new ones, is a major way to shake things up. Consider blush tones for warm neutrals or a serene nature design that brings you to your happy place.
4. Curate Your Throw Pillows
We love the idea of either being a minimalist or maximalist so, depending on your aesthetic, you can have a slew of throw pillows or just a few. They add a pop of color to any space and are great to lean on during intense TV binging sessions.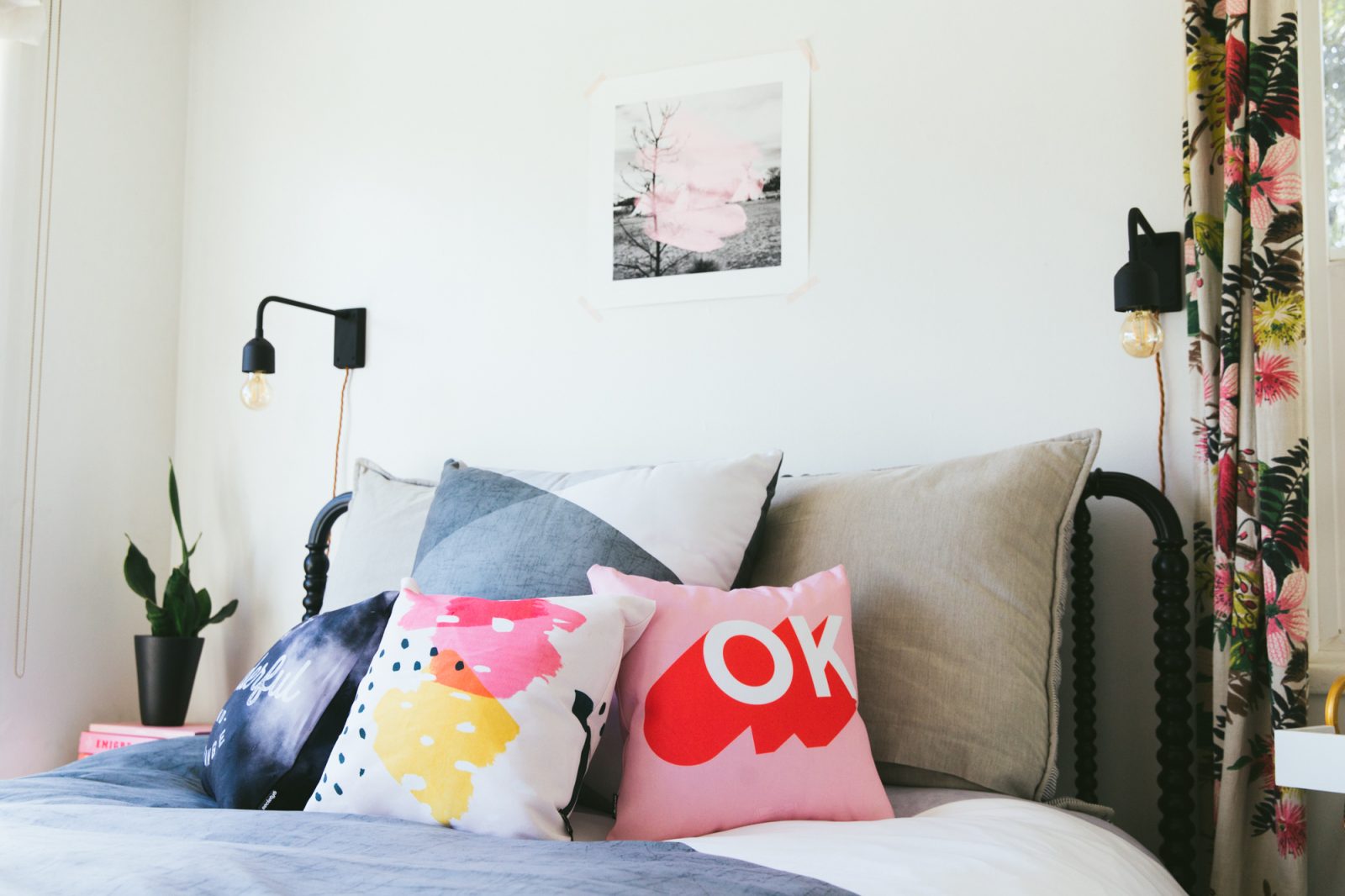 5. Serve It Up
Serving trays are great because they're a multi-purpose item. They're useful in the kitchen, but also in the living room. Place one on your coffee table and display sentimental items, such as crystals, books or dried flowers.  
6. Chic Accents
A soft and plush throw blanket is a necessity for every living room, so check yours out to see if needs a refresh. And if you don't have one, consider using a throw blanket to accentuate a color in your living room that you like—or you can use this as a pop of color, too.
7. Hang A Clock
In the digital age, it's easy to overlook a clock but adding one to your living room can inject some whimsy and fun to your space. Consider lining up two or three wall clocks for each of your favorite time zones.
8. Organize in Style
It's inevitable that there will be little trinkets that accumulate, especially in a living room, and acrylic boxes can be just what you need to clear these items up, especially when there's a chic print on top. When choosing yours, take inventory of your room to find colors that will complement your space.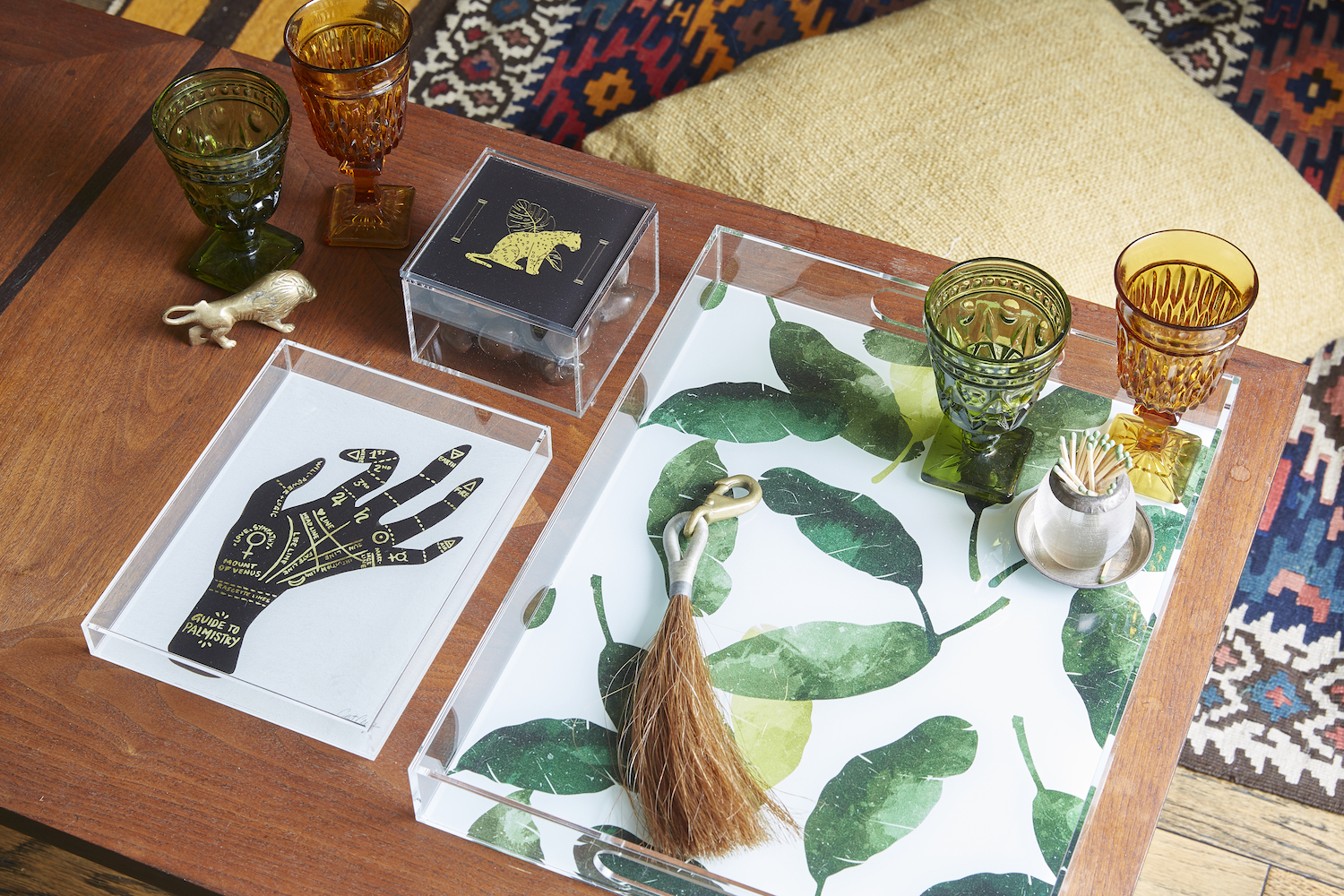 9. Delightful Coasters
Sometimes it's the everyday objects in our life that need a refresh, such as coasters. Selecting ones that have a humorous design can be the item in your home that makes you smile to yourself.
10. New Rug, New You
Rugs are truly delightful additions to any home, especially when they feature art or a statement that resonates with you. Right now, we're loving rugs that look like faux hide or designs that mimic chevron, but in a minimalist manner. Changing the rugs in your home is sure to add a totally new look and feel to your space.
Written by Hina Khan
Mustard Mud Cloth Floor Pillow
Calandrina Floor Pillow
by Heart Of Hearts Designs
$79.99
Aluminum Foil Rug
by Patterns And Textures
$94.99
Abstract Geometric 01 Throw Blanket
by The Old Art Studio
$59.99
Mystic Series Special Edition Acrylic Box
Palmistry Acrylic Tray
by Cat Coquillette
$39.00
banana leaves Acrylic Tray
Ginkgo Leaf Framed Art Print
by Christopher Dina
$109.99