With snuggle season in full swing, you're going to be spending a lot of time wrapped up in blankets.
Whether you want to drape them over the foot of your bed, hang them over the back of your couch, or just hibernate under them for the entirety of the chilly months, a favorite throw blanket is a must have. Here are 10 of our favorite throw blankets that are perfect for fall and winter.
1. Add a Little Fantasy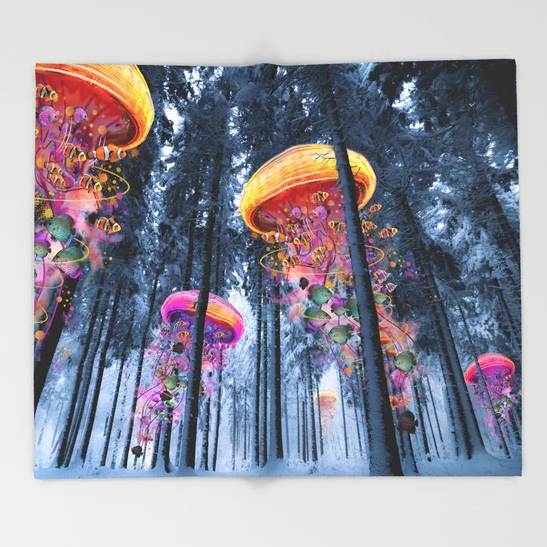 You'll be watching Game of Thrones from under it anyway, so why not add a little fantasy to your throw?  Winter Forest of Electric Jellyfish adds that touch of surrealism that will whisk you away to a dreamscape every time you curl up in it.
2. Be Out of This World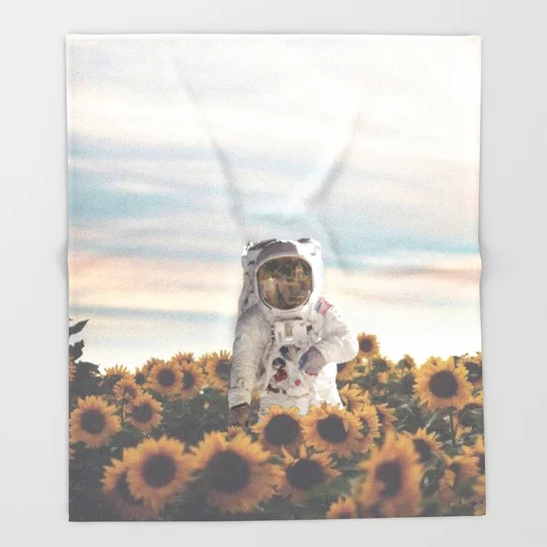 Keep the "real" in surreal with the depiction of a realistic astronaut exploring an absolutely dream-worthy sunflower field with The Sunflower Galaxy, Messier 63.
3. Look Good From Any Angle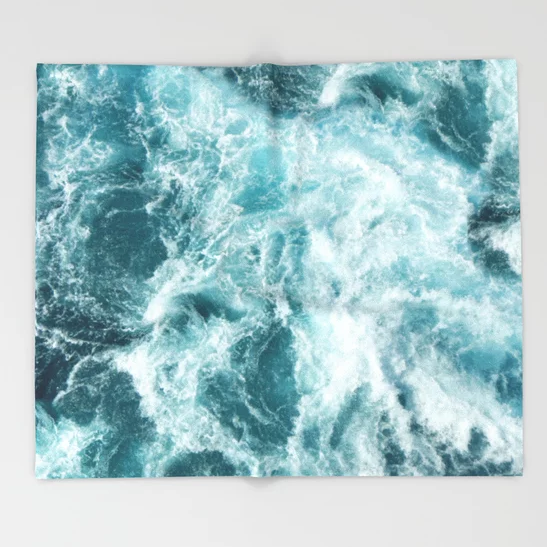 Get yourself a throw that looks good even when balled up on the couch. This Sea throw blanket adds a splash of fresh color, and with its repetitive wave imagery, this design is just overall awesome.  
4. Look Abstract From Any Angle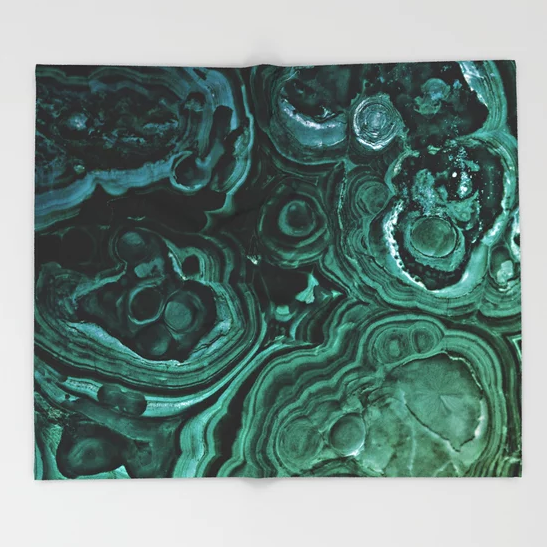 For a more abstract look, this Malachite Green throw similarly looks good from any angle. With watercolor inspired swirls and spots, this emerald blanket makes a statement without being too loud.
5. Look Vintage From Any Angle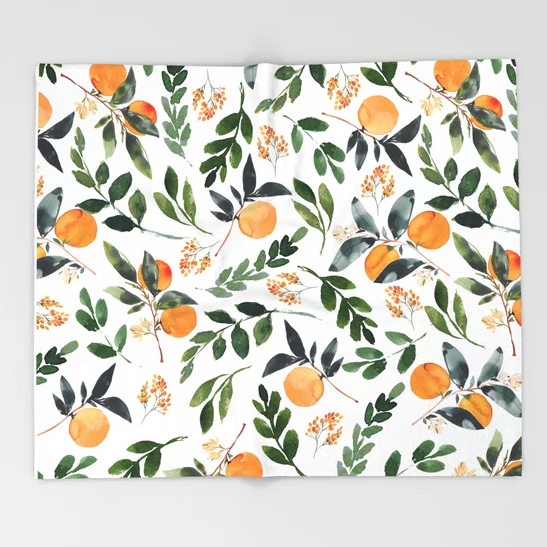 This is the last "from any angle" mention, promise, but the Orange Grove throw is just too perfect to pass up. With a modern yet vintage wallpaper-inspired design, this blanket is reminiscent of California mid-century styling. The repeating pattern of oranges, greenery and orange blossoms on the white backdrop makes this an ideal pattern for those of us who are folding-challenged.
6. Go Tropical Vintage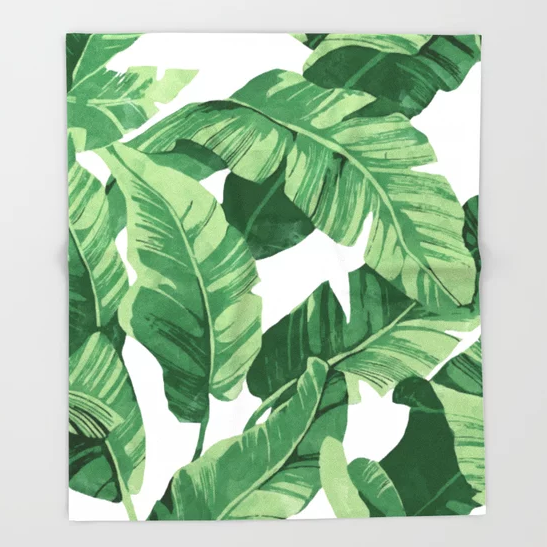 This design on the Tropical Banana Leaves IV adds that mid-century fresh flair to your space. The repeating leaves give off a tropical vibe that's perfect for counteracting the winter chill.
7. Flamingos Are So In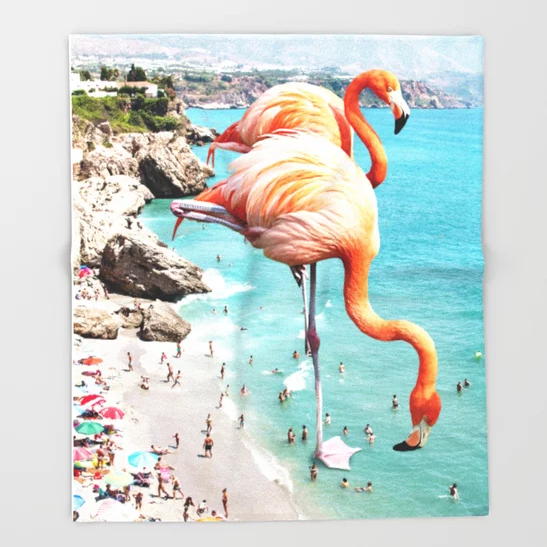 A take on the aforementioned mid-century tropicana vibes, flamingos, in all their glory, are the hottest design trend of the minute with everything from mens shorts to neon lights boasting their silhouettes. But here's a new spin on this happening trend: Flamingos on the Beach takes the quirkiness of the flamingo and brings them one step further into a fantastic shoreline scene.
8. Add Some Quirkiness
Choose a throw with a quirky modern design. This Brilliant Disguise blanket is definitely a favorite that perks the imagination every time it's unrolled. With a realistic goldfish sporting a very steampunk shark fin, this blanket is a great reminder that things are not always how they seem.
9. Paw-sitively, Fur-tastic, Cat-errific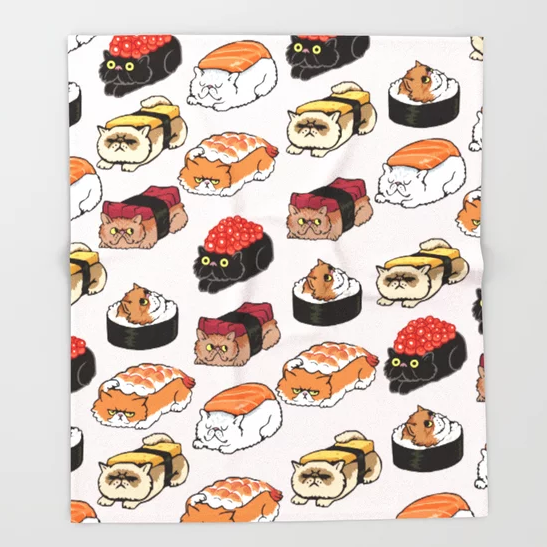 Whether you want a curious cat, a moody cat or something a little more abstr-cat, there are plenty of designs that celebrate all things feline (and do a better job than the above puns). Sushi Persian Cats is a favorite cat designs that puts a comical twist on our feline friends who have morphed into perturbed pieces of nigiri and all around confused bites of sushi.
10. Give it Some Giggle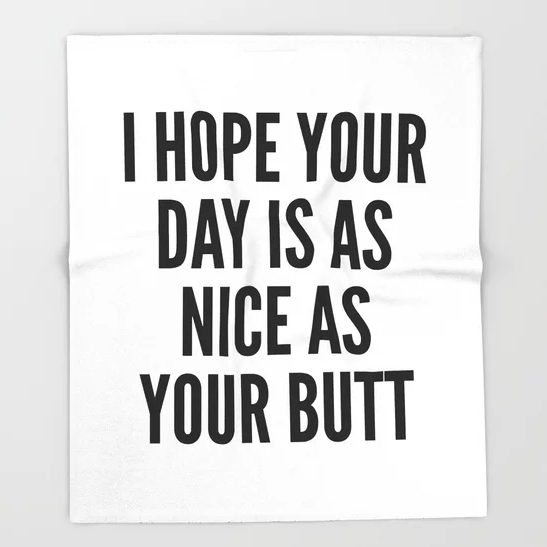 I know it's hard to imagine that this is the first design that would get you to crack a smile, but there are some hilarious throws that add the perfect bit of humor to your space. Take this cheeky one liner like "I Hope Your Day is as Nice as Your Butt" as an example. There's plenty of hilarity to brighten your blanket.
Winter Forest of Electric Jellyfish Worlds Throw Blanket
The Sunflower Galaxy, Messier 63 Throw Blanket
MALACHITE GREEN Throw Blanket
Orange Grove Throw Blanket
by greenhouseprints
$59.99
Tropical banana leaves IV Throw Blanket
Flamingos on the Beach Throw Blanket
Brilliant DISGUISE Throw Blanket
Sushi Persian Cat Throw Blanket
I HOPE YOUR DAY IS AS NICE AS YOUR BUTT Throw Blanket
Mauve Greys Throw Blanket
by Iris Lehnhardt
$129.99
Faces in Dark Throw Blanket
553
by Explicit Design
$79.99