You've just picked out the cutest curtains…but NOW what? We asked DIY blogger Seeking Alexi to tackle the ins and outs of how to hang curtains—follow the steps below and you'll have a transformed space in no time. 
Hanging curtains can be as simple as hanging artwork on a wall! But the payoff is huge for curtains. They take up a lot of space, so they literally are a giant art piece hung from a rod instead of a nail. Depending on the design, they can add warmth, be an accent color, reinforce a room's theme, etc. I opted to pick one from each area to really show you how 3 curtains 2 different ways can transform a space!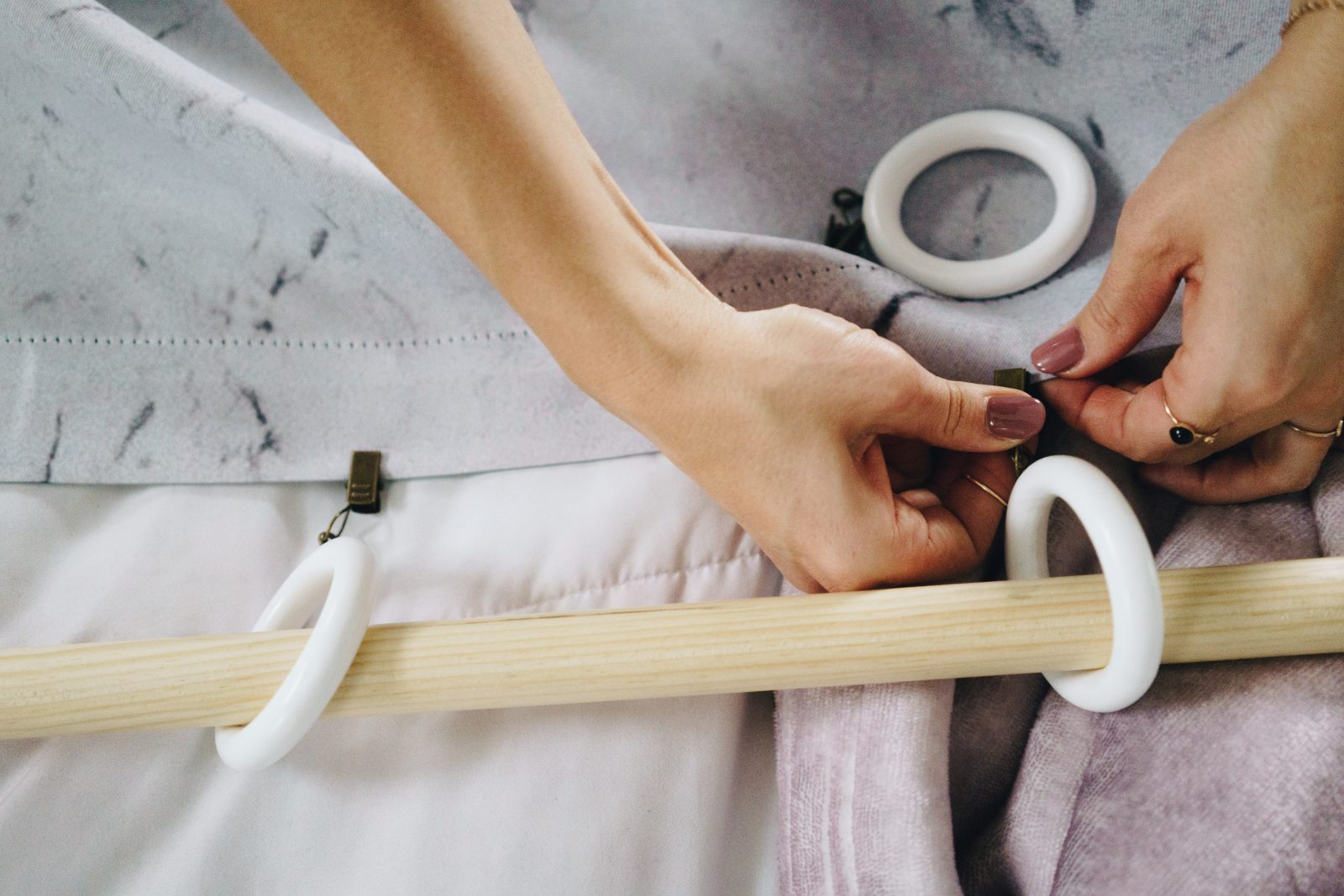 Technique: Standard Curtain Rod & Neutral Curtains
I finally hung some curtains in my home studio/office area and I am absolutely thrilled with the final result! Aaaand, this curtain rod is my most favorite of the bunch, so why not talk about it first?! You can snag this gorgeous warm gold curtain rod for as low as $24 on Amazon Prime. It comes with all the mounting hardware (as do most curtain rods/brackets) and the finials have a stunning modern angle.
Hanging curtains is pretty basic, just make sure you have a strong drill, like my Ryobi impact drill since you're drilling into the outside wall of your home. Here's a step by step to hanging your curtains:
1. Hang the curtains up to roughly figure out where you want to hang your curtains.
2. Hang the first curtain bracket in your desired place by screwing your bracket straight into the wall. If by some chance your screws start stripping, then use the drywall anchors provided in your bracket kit.
3. Measure where you attached it on that first side, and mark the same location on the opposite side of your window. Before you attach it, use a friend to make sure it's straight, or use an actual level. Then, drill that second bracket into the wall!
4. Run your curtain rod through the provided sewn curtain-pocket.
5. Hang your curtains!
Technique: Standard Curtain Rod & Dark Curtains
The curtain rod I snagged for these gorgeous dark emerald curtains is the most perfect and subtle $25 Amazon Basic product in black. When you have a strong accent color for your curtains, I recommend keeping the curtain rod basic. You don't want the rod stealing the show, you want to reserve that for the curtains themselves!
I loved how this turned out in the back hallway of my bathroom. I needed a little more privacy, so they ended up being the perfect fit, and will help block out the light in the evenings.
And, I have to express that these curtains WELL SURPASSED my expectation for quality. I mean it when I say that every product I've tried from Society6 is extremely high quality! There's an awesome reinforced slot for the curtain rod, it is very thick opaque fabric, and has strong stitching.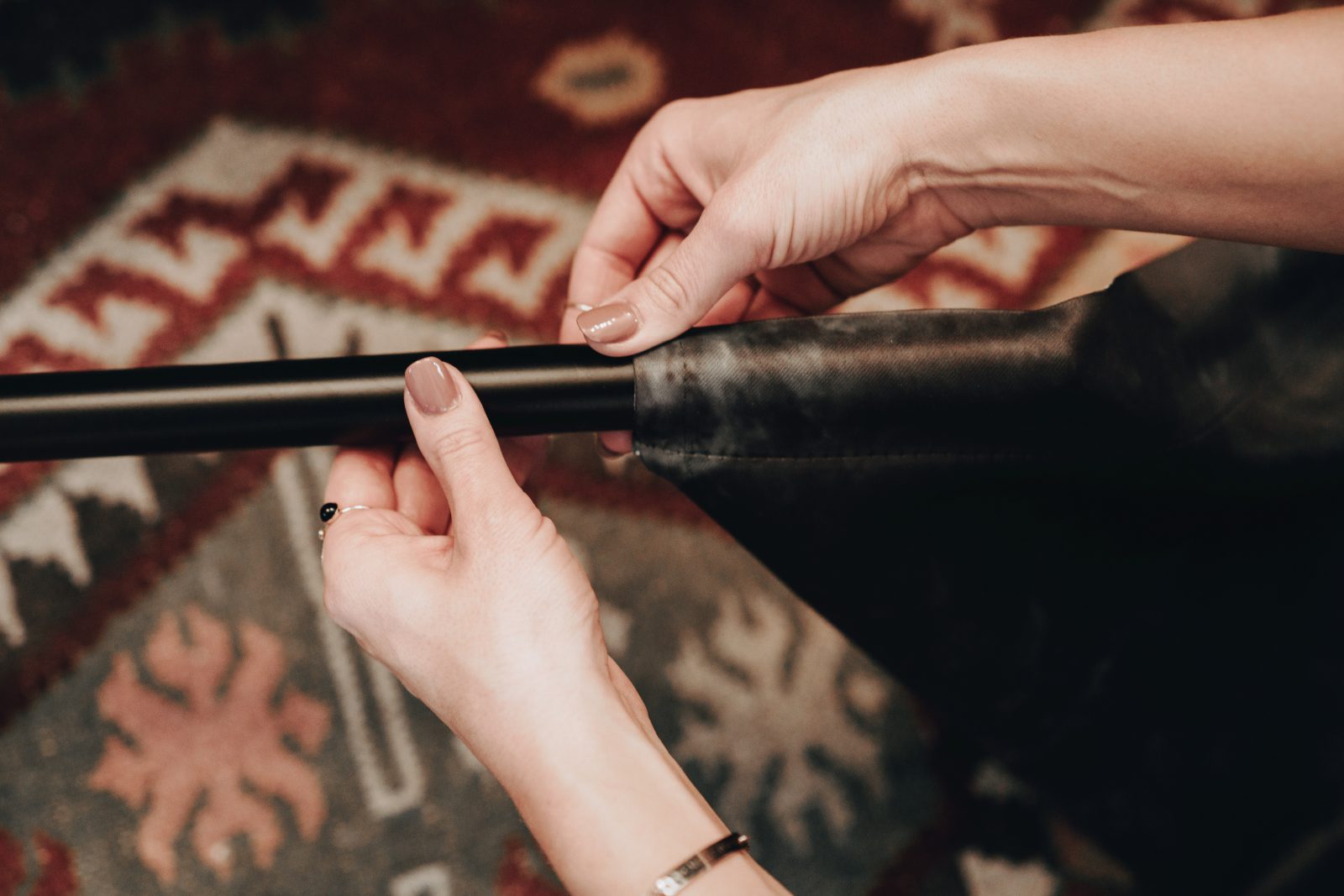 Technique: Wooden Dowels & Curtain Rings
The curtains I chose for this technique were selected to add warmth. This will mean different things for different people/spaces. But for me, it meant pulling a warm color from my bedroom color scheme (if you missed it, Society6 helped to update my drab bedroom decor to a true sanctuary), and then putting that warm pink on my plain white walls. I wasn't brave enough to pick 100% pink curtains, as you can see below, but I am very happy with how they turned out!
Thank you so much for reading this tutorial! If you enjoyed it, I would be honored if you came to join me on my Instagram! I share lots of behind the scenes and do my VERY best to empower you to tackle your projects, big or small—let's build each other up!
Lines & Circle 02 Blackout Curtain
Spring- Pantone Warm color 03 Blackout Curtain
by nileshkikuuchise
$119.00
geo six-celadon Blackout Curtain
by Anneke Doorenbosch
$119.00
Paisley Tiger Blackout Curtain
by alison janssen
$119.00
Abstract jungle - mustard Sheer Curtain
by DESIGN d´annick
$119.00
Oranges and Leaves Pattern - Pink Sheer Curtain
feathers Sheer Curtain
by Stacey Walker Oldham
$119.00
Wavy Horizontal Stripes on Night Watch Green Sheer Curtain
by PIPA Photography & Graphic Design
$119.00