Increase conversions by getting smart with your Artist Shop!
Your customers expect a great experience and high quality products from Society6. That's why we help you deliver on that with a super smooth shopping experience. It's incredibly easy to navigate. You can send customers to your newest designs or most popular. Organize your latest series of artwork using Collections. Oh, and don't forget to spruce up your branding because your social stats, bio and imagery are all right up top so customers can get to know you. What we're saying is you have plenty options and so do your customers.
1. Use Product Filters to control your customer's landing experience
If you're sending customers to your shop, you have total control over what they see when they land there. For example, if we're in the midst of a Wall Tapestry sale, send them just to your Popular Wall Tapestries. If you're doing a Home Decor giveaway and your winner(s) have to pick from new artwork, send them to all your New Home products.
By using Product Filters on the left side of your shop, you can sort through your shop just as a customer would. When you like what you see, grab that URL from your browser and voila! Share away!
2. Send customers to your

NEW

designs & products
So, you've been holed up in a cave–smelling like god knows what–knocking out new work. Amazing. Now it's time to share with the world. Get those shoppers shopping the new goods!
Click on "Sort by" at the top of the drop down menu on the left and click on "New". From there, you can use your Product Filters to get even more specific with Department and/or Product. Once you like what you see, grab the URL from your browser and start sending people over to your newest work!
If you prefer a little more spice, use the Random "Sort by" filter. You never know what could be your new best seller!
PRO TIP: Another way to do accomplish controlling what your customers see is to create a Collection. See #3 below.
3. Use Collections to help your customers shop a theme or series
Collections are an excellent way to focus your customer's attention if the Product Filters fall up short for what you need.
For example, if you know your iPhone cases are sellin' like hotcakes, put them in a Collection and start sending customers there. If you just finished up a series of typography work, put that series in a Collection. Maybe you just want to see all your favorite art in one place. You get it. Put it all in a Collection!
PRO TIP: You can also send your customers directly to your Collections by clicking on the Collections tab and using that URL.
If you haven't created a Collection before, it's very easy. Go to any product page and click on the "Add to collection" > "Add new collection". Remember, that you will be adding the product from the page you are on. So, if you're looking at Shower Curtains, but you want to add the Wall Tapestry with that same design, navigate to the Wall Tapestry product page and then "Add to collection".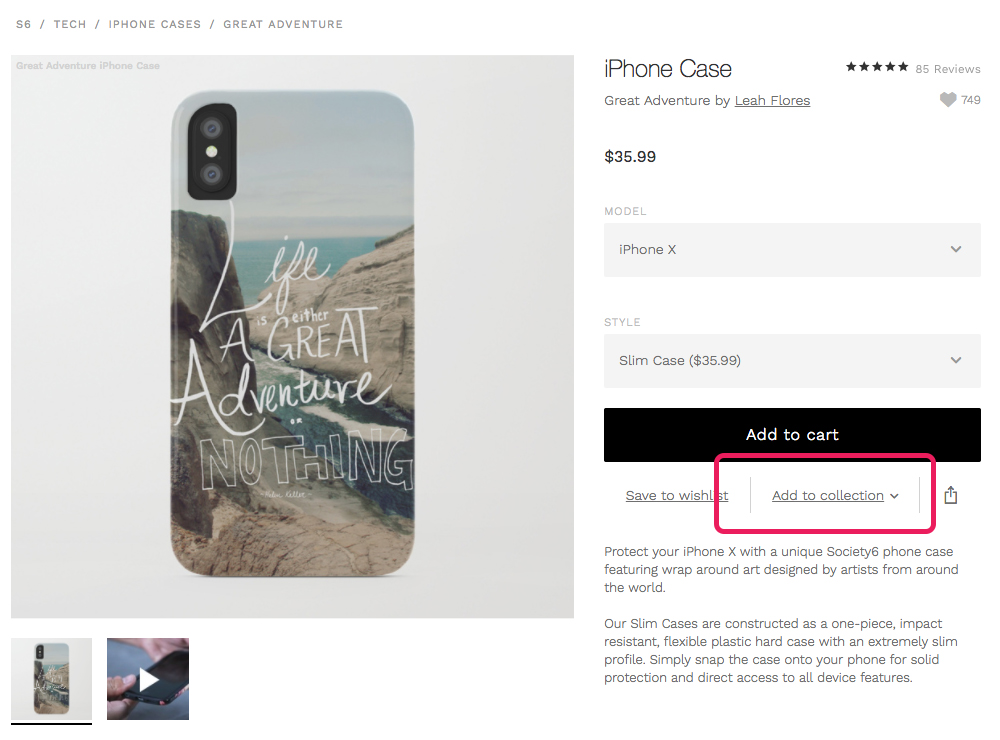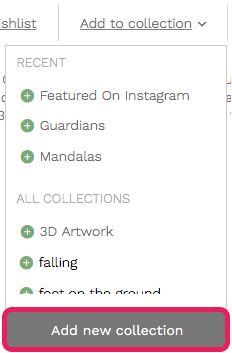 4. Help customers explore your work beyond Society6
Your bio is front and center. Your social stats are up top. Your branding is a priority to us. Don't forget to add a good bio, but also, offer links to your website or social platforms. Make sure you give your customers the opportunity to dive into any other projects or pages that you think they would enjoy!
Your Artist Shop is a tool for you to profit from the sale of your artwork. We're committed to that. We will continue to optimize and improve in an effort to maximize every Artist's earnings potential on Society6. Thanks for being a part!
If you have any additional tips, questions or comments, make sure to leave them below!
Cover art by Daniel Montero