If there's ever a time to revitalize the art of the picnic, it's during this summer heat. Here, stylist, photographer and food expert Kristin Guy of Dine x Design shares her top four essentials for crafting the perfect picnic.
Summer-timing is in full swing and there's nothing better than hitting the outdoors with friends to bunker down for some proper picnic action. Where there's no right or wrong way to picnic – there are a few ways to make your outdoor blanket time even more enjoyable. Whether you're hitting the beach, the park or just a strip of grass outside your front door…We're rounding up the must haves for the perfect picnic and how to pack up the fun for on the go.
Now, who's in charge of bringing the SPF?!
1. Cool Carry-Alls
Easy mobility while bringing your picnic goods to-go is the first and most important part to any picnic. By organizing and packing your gear into easy-to-travel bags and containers you'll have no stress on your way to outdoor R&R.
Forget the traditional (and expensive) picnic baskets – backpacks and tote bags make for the perfect carry-all while bringing more personality to the table. Plus they can roll up, tuck in and pretty much disappear when not in use.
Another picnic staple are wooden trays. No one wants coleslaw ending up in their lap and these are lightweight enough to carry anywhere while providing the perfect table top for your festivities. Layer a few different patterns in similar colors for a design-forward feast that everyone will want to take the look back home.
2. Portable Bevvy & Bites
Food is obviously one of the highlights of any picnic and we want to make sure you get it there looking fabulous and fresh. No one wants to be assembling on site, so pack a menu that can be prepared ahead of time, travels well and can be enjoyed with little effort. Most picnic foods (and bevvys) can be prepped a day or two ahead of time – so take into consideration items like big batch spritzes and finger foods that will not require extra dishes to lug along or on-site prep to tackle.
One of my favorite ways to carry cuisine is with stackable Tiffin carriers. Not only do these separate compartments keep different foods from meshing together (ew, soggy crackers) but they're made of metal and hold a chill far longer than any of your plastic containers can. Plus they're stackable, which makes it easy to carry more without too much bulk. Grab a few of these tins and create a tiered 5 course snaking station! Think cheese board, chucuterie, dips and even salads. Anything can be carried in these easy to pack tins.
Speaking of salads, we've got your new favorite go-to recipe that will be a hit from poolside to porch hang. Grab the recipe below!
GARDEN PESTO PICNIC SALAD
Ingredients
1 large bunch of mixed herbs: parsley, basil, tarragon, cilantro
1/4 cup roasted pistachios (can substitute with any nut: cashews, pine nuts or sunflower seeds)
1/4 cup shredded parmesan cheese
3-4 tbsp. olive oil
Juice and zest of 1 lemon
Salt and pepper to taste
2 cups cooked pearl couscous
Mix of fresh vegetables: sliced radish, sugar snap peas, cucumber
Mix of grilled/roasted vegetables: cherry tomatoes, zucchini, asparagus
Directions
Add herbs, nuts, cheese, olive oil and lemon zest/juice to a food processor and blitz until smooth. This can be done up to 2 days ahead of time and stored in the refrigerator.
In a large bowl, toss couscous with pesto until coated well. Add in fresh and grilled vegetables and mix well, topping with additional fresh herbs such as dill, fennel tops or more parsley and basil. Keep refrigerated until you're ready to go.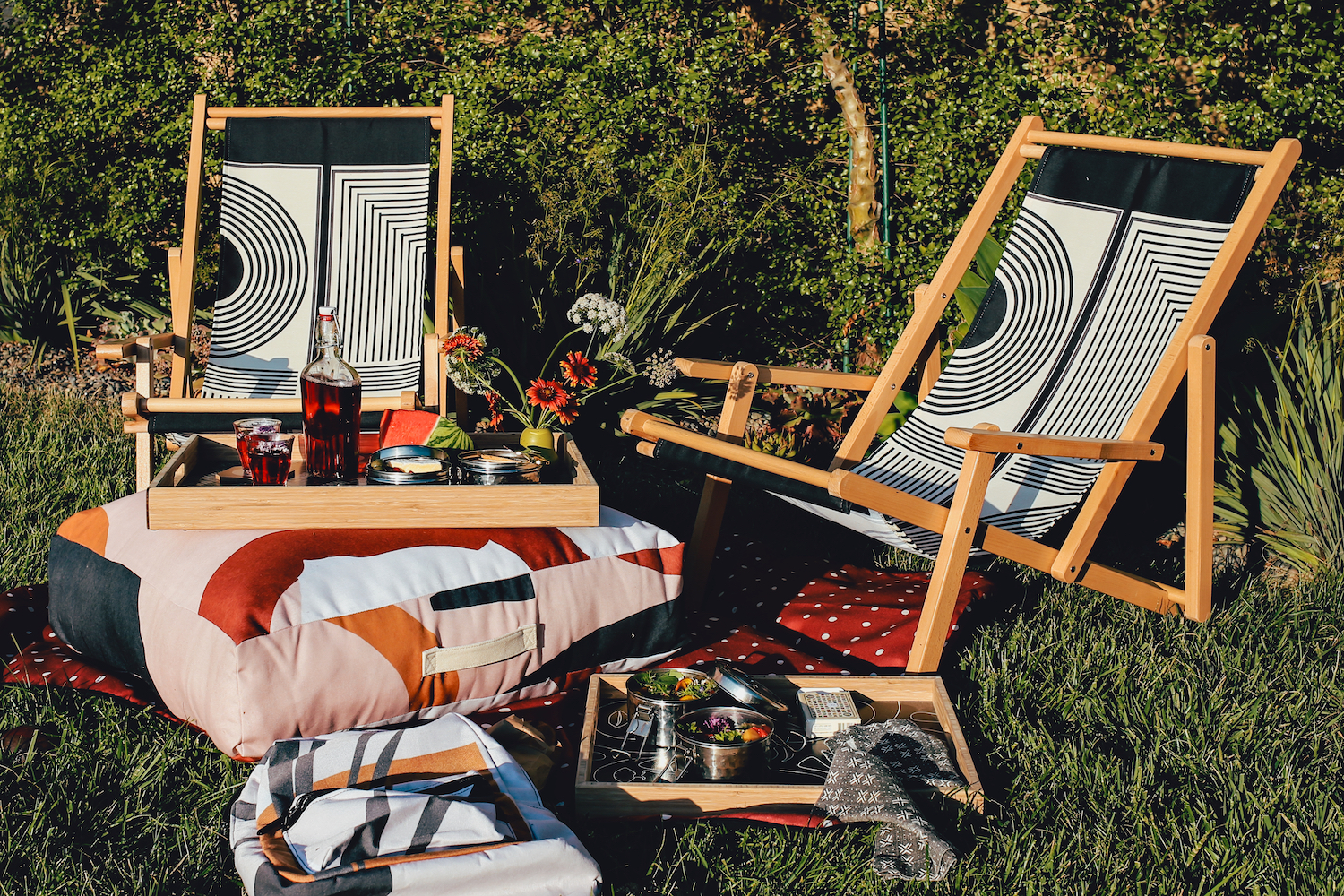 3. Chic Comfort
Who says you have to sacrifice style when it comes to park lounging?! The new line of Society6 outdoor gear will have your inner interior designer heading for the outdoors with so many cool colors and patterns to mix and match the perfectly designed oasis. Sling chairs are lightweight and easy to carry way to add additional seating to a cozy picnic blanket. Also add a few floor cushions to use as not only a comfy nap station, but a portable coffee table to prop up food that's easy to reach.
For a pulled together yet eclectic look, work with different patterns that follow the same color palette. These design elements will add interest to your get-together, not to mention for some great photo backdrops for your perfect leisurely afternoon.
4. Entertainment
While heading outdoors is the perfect time to unplug, that's not to say you can't bring along a little analog entertainment to enjoy. Pack up an old school outdoor sports set – like croquet or bocce ball – and get ready for all the leisurely lawn activities. Even a simple frisbee or soccer ball will bring that little extra excitement to the party. Another great way to set the scene is with a portable speaker and a pre-made song list. Enlist your friends to contribute before your outing so everyone's song gets thrown into the mix.
Vintage Pattern Sling Chair
Abstract Shapes 3 Backpack
Abstract Art 17 Outdoor Floor Cushion
Light grey dots on rust Picnic Blanket
Circle on Navy and Rust Coaster
Faces in Dark Serving Tray
by Explicit Design
$39.00
Herringbone Cream on Black Serving Tray
Stylish Black and White Decor Sun Shade