LA-based writer

Ashley Tibbits

teamed up with rad stylist

Lisa Deines

to bring you a new take on the old classic jeans and t-shirt combo.
It's not a stereotype that the casual look is one Angelenos have mastered. With our relaxed lifestyles, pieces like a perfectly worn-in pair of jeans, some slip-on leather sandals, and a t-shirt are essentials for many women's closets. And while we'll never let you take away these beloved garments, that doesn't mean there's not room to get a little creative. Take the coveted tee for example: we already know a t-shirt perfectly pairs with denim for an iconic, cool, casual vibe, but how can you take it to the next level while still keeping the comfortable sensibility that draws you to the garment? We looked to LA-based stylist and personal shopper Lisa Deines for answers.
The Anaheim native draws upon her Disney-filled nineties childhood memories when it comes to her personal style, and considers comfort a cornerstone of every outfit she wears. As a former FIDM student and high-end retail vet, Deines is certainly no stranger to "fashun," but that doesn't mean that the t-shirt isn't still an integral piece in her closet. The self-proclaimed tomboy showed us some seriously inspired ways to style a t-shirt—and they're anything but boring. Her bold, classic, and sporty interpretations of every LA girl's favorite piece of clothing have us rethinking the t-shirt in the coolest way.
Bold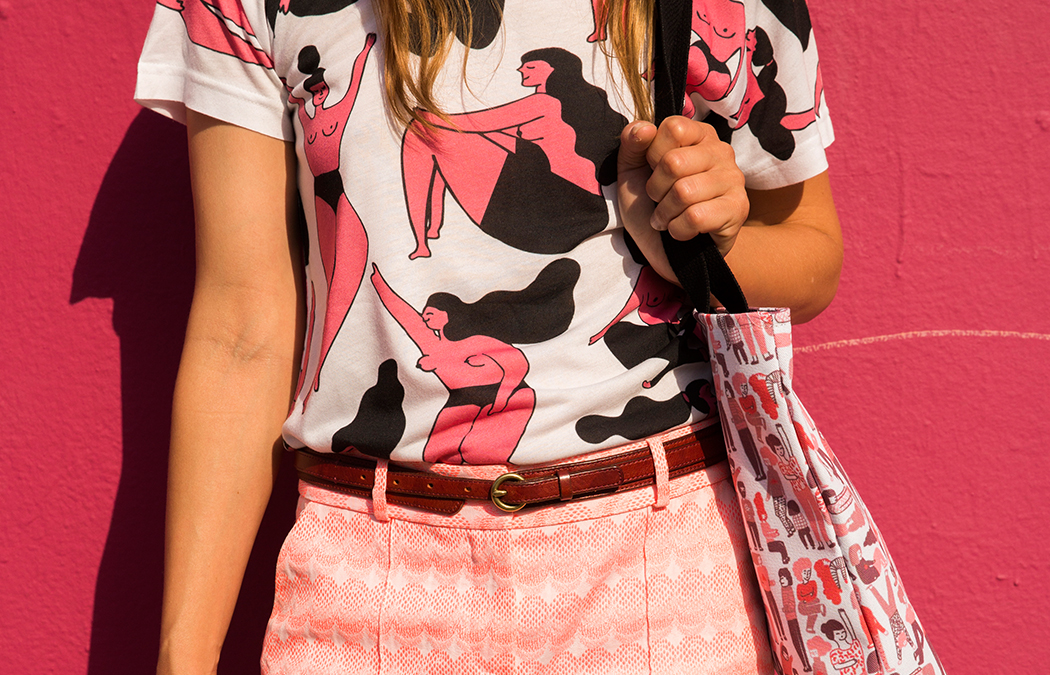 "What drew me to this Regina Rivas print right away was the super saturated pink, so I felt inspired to build a look around the color. Besides picking a color that pops, I love to make an outfit bold by mixing patterns and textures together in the same color scheme. It's a fun look and kind of makes me feel like a cartoon character. The print on the tote (by the same artist) was in the same color scheme but slightly different than the t-shirt, adding even more dimension to the outfit. I threw on a visor to keep the sun out of my eyes, a red belt and my beloved pink-and-red sandals and voila!"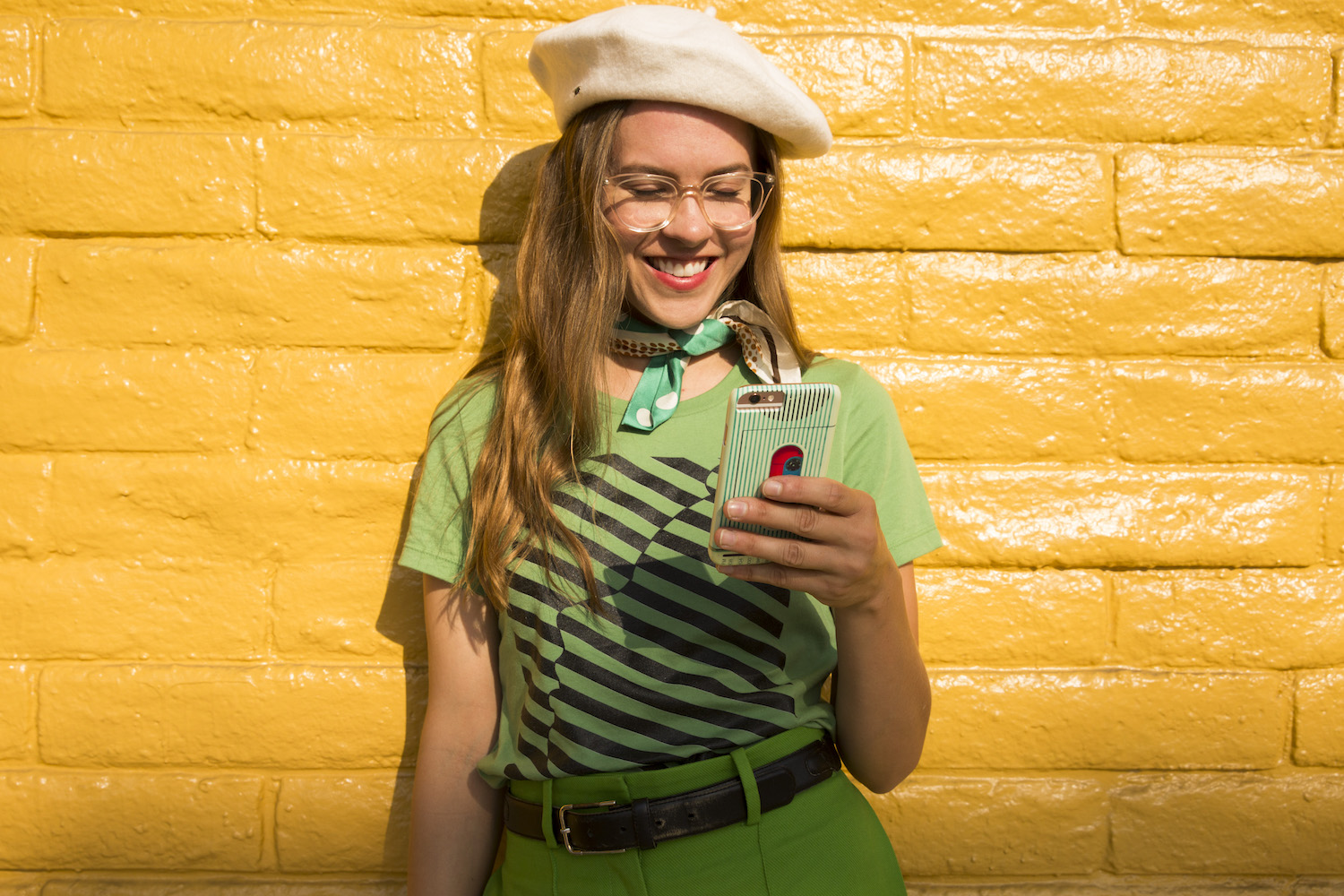 "This Abhikreationz design was clean and graphic, plus I'm a sucker for anything in a stripe—especially one with a tripped out vector quality. The green grabbed me because it's not a color I've seen much of lately but I've been avidly hunting for it. I'm not much of a jewelry girl, so to give the look a classic feel I added a beret, neck scarf and belt, with my favorite Dr. Martens 1461's. The cell phone case reminds me of my childhood because I had that exact same stereo through the 80's and 90's."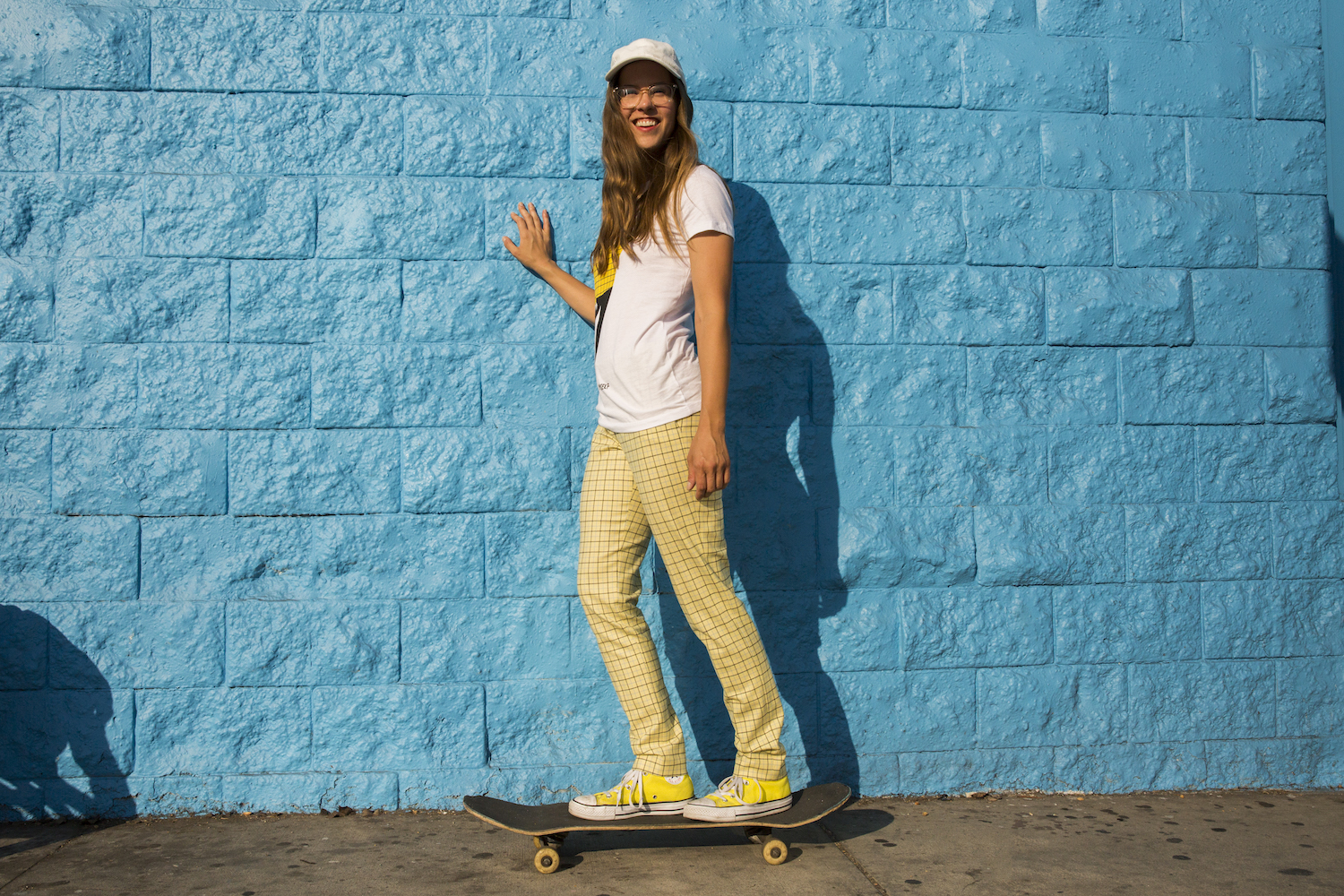 "This shirt is also by Regina Rivas and the illustration really drew me in because I love dancing—even by myself! I happened to have a pair of pants with the same sort of check in yellow. By themselves these pieces aren't necessarily sporty, so I threw on some yellow high top sneakers, a white baseball hat, and a black track jacket from my days as a soccer player. The clutch works perfectly as a simple accessory without being fussy."