It's fall and if you're still not reaching for your fuzzy sweater and all things nice and cozy, you will be after seeing designer Erika Carlock's fall decor upgrades.
She gave us 5 easy ways to bring that warm fall color palette to your space without a. totally overriding your existing decor scheme and b. looking like a pumpkin. Check 'em out!
Hello, fall! That time of year we've all be waiting for is here: when the weather gets colder, we all want to cozy up and spend more evenings indoors. Cue the cozy blankets, warm autumn hues, and, of course, seasonal home updates!
I'm all about updating your home for each season, but it doesn't have to feel overwhelming to switch up your space. A few key elements in your color palette can really bring the fall feeling into your home without making any major changes. Some simple color refreshes are all you need to make your abode fall ready, so that you can slip into a cozy oversized sweater and sip on some warm tea by the fire.
This year, I did my favorite look: fall with a touch of bohemian flare! To create this style, I incorporated a few of my usual favorite hues and added more earthy tones like peaches, mustards and pinks as the main color palette in the space. My favorite way to update for the season are to switch up your artwork and throw pillows that way you can make an impact without spending a ton of money.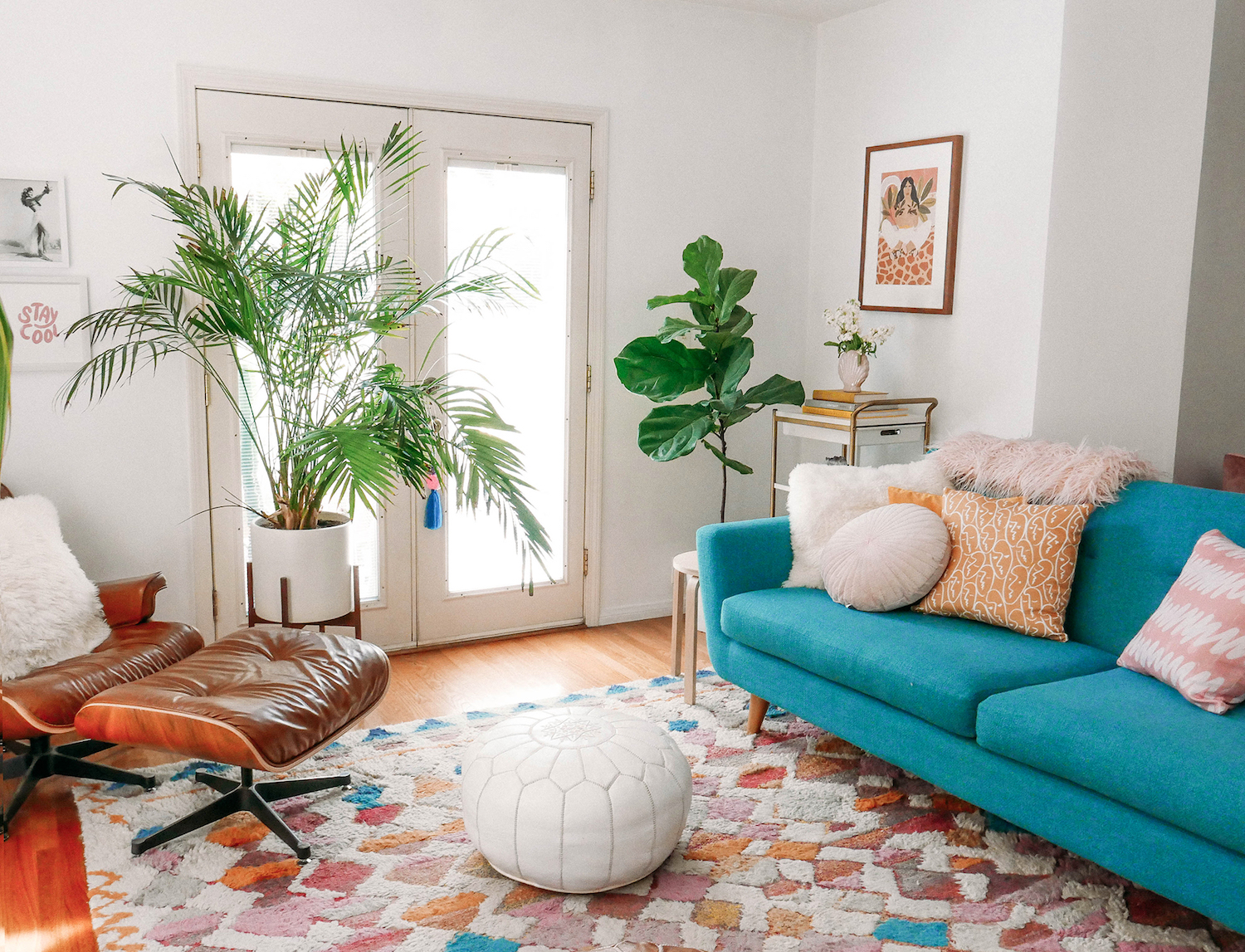 1. Add Earthy Tones
When I think of fall colors, I think of mustard yellows, natural rusty woods and peachy pinks. These colors remind me of the changing leaves while keeping the color palette light and inviting. Add a mix of earthy tones to bring a festive feeling into your space, but still keep it simple.
2. Layer It Up
Make a comfy fall lounge spot by layering your fall color palette. Layering richly-colored blankets and pillows add dimension, warmth and coziness to the space. A rusty orange and mustard yellow looks lovely mixed with a classic bright white space.
3. Switch Up Your Artwork
Make a fall gallery wall! Switching out the artwork in my space with darker artwork and natural wood frames made such an impact. I opted for natural wood frames on my artwork rather than my usual white frames and the contrast instantly made the walls pop.
4. Swap Your Throw Pillows
I'm big on swapping out throw pillows frequently. A new throw pillow is the quickest way to give your home a refresh. Earth-toned throw pillows add the perfect amount of color. I opted for mustard yellows and peachy pinks for a pop of color in the living room that I can change depending on the season.
5. Make It Cozy
The key to fall decor is making the space feel cozy. Make it extra cozy with a mix of plush fall-hued blankets, floor pillows and throw pillows so that you instantly feel like lounging when you walk into the space.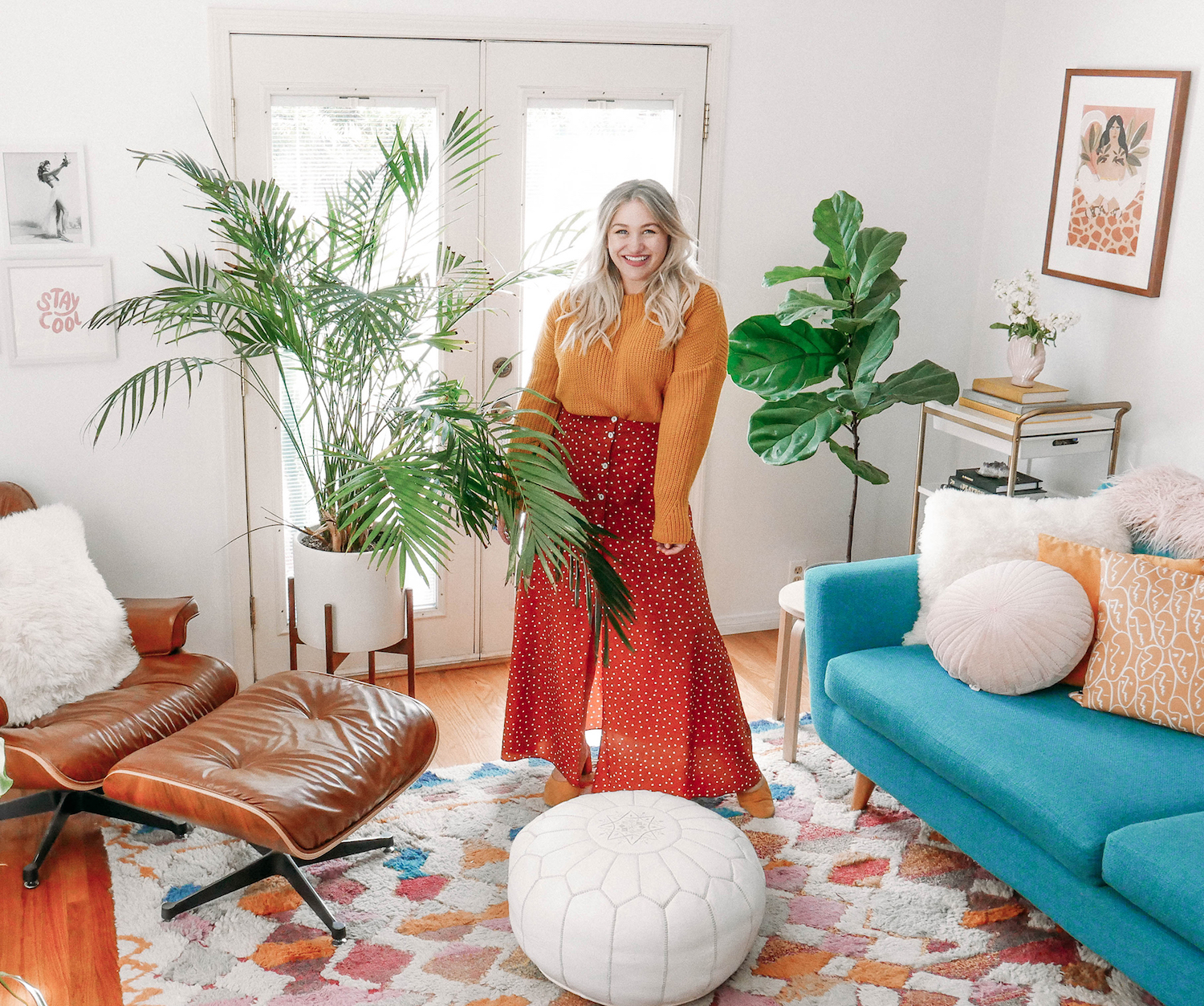 Crazy Plant Lady Framed Art Print
Static Throw Pillow
by Almost Makes Perfect
$41.99
Faces / Mustard Throw Pillow
by Summer Sun Home Art
$34.99
Minimal Abstract Art Print
Tulum Floral Serving Tray
Stay Cool Vintage Pink Framed Art Print
Baby It's You Framed Art Print
You Da Best Framed Art Print
Arancia Rossa iPhone Case