Scroll through Instagram lately and you might notice the most swoon-worthy interiors have a little something au naturel: flowers.
The art of the flower arrangement is not dead, and crafting a pretty little bunch for your space is a great way to keep it fresh, lively and cozy through the cooler months, whether you're into deep autumnal hues or keeping summer alive with a brighter color palette. Here, multidisciplinary artist and floral designer Hanna La Salvia walks us through five easy steps for making the perfect fall flower arrangement. 
What You'll Need:
Flowers (at least 3-4 different varieties)

Vase of choice

Water

Floral snips
1. Pick Your Flowers!
Picking flowers can get a bit overwhelming so I like to follow a little guide to make things easier: First, I choose at least one greenery which can be anything leafy with no flowers. Then I choose what I call a "filler flower" which will act as little accents in your arrangement and then I choose my main flowers. If you like more of a wildflower vibe, I would focus more on greens and fillers.
Flowers I chose:
Greenery: Leucadendron Mountain Rose, Moon Lagoon Eucalyptus
Filler: Limonium, Pink Stonecrop Sedum
Main flowers: Dalias, Freesias, Blushing Bride Protea
2. Process Makes Perfect
Process your new babies. This is one of the most important steps. Processing basically means cutting or picking off the leaves at the ends of each stem in advance. You do this in order to avoid getting leaves in to the water which can cause bacteria to grow and will affect the health of your flowers.
3. Snip, Snip
Cut your stems in a sharp 90 degree angle with any type of floral scissors. This way, your flowers will be able to drink up water much easier.
4. Time to Arrange
Begin arranging! There is no right or wrong in how to arrange, but I tend to go in starting with my greens, then moving on to filler flowers and lastly, to the main flowers.
If you're feeling a little stuck, here are a few tips to get you started:
If your arrangement looks uneven, work in three's. The rule of thirds is not only for you photographers.
Make a nice net with your greens by crossing them together in the vase and this way, it is easier to control exactly where your flowers go and stand.
Don't be afraid to cut off what you don't need. You can always save those small bits for a mini arrangement.
Play with height and movement and keep it fun. Make sure your flowers stand in different heights to avoid it looking static.
5. Enjoy Your New Arrangement!
Now, to make your new babies last:
Change the water every day or every few days. Refresh the flowers by snipping them from time to time. Keep them in a cooler area and always take out dying flowers as they go.
If you want to dry your arrangement, tie a ribbon around the stems and hang upside down until completely dry.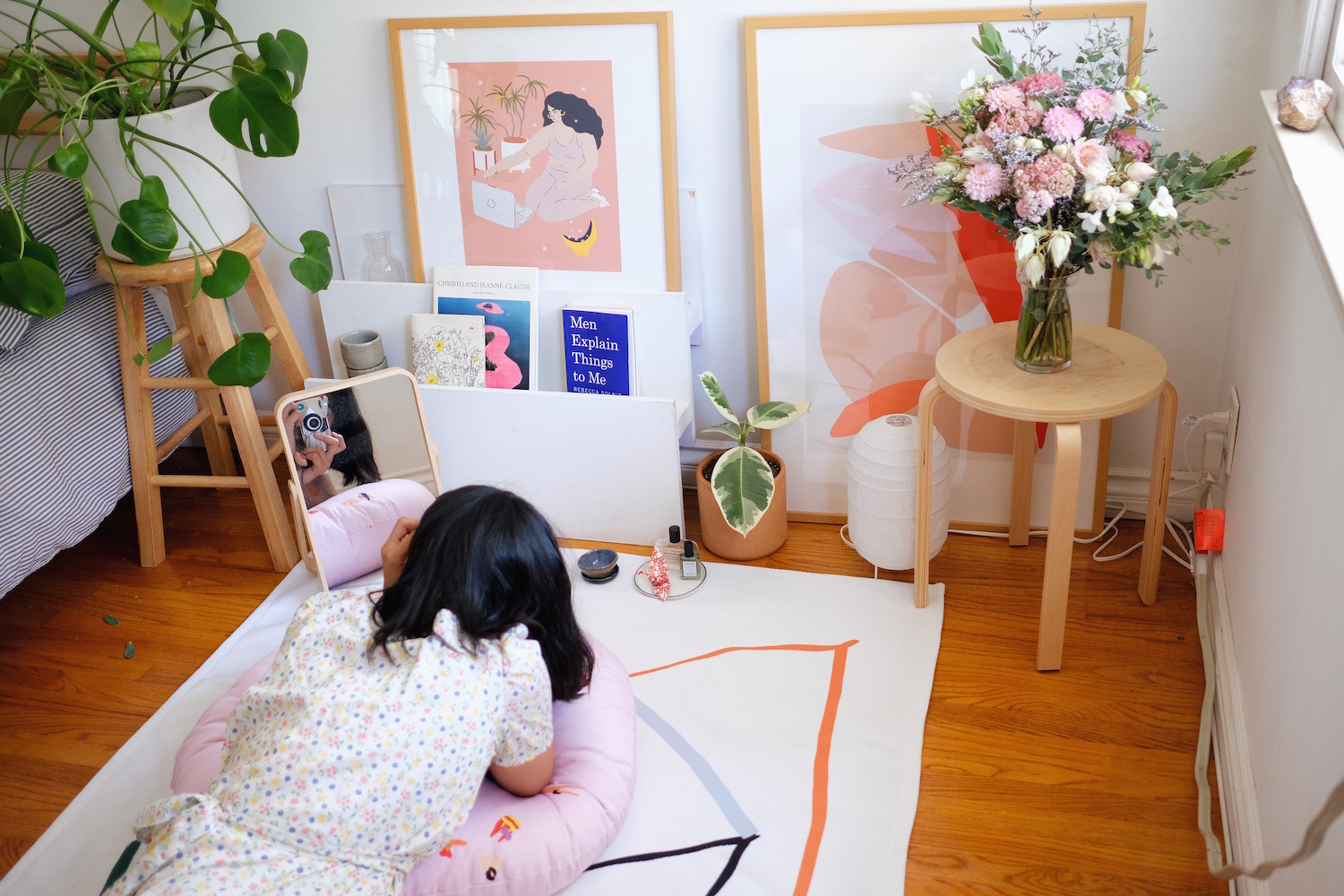 Photos by Cristopher Gonzalez
Abstract Geometric 01 Tote Bag
by The Old Art Studio
$26.99
Shape Study #1 Serving Tray
Sunday's Line Character Rug
DON'T TELL MAMA Framed Art Print
Yolke Girl Framed Art Print