From the succulent-flecked front yard to the swing in the living room, Isaac and Sophie Carpenter are living many of our LA fantasies in their Glassell Park home.
This husband and wife duo (he a drummer currently touring with AWOLNATION and she a production accountant for television) moved into their Spanish style abode nearly three years ago and immediately fell for both the budding eastside neighborhood and the home's unique character. But despite loving the bones of the place (tons of windows, original hardwood floors), Sophie immediately got to work putting her stylish stamp on every inch, creating an airy, dreamy haven for themselves, their dog Rascal Flatts, and the friends and family who frequently pop over.
Speaking of having guests over, one little spot in the Carpenter's home offered a unique opportunity for both entertaining and just getting totally cozy. Of the small space between the kitchen and dining room, Sophie says, "We knew that there was no way we would use this room as a dining nook, especially since there was already an adjacent dining room, so we decided to have a built in bench made and make it a chill zone." Besides the custom seating, Sophie added a record player (and stocked up the vinyl), some art, and decorative details to make it the ultimate chill zone for friends to hang out with a cocktail before dinner parties, or just having a lazy Sunday with their pup. "Everyone laughs because we have a nice comfy living room but more often than not we end up sitting in here to eat our dinner and we watch MSNBC or John Oliver on our laptop," Sophie explains.
Because we were so enamored with how utterly Sophie on just how we can create our own equally dreamy chill zone. Even if you don't have a pre-existing space in your pad to dedicate to this purpose, these five tips should help you transform any spot into a tranquil place to meditate, read, or pretty much whatever it is that chilling means to you.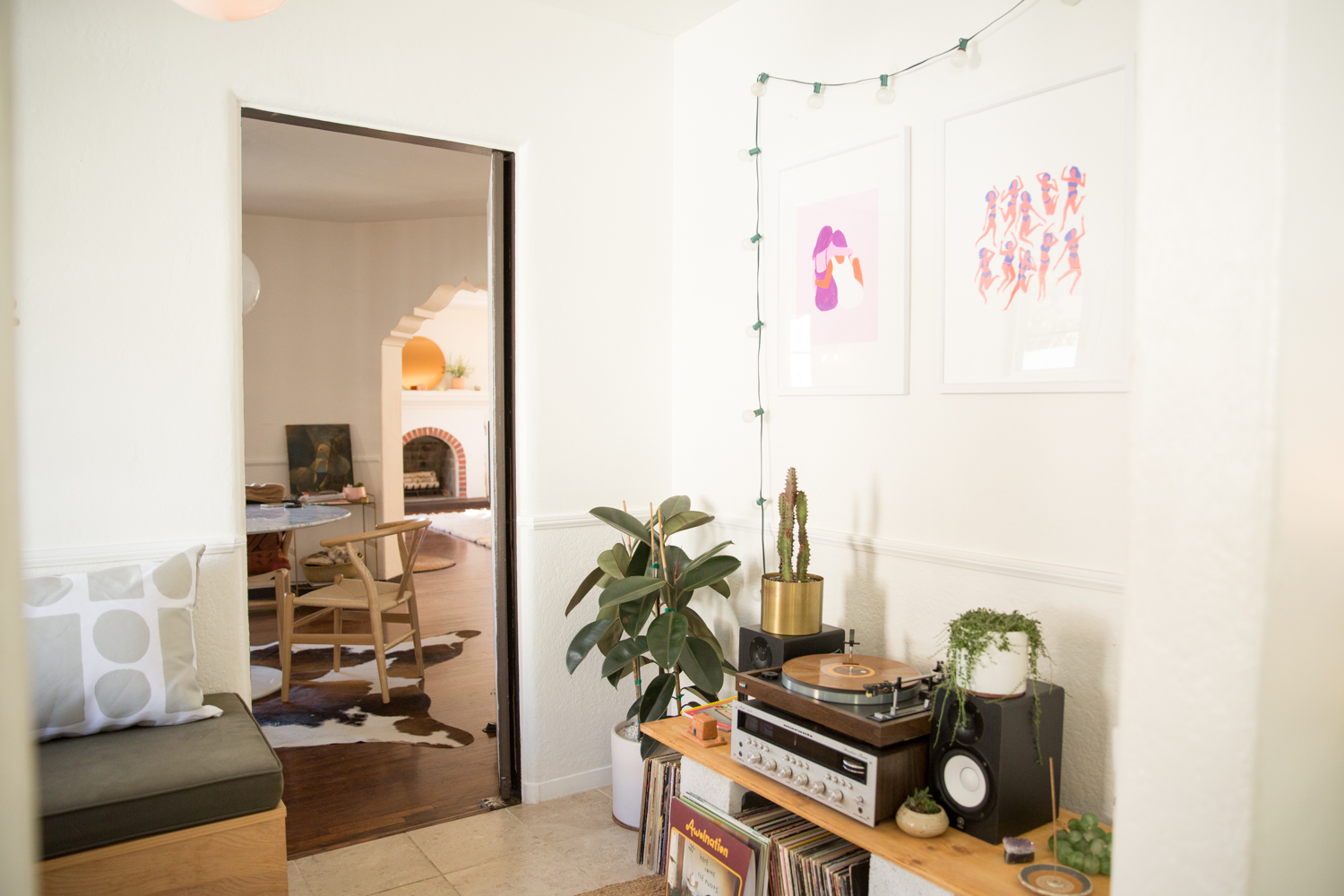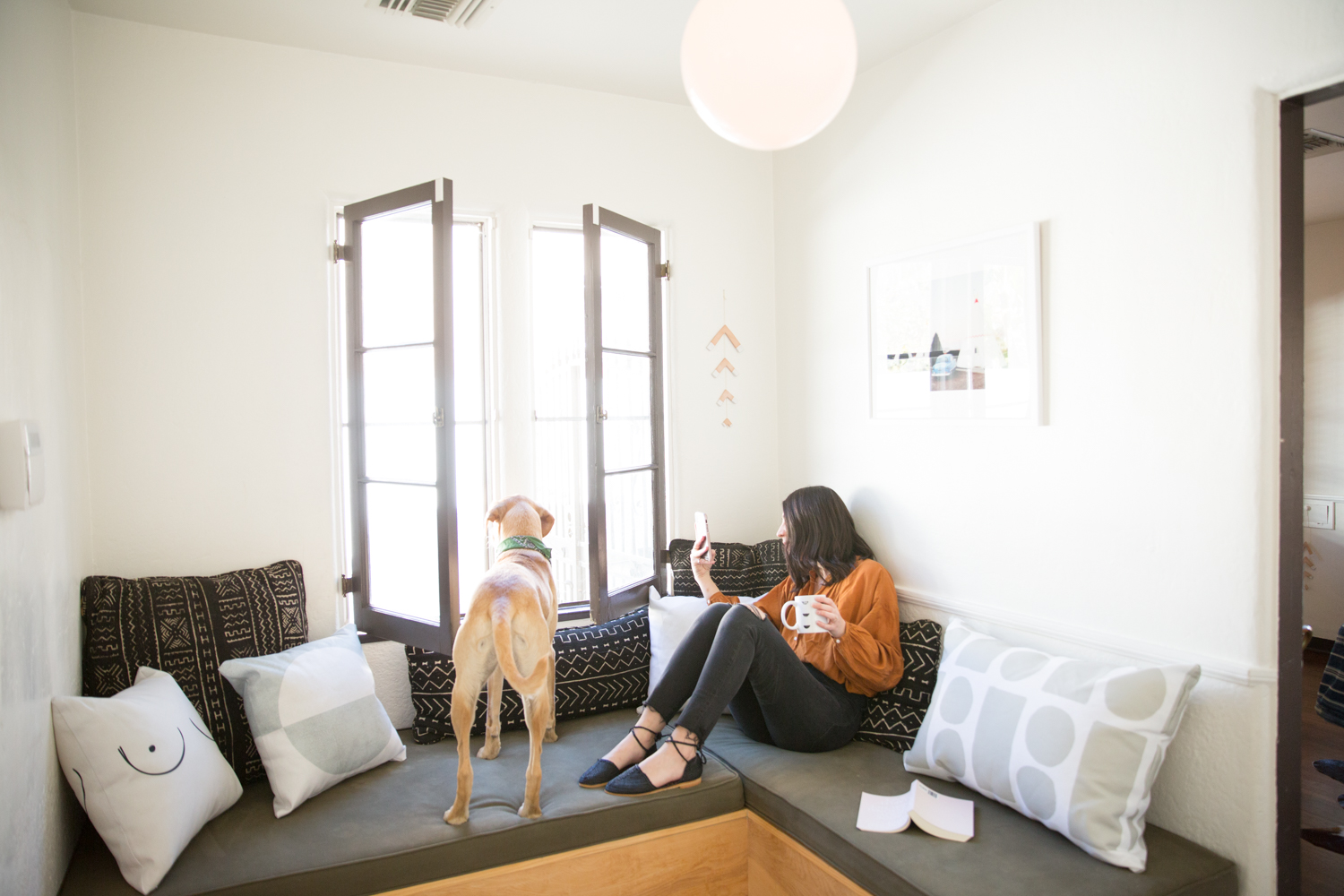 1. Make it Cozy
This could mean something different for everyone, but personally I enjoy small spaces; it's like being a little kid in a fort. Once we realized that we would never use the space as a dining room, we asked our friends at Spaulding Company built us a custom bench, which is awesome because it doubles as storage. We had cushions custom made in a neutral color so that we can change up the space with pillows whenever we want. When friends are over for dinner parties, this is usually where everyone congregates while we cook. It's out of the way, but still part of the action. We even have a little cushion for Rascal, but he usually just likes to sit on the bench with everyone else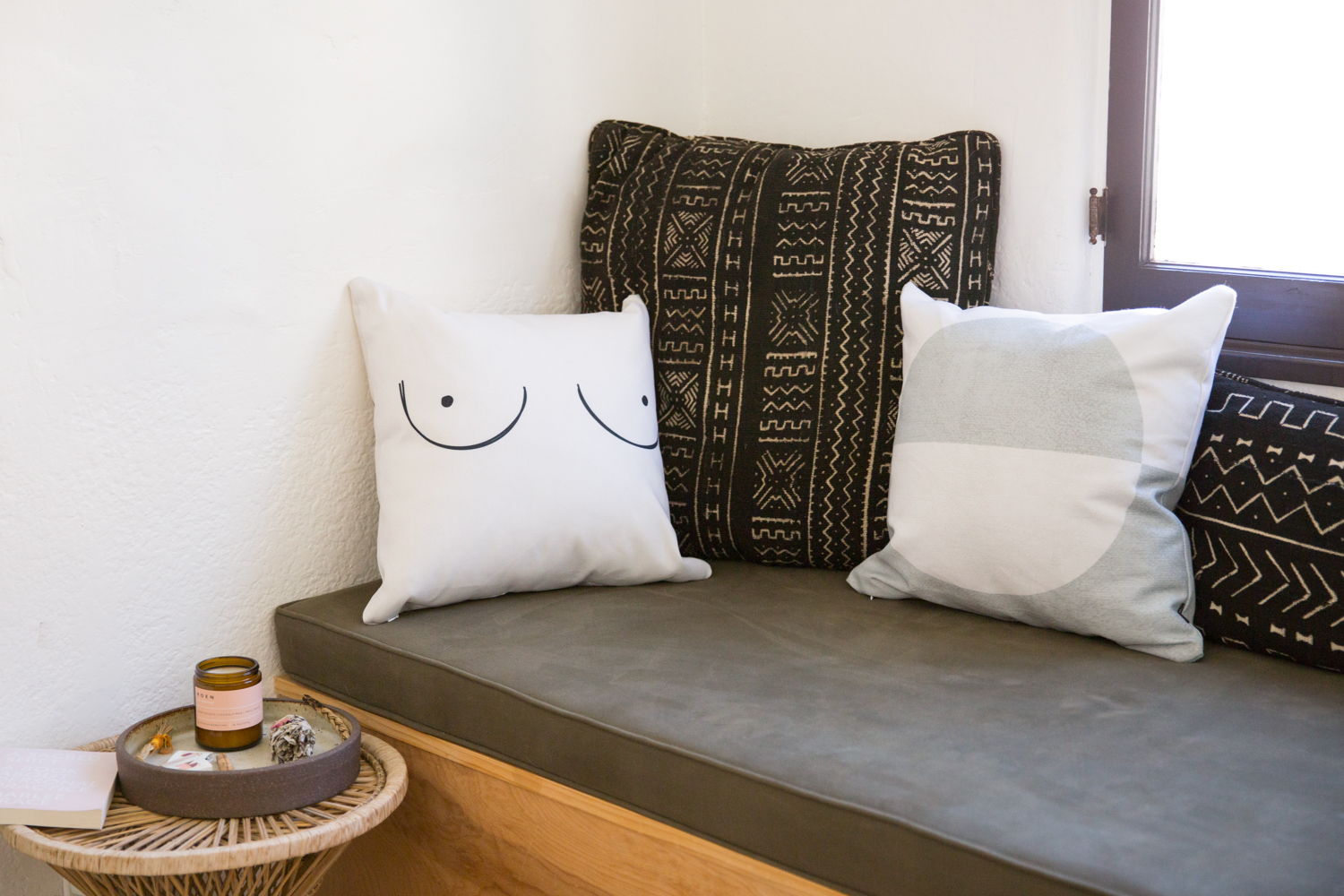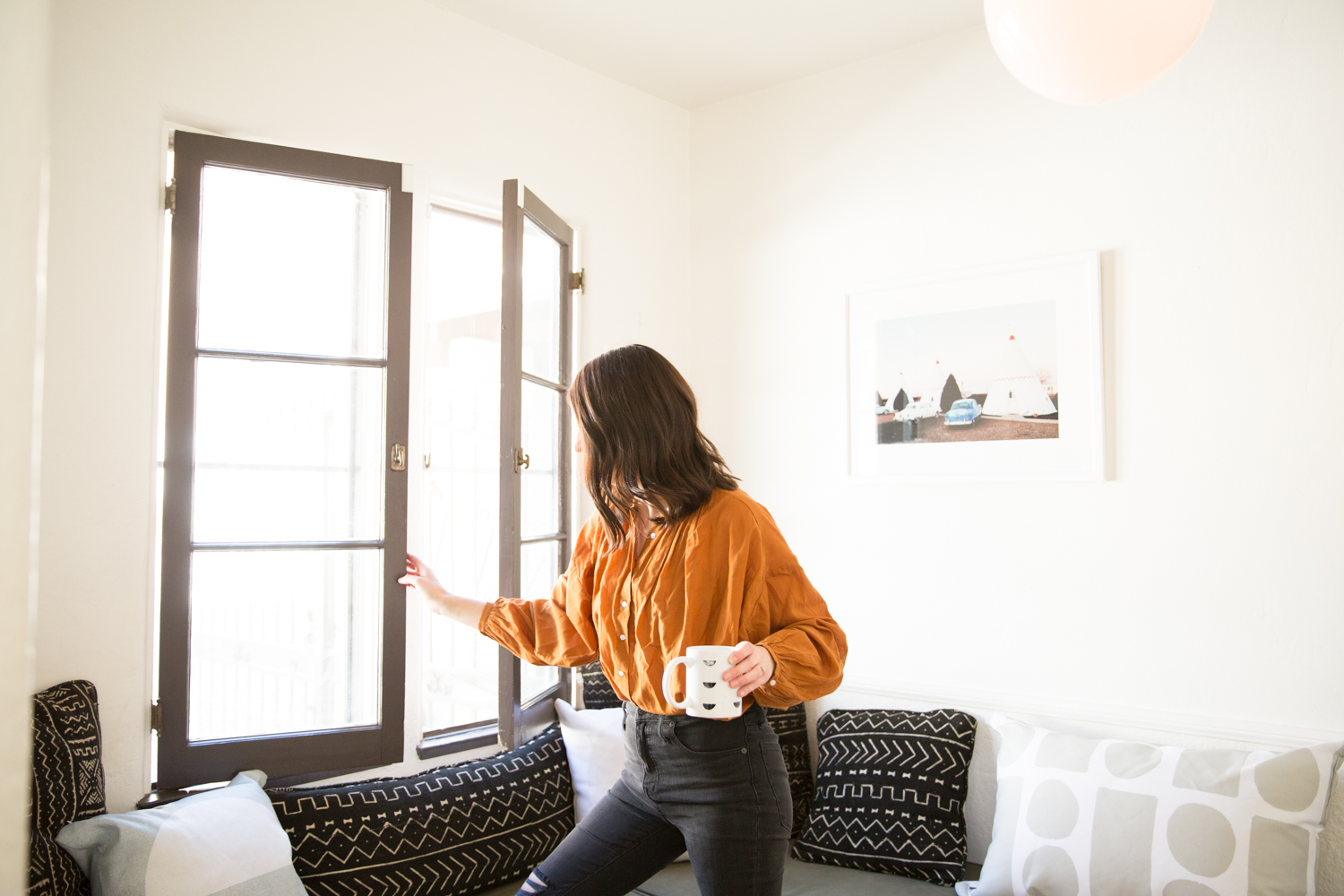 2. Don't Underestimate the Power of Scent
I'm very into smells so I always have candles or incense burning, since they really help create a certain atmosphere. Plus there's just something therapeutic about watching a flame. Right now I've been loving this Roen candle, but on nice days, we'll just open the windows and enjoy the scent of the fresh air.
3. Play Some Tunes
We have our record player is in this space so we're almost always listening to music while we chill here. It's my husband's record collection, so he usually picks the tunes and its even lead to a few mini dance parties.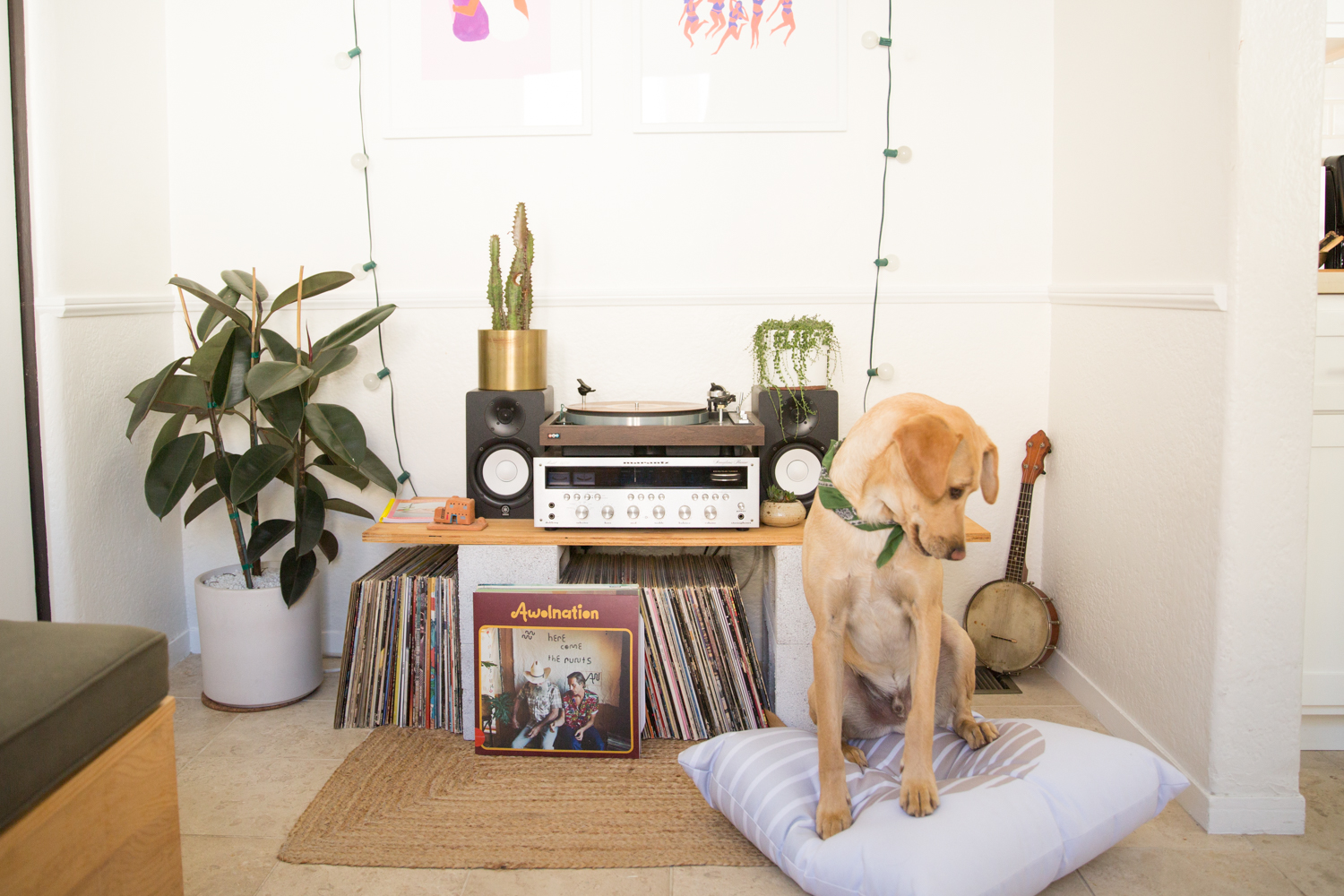 4. Let There Be (Good) Light
I cannot stress the transformative power of dimmers enough. Every single light in my house is on one because there's nothing worse than harsh overhead lighting. We're also big fans of Christmas lights. We have them up year-round in a couple of rooms in our house, but they're especially perfect for a cozy setting like this.
5. Plant It Out
Plants don't have to be expensive, but they can make a big impact. I don't consider have much of a green thumb and my husband is constantly teasing me about my lack thereof, but I persist because they bring so much life to a space. We have plants everywhere in the house, but since this room gets a good amount of natural light, they are particularly happy here.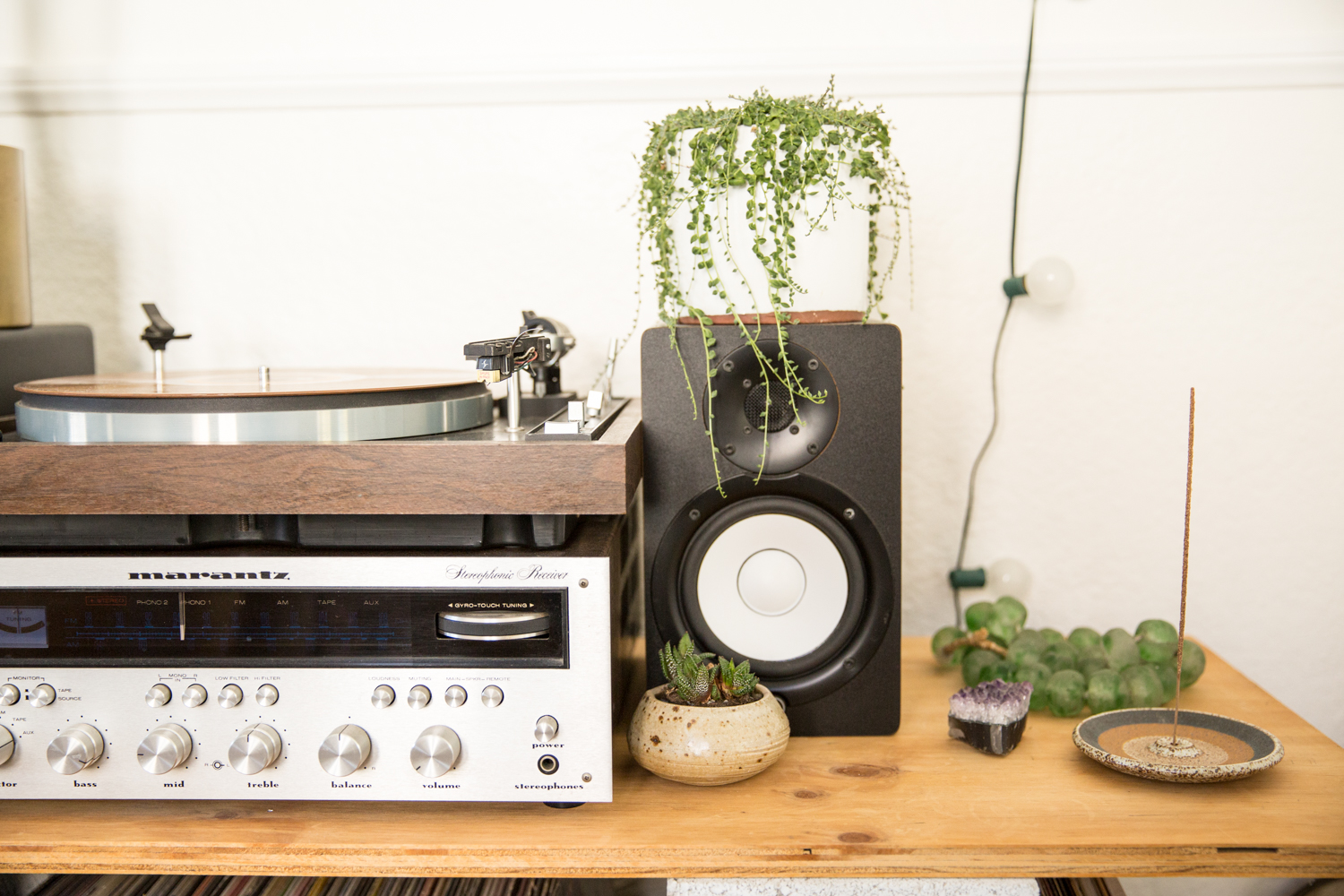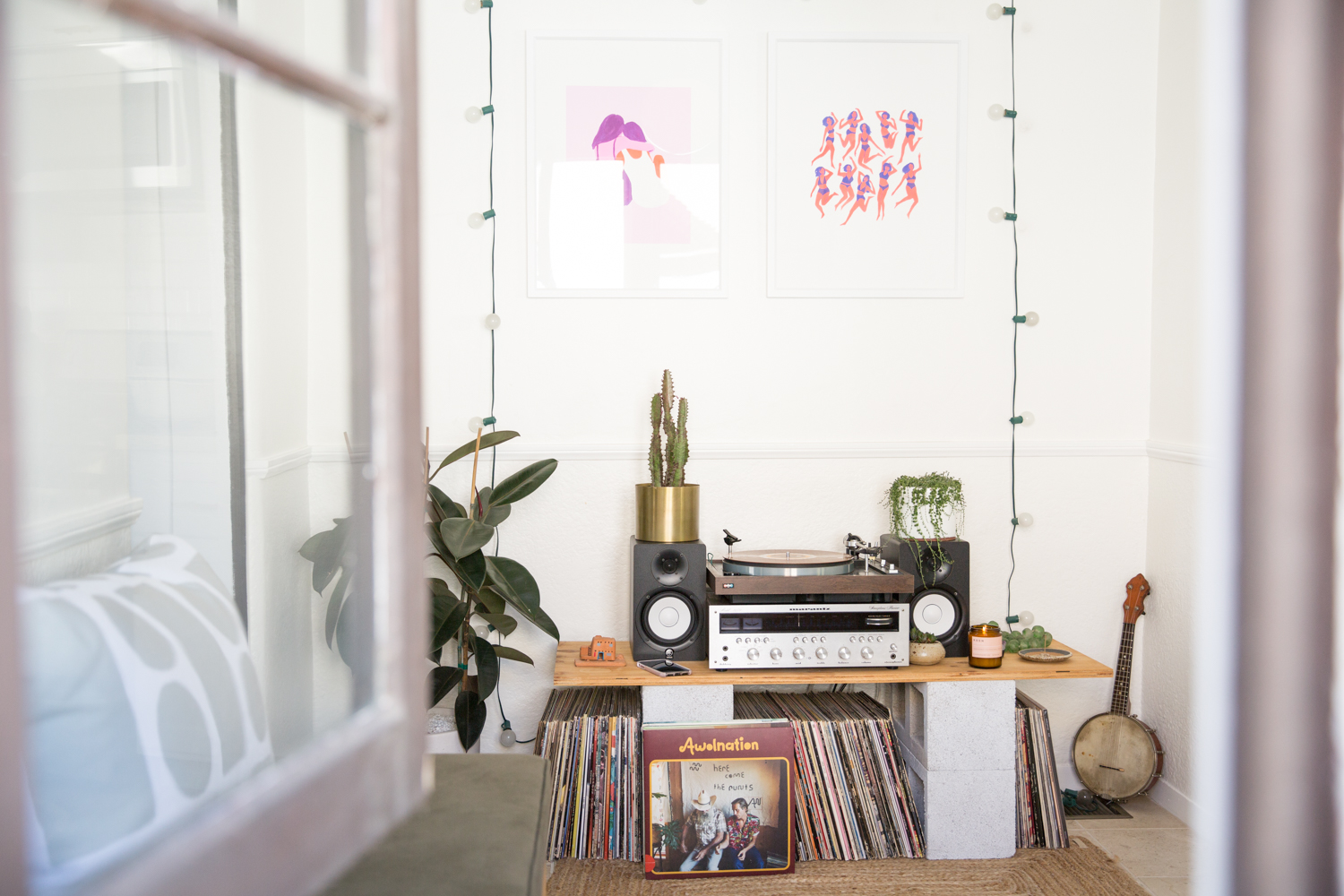 Half Moon Coffee Mug
by Almost Makes Perfect
$15.99
Wigwam Motel Framed Print
Besties Framed Print
by Leah Reena Goren
$79.99
Rays Floor Pillow
by Almost Makes Perfect
$79.99
Blocky Rectangular Pillow
by Almost Makes Perfect
$44.99
Underwear Dancing Framed Print
by Leah Reena Goren
$66.99
Titty Committee Throw Pillow
by Natalie Catalina Print Shop
Overlay Throw Pillow
by Almost Makes Perfect
$34.99