Introducing: Outdoor Rugs!
The latest addition to our Outdoor & Lifestyle category, outdoor rugs complement any porch or patio space, allowing customers to showcase your designs as functional art.
In this article, we'll cover all the technical details required to start selling outdoor rugs in your artist shop.
Activating Outdoor Rugs
To make your experience easier, some designs will be automatically enabled on your behalf. If you have rugs enabled, we've automatically applied those designs to outdoor rugs due to their similar aspect ratios and product details. Visit your Artist Studio to review or adjust design placements and to enable any additional artwork that you want to offer on this product.
Reminder: We launch new products to artists before making them available to customers in order to allow for merchandising and time for artists to update their shops. At first, outdoor rugs will not be included in the "Outdoor & Lifestyle" dropdown in the main navigation on our site. Once it launches to customers, you'll be able to find it there.
Creative Asset Details:
Pixel Dimensions: 7400 x 5000 pixels 
DPI:

100 dpi

Supported File Types:

JPG or PNG
Brief Product Overview: 
Product Name: Outdoor Rugs
Product Category: Outdoor & Lifestyle
Material: Polyester chenille top with non-slip poly-resin backing
Activating outdoor rugs is easier than ever, especially if you already have rugs enabled. If you have artwork enabled on rugs, those designs will be automatically enabled on our all-new outdoor rugs. To review or adjust the positioning of the creative on outdoor rugs, visit your Artist Studio and click on "My Products." Then, click on "Outdoor Rugs" under "New Products" at the top of the page. Any creatives that have been automatically enabled will appear under "Enabled." To adjust the positioning of any enabled product, click on "Edit" underneath the thumbnail.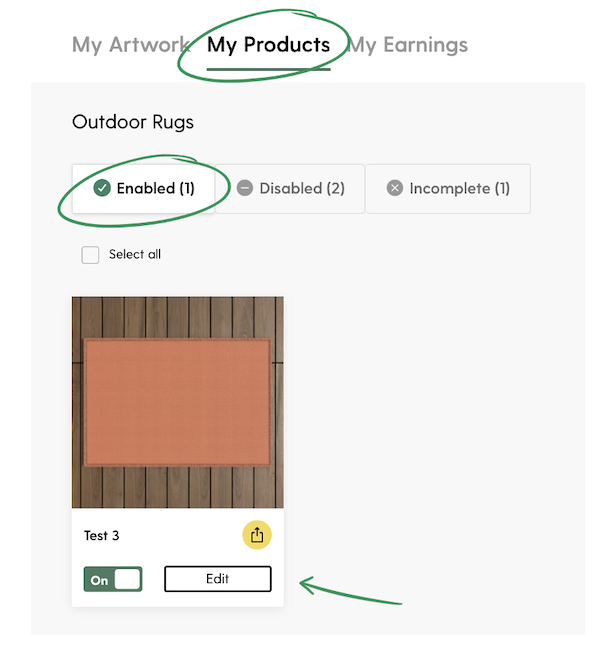 If you have assets that fit the requirements for outdoor rugs but weren't automatically enabled, they will appear under "Disabled." To view and enable those creatives, navigate to the "My Products" section of your Artist Studio and select "Outdoor Rugs" under "New Products." If the previews look good, you can "Select All" and then click "Enable" to activate all of the designs that meet the asset requirements at once. For the best quality products, be sure to review the positioning of the creative prior to activating.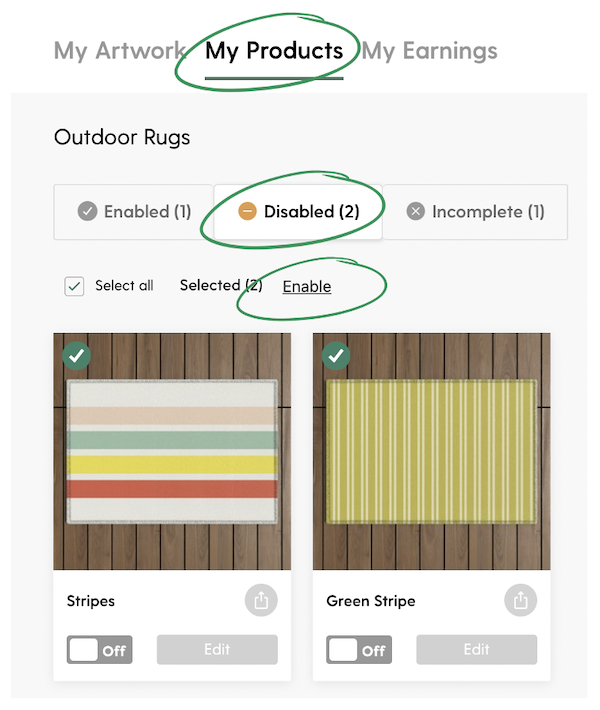 Any creatives that are missing assets that meet the outdoor rug requirements will appear under "Incomplete." You can quickly upload a new asset by hovering over the thumbnail and clicking "Upload."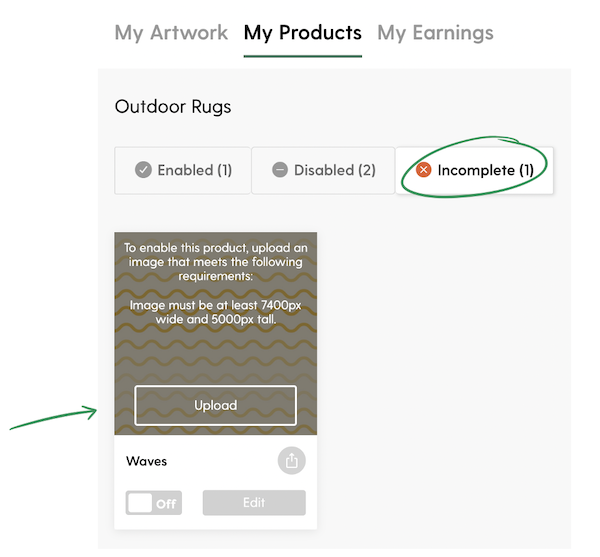 Official Outdoor Rugs Description
Our outdoor rugs make the perfect complement to your porch, patio and outdoor living area decor. The endless variety of eye-catching designs help create a unique and welcoming hub for all your outdoor gatherings. Rain or shine, the quick dry fabric and non-slip backing ensures that your rug will stay fresh and in place for many seasons to come. These outdoor rugs are the finishing touch every outdoor space needs.
Rectangle (shape)
Available in four sizes:
– 2' x 3′
– 4′ x 6′
– 6' x 9′
– 8' x 12′
Thickness: 0.625" thick (1.59cm)
Fabric Type: Woven
Construction Technique: Machine Made
Style: Area Rug
Indoor/Outdoor: Outdoor
Backing Material: Non-slip poly-resin
Rug Material: 100% Polyester
Pile type: Chenille-cut
Rug pile height: Flat Pile
Care & Cleaning: Wipe dry to clean or spot clean only