Inside My Studio takes us inside S6 artists' creative spaces…
…from tiny studio apartments to sprawling warehouse spaces, creepy basements and everywhere in between; this month, we step inside illustrator, Leah Goren's Bushwick studio and plant haven. Check out Leah's shop here.
Recent years have seen a resurgence of human-made creations. As humans, we crave things created by other humans. This is especially true in the internet age, when it comes to design and illustration. There is an undeniable "realness" in a human brush stroke or the painstaking detail generated by someone's hands that is unlike anything a computer can generate. The earnest whimsy and human-ness in Leah Goren's work resonates because of this. Her lighthearted, colorful illustrations quickly communicate that what you're looking at was created by a real-life human being, and it's led to her creating work with a wide array of major brands, ranging from The New York Times to Anthropologie to Revlon. I sat down with Leah in her Bushwick studio to talk about this human touch, her upcoming work, and how she's gotten to the level she's at today.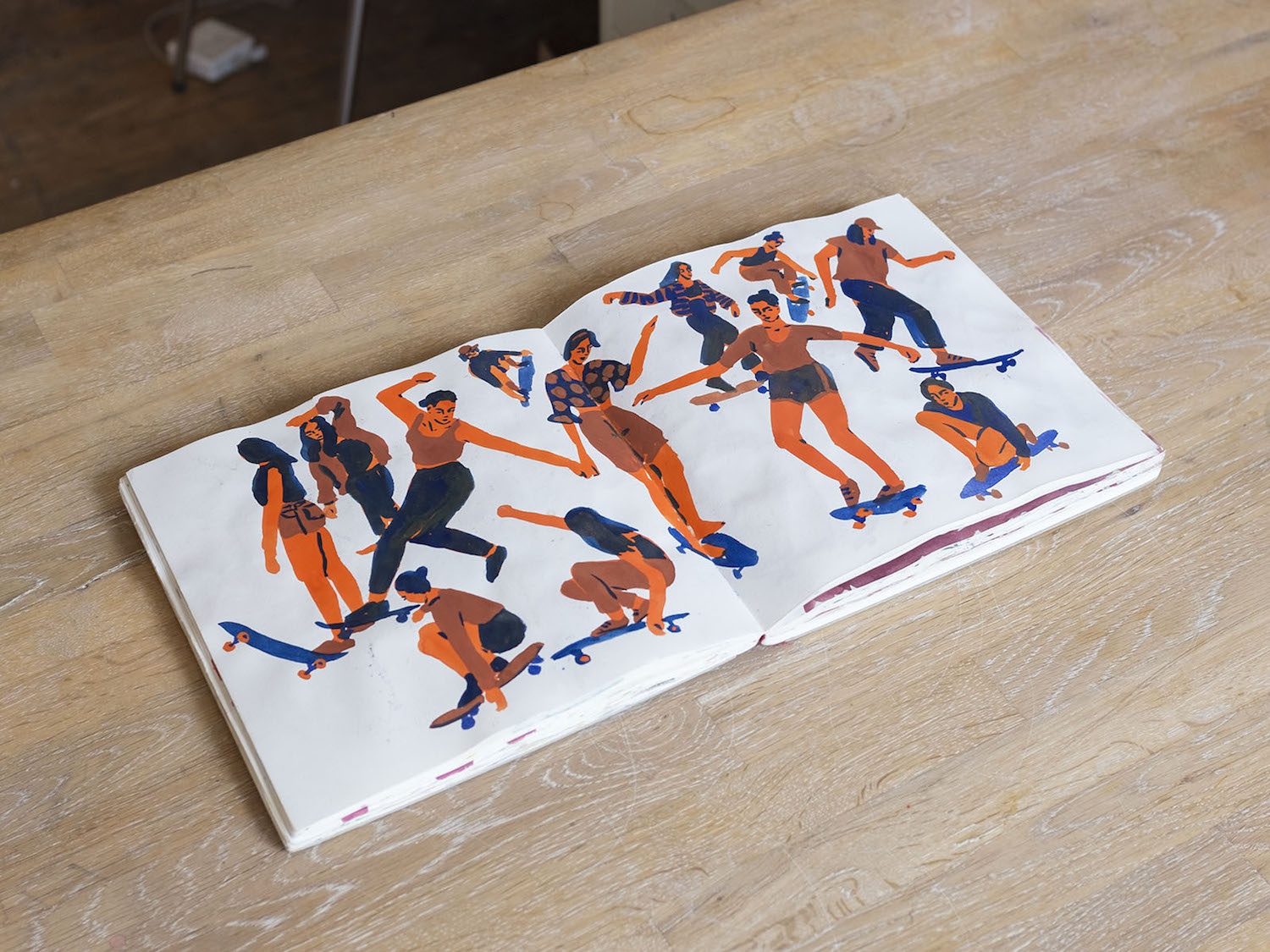 How do you describe what your work is to friends or strangers?
I'm an illustrator, which means, broadly speaking, on one hand it can be a visual storyteller or communicator, and on the other it can also be commercial. I wouldn't say I'm an artist since I'm not just making images for myself, I'm making these things for clients and for products.
How did you land at the place you currently are in your career?
I went to school in LA for a year and then I transferred to Parsons in New York. By the time I graduated I had an Etsy shop that I was making a living from, which is funny to think about now. It's crazy how the internet has changed so much just in the last 5 years. Remember when there were fashion bloggers? Now there aren't really fashion bloggers anymore! I used to just make things and bloggers really liked what I made, so they kind of got it out there. That helped me get noticed by actual clients, and then I just slowly started to get more freelance work. I think last year was probably the first year where I was just working on client projects all the time which is what I really want to be doing. It's very unpredictable, but somehow it just keeps happening.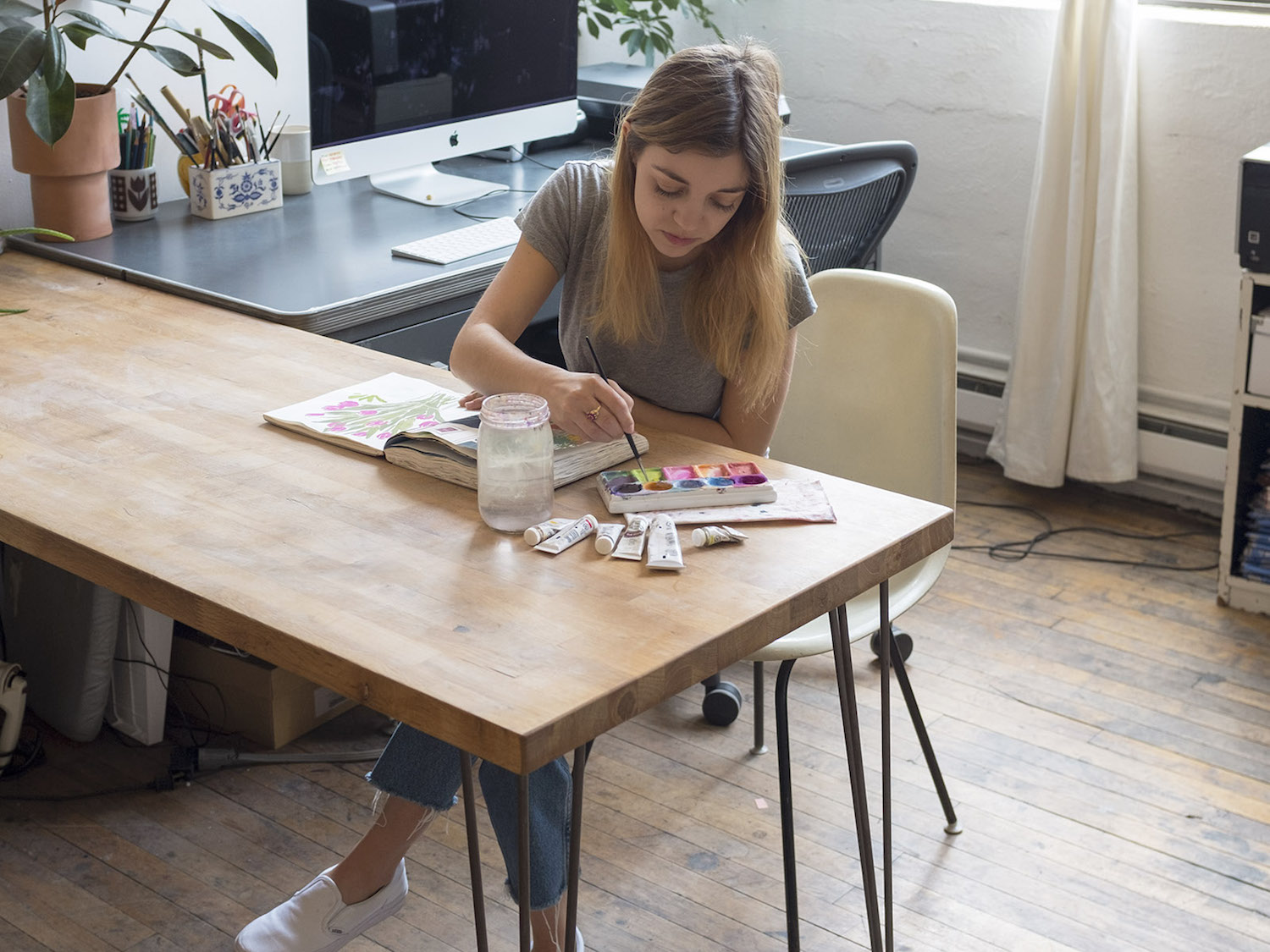 Why do you think people are drawn to your work?
It's tough to say. When I make things, I feel a certain way about them but at the same time I kind of have no idea how someone else is seeing it. I probably have a skewed perception of what I'm making because I'm the one that's making it. But I think my work is very feminine and very painterly, and also very colorful. It looks very clearly hand-done, and I think when people see that, they're drawn to the feel and colors and the fact that it clearly comes from a person and it's not just made by a computer, and I think that connects with people in some way.
What kind of stuff are you working on right now? You mentioned before that you've been doing a lot of freelance work lately.
I'm finishing up my first book right now, which is pretty exciting. Books are great! I really had so much fun. It's actually sort of my second book since I did another one recently with a couple of friends called Ladies Drawing Night, but that's more of a craft book of sorts, or that's at least the closest genre. It's all photos – the idea is to have women getting together in the evening to draw and be creative. We do 10 different projects, and for each one we get a couple of people who are experts in that topic and they come and do it with us. That was my first book, but that's very different from my illustration work since it's all photographs and it was collaborative.
This next book will be the first where it's fully illustrated and written by me – it's kind of scary just because of how much work is involved. It's called Besties and it's sort of a loose narrative told from the perspective of one friend talking to another as they reminisce about the memories they have together, loose rules of what it means to be a friend, trips they've taken and stuff like that. That will be published this fall.
What do you think you want to be doing in the long run?
I think I'm kind of doing it? I don't know, I know there are more projects out there and a lot of things I want to make and do. I'd like to do more collaborations with other designers, and I'd love to do some more fashion stuff too. I've done some more mainstream fashion things, but I think it'd be cool to do something more high fashion; I'm not sure how that would work but it'd be cool. I think I just want to stay independent – I don't want to just get hired and have a job somewhere, it's much more fun to just work for myself. I want to do more books too like I said before, so I have to figure out what that might look like.
Yeah, I guess you have to approach publishers or wait for them to approach you.
I think I'm really lucky because my friends can help me out – the two women I worked with on Ladies Drawing Night have a bunch of experience. Julia Rothman has done like 7 books already so she knows how to do it, and then Rachael Cole has been an art director at Random House for like 15 years, so I know that I'm so lucky that I just have these friends that would be up to help with a lot of those challenges. It's almost easy to just do whatever I want to do, within reason, so it's great that I'm in a position where I can kind of choose what I want to do right now.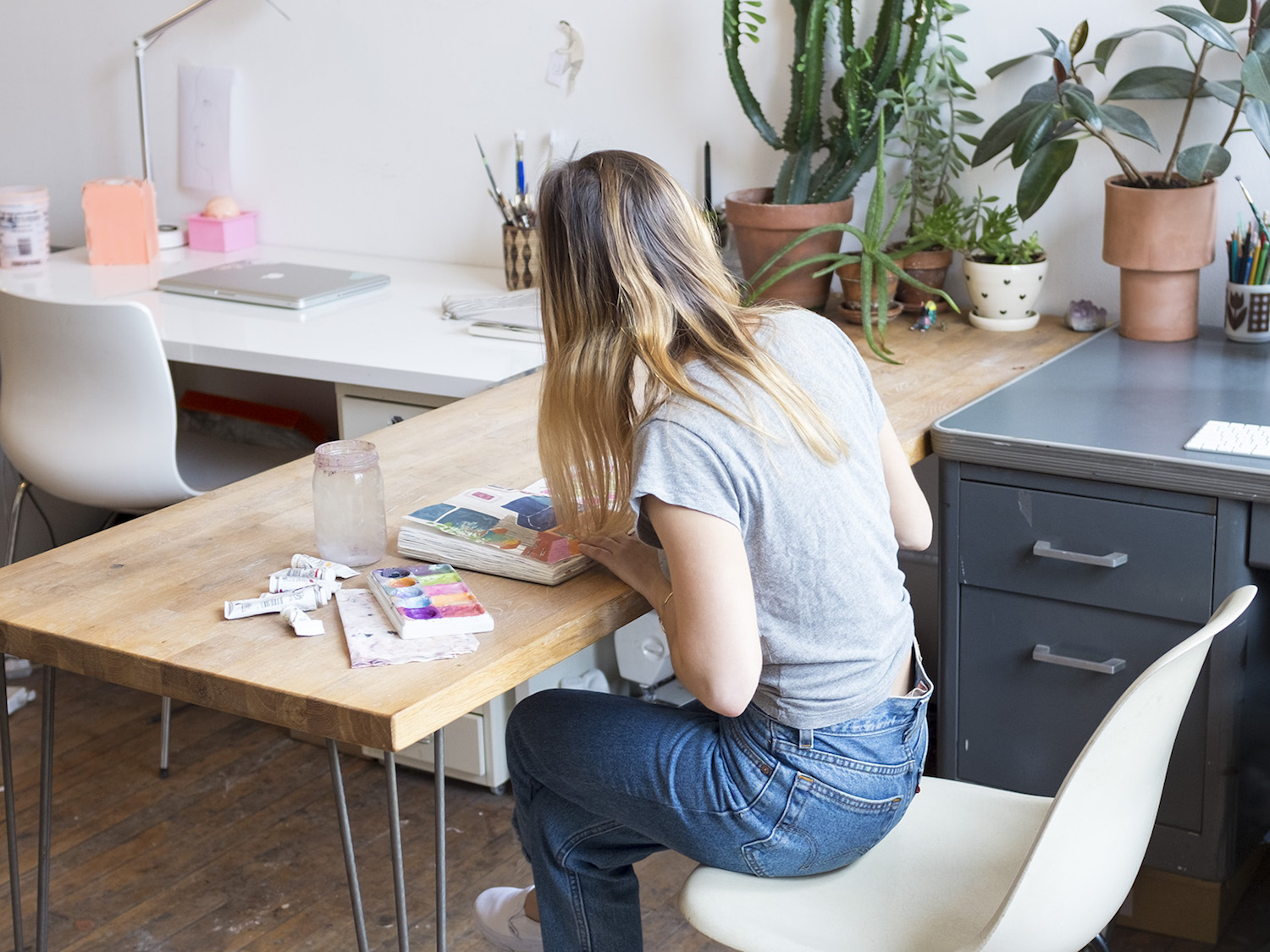 How does your studio affect or inform your work / creative process?
For me the studio is really about the people who are in it. I work alongside illustrators Monica Ramos and Rachel Levit, and designer Ray Masaki. We all went to school together, and have been growing together in our work and careers for the past 7 years. Even though we don't usually collaborate on projects, we're always sharing our current projects and asking each other advice. There's always someone around for a quick critique, and this really informs my process, and improves the final piece.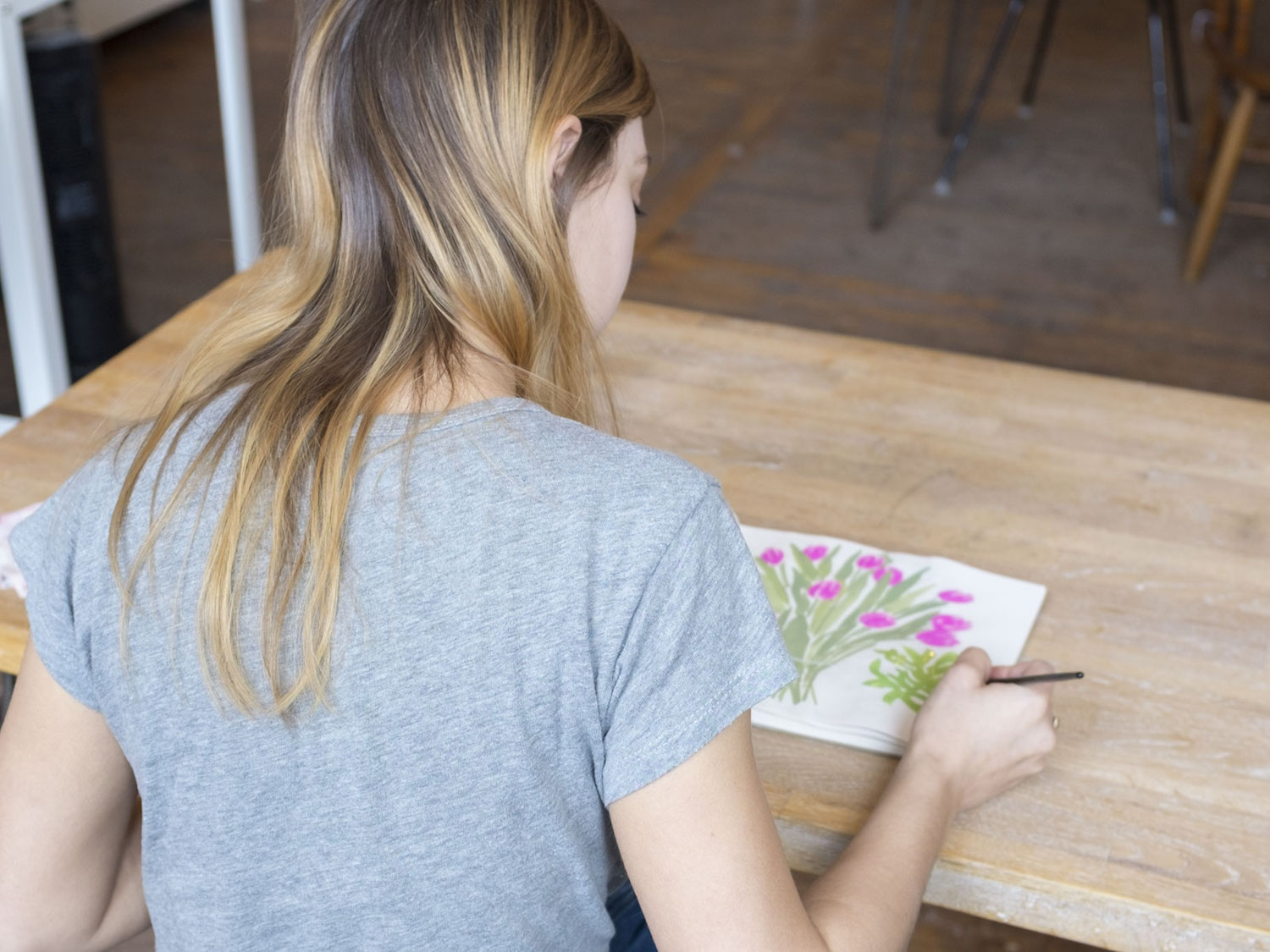 What do you feel like your biggest accomplishment is so far? I saw you did an illustration for the New York Times recently which I'm sure was up there.
I'm really proud that I went to art school and I'm able to support myself because I know that the odds are against most people who do that. I'm proud of all the projects that I do, but usually once I'm done with a project that I'm really happy with, I start looking forward to the next thing that I have to do, so I don't know if there's one defining moment. But I could say for 2015, I did a collaboration with Revlon that was really cool, that might be the biggest "name" that I've worked for. That was really exciting because sometimes I just feel like who am I, you know? I'm just a little girl in Bushwick, but then I can be approached by a really big brand who'll tell me that they really like what I do and they want to put my work on a bunch of stuff, and that feels pretty crazy.
See more of Leah's work here.
Interview and photography by Amardeep S.