For a few days in November, Sabrena Khadija traded her digital art tools for an array of brushes and bold paint colors. The DC-based artist painted her first-ever mural, "Power Flower," at The Other Art Fair in Brooklyn. With care and precision, she swept a palette of bright colors across the wall to bring to life a portrait of self-love. The mural captures a few of Sabrena's signature hallmarks: femininity, inclusivity and anime.
We spoke with the artist about her mural, the creative process behind the piece and her love for anime.
Can you give us a walkthrough of what your mural depicts?
For my mural, I wanted to try my hand at another approach to depicting self-care, so I created a soft femme that communicated this concept by having them embrace themselves among flowers, meant to symbolize their growth. Flowers are one of my favorite motifs to use in my work, and self-care/love is one of my favorite concepts to portray. 
Tell us about why you chose this color palette.
I chose this color palette because I love working with bold, usually primary, colors. But for this theme, I wanted to pair that boldness with a softer palette that could better support the vibe I wanted the mural to have. Bright reddish orange and lilac are my favorite colors, and it's extremely hard for me to not use either of these colors in a lot of my work—I love the balance of intensity and softness they create with each other. 
Take us through your creative process for this mural?
Once I settled on the theme of self-care, right away I knew the vibe I wanted—but posing, colors, and finer details all took some time to work through. The pose, hair, and glasses for instance were completely different in my initial sketch. But the more I worked with it, the more things started to fall into place.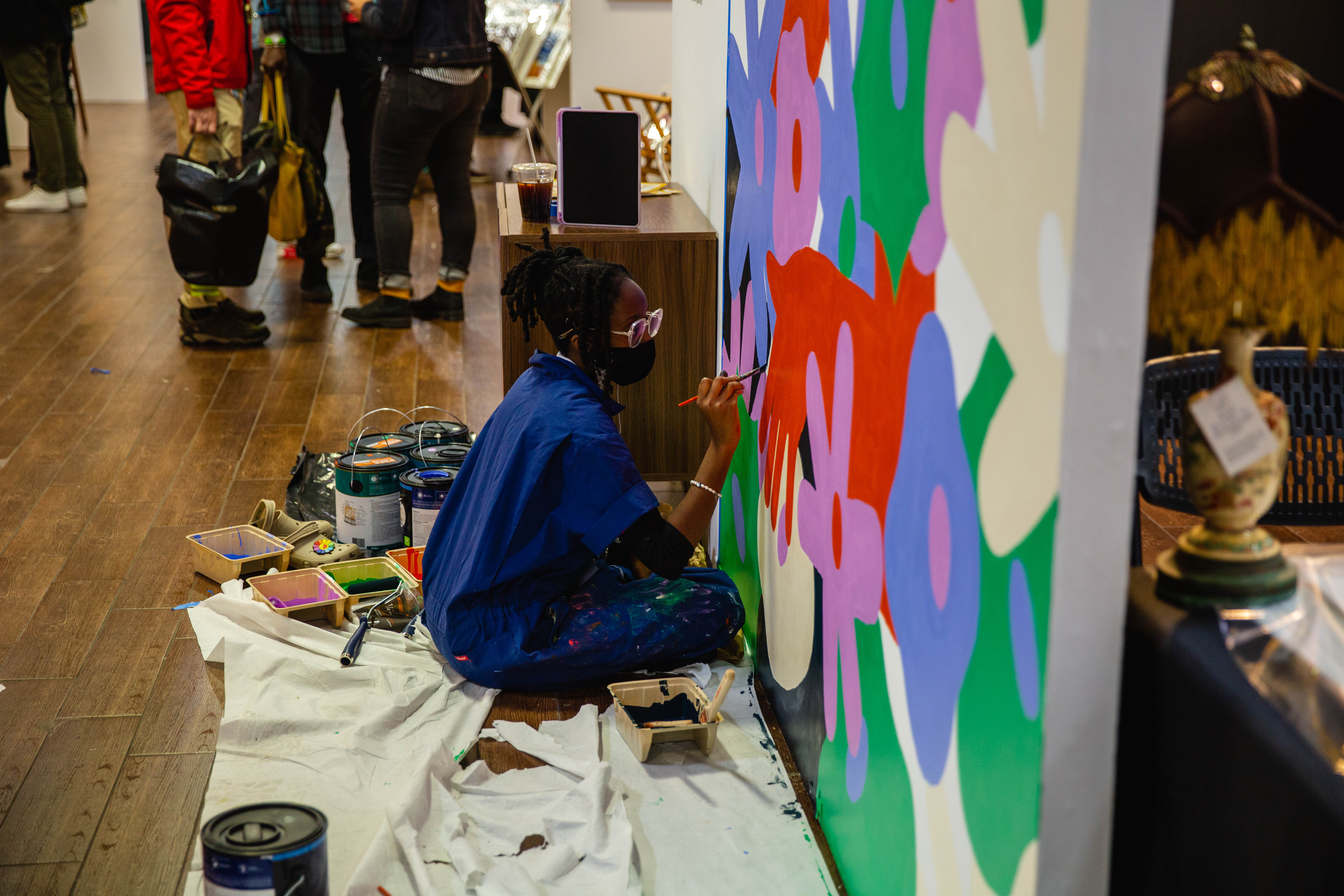 This was your first experience creating a mural—how exciting!—how was it? What did you enjoy about your experience at The Other Art Fair in Brooklyn? Any fun stories or anecdotes?
It was daunting for sure, but I'm happy to say that I loved the experience. As a digital artist, I don't spend much time with a paintbrush in hand, but it felt really good getting reacquainted with that medium. There were a few hiccups along the way, but I had an amazing support system thanks to Society6, so everything worked out beautifully. I definitely feel like I unlocked a new skill! 
Mostly, I loved the interactions with the people who would walk by and want to talk to me about the mural. I create most of my work alone and in my own world, so it was very refreshing to step into a space where people could react to my work in real-time. Their encouragement gave me so much energy. I want to give a special shout-out to the person who was legitimately concerned about what would happen to my mural after the fair and insisted I should find a way to bring an 8 ft x 10 ft wall back home with me.
You describe anime and manga as your "original creative sparks." Can you share with us any specific anime and/or manga art, images or series that inspired the mural? What do you love about anime and manga? 
I feel like it's a common story among my generation of anime enthusiasts, but I'm not sure if I would've gone on this artist's journey without Sailor Moon. Creating fan art of my favorite Sailor Scouts as a child was the most consistent I've ever been as an artist. I was constantly practicing and growing as an illustrator without even knowing it simply because I loved drawing them so much. Eventually, this expanded into drawing for other series as well as original art, but I always credit Sailor Moon as my original spark.
What I love most about anime and manga is how storytelling and illustration are intertwined to support each other and become their own art form. I think this is why I like to have some kind of story or meaning behind a lot of my illustrations. But I also love the pure variety of content in both mediums. Sailor Moon is different from Neon Genesis Evangelion which is different from Land of the Lustrous, but all these styles intrigue and inspire me!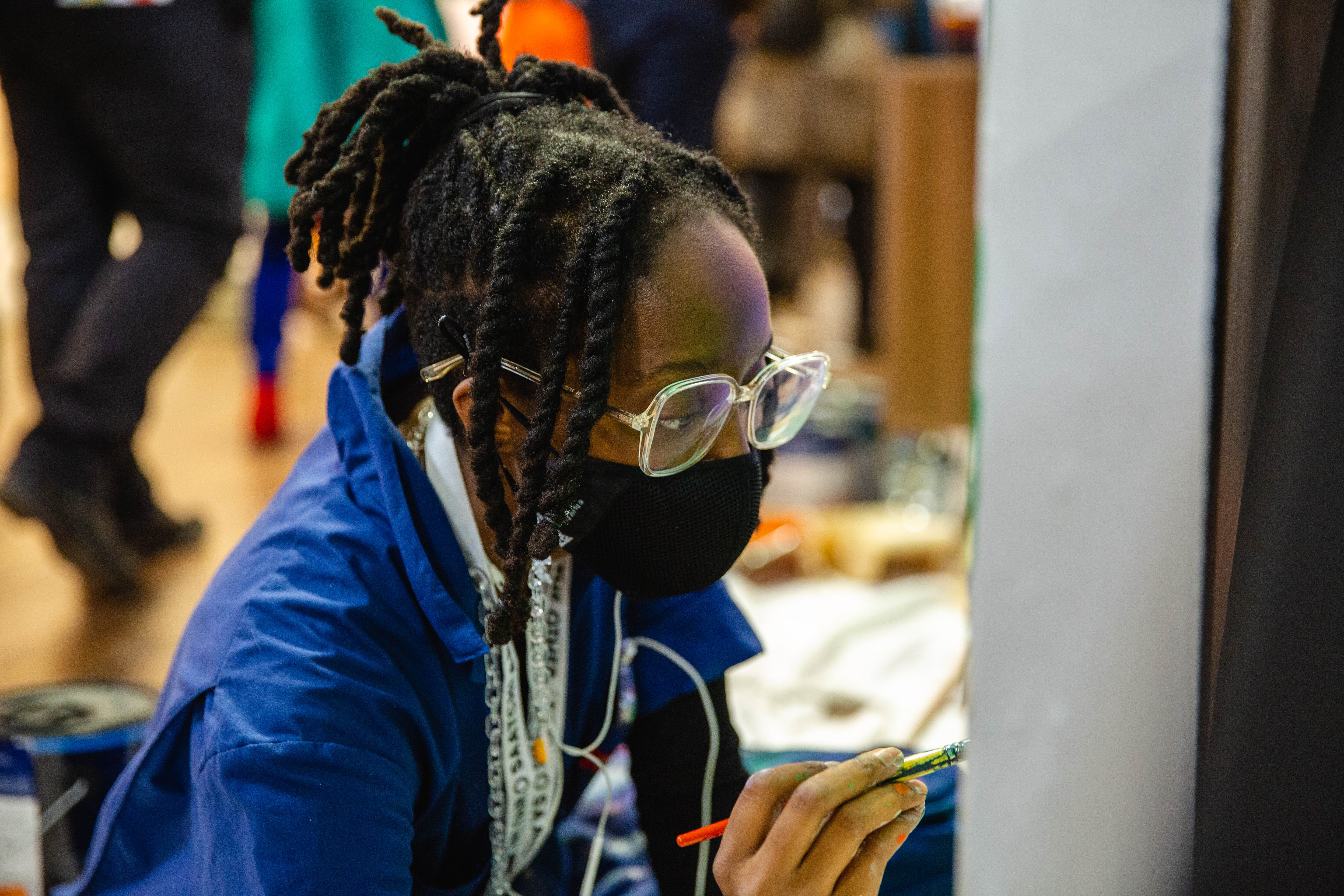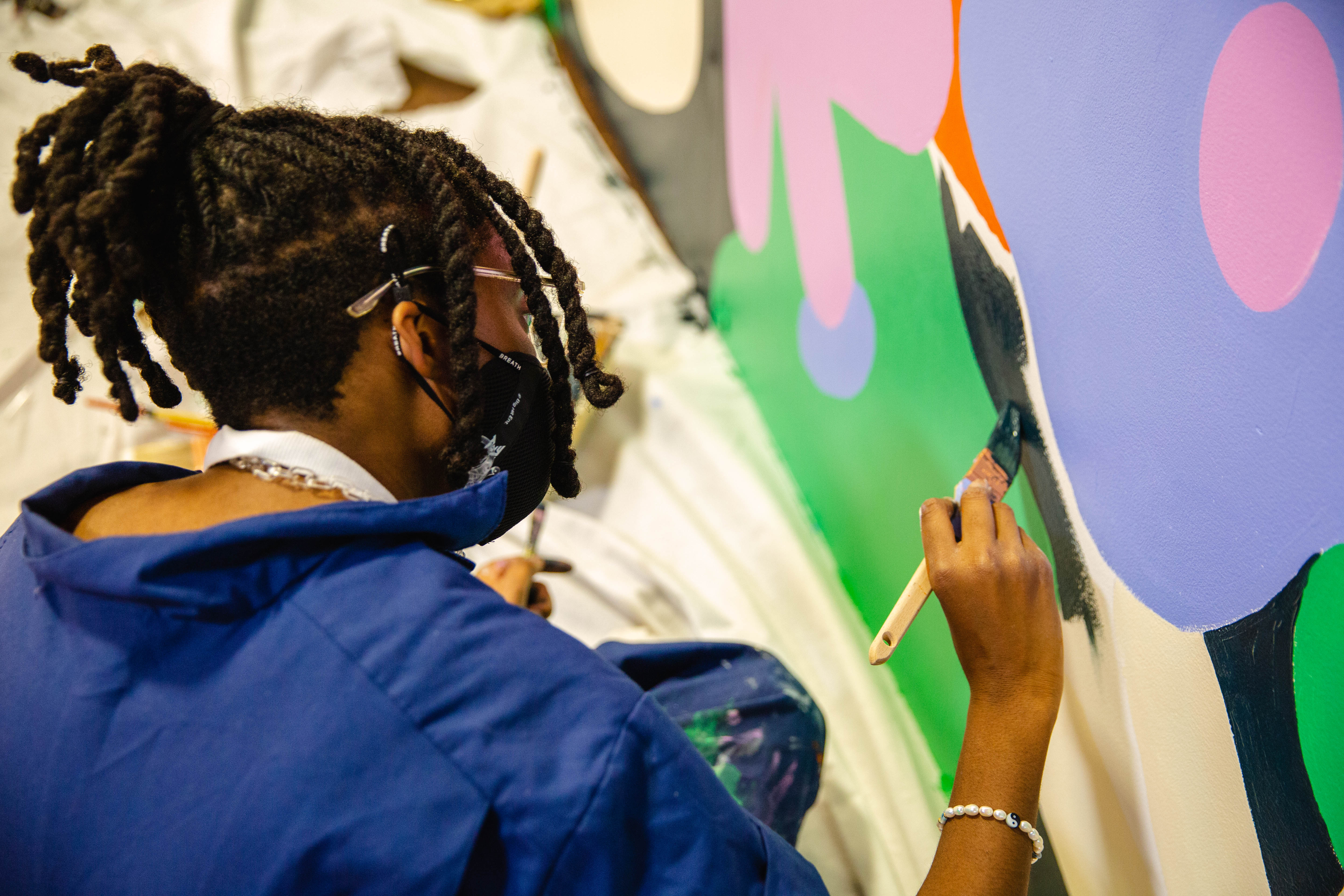 What were your favorite anime and manga series growing up? What series are you currently watching that you'd recommend?
Again, I feel like a lot of people from my generation all grew up on the same series. But other than Sailor Moon, I grew up on Dragon Ball Z, Pokémon, Digimon, Naruto, Cardcaptor Sakura, Neon Genesis Evangelion, Ouran High School Host Club, Fullmetal Alchemist (Brotherhood), Hunter x Hunter, Death Note—pretty much everything on Toonami. Nowadays, I don't watch as much as I used to because I must adult, but I'm currently watching the new season of Demon Slayer, unironically loving Onegai My Melody, and thoroughly enjoying a new series called Komi Can't Communicate.
You mentioned that this mural was also inspired by artists you admire. Could you share with us a list of these artists so we can check out their work?
I mean it when I say some of my favorite artists are friends. Sean Suchara is a fellow flower lover, and I've always loved the way he approaches his work conceptually. Olivia Fields is the queen of line-work, whose work and execution always leave me in awe—I swear she can conquer any medium, but her Riso works are especially stunning. I felt similarly when I met Amber Vittoria. The way she uses color and conceptual thinking in such striking and interesting ways has always impressed me. The list goes on and on, but seeing the way artists I admire approach their work always inspires me to give it a go too.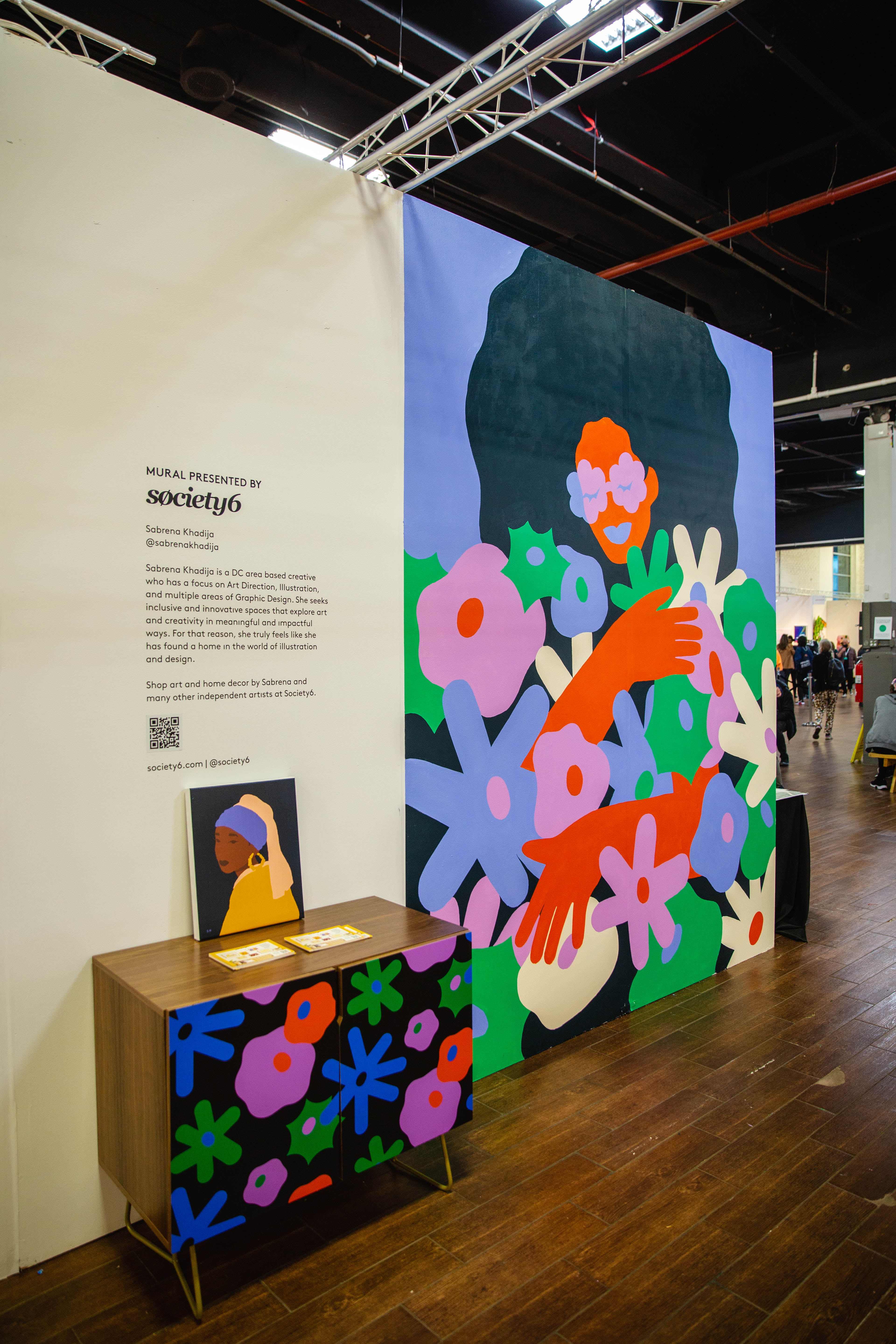 Your bio also says that you "…seek inclusive and innovative spaces to explore art and creativity in meaningful and impactful ways." Can you tell us a little more about this? Is there a connection between your mural and this statement?
I center my affinity with Black womanhood a lot in my work, including this mural, and there's a lot of intent behind this for me. Coming up in the online art world, I felt there was a serious lack of representation for people who looked like me. In that void I found that there were a lot of identities that were severely underrepresented. It took some time, but slowly I began to break away from trying to force my way into spaces that didn't want to include or support people and artists like me. Instead, I began to try and create some of the representation I wanted to see in the world by seeking out other artists and spaces that wanted the same. Through that, I found community, and I'm always looking to expand my community.
Check out Sabrena Khadija's Society6 shop to explore more of their work.