DIY Blogger Alexi Politis of
Seeking Alexi
 is here to give some tips on how to turn your blah bed into a sacred dream space.
SOS! Do you need help with your bedroom? I'm here to show you everything you can do to make your bedroom your sanctuary. Why? Because life is stressful, and busy, and hectic and hard—you deserve a relaxing space at the end of the day. No, you NEED a space at the end of the day to unwind in a luxurious atmosphere!
If your bed looks amazing, then the rest of your space will be automatically elevated. Here's 6 tips that will help you creating the very best looking bed for your bedroom.
1. Pick Comfortable Bed Sheets:
Start with great sheets! I looked far and wide for great sheets and have finally found on my favorite. They aren't too hot, or too thin, they don't "ball-up" after a lot of use, they come in several colors AND they're on Amazon Prime! I've been buying these sheets for several years, so they come with my highest recommendation.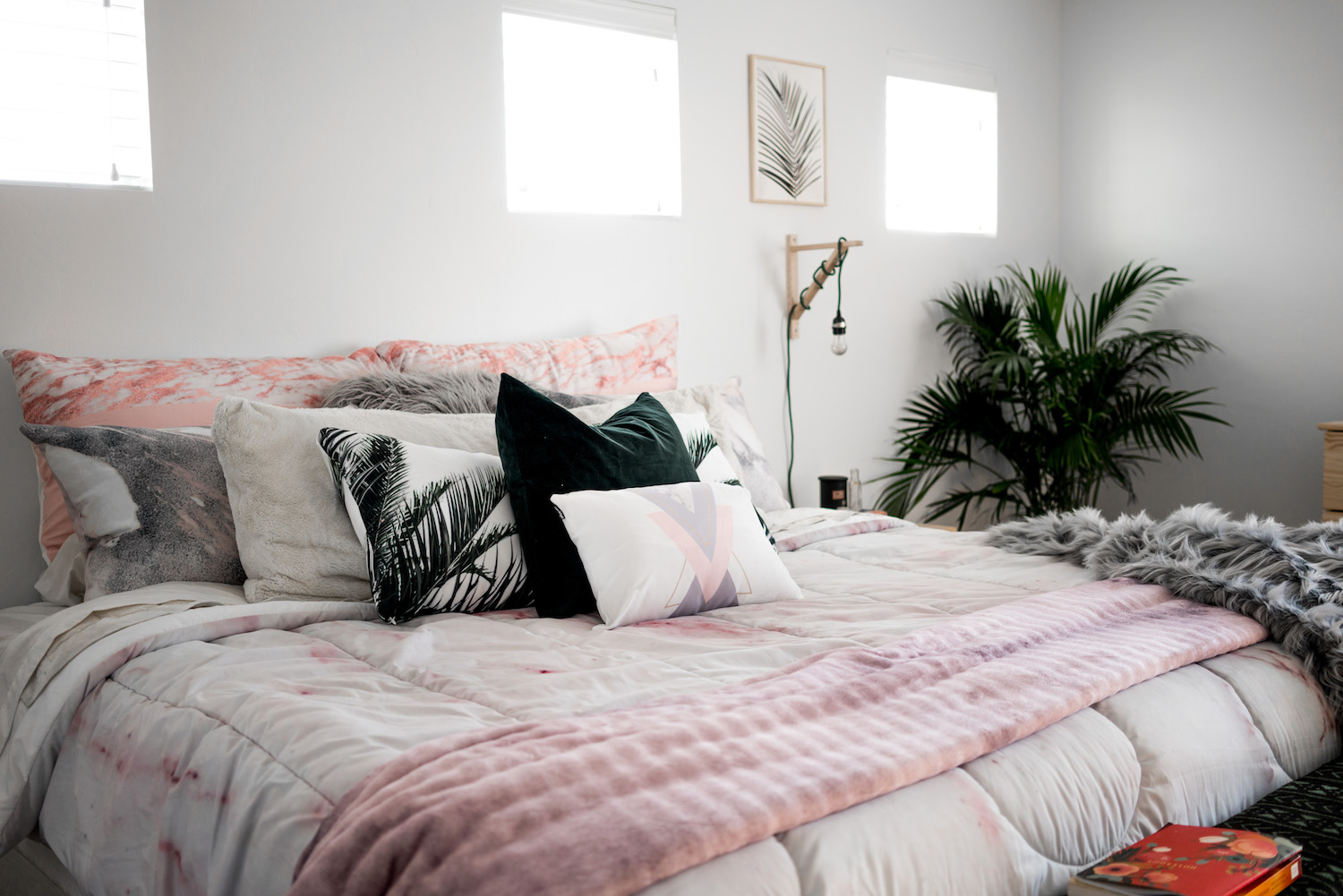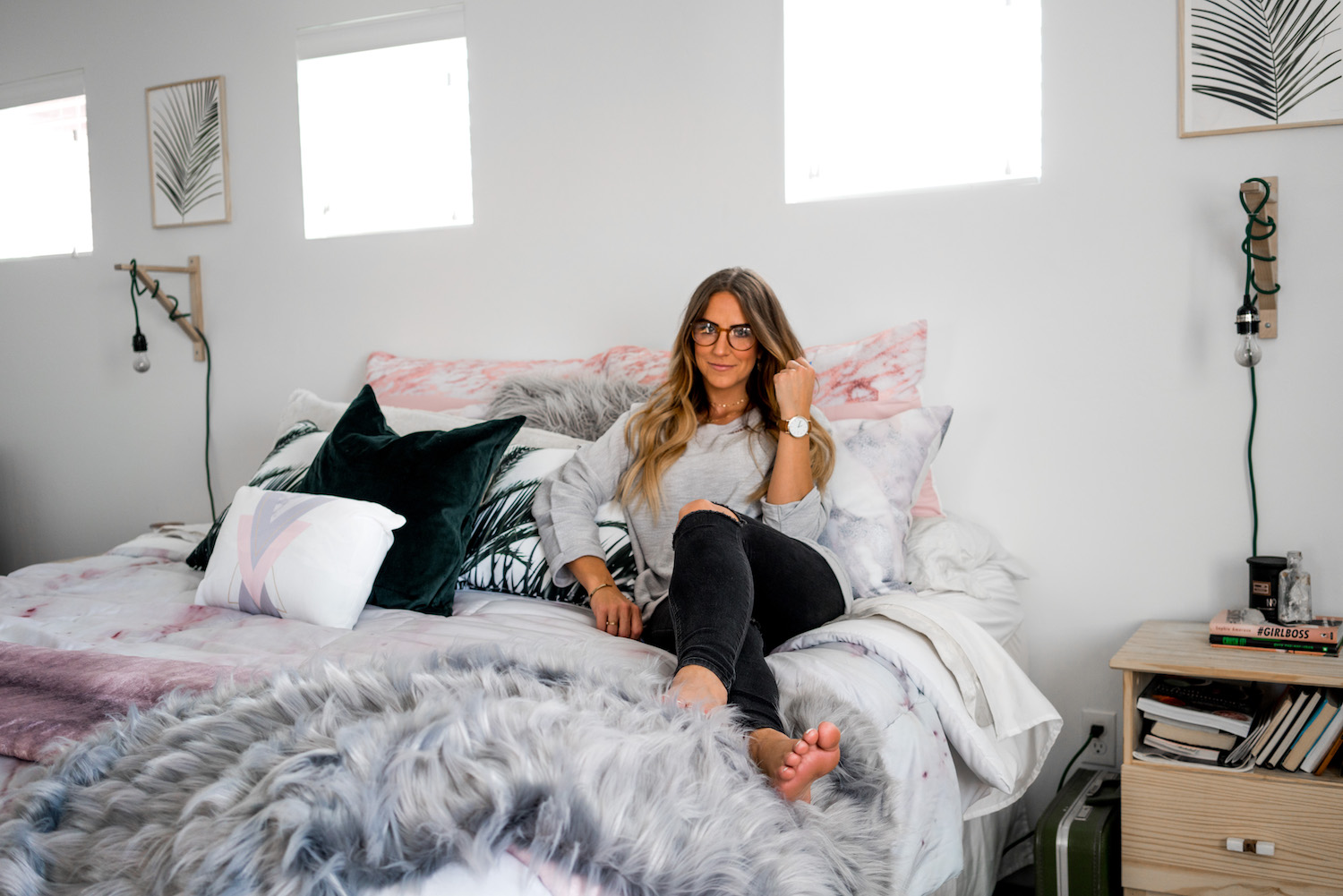 2. Choose An Amazing Comforter:
I fell in LOVE with this faint pink marbled comforter the moment I laid eyes on it. I love that it's sophisticated and feminine, but not over the top. Since a comforter covers such a large portion of your bed, make you're really intentional about the choice of design. If you go for a bold, graphic pattern keep other details (like pillows!) simple. Or, if you chose a sort of "blank slate" like I did, you'll be free to go crazy with additional accessories.
3. Use Great Base Pillows:
These pillows are the large ones that lean up against your wall or your headboard. These are necessary because they give your bed some structure, and also elongate your bed by adding square footage to the length. I used these king pillow shams and these extra large rectangle pillows as they were complementary and sophisticated options. And I also used some furry pillows to add dimension and texture like this gray one and this long cream one.
This is the best part about a bed—adding a little extra personality with the front pillows. I opted for some pops of emerald with a velvet pillow, and the most gorgeous palm leaf pillows from Society6. I brought everything together with one last white, gray, and pink pillow. They really brought some personality to the bedroom and helped create a feeling of tropical luxury.
An extra tip about pillows:
Be sure that with however many pillows you use the front cluster is an odd number. When it comes to decor, odd numbers always look best!
The last thing you need is a throw blanket literally thrown onto the side of the bed. It will keep the bed from looking too perfect, but will still add to the sophistication of the room. Also, I have a king sized bed, and love to have a blanket that is the same size for extra heat in Utah's cold winters. The blankets from Society6 are SO much comfier than I could have ever imagined! Store it to the side for those cooler nights or let it double as a decorative throw!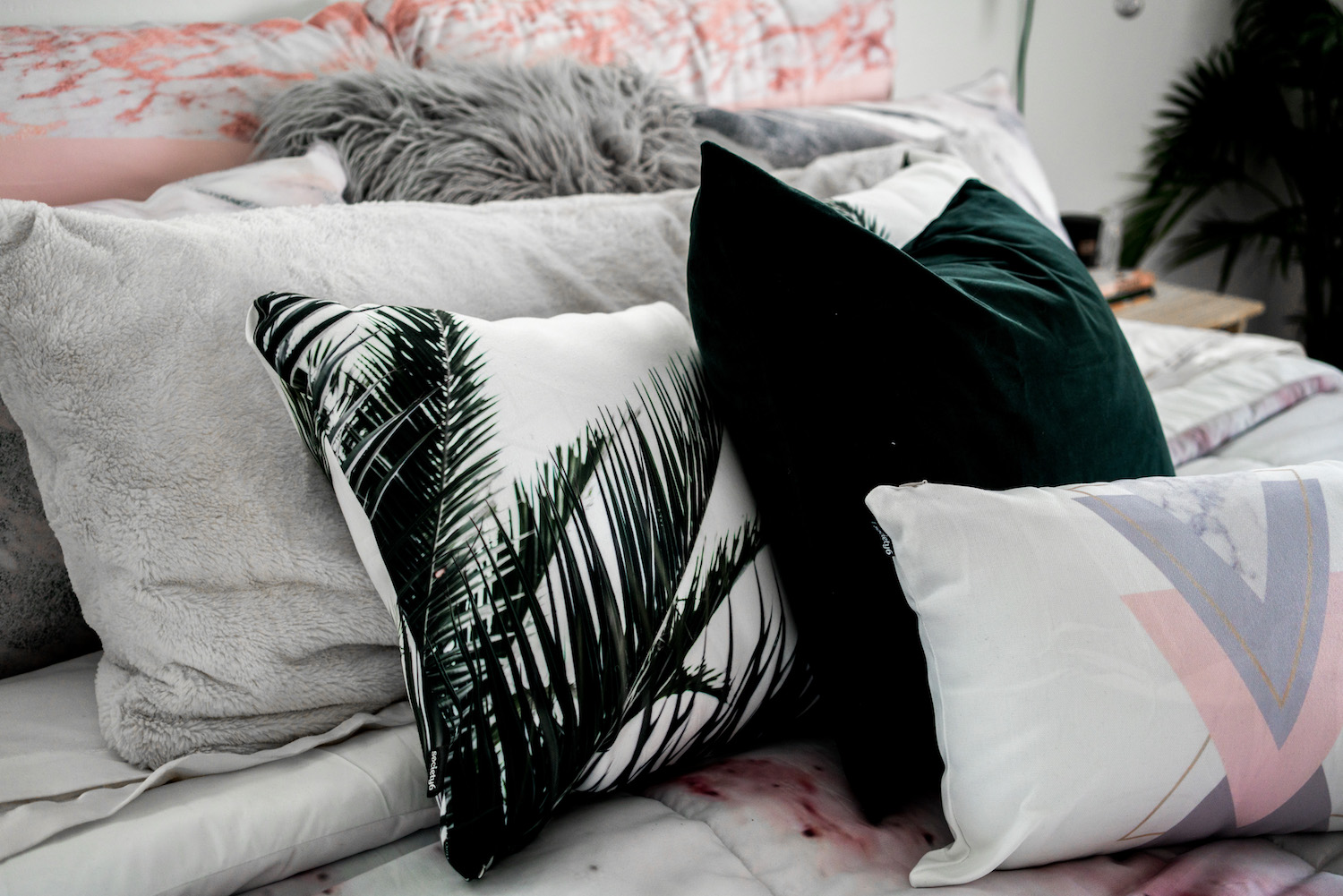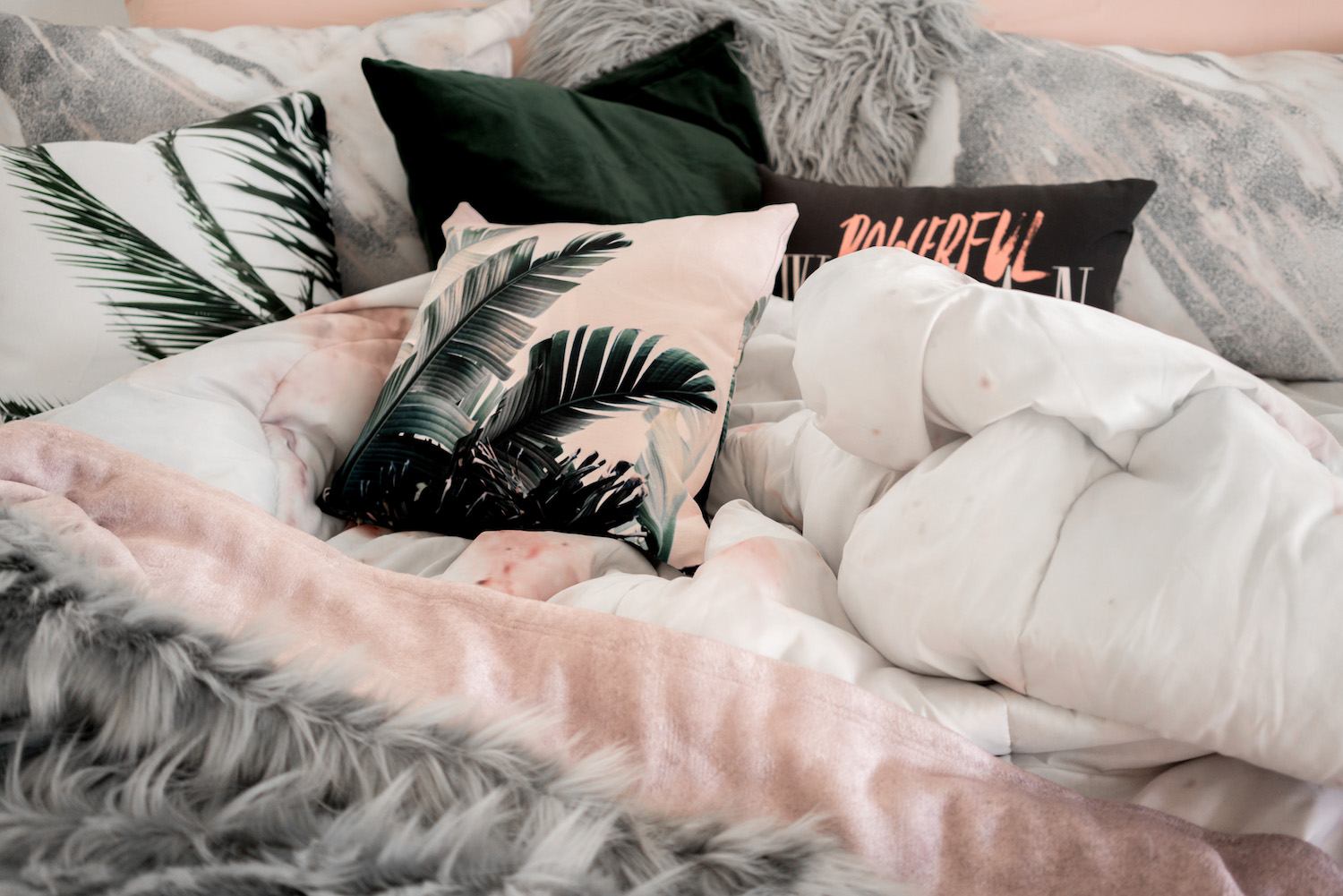 Pink Tropical Throw Pillow
Mauve Greys Throw Blanket
by Iris Lehnhardt
$129.99
Blush Marble Rectangular Pillow
Blush Massarosa Pillow Sham
Colorless Fern Throw Blanket
Castello Silver Marble Rectangular Pillow
Palm Leaves 2 Throw Pillow