At the heart of artist Manuela Guillén's work is a steadfast mission to advocate for people in the margins.
Manuela Guillén's art doesn't just take chances—it takes action. In celebration of Latina/o/x Heritage Month, we spoke with the Philadelphia-based artist about her advocacy, her artistic beginnings and the education of future generations through art.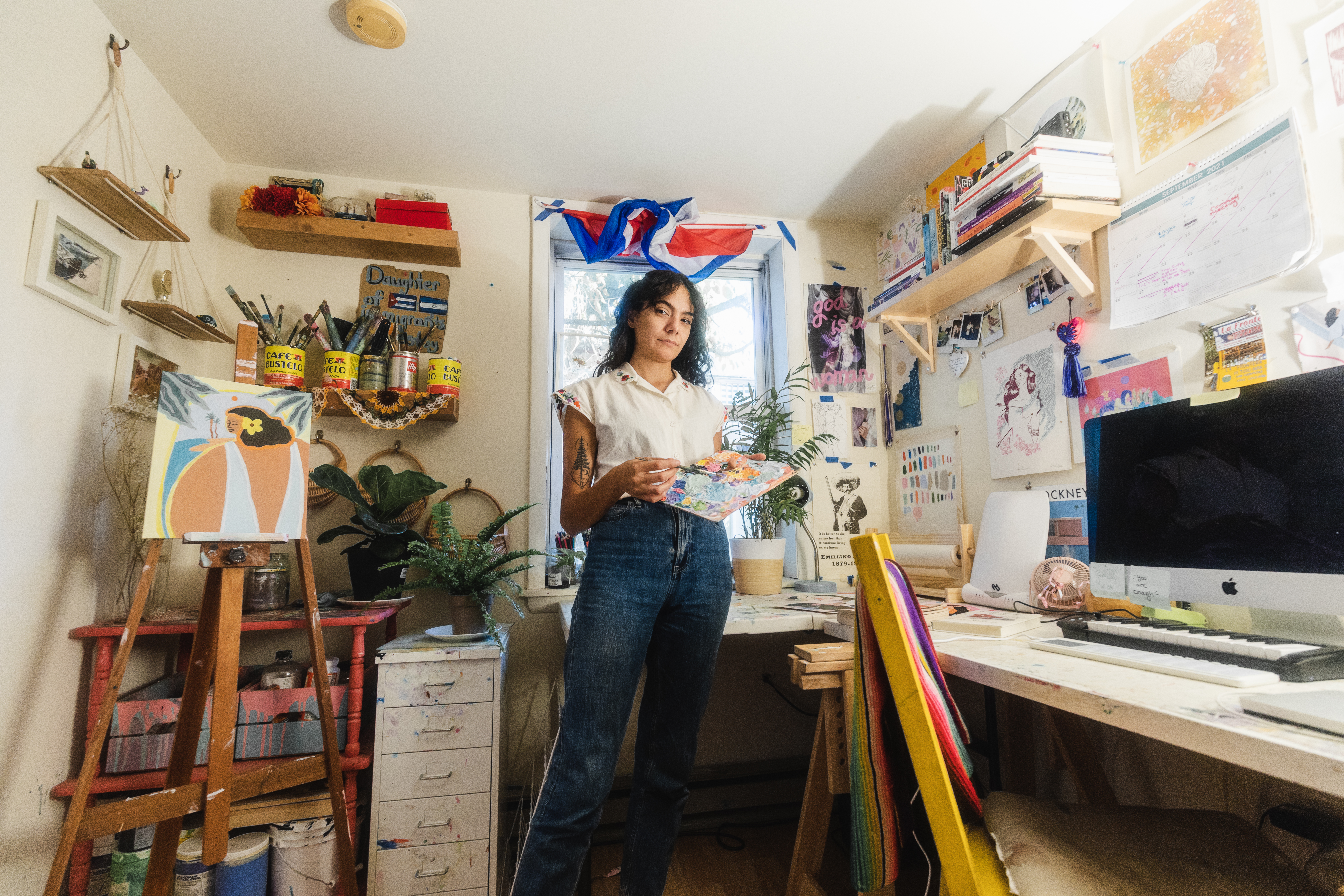 At the center of Manuela's mural "Set Them Free, Let Them Be" is una mujer. A sun and moon surround the woman—each celestial body filled in with detailed landscapes of Mexico and El Salvador, countries many immigrants once called home. Butterflies and birds, reminiscent of Salvadoran folk art, flutter up from her palms as growing plants encompass her. Using soft shades of pink, blue and purple, Manuela evokes hope. Appalled by news of the mass deportation of migrants, she created the mural in 2019 to humanize the Latinx community.
"… I desire a world to be better for one another, and I believe art can do that," she says.
Manuela is a Latinx illustrator, painter, muralist and educator. Inspired by her cultural upbringing as a child of El Salvadoran and Cuban immigrants, her artwork is big-hearted and fierce, carrying a determination to champion issues concerning women and the Latinx community.
She has collaborated with grassroots organizations including Cesar Andreu Iglesias Community Garden, Juntos and Black Lives Matter, raising funds to help advance their cause for a more equitable and just society. Most recently, she partnered with the ACLU Philadelphia, creating art that spotlights local organizations, and Old Navy, creating a design for PROJECT WE that funded Boys & Girls Clubs of America youth arts programs.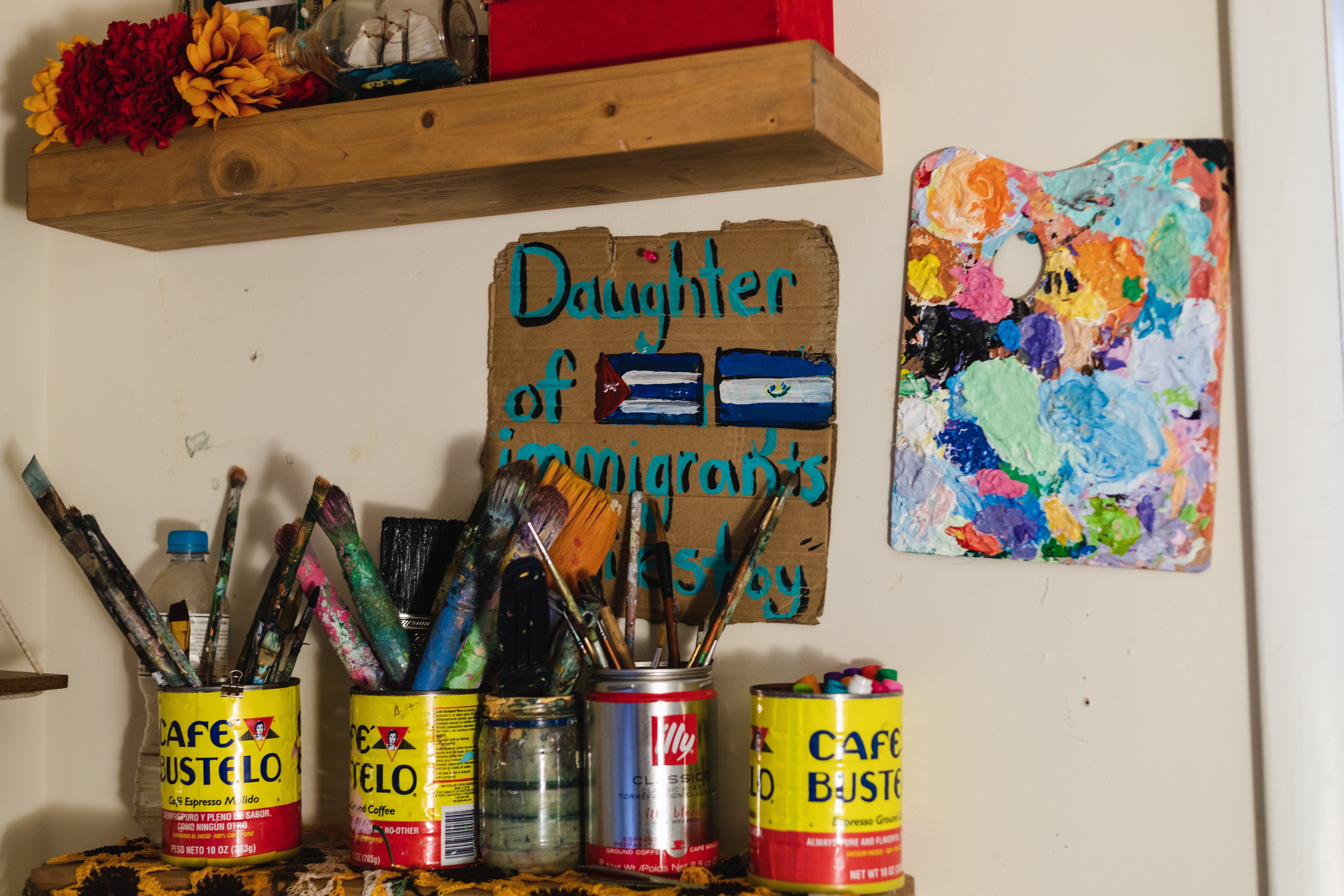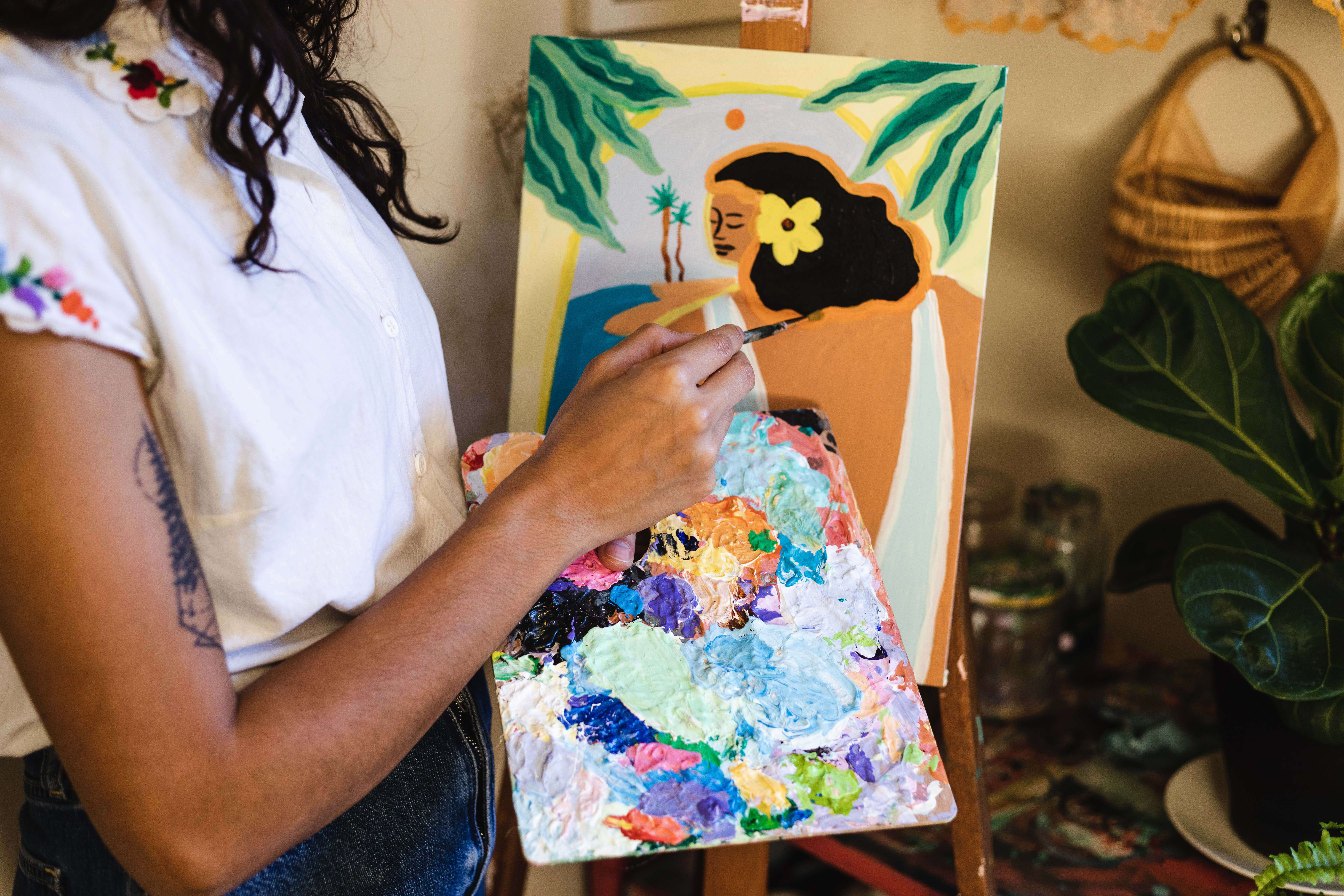 Artistic Beginnings
Five-year-old Manuela watched in wonder as murals and painted glass windows filled the TV in her Dominican Republic home. Enchanted by the colors on the screen (possibly Beauty and the Beast), she grabbed her crayons, climbed on a chair at the edge of the staircase, and started drawing angels on the walls of her house.
She spent her childhood in the tropical cities of the Dominican Republic and Miami, from which colorful houses, plants and communities inspire her artwork today. Manuela grew up in a low-income neighborhood in Miami, supporting her mother and family through hardships. She encountered adversity, domestic violence and crime among the women in her community.
An undeniable passion grew from this—a passion to help not only her mother but all women feel safe. As such, Manuela chooses to center women in her artwork.
"I was a feminist at a young age, before I even called it that," she says, "… I like to celebrate women and make them feel empowered and powerful…"
Art quickly became a way to cope. In sixth grade Manuela found solace in Ms. Kris' art class. She had an affinity for drawing realistic representations, layering one color after another. Ms. Kris helped develop a passion by encouraging her creativity further.
"Art made me feel safe and gave me comfort," she says.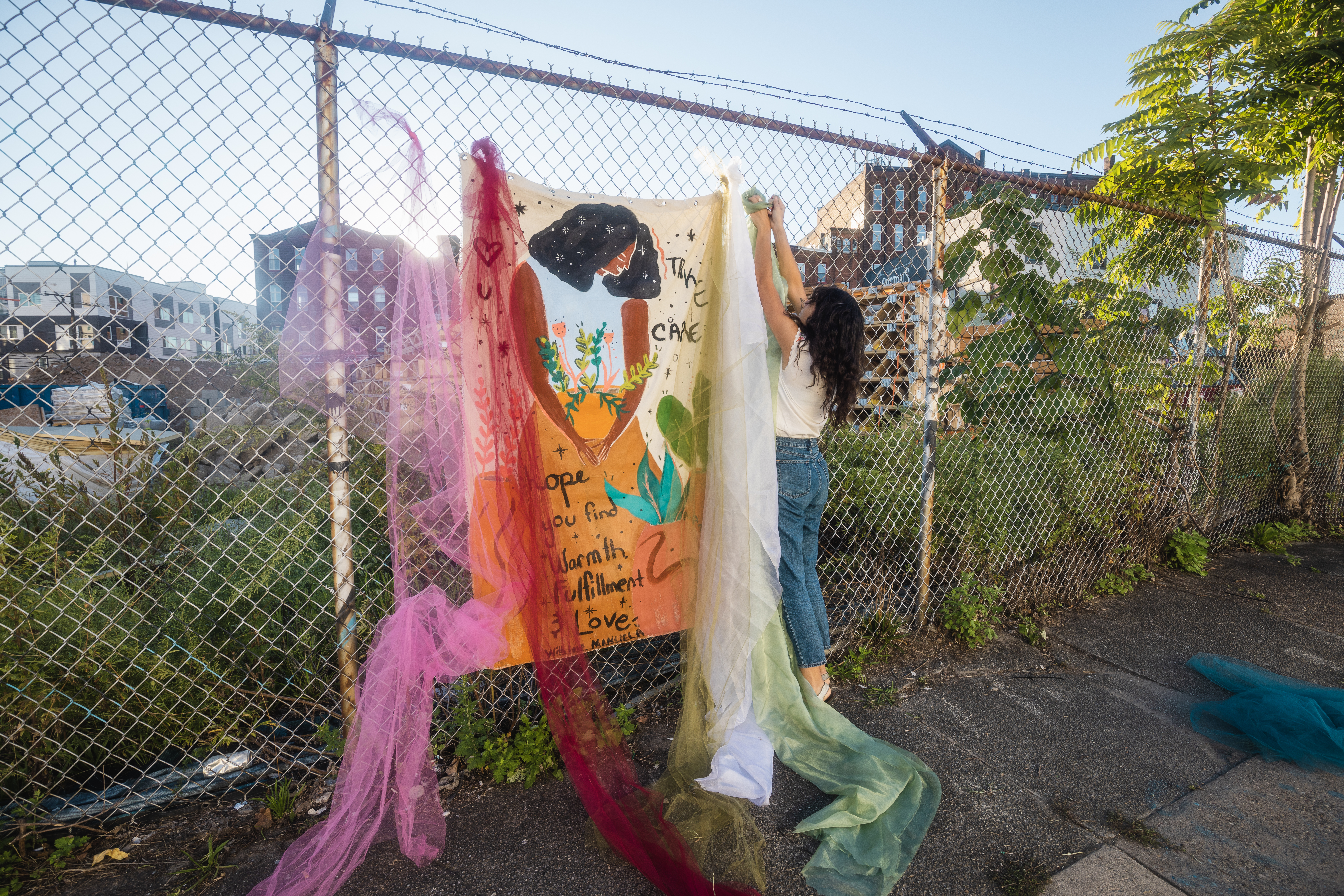 Advocacy Through Art
Manuela's art is a catalyst for spreading awareness of injustice. From art prints, murals, posters, paintings and street art installations, Manuela has created art to protest gentrification, gender injustice, racism and xenophobia.
"I do believe in having a soft, tender art," she says. "There's a lot of social injustice happening in the world every day. What I try to do is bring light into these dark situations."
Situations like the problems the Cesar Andreu Iglesias Community Garden has encountered, a gardening community in a neighborhood with predominantly Black and Latinx residents. Recently, it's become the target of gentrification. In 2020 a property management company sought to take the land where one of the gardens grew, putting a fence around the garden to stop the community from harvesting the fruits of their own labor. The community protested. Elder women from Puerto Rico and the Dominican Republic testified before city leaders to help keep their beloved garden safe and allow them to pass down common welfare to their children.
Manuela supported the community the best way she knew how—with art. In her public installation titled "Not For Sale," Manuela hung shower curtains on the fences, and through colorful acrylic illustrations, she painted the elder Puerto Rican and Dominican women, the garden and the words "no para la venta" ("people before profit") and "stop the land grab."
"Fences are meant to keep something in or out, but these installations suggest belonging and openness," she says in her artist statement.
Through her work, Manuela has also raised funds to help advance the causes of grassroots organizations like Juntos, a community-led, Latinx immigrant organization. Last summer, she raised $500 in two days by selling postcards for the Black Lives Matter movement.
Manuela wants her art to tell the story of her community. She wants those in neutrality to stop in their tracks when they see her work and ask themselves what they can do to support those who are marginalized.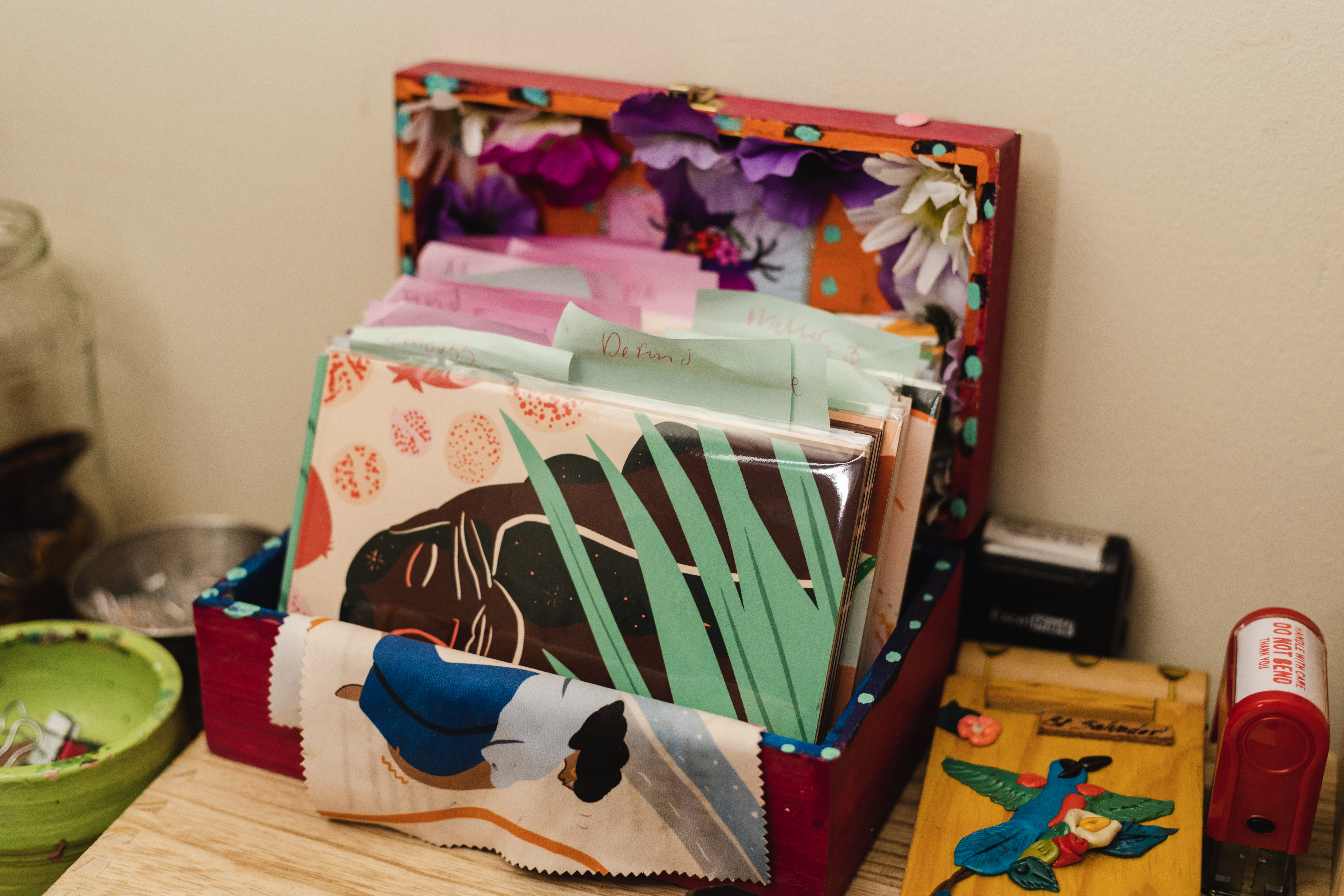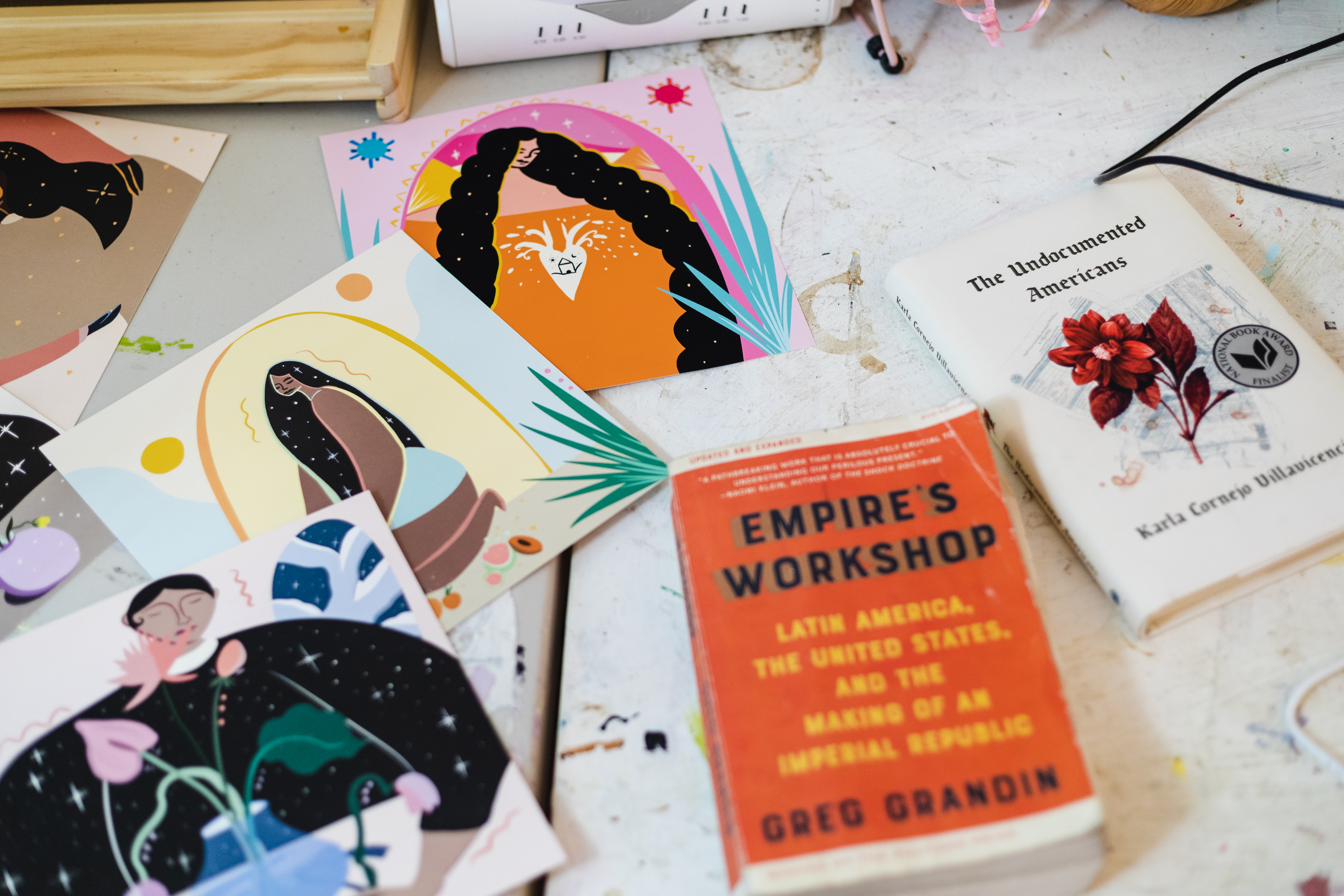 Educating Future Generations Through Art
Manuela's artistic beginnings in Ms. Kris' 6th grade art classroom came full circle: by day, she teaches art to 6th grade students who are mostly Latinx, Afro-Latinx and Black.
Her artistic mission to heal and empower also extends to her teaching. Manuela builds an inclusive community in her classroom where she introduces students to artists of color and women artists like Kara Walker and Barbara Kruger. Through art, she engages her students in conversations about challenging topics such as mental health, racial injustice and gender roles.
Above all else, she wants her students to learn patience and grow together.
"Even if you don't get it right now, understand that you can and you will," she says to her students. "I think we say this because it applies to both academics and life: there are a lot of things I didn't even get 10 years ago, but I was patient. I listened, and I tried to learn. So you just have to do the same. Be a community and support each other…"
Among Manuela's upcoming projects, she will create a mural for Mural Arts Philadelphia. The billboard-sized mural will advocate for more reading in communities, especially young people in school, and will be created in a south Philadelphia area with a large Latinx community.
"I always tell my partner, 'I think I'm planting some seeds here—some critical thinking seeds—and I'm just going to see what happens,'" she says with a smile.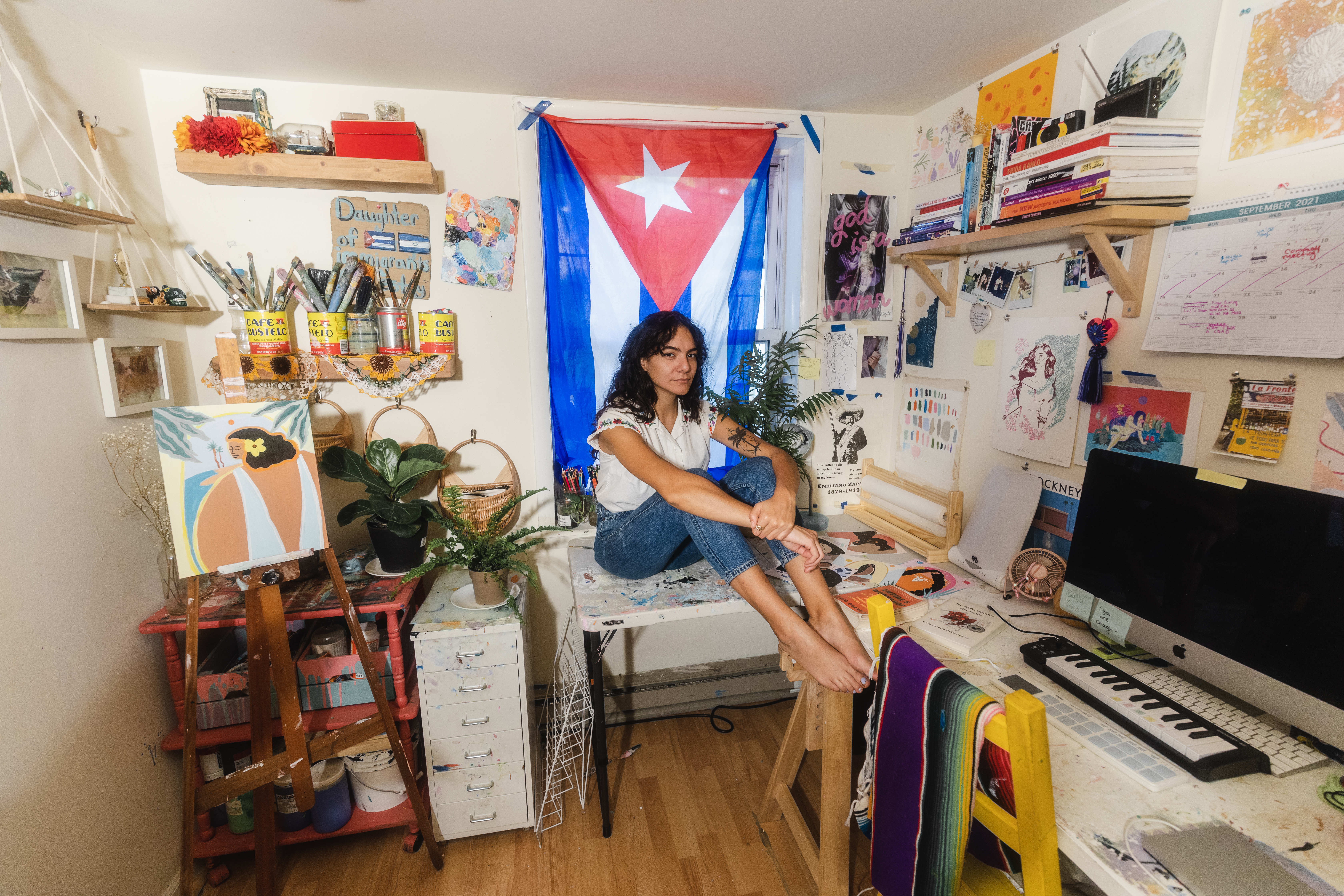 Grassroots Organizations
To help guide us to others already doing important work in the community, we asked Manuela to share the grassroots organizations she holds close:
Juntos – a community-led, Latinx immigrant organization in South Philadelphia fighting for human rights as workers, parents, youth and immigrants.
Cesar Andreu Iglesias Garden – a community garden at Lawrence & Arlington in Kensington, Philadelphia on land traditionally of the Lenni Lenape.
Gender Justice Fund Philly – an organization that fights to end all forms of gender-based oppression through trust-based philanthropy and by amplifying community-led systems change.
Raices Texas – a nonprofit agency that promotes justice by providing free and low-cost legal services to underserved immigrant children, families and refugees.
Photography for this piece by Lucy Sánchez.