With all the attention that gets placed on decorating your living or bedroom, it's easy to forget about giving your bathroom some sweet TLC. But hello, you use your bathroom literally every single day!
Even if you're on a tight decorating budget, an easy way to "art up" your bathroom is by simply changing your shower curtain out for a new one designed by the artists right here on Society6.  We're doing a deep dive today on all things shower curtains to get you informed, inspired and pumped on the oft-overlooked decorative element.
Determine the Vibe
First things first, what kind of look are you going for? Do you want your shower curtain to be the focal point of your bathroom or a more subtle complement to the space?
If your answer is the former, some current trends to consider are bold botanicals and florals, colorful abstract designs and humorous patterns (i.e. butts or avocados, anyone?). For the latter, think simple minimalist lines, single-toned curtains or lightly marbled designs.
Find the Height
No two showers or tubs are exactly alike, which is why measuring to determine the exact height you want your curtain to be matters! Measure the full width of the space the shower curtain will cover, and height up to 3" less than where you imagine your rod will be (typically rods are installed between 75-77" off the floor).
While a "standard" shower curtain is 70 x 72," we cut our curtains to 71" x 74" to make things easily customizable for every shower and bath out there. You can easily tailor the bottom if you don't need the extra fabric, or leave it and consider adding a hook to the side of wall so your shower curtain can drape elegantly to the floor.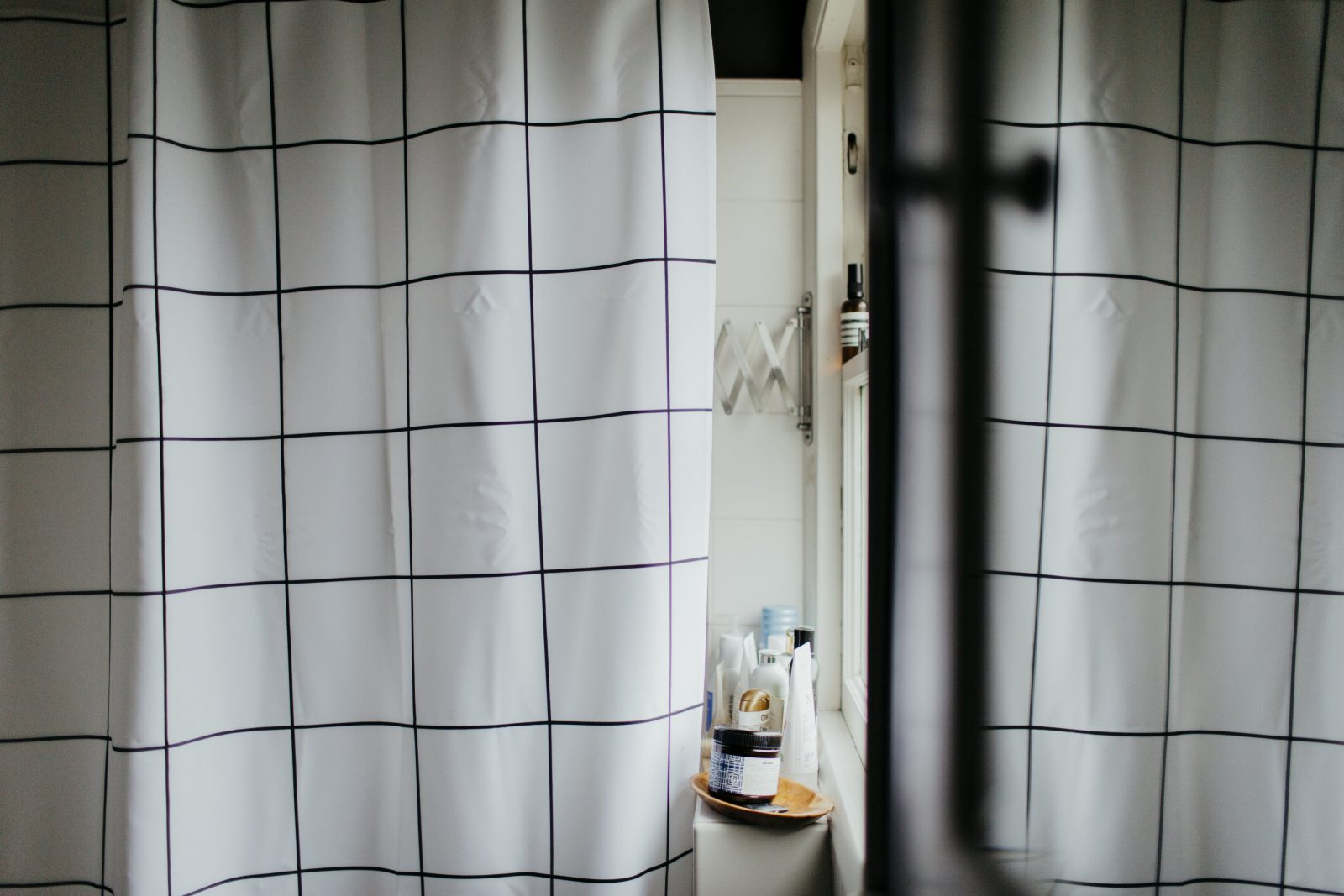 Line It Up
Our shower curtains are made with 100% polyester, which means they don't necessarily need a liner, but pairing yours with one will help boost the longevity of the curtain and protect it from mold.
To pick one, aim for matching the size of your curtain, or going just a little smaller if need be. Material-wise, vinyl is hard to beat for its ease of cleaning (you literally just wipe it down with a sponge and soap on occasion), but anything water-resistant is going to be a winner. Lastly, consider paying a little more for a liner that's weighted at the bottom with magnets or suction cups to prevent water from escaping the shower and getting all over your bathroom floor.
Keep It Clean
Given that shower curtains are constantly getting wet, mold and bacteria can admittedly build up if you don't keep up a regular maintenance routine. Fortunately, I have some good news: you can simply machine wash and tumble dry every single one of our shower curtains! You're welcome.
While washing your shower curtain once a month is ideal, there's no judgement if you slack a little. Just aim to at least throw it in the washer once every three months!  
Happy bathing, babes.
Written by Lindsey Rose Black
Stamped Cactus Shower Curtain
Rows of valleys Shower Curtain
Yellow Modernist Shower Curtain
by Madeline Louise
$69.99
Avocado Slices Shower Curtain
by Cat Coquillette
$69.99
PALMA DARK Shower Curtain
by holli zollinger
$69.99
SUN TILE GREEN Shower Curtain
by holli zollinger
$69.99
Cool In The Pool Shower Curtain