Before Instagram #sponsored posts, there were wealthy art patrons. Before the internet's vast array of pixelated rooms, there were art galleries. And before the fall of Man? There was Maceo.
Luckily, there are still galleries operating out in the world, and Man is still, well, sort of alive and kicking. Sputtering, but definitely there, and certainly creating more powerful, more urgent, more socially-conscious artwork than ever.
Maceo Paisley is a self-described culturist. He's an artist in his own right: he's a marvelous dancer (speaking of pixelated rooms, check out those dances over @maceopaisley), he writes poetry, he is a phenomenal spoken-word poet performer—he truly elevates the artform and if you live in Los Angeles, do make a point to go see him—but he describes his higher calling as creating opportunities for art to thrive. And for the past two years, he has run the radically egalitarian art gallery Nous Tous in Los Angeles's Chinatown.
Nous Tous is French for "All of us," a turn of phrase that fuels the ethos of a space used as both a gallery and a community gathering, elevating the notion of a gallery to a creative hearth. For two years, Nous Tous has been home to artists of vastly different artistic ilks, genres, and messages. I sat down with Maceo to speak to him about what it is like to run an art gallery and what advice he has for budding artists who desire their work to be seen out in the world, among a community of like-minded curious creatives.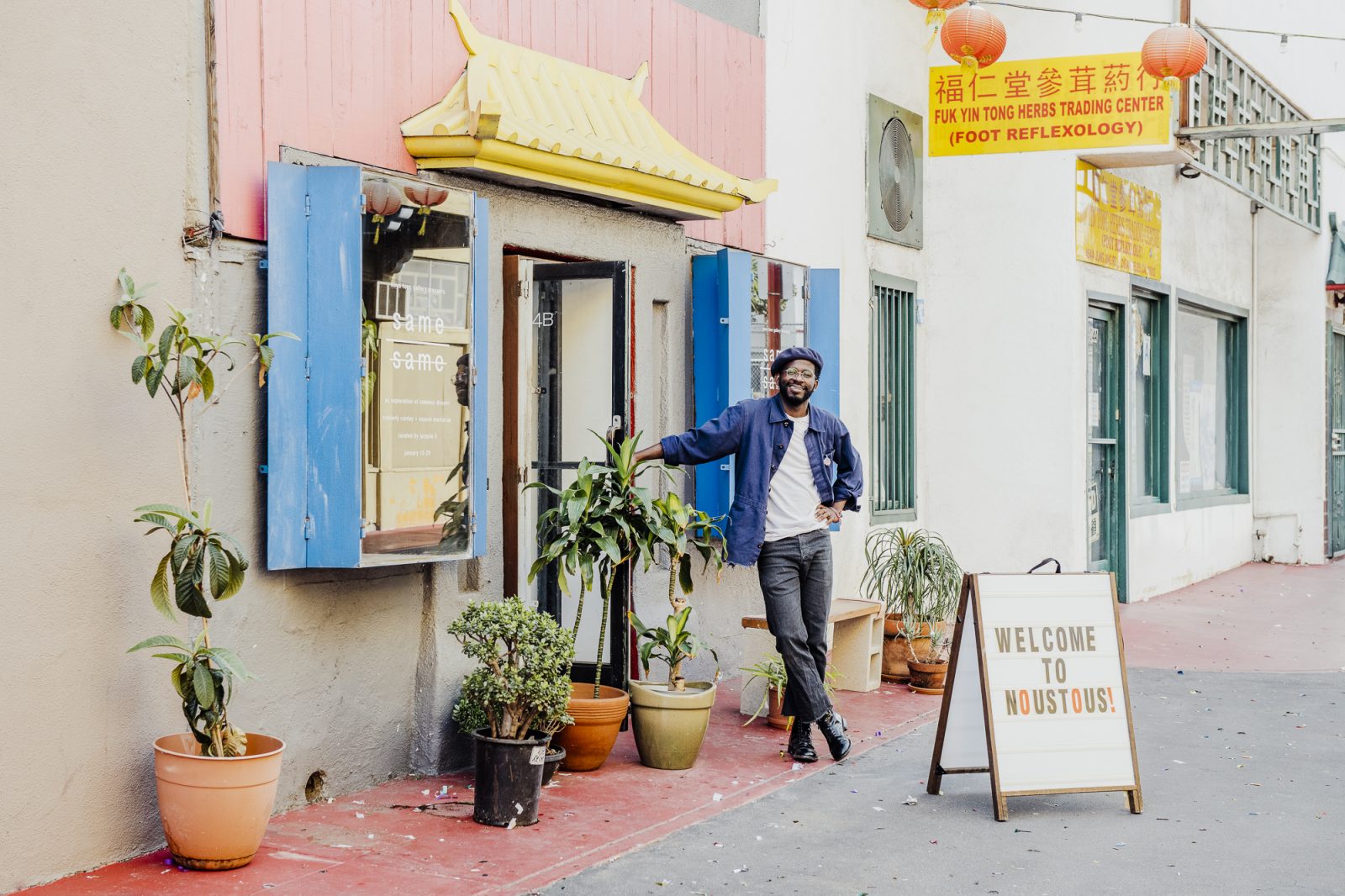 What made you decide to open an art gallery?
I wanted to run this space as a gallery because I felt like the art world is really cutting edge in some ways and not in other ways, and I don't come from an art world pedigree. I'm sort of an outsider to that world, but I really appreciate culture and art. I wanted to create a platform space where different creators could come and self-curate or work with their friends and make something unique, have the support of the space, and not necessarily deal with all of that ivory tower stuff that sometimes you see in the art world. I wanted to make it more casual, but still bring in really interesting work and make it more accessible.
We do art shows that might be up for anywhere from a week to a month or just one night, but in between that time we always have weekly meetings and acoustic concerts and talks that are really about bringing people together and having a place for creatives to share space, experiences, and stories, and actually develop a sense of collective efficacy and shared agency, so we can realize that we're not alone in the world, even though we may be freelancing or working on separate projects.
Do you have people that work with you in the gallery or is this a one-man show?
It's not a one-man show. First of all, everything that happens here is totally collaborative in the sense that, we get inquiries from people that email us and say "Hey, can I do a show there" and we meet with them, but internally there's three of us that either run communications, operations, or act as a program manager. I see myself in charge of maintenance.
We have a show up right now that I participated in, but we are kind of like Society6 in that we provide the space as a curated platform and people can use the space in various ways—they're bringing their work to the gallery. So it's not me telling someone your work is good, or not good, or fits our gallery, or doesn't fit, they're self-selecting if they want to participate with us, and then we ask them questions that help develop their concept. It's a little bit cultivated around the experience and around the programming. So there might be a painter that comes in that says they want to show their work and we might ask them some questions about the basis for their work and the thesis behind it, and then we try to help them build an experience or event that really brings that to life, to give it a sense of more than just a visual piece.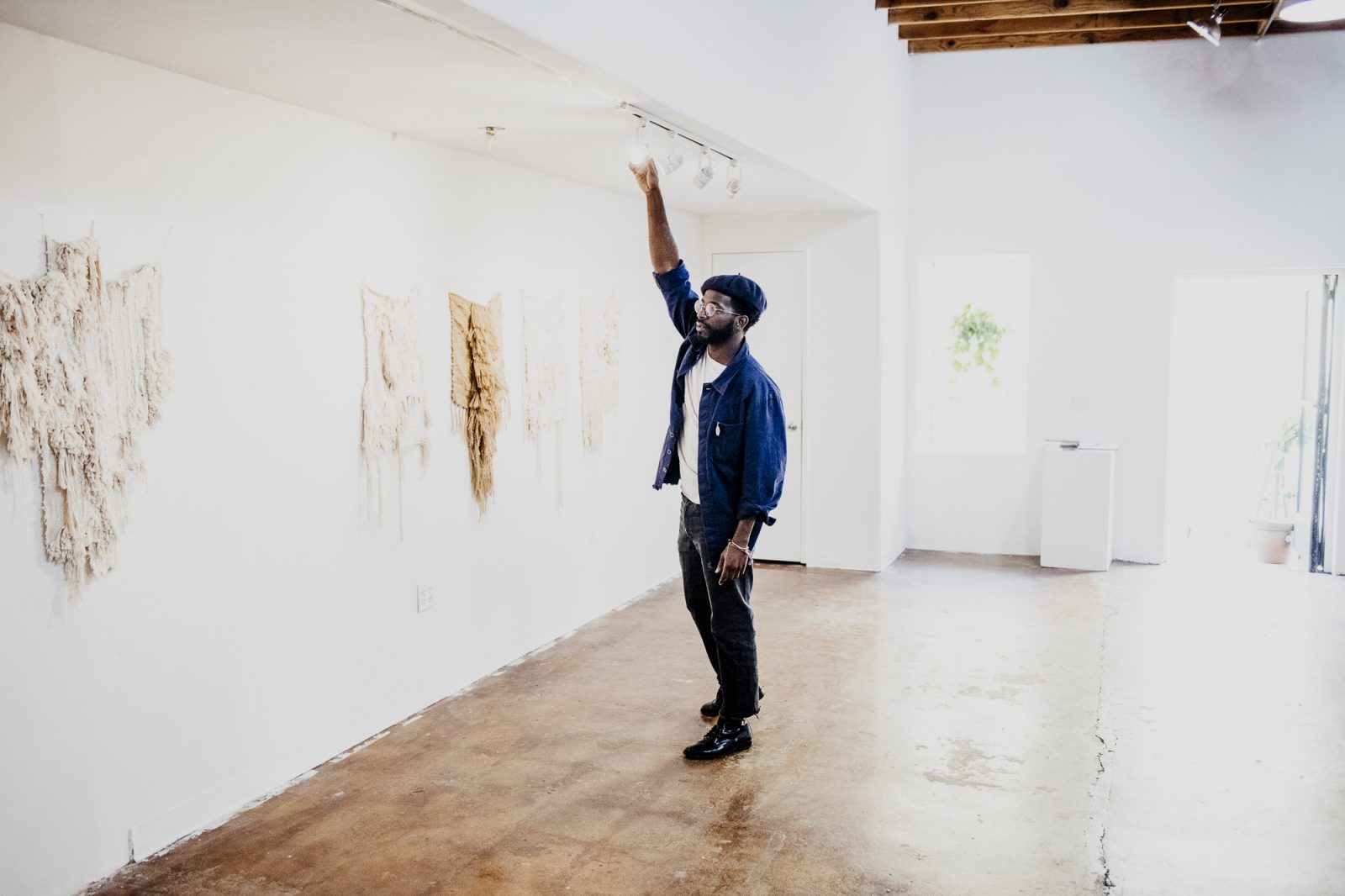 "That's what we try to do here, find that happy middle ground where we honor ourselves as individuals but work together because we know we all have shared struggles."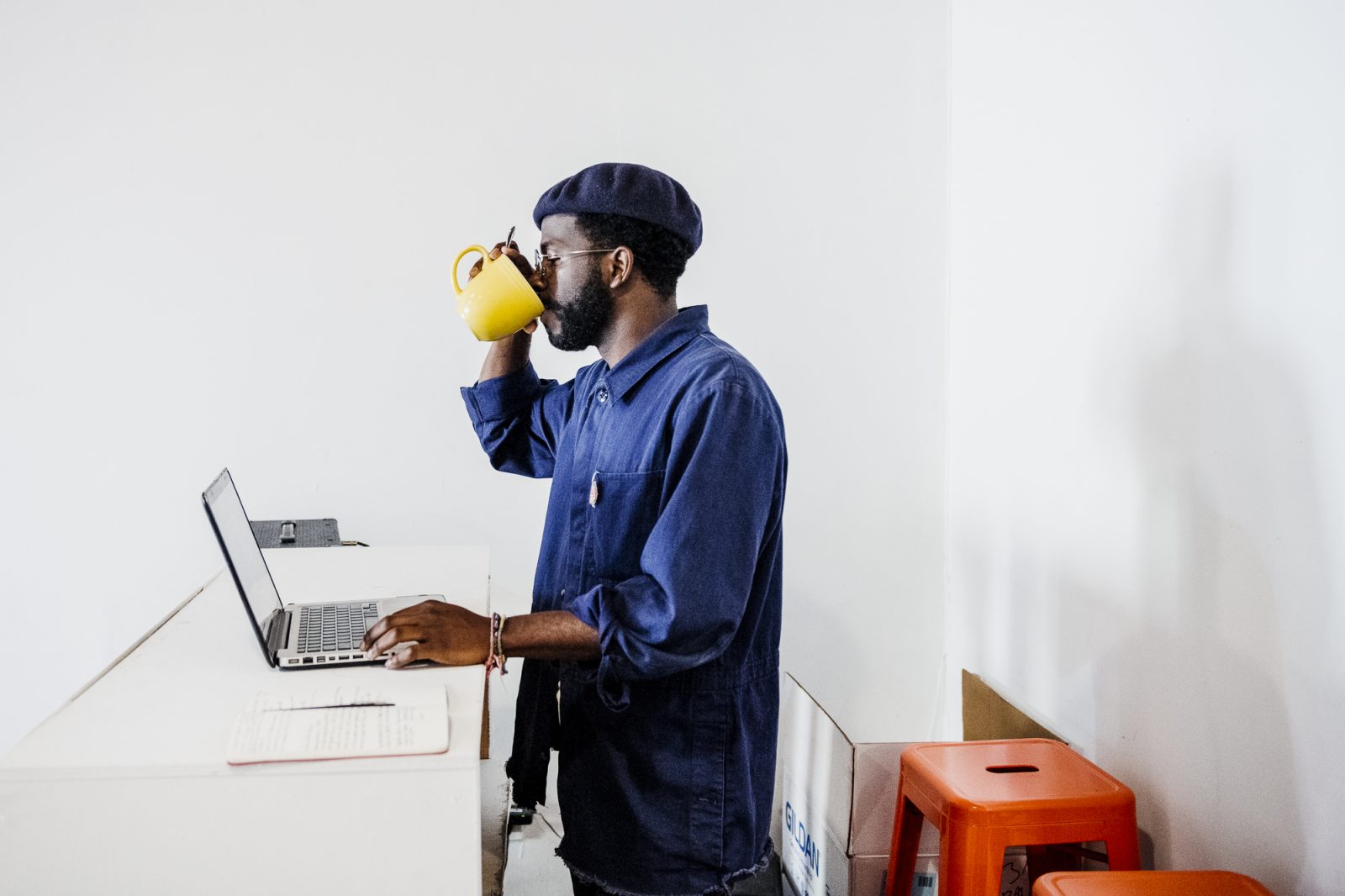 Society6's mission is to help artists get their work out there, and to shed light on how to make a living as an artist. In that vein, how do you choose which artists to feature, what speaks to you as the voice of a space and community?
So we really haven't said no to anyone, but we haven't said yes to everyone. What we do is we ask questions that help clarify the vision for people, and we try to be very clear on our vision, and if there's a match there's a match. If there isn't a match it becomes apparent for everyone. When people come to us and say they want to do a show here, we always make sure to ask, how does your work connect with community or in what ways would your activation bring a sense of community to the space? And that means inclusivity and sharing, not just you delivering your message to whomever shows up, but how can you listen and receive feedback and have engagement with your work.
We either host or rent out the space for shows, and we do our pricing in a way that looks at the core of our mission. If it's dead-set in the center of our mission, we can provide some funding or at least a discount, so it's really mission-based and we try to support the kind of artists and projects that are dead-center in that idea of sharing a community in all of us at Nous Tous.
We're really interested in creating spaces where people can look at art and reflect on themselves, to learn about the art and themselves. So if it's more one-directional proposition, we're probably not even the best space for that.
How does the gallery sustain itself?
The gallery is sustained by the rent of people paying to use the space, and also clients that I take on with the non-profit cultural consultancy that I run, Citizens of Culture, which is centered around using art to develop critical thinking and emotional intelligence, and Nous Tous is a program within that nonprofit.
I also lecture around town based on the principles that run Citizens of Culture, so art, entrepreneurship, and activism. I've lectured at Loyola, La Verne, and I visited Harvard to do collaborative work with the divinity school. So really just how can the idea of community practice strengthen our economies, and create opportunity for people to make a living, and how can arts entrepreneurship and activism strengthen the individual's sense of agency and empower them to make the things in the world that they want to see and become the people that they want to become.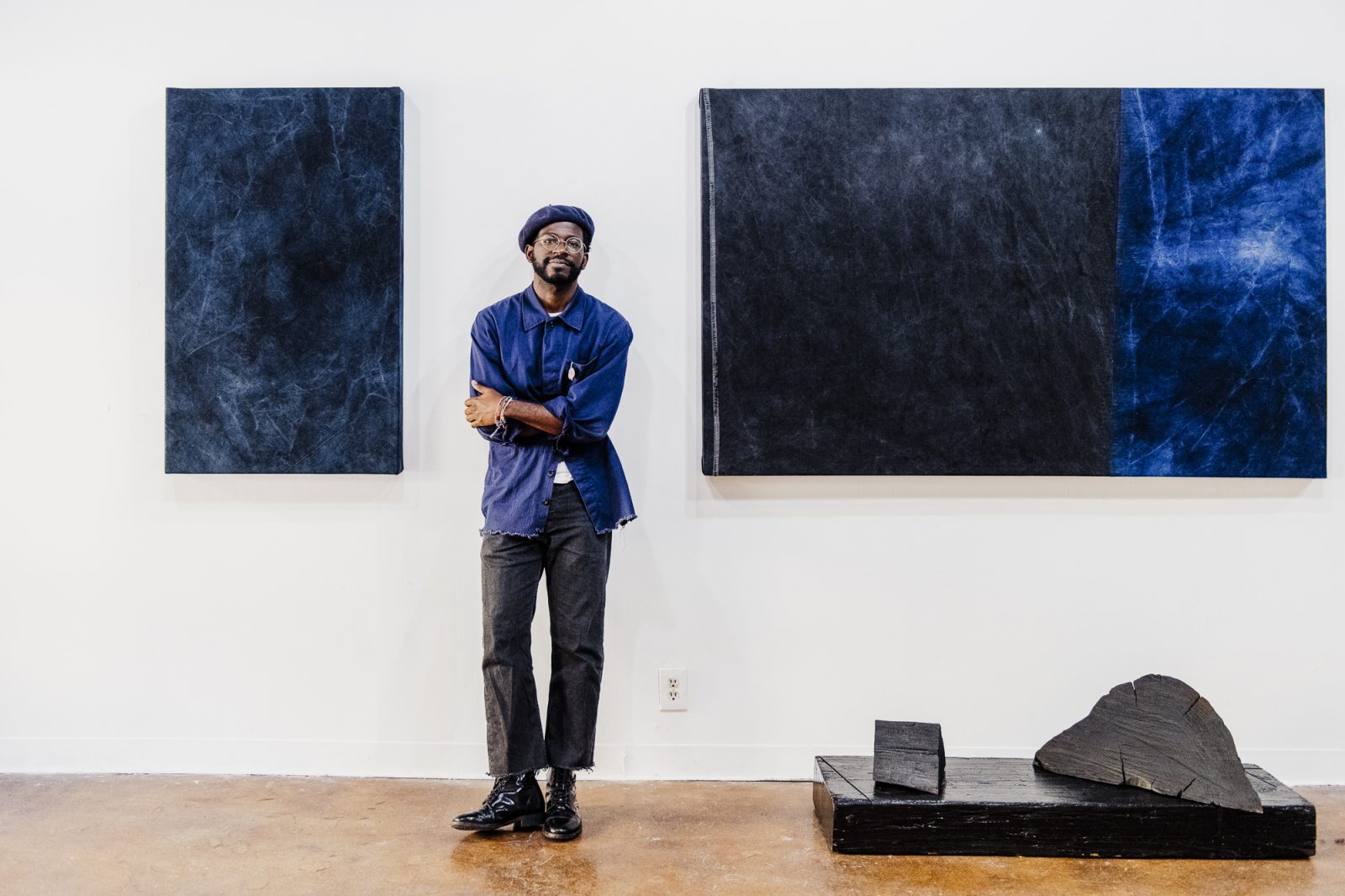 Reveal to me some of your Do's and Don't's for struggling artists.
I would say my DO's are: seek out group shows. The more you can unite with other friends, your costs are lower and more people will see your stuff, so start with group shows. The costs of renting a space are spread across a group. The pricing of our arts events are $50 an hour, it's really affordable but then marketing and materials can add up.
The Do is the opposite of the Don't, don't try to go at things all alone if it's your first time, but work really intentionally about knowing what's important to you before going to your group. That's what we try to do here, find that happy middle ground where we honor ourselves as individuals but work together because we know we all have shared struggles.
Do you have mandates for what medium of art you show at Nous Tous?
No, we've had everything here from smelling art, to acoustic concerts, to performance art, to DJ sets, film screenings, poetry books, signings and release to 'zine parties to collage to potlucks. The medium is actually really open because I think there's a practice for everyone and it doesn't always have to be painting, painting, painting, visual art. Find out what you dig and what you nerd out over and then dive into that. Whatever you're passionate about, investigate that a little bit, and then we can share why it's important to you.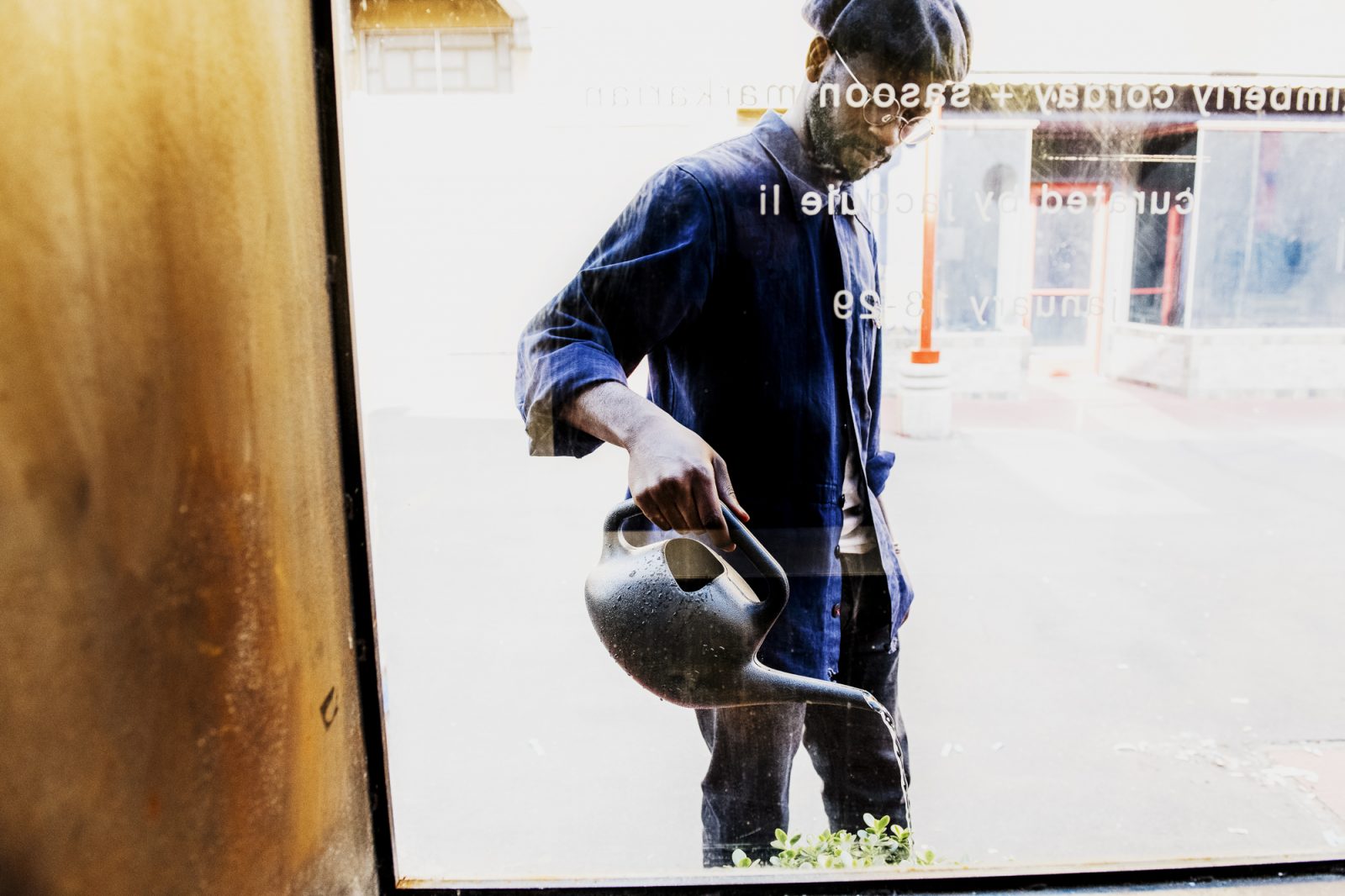 "I want to tell deeply personal stories that resonate at a universal, human level. If you're talking about your experience as a trans person of color, I want to hear about that and I want to take that story unique to you, and not just as the social group that you're a part of."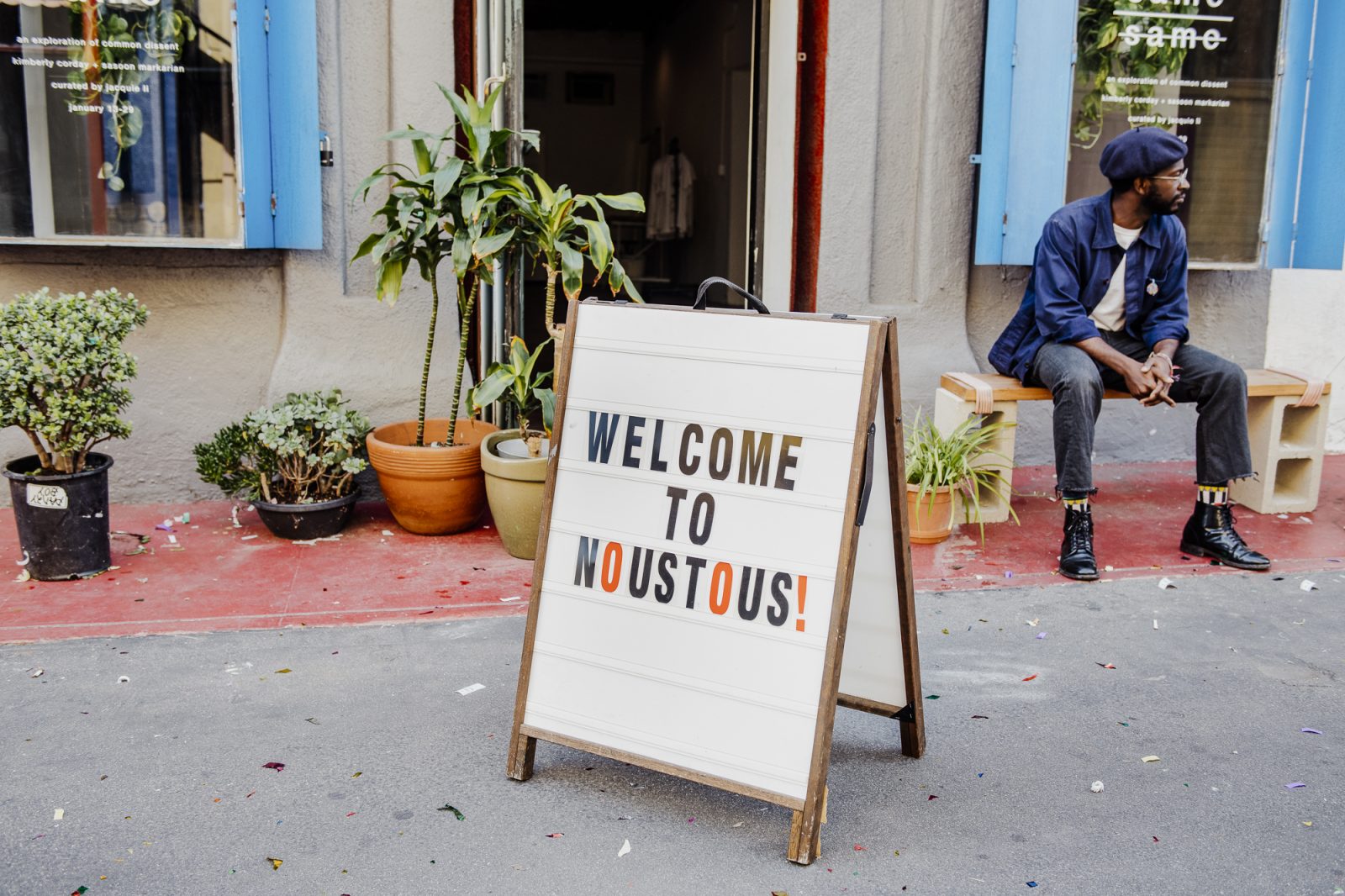 What's your favorite and least favorite aspect of running a gallery?
My least favorite is having to tell people NO. You can't do this because of insurance, or you can't paint the walls that color, for very boring reasons. I hate being that person because it's so not my personality.
What I love is being able to tell people YES—YES we got this sponsorship to help us, and we got discounts on xyz and that makes it cheaper for you. And when I get the chance to, I really like paying people. Here's some money in your pocket to make it cheaper to rent the space or here's some money that you can put in your gas tank, and I'd really like to increase those opportunities to say here's your rent for the month, or 3, or for the year.
What types of stories do you endeavor to tell with the walls of your space?
I want to tell deeply personal stories that resonate at a universal, human level. If you're talking about your experience as a trans person of color, I want to hear about that and I want to take that story unique to you, and not just as the social group that you're a part of. What is your story as an individual, and how does that relate to being a trans woman of color, and how does that expand even further, that's something every human can relate to? The feeling of being an outsider, the feeling of being seen differently than you feel, these are universal things but each person is going to have their own unique vantage point and if we can ride the line between those two things, we get closer to honoring ourselves as artists and each other as people.
What is your day-to-day like as an art gallery owner?
I come in here and I think about what's going on in the world, and what I want to see it look like, and I start from there. And then of course, there's bills. If it's the 28th and I have all the rent, then I'm chillin', and if I don't, then I'm hustling to get it. Financially, the gallery is in my charge.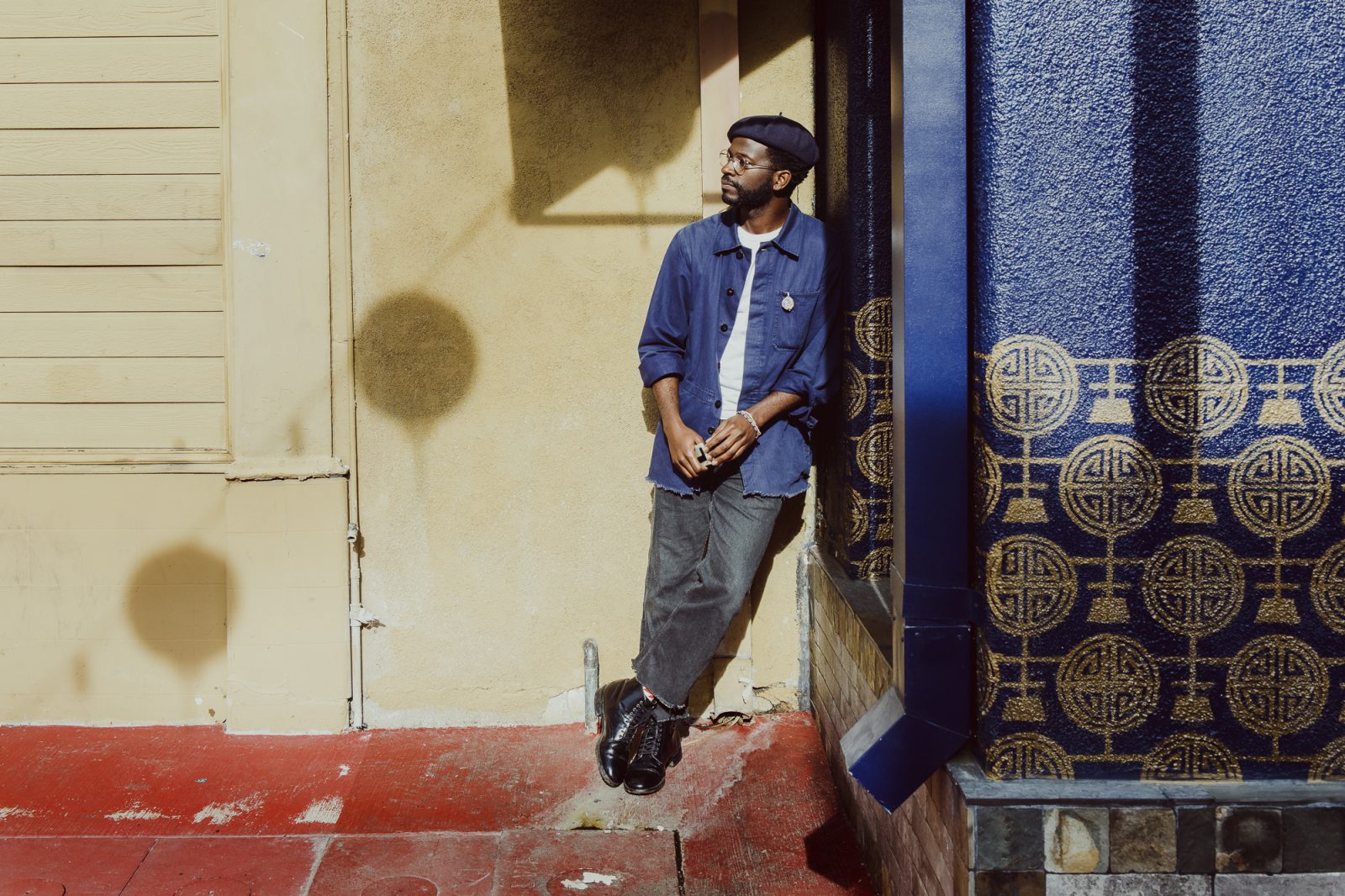 Can you talk to me about feeling responsible to represent Chinatown with the work that you do? What's your engagement with your idea of gentrification in a neighborhood that was typically for immigrants?
We really try to honor our open-door policy so that means if a homeless person comes in the middle of the art show we don't push them out, we give them a chance to look at the art like anyone else. As far as our role in gentrification goes, I attend meetings for our local Chinese American Association, and we talk to the local elderly Chinese residents and engage with them and build relationships with them. I think if you're adding to the existing community then you're going to face a lot less pushback than if you're just trying to take. Like "we just want to use this property and we want cheap rent and we're not going to talk to the people right outside our door?" No, we're going to check out the guys playing Chinese checkers, and invite them in when we have our little potlucks and stuff. I go to the meetings around here and try and participate that way. That actually makes our role in this community a lot more interesting.
Do you feel that you have to struggle to show a collection of diverse artists or do you feel that the people that come to you are already pretty diverse?
It's impossible for me to run around the city and find the most interesting artists, so I sat back and opened the doors and said come to us, it's all of us. The people that walk in the door are from every walk of life. People come to us and say "I heard you let people try things out," and I say yes, that's what we do here.
Maybe Nous Tous is starting somewhere as a gallery, and because we're a young gallery, we work with young artists, and we take a chance on ourselves and so we take a chance on young artists. My hope is that as we grow, we host fewer artists per year but it's no less diverse or exciting, but the shows are bigger-scale.