Lush plants, swoon-worthy dresses and, most importantly, badass women in all shapes and forms make up Ana Leovy's paintings.
The Mexico City-based artist finds beauty in distortion, aiming to celebrate diversity and female empowerment by depicting fashionistas in all shapes and forms. She finds inspiration in her daily surroundings, culture and vivid colors (in case you couldn't tell). We caught up with Ana to talk positive vibes, connecting with people through art and cinematic masterpiece You've Got Mail.
Tell us a bit about yourself.
I was born and raised in Mexico. When I was younger I moved with my parents and siblings to Cancun for a couple years, an event which has influenced me in a huge way. As you can see I love to include tropical elements in my work. I'm a graphic design graduate, however, my true passion has always been art. I did my Master's in illustration in Barcelona in 2016, and that's when it really all started.
When I came back to Mexico City, I was super inspired by the creative people I had met during my trip, so I decided to focus all my energy on creating art. I painted every day for hours trying to find my style. I experimented with different materials and techniques, and went through multiple creative phases. But it wasn't until I started doing fashion illustration and using the female figure as my main character that I felt truly happy with the results.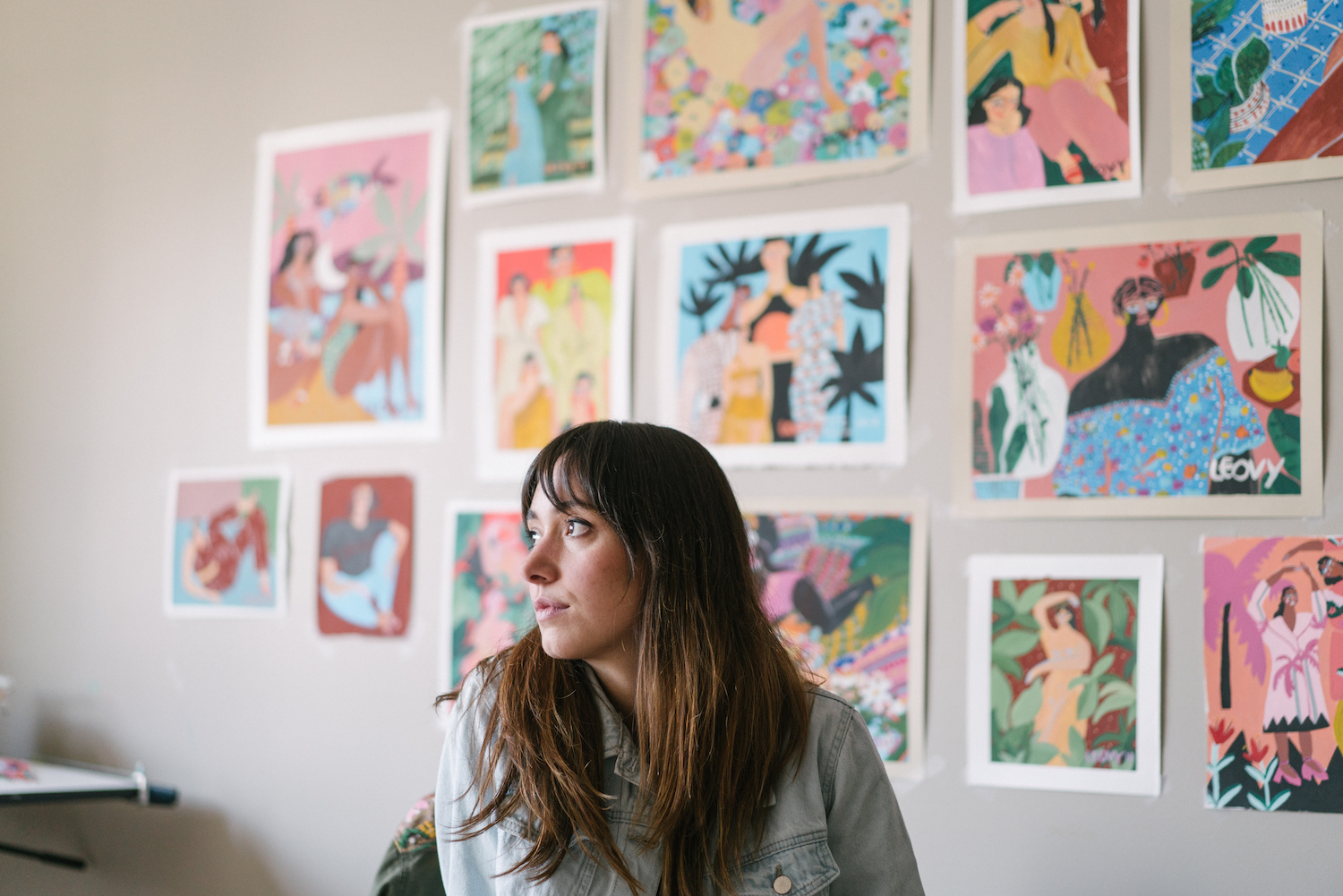 How did your time in Spain influence your art? How does that differ from what inspires you in your native Mexico, if at all?
Spain was a turning point in my career because I was doing graphic design before that, and it wasn't until I lived in Barcelona that I really got the courage to pursue a more artistic path. So in a way, Spain inspired me to become an artist, whereas Mexico is a continuous source of inspiration for my work. I try soaking in everything around me: culture, colors and diverse surroundings.
Where is your studio? What do you like most about your neighborhood? 
I am currently based in Mexico City, but will be moving in the next couple of weeks to Cancun to be near my family, which I am very excited about, but I am sad to be closing my studio in the city.
What I'm gonna miss most about my current studio is the space, light and silence. Also the weather here is great, so we´ll see how it goes once I move to the Caribbean and sweat all day long as I work!
Part of the reason I am moving is because I am not that fond of the location of my current workspace. It is great on the inside but it is in more of a residential area so there are not many interesting spots around. I am definitely looking forward on finding a new studio that allows me to get new inspiration.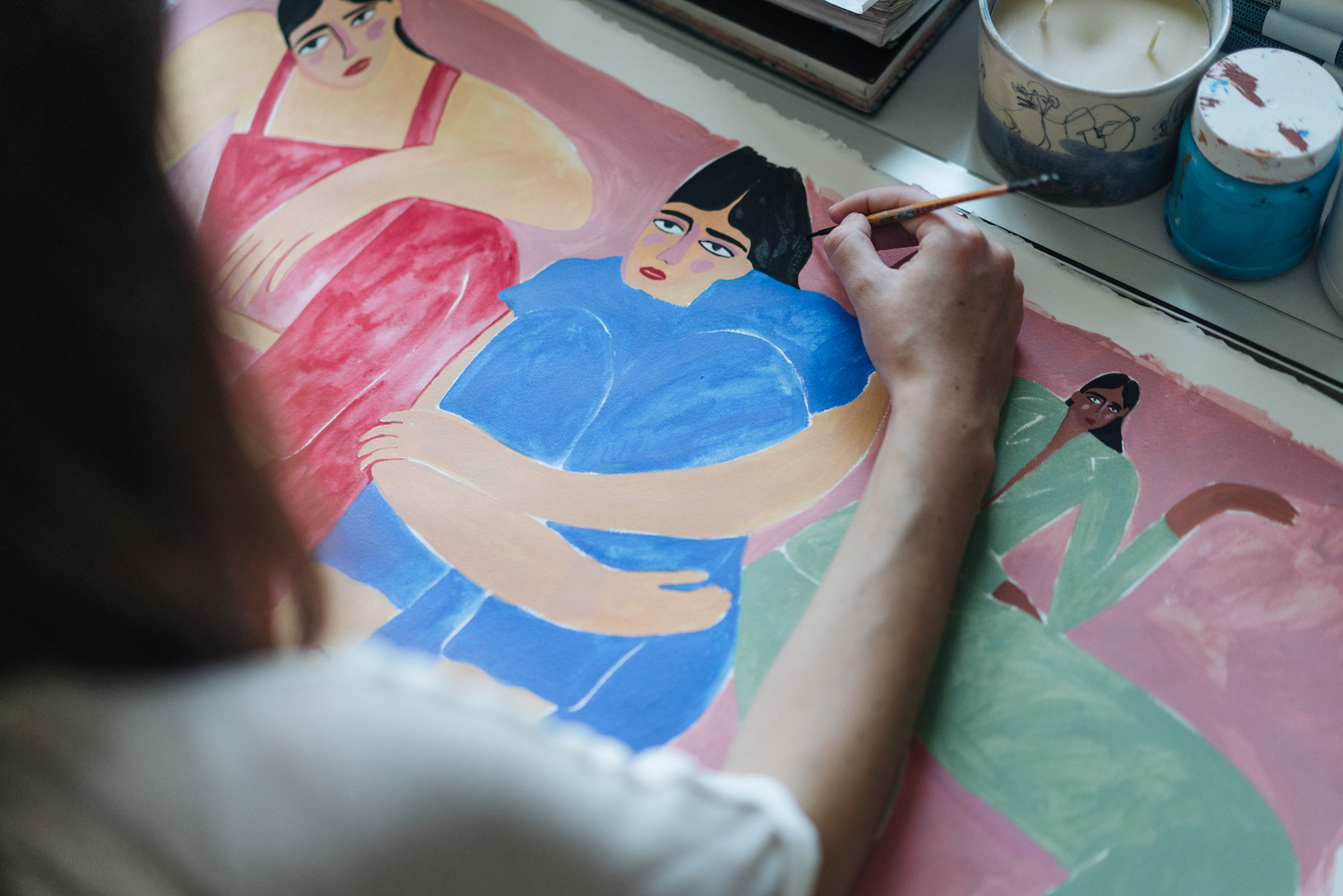 What is your art routine? How do you get inspired on a daily basis? Do you listen to music while you work?
I like making every day as different as possible since I am not a huge fan of routine, but I do try to be consistent work wise and paint for at least 4 to 8 hours a day, depending.
After exercising, I go straight up to my studio around 9 am and start either sketching and doing some research for new pieces, or continue working on a particular artwork. Before painting I like making sure I have the right environment: a clean studio, comfy clothes, lots of light, fresh air and a good playlist.
I do listen to music while I work– the genre varies on my mood but I am a folk rock fan so it could go somewhere in the lines between Simon and Garfunkel, Mumford & Sons or I go completely pop and put on some Selena Gomez, haha. When I'm not in the mood for music I play Friends (which I know by heart) so it doesn't distract me, or a chick flick like You've Got Mail (my personal fave).
Whenever I feel stuck on a certain work I like taking a break and going out for a walk, getting a coffee or shopping for plants. Seeing other people is really helpful for clearing my head. I try taking little notes of what I see– a special color palette, a quote or phrase I heard… anything helps!
What message do you hope your artwork sends to the viewer?
What I love the most about art is how it can speak so differently to everyone, so even though I wish to send messages of self-love, equality, friendship and women empowerment, I am just happy when people feel the good vibes and enjoy seeing my work as much as I enjoy doing it. ;).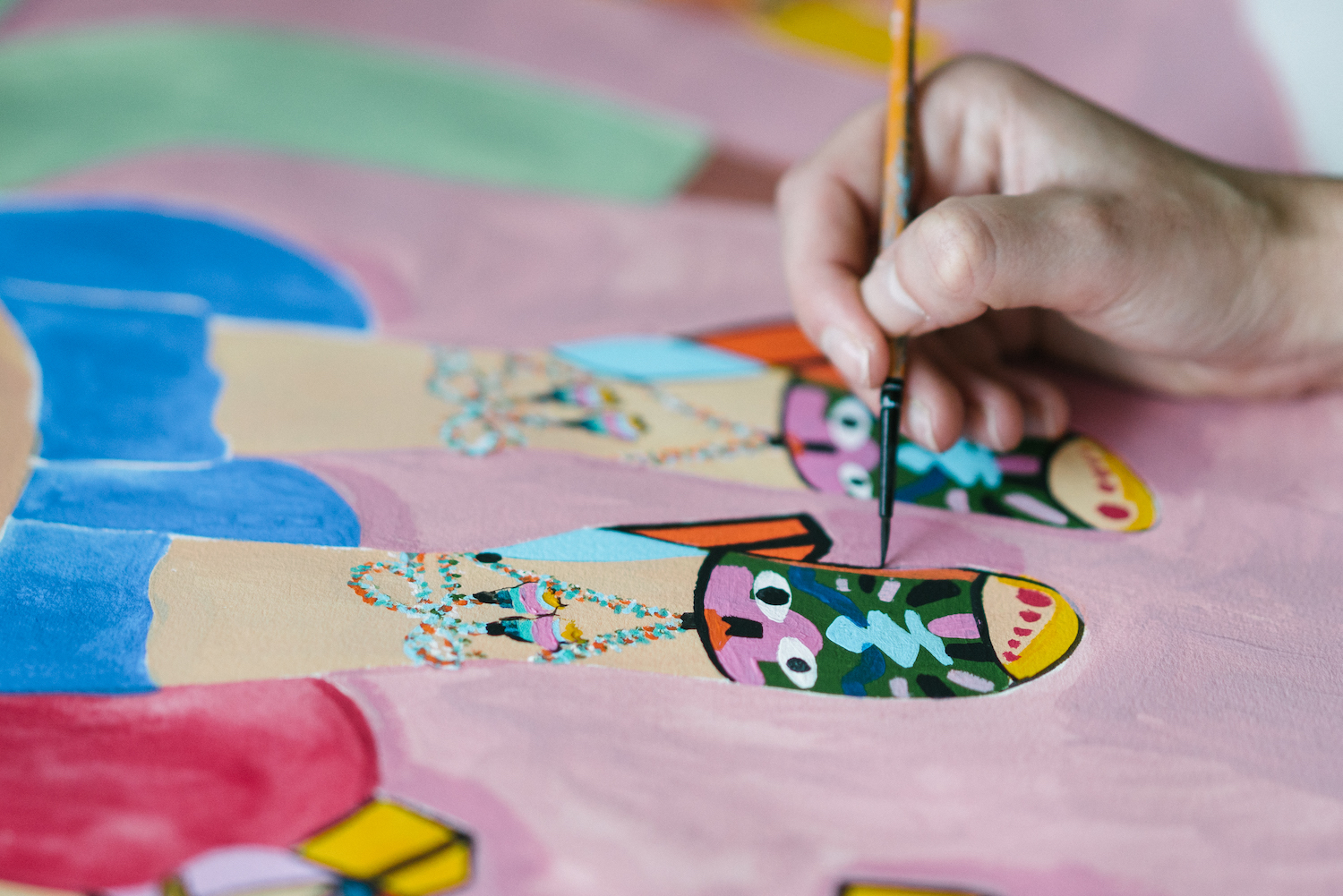 Fashion plays a large role in your paintings. What draws you to fashion? Who are your favorite designers, and do these ever influence your work?
I've always loved fashion and as my subjects needed clothes it seemed like a great opportunity to merge both worlds, ha! But on a serious note, I find fashion very inspiring because clothes can say so much about who we are and how we feel. It's fun for me to play dress up with the women in my paintings. It sort of defines their personality.
There are many current designers I adore and of course they're always a great source of inspiration to my work, such as Mara Hoffman and Del Pozo to name a few. They always have stunning collections and their art direction is amaaazing!
The women in your works are different than those you typically see in the fashion world. Is that intentional, and what do you hope to accomplish by showing this diversity?
I wanted to stay as far away as possible from what we typically see in the fashion world because in reality, we all come in different shapes and colors, which I think is so much more interesting. I want to celebrate diversity and maybe help people embrace their uniqueness through my work.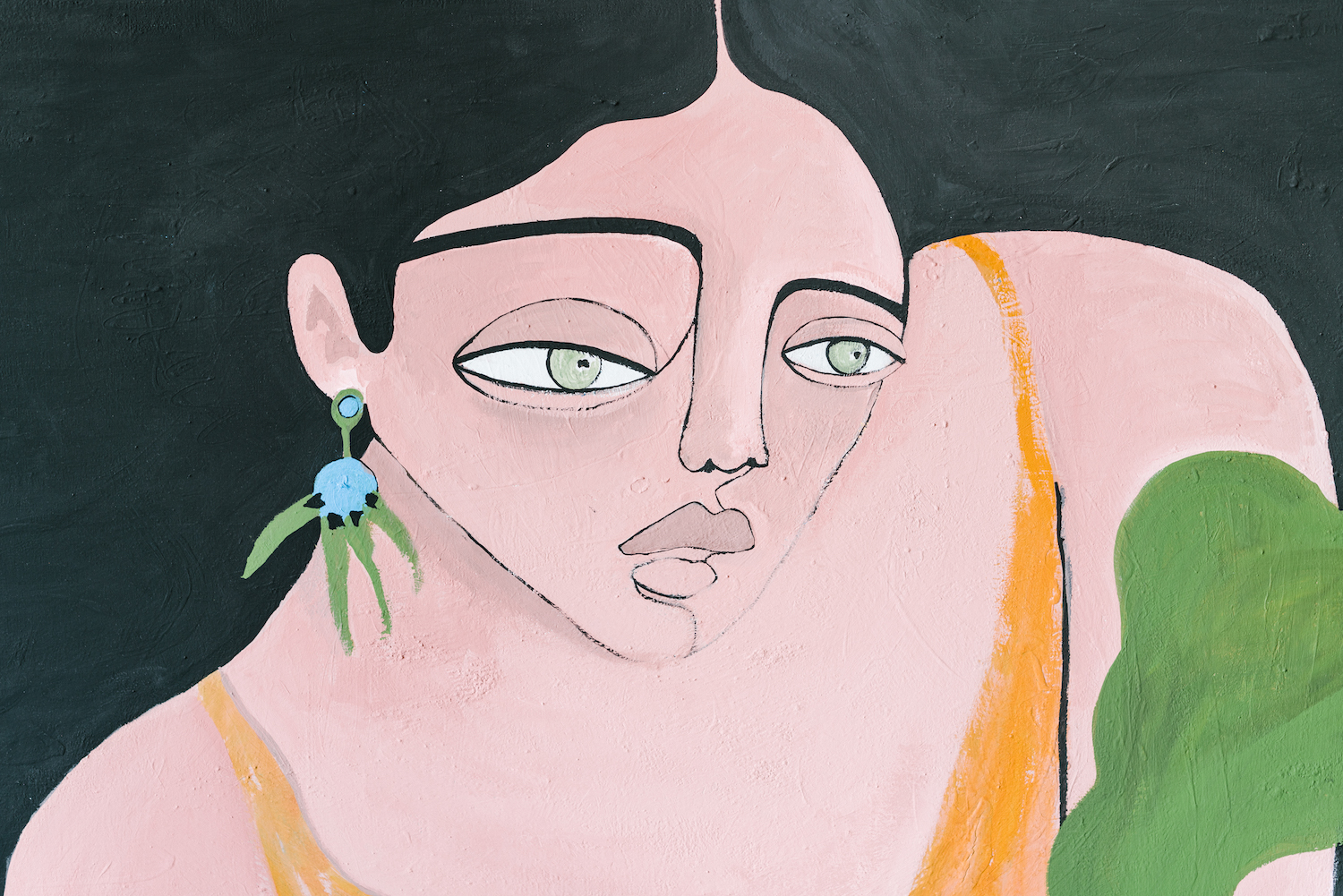 Did you always focus on depicting the female form? How did that come about? 
I like playing with distorted bodies in order to avoid falling into any specific beauty category. I think it's important to encourage diversity; my work isn't about creating beautiful people, but trying to send a message of self-love and empowerment. What I like most about portraiture is that I get to create a bond with other people who may find a connection to my work.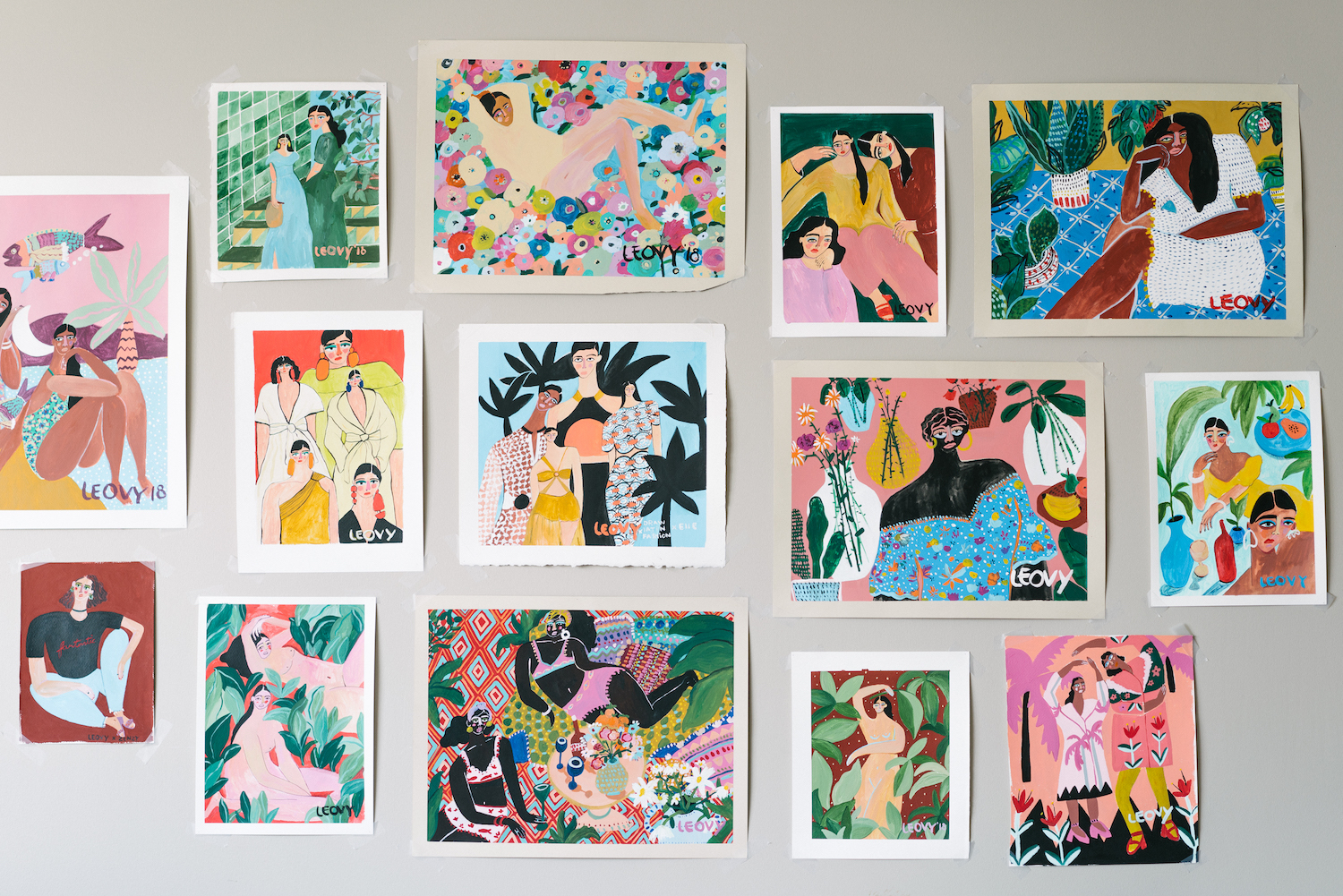 Your works are very fluid and evoke those of the expressionist and fauvist movements. What inspires you about these movements?
I particularly love how the use of bold colors portrays emotional angst, the distorted forms and unrealistic perspectives, especially in Matisse's work. I like how he could project a mood within the pictorial space with simplified forms and colors that weren't necessarily true to the natural world.
Tell us about your relationship with color. Your works are very bright and vivid– where does it all come from? 
Color is everything, and choosing the palette is my favorite part. I love letting myself flow and see what comes out. I think color is definitely sort of a personal journal with my mood swings. I also find it interesting how even when choosing "happy colors," such as yellow for example, the painting itself doesn't necessarily transmit happiness.
You're a woman of many talents, working with ceramics, jewelry, stationary and clothing. Which medium feels most at home for you?
I think part of being creative is exploring different surfaces and materials. Although I try experimenting and learning new techniques, I am currently more focused on painting, since it is what I enjoy the most. When I was doing all those other things at the same time I was feeling overwhelmed and was not enjoying the process at all.
I saw your #pimpmyjacket project on IG, where you create customized hand painted denim jackets. Can you tell us a bit more about that project?
It all started as a game one day. I was about to throw away an old jacket but I stumbled upon textile painting and decided to have some fun. It wasn't intended to become something for sale but when I uploaded a photo of my jacket, people were interested and started asking for one, so I thought it would be a cool way to give old jackets a second life.
So far I've done around 20. I don't do it often because I get wrapped up with other commissions, but this project is always fun because I like clients to get involved in the process and make sure we make their personality stand out. We discuss color and specific elements they may like to include, but other than that I am in complete creative control.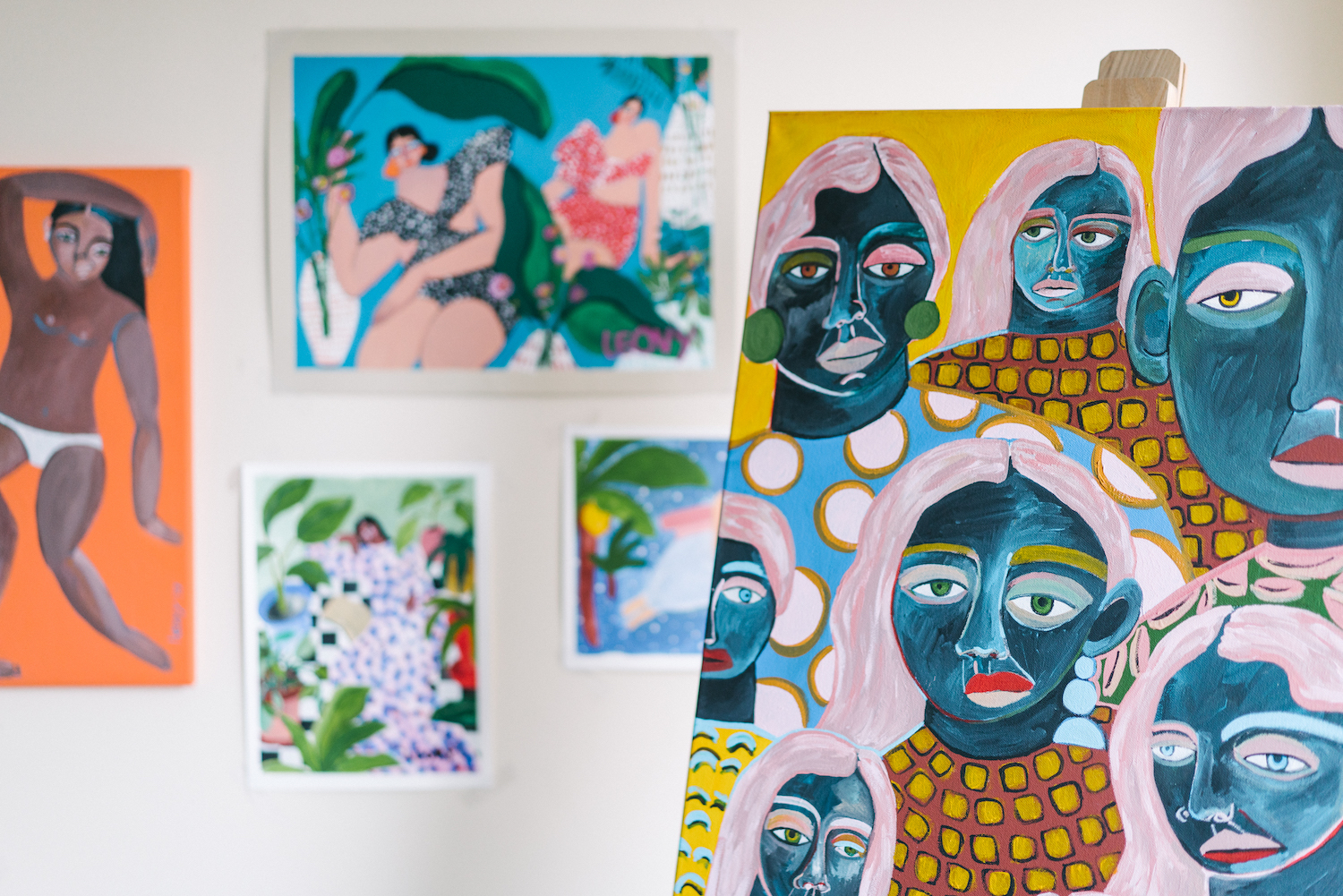 What has been your proudest artistic moment thus far?
Being commissioned for an artwork by Women's Health Magazine was amazing. The story was very powerful and was based on responses to Candy Changland's "Before I Die" public art project, which prompts people to share what they´d like to accomplish before they pass. I was very lucky to be part of it. But honestly more than the projects on their own I absolutely adore making people happy through my work. It's so special when a client shows their appreciation after receiving their art piece– it somehow connects you to people you'd never imagine.
What is the most rewarding thing about being an artist?
Aside from being extremely relaxing and something I REALLY enjoy doing (it doesn't feel like a job at all), the most rewarding thing is getting to connect with people all around the world. There are tons of amazing artists everywhere and it is so easy to get overwhelmed or discouraged, so when someone you don't even know sends you some love and appreciates what you are doing it is THE BEST feeling.
What projects are you currently working on? Anything else in the works?
I am working on a couple of private commissions, which is always exciting because I get to meet new people and the entire experience is very special.
I am also working on a new series for an upcoming exhibition, I will keep you posted on that, but I am super happy about this! 🙂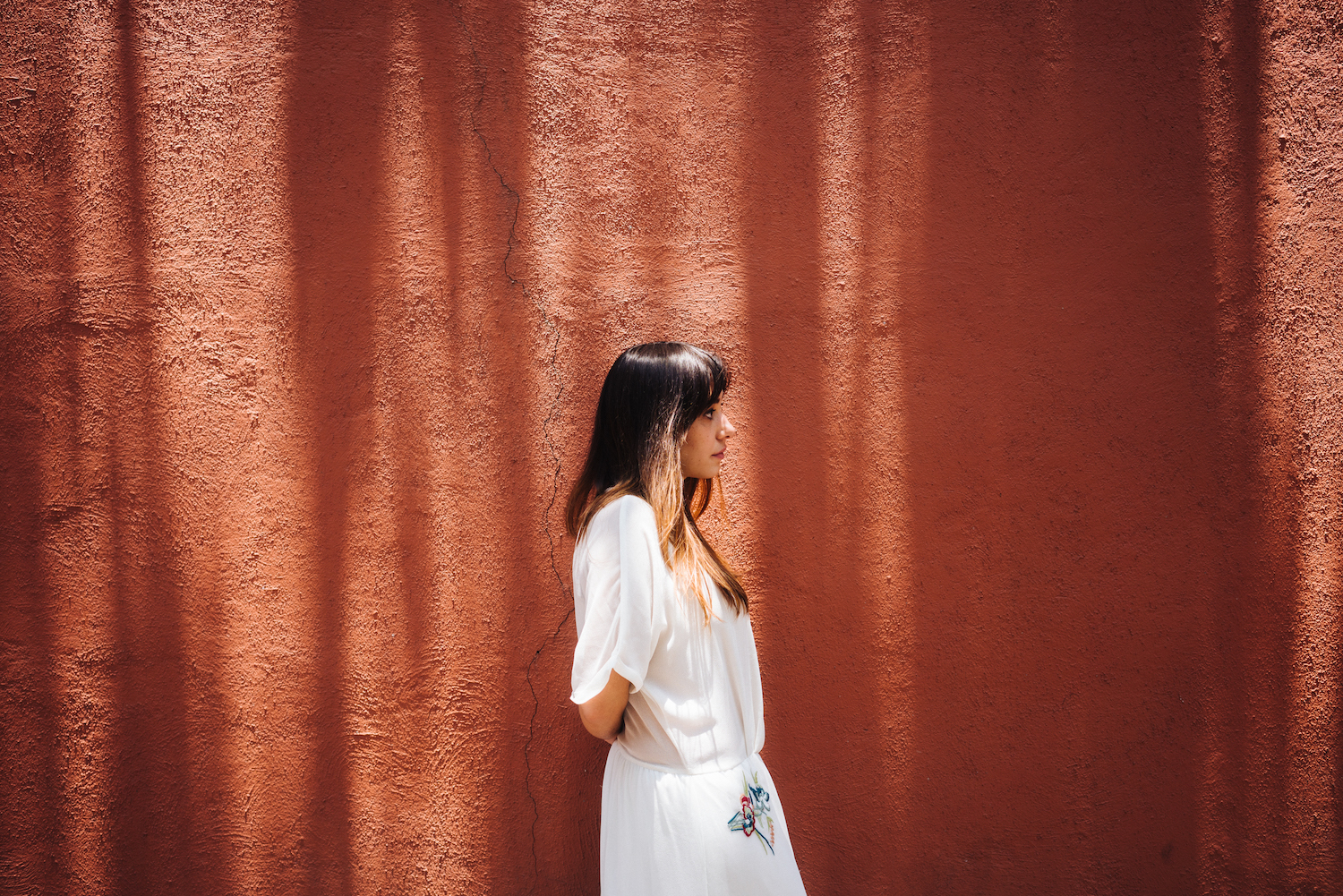 Bohemian Dreamin' Wall Tapestry
Flower Field Throw Pillow
Rosie Assoulin Framed Art Print
Jungle Dance Throw Pillow
The Power of a Woman Phone Case