Maggie Stephenson's plant-filled paradisiacal works transport us to another place.
The Florida-based artist and illustrator was born in Poland, raised in Germany and now lives in the US–an experience that has, without a doubt, sparked a love of travel and appreciation for the diversity around her. Monstera leaves, a vibrant color palette and women living their best lives lend her works a lush, bohemian feel we can't get enough of. Here, we caught up with Maggie to talk travel, inclusivity and the struggle of achieving the plant aesthetic without a green thumb. 
Your work gives off permanent vacation vibes. Where are some of your favorite places you've traveled, and how do you incorporate those inspirations into your paintings?
That's a tough question. Every place I've ever had the pleasure of visiting holds a special place in my heart for different reasons. As far as beauty is concerned, it would have to be Italy. I used to love visiting my family in Northern Italy, not too far from Venice. There's nothing quite like it. Everything seems to have a warm glow to it: the beautifully detailed cobblestone streets and bridges surrounded by palms, cafes on every corner, sunbeams glowing wherever you go. It's beauty in its simplest and purest form, comforting and peaceful at the same time. You're lost in time and space. It's really the ideal state of mind in my opinion, which I try to incorporate in my paintings.
You were born in Poland, raised in Germany and moved to the US at 18. Does the experience of living and growing up in different places impact your works too?
That's probably true. Having moved a lot, I never truly feel at home anywhere. I'm always looking beyond the place where I currently am. It's like an ever-present wanderlust, wanting to explore and experience new places and sights.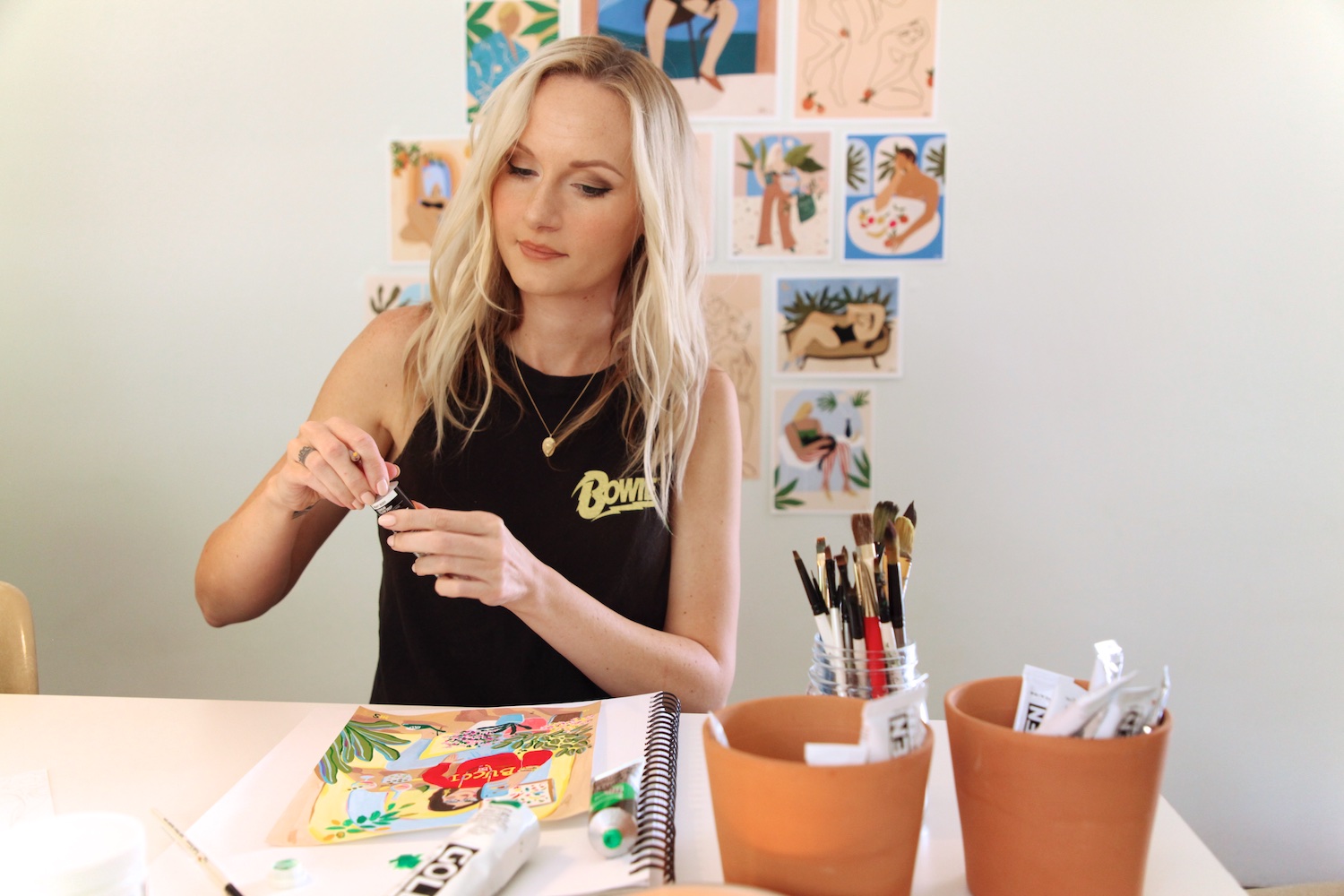 One thing we love about your pieces is that you really focus on showcasing women of all colors. Would you consider your work to be feminist, and can you speak to why inclusivity is so crucial to that end?
I want to live in a world where we can appreciate the beauty of our similarities and our differences, a world where we aren't told what we can or can't do. Rights and opportunities should never be determined by race or gender. I feel like we have a duty to challenge the restricted expectations on how people, especially women, should look and behave. Equality, inclusivity and unity–a simple concept which somehow seems so difficult to obtain.
Many of your works feature the sun, moon and stars or refer to them in their titles. What significance do these celestial bodies hold for you? Do you feel we are connected to them on a deeper level than one might think?
There's something fascinating about them. I'm not quite sure what it is. The way they are ever-present, seemingly floating in the universe, effortless and strong, graceful and humble at the same time. They hold the perfect balance.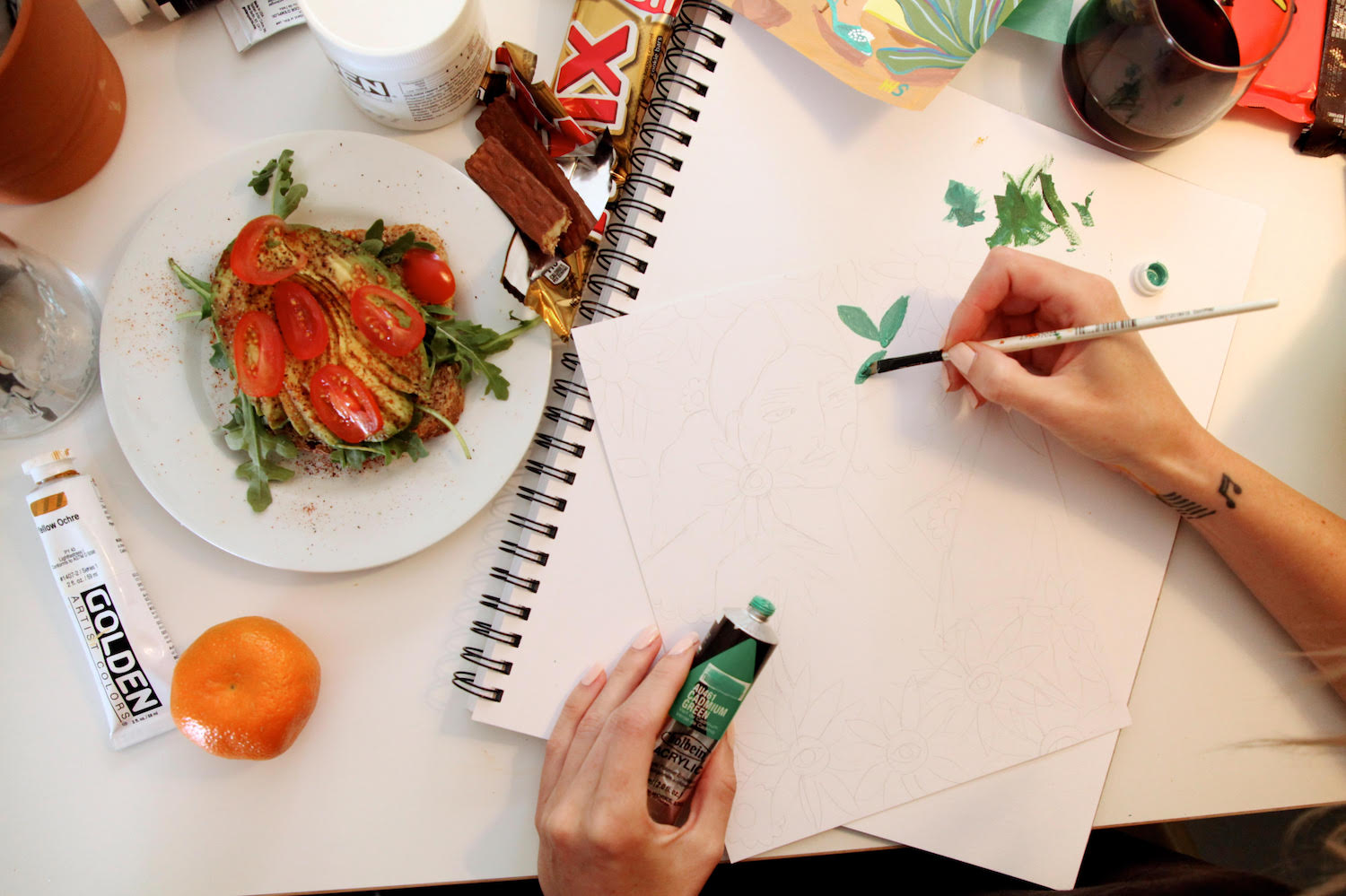 I always do a deep dive on Instagram when I'm putting together these interview questions and I couldn't help but feel uplifted after looking at yours. In addition to sharing your work, you post a lot of motivational and inspiring thoughts, encouraging people to pursue their dreams. Why is developing this community of support and positivity important to you? Do you have any advice for people who might feel a little stuck on this path?
Developing a community of encouragement and positivity is so important to me. I know what it's like to feel down and stuck. The more people I get to know, the more I realize that we're all struggling with insecurities and troubles of some sort. What saddens me is how many people don't talk about it and feel completely secluded because of it. In a world where perfection is glorified and faked, I want people to know that it's alright to be unsure of what's next. It's alright to not have it all figured out. Let the difficulties run their course, talk about them, reach out for help if needed. And sooner or later you will come out with all the troubles behind you.
You also repost photos of your work in collectors' homes, which seem to be plant-filled spitting images of your works! What's the best thing about seeing your pieces in the wild?
It's complete bliss to see my paintings in their new home. The fact that someone would go out of their way to get one of my works and include it in a photograph humbles me beyond words. I always hope that the happiness I feel in that moment is something the owner feels when they glance at the painting too.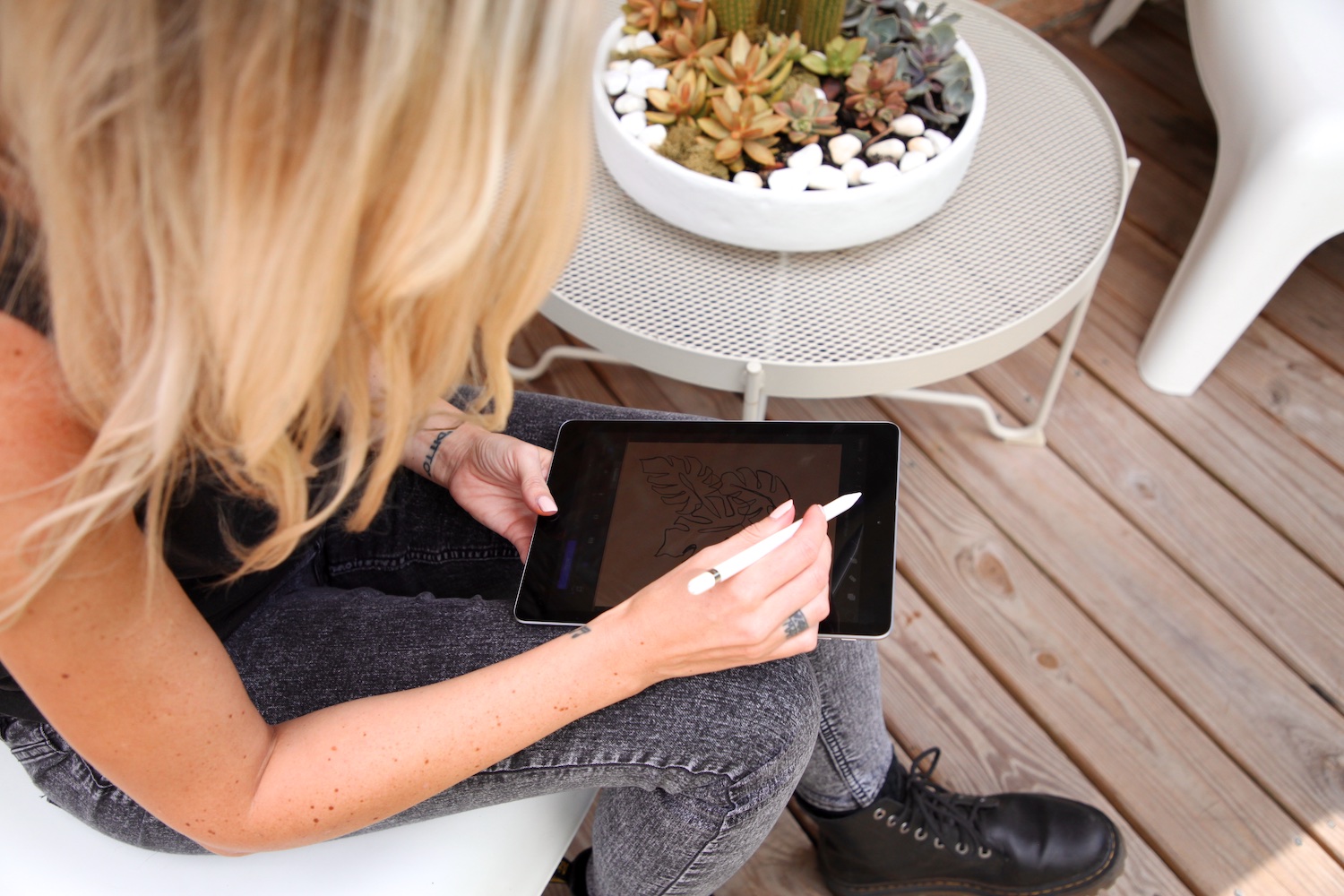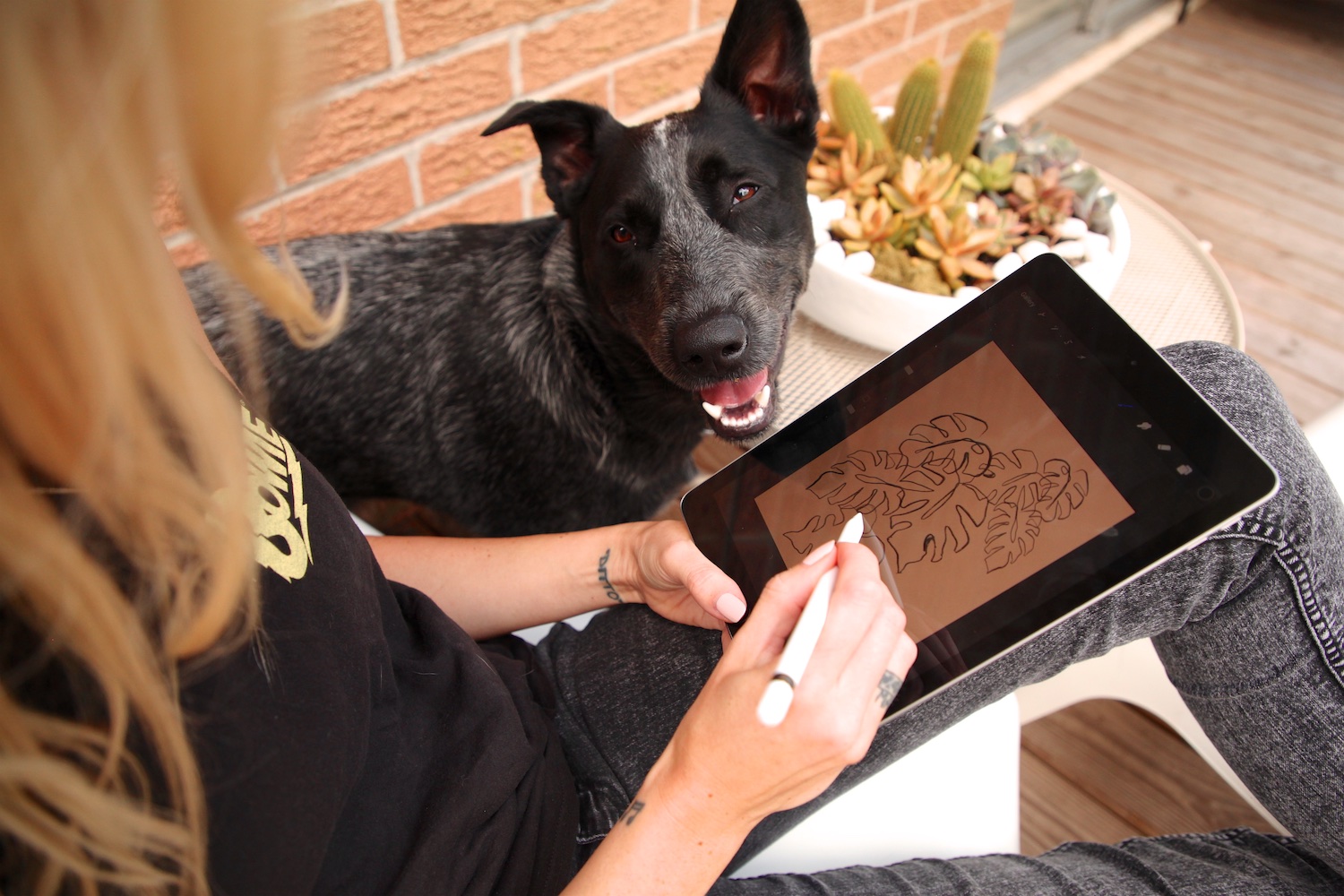 How did you get started painting, and at what point did you consider yourself to be an artist?
I've been painting for as long as I can remember. But the moment I started to paint with purpose was during a time in my life when self doubt and insecurity were most prevalent. Everyone around me knew what they were doing and where they were going. And here I was, unsure and defeated, feeling as if there was nothing I was good at. I remember thinking "If I could just find one thing I'm good at and enjoy doing, that's what I will do." Art was the only instant thing that came to mind. The next day, I began to paint.
Who are some artists, creatives or even other creative mediums that inspire you and why?
Hundertwasser, Matisse and Picasso. Their use of color, lines and shapes is something that deeply resonates with me. Writer Oscar Wilde and singer Leonard Cohen, for their thoughts and use of words. Queen, because the music transports me and creates imagines in my mind. My friend Jeanne Batten, The Anti Bride, for her incredible photographic skill, flower arrangements and use of color and light.
Can we talk about all those plants now!? Which is your favorite to paint? And is your own home similar to those lush interiors we see in your works?
Plants just bring life to everything, don't they? It's very hard for me to leave a painting without some sort of greenery. Any kind of tropical plant, palm leaves and monstera are my favorite to paint. The lush green with the soft curved shapes are so fun. I hate to even admit this but I definitely don't have a green thumb. I try but no matter the effort, many plants have unfortunately died in my home which is why I mostly stick with hard to kill plants, such as snake and ZZ. So far so good. If you can recommend any others, let me know!
Those plants also lend your works an undeniably bohemian feel. Does the boho, free-spirited mindset come through in your own life at all? Are there any words you try to live by and would encourage others to do the same?  
I believe they do. I live a simple life really and don't have any wise quotes or smart words I live by. Just do what feels right and gives you contentment. I like an uncomplicated, stress-free life. Coffee in the morning, outings with my dog Lady, some painting, time spent with loved ones, a good conversation. That's my kind of  free-spirited, easy life. Find what gives you balance and peace and pursue more of that.
We are Eve Framed Art Print
by Maggie Stephenson
$54.99
Shades of summer Throw Pillow
by Maggie Stephenson
$29.99
She who loves summer Art Print
by Maggie Stephenson
$30.99
Cabana girls iPhone Case
by Maggie Stephenson
$35.99
We are the sun, the moon and the stars Wall Clock
by Maggie Stephenson
$31.99
Summertime harvest Serving Tray
by Maggie Stephenson
$39.00
And then we saw the sun Wall Hanging
by Maggie Stephenson
$32.00
Under the mango tree Poster
by Maggie Stephenson
$19.99