The February artist playlist is here! Each month we're asking one music-loving artist to create a custom playlist of their favorite songs to jam out to as they create.
This month, we enlisted the help of Chris Bigalke aka Showdeer. His musical taste is as cool and psychedelic as his work so take a listen and check out our chat below!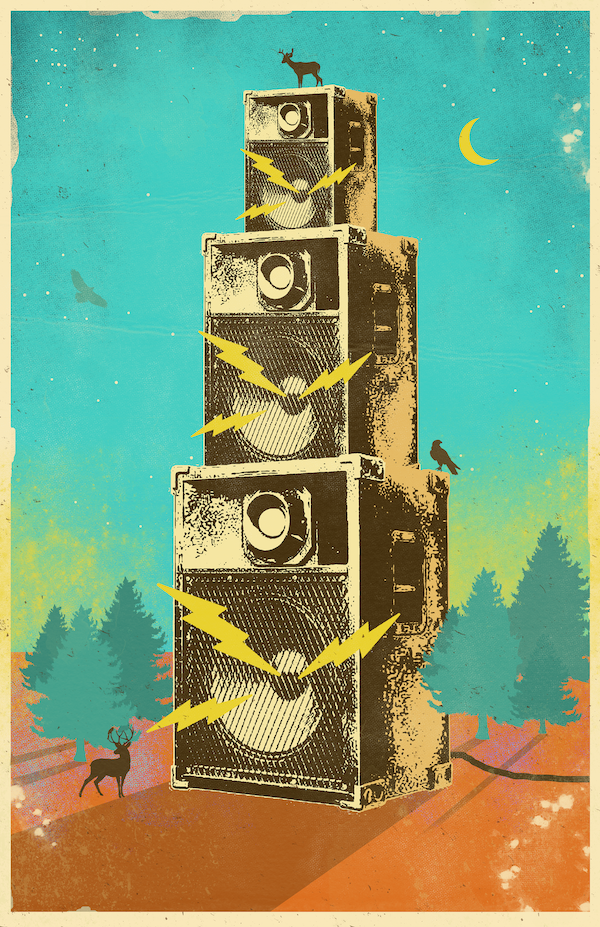 Introduce yourself and your work!
Hello! My name is Chris Bigalke and I'm an artist working with acrylics creating large scale paintings. I also create digital designs and illustrations which I have in my Society6 shops under my moniker Showdeer and full name.
Could you tell us about the playlist you put together? 
Thanks for asking me to make this! It was fun.
This past year or so I've mainly been listening to podcasts while working. They are generally long and the conversations tend to suck me in so hours pass while working and keep me productive. Music overall though, not only greatly influences my work but helps spark my creativity—especially if I feel a little lazy or uninspired to make art.
I put together this playlist featuring music that inspires and influences my work. It also dives into harmonies and sounds that create emotions and connect with the subject matter and style in the art I'm making. It's stuff I listen to while working, but also you could listen during the day doing anything—an eclectic mix of old and new indie, shoegaze, experimental and psychedelic stuff. It's music to get you to dive in, get introspective and keep working.
What song or artist do you have on repeat recently? 
Although not on this playlist because the full albums are great, I listen to Tame Impala constantly, especially the first two albums, while working, running or doing just about anything. Also, all albums by The Sea and Cake.
If your art were a music genre, what would it be?
That's a great question! I would personally say it would be something like Psychedelic Indie-Pop?
How do you describe your musical taste?
I like anything that resonates with emotions I'm feeling or thoughts I'm having, which usually relates to nostalgia, being introspective, feeling bliss, positivity and anything psychedelic, weird, ethereal, experimental, ambient and shoegazey.
What part does music play in your creative process?
Generally a very big part unless I'm just grinding away for hours listening to podcasts or Radiolab. I feel like music and making visual art, especially painting, are sister art forms. They both tap into that flow and feelings you have deep down that are sometimes unexplainable.