Earn more by offering your customers a deal available exclusively through you!
Artist promos are an excellent way for you to incentive customers to visit and purchase exclusively from your shop. Now that you have more flexibility in what your shop looks like, this is a great way to get customers familiar with your product offering.
We have a handy link builder that will be made available as soon as the promotion goes live. It's really easy to use and we explain it below.
What savings can you offer your customers?
Visit s6.co/promos to see if there's an active Artist Promo happening now.
What is an artist promo?
Your artist promo is a special offer or discount on your products available exclusively through you. You have a unique link or code you can promote your shop with. 
How do I create my artist promo?
Visit https://society6.com/account/promo to use the promo link builder. The link builder will only be accessible when an Artist Promo is live on the site.
The link builder helps you create a shareable link that includes your promo code. If anyone clicks through via your link, the promotional offer will automatically be applied at your customer's checkout. This tool is a helpful way to create as few clicks between a customer's first show of interest (their first click) and the purchase confirmation at checkout.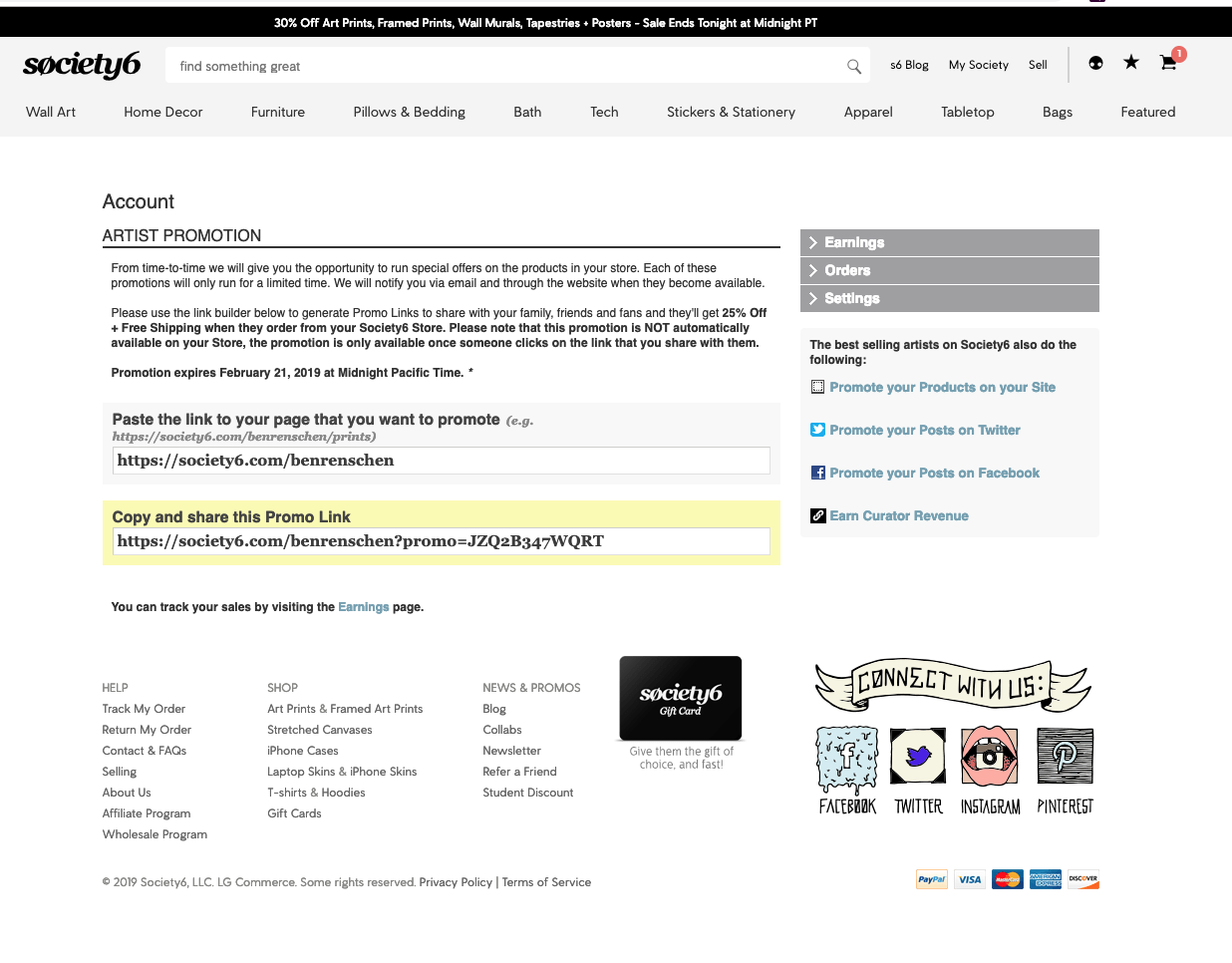 Go to your shop and filter by any department or product type via the left rail. Copy and paste that URL into the top field of your link builder. The link builder does not work on individual products.
Share your newly generated link. You can take that link and post to a blog, instagram, facebook, pinterest, email, or any other digital channel you see fit.
What if you just want to share the artist promo code?
You can do that too! Go to your link builder. The numbers and letters appearing after ?promo= is your unique, shareable code that can only be used on items in your shop. Customer must apply your code at checkout.

If you have any questions about your Artist Promo, details will be posted at s6.co/promos.
Featured artwork by Fitcola