Alexandra Bowman is a multi-racial, multi-cultural, and multi-medium artist who blends identities and passions create her work.
We got a chance to speak with her about life in Oakland and the meaning behind her work—read on to find out about journey navigating the space between spaces and carving out places for herself and others.
How did you become an artist?
I've always been an artist. My mother and my grandmother were both painters so I grew up in a very creative household. I knew I wanted to pursue art as a profession from a pretty young age and both of my parents were extremely supportive. My dad would drive me to figure drawing classes every weekend and my mother and I would collaborate on paintings.
I went to the Art Institute of Chicago, and studied drawing and graphic design. After graduation I moved to the Bay Area and started to build relationships with local artists and entrepreneurs needing illustrations for various projects. When I started out, I took every job that I could and my freelance business started taking off from there.
What is the primary medium you work in?
I primarily use gouache or watercolor, acrylic, pen & ink or digital mediums. I have many different ways of creating visuals, depending on the vibe I am going for. No matter what, I love being able to see evidence of something hand-drawn, even if it's just one stroke or texture.
How did you end up with Society6?
I was actually referred by a friend who was selling photography on the platform. It's been an amazing experience so far, there are people tagging me on Instagram on the other side of the world that have my work printed on their pillow cases and coffee mugs. It's really an indescribable feeling to be supported like that.
What does making art do for you?
Making art is my therapy, it's when I feel most at peace. It gives me clarity to reflect and meditate on things that are going on in the world and in my own head. It's not only the act of drawing that excites me but the entire process. The act of planning for a piece, researching, conceptualizing, creating, and knowing when to stop and accept the creative decisions you've made along the way. The physical and emotional act of art making is a struggle for the balance between establishing control and relinquishing control, as is life.
At what point does the viewer come into your mind while you are making work?
I always have the viewer in mind whether it's at the beginning or the end of my process. However, my work is very personal to my own journey. I'm hyper-aware of representation in our society and know all too well how destructive it can be not to see yourself shown in art and media. I grew up in a biracial household and struggled with the idea that I am two races. It took me a while to understand that I can be my own person and define my own identity apart from the boxes and stereotypes that society wants you to fit into. Much of my work is inspired by my problem with how society incorrectly represents women of color or fails to represent them at all.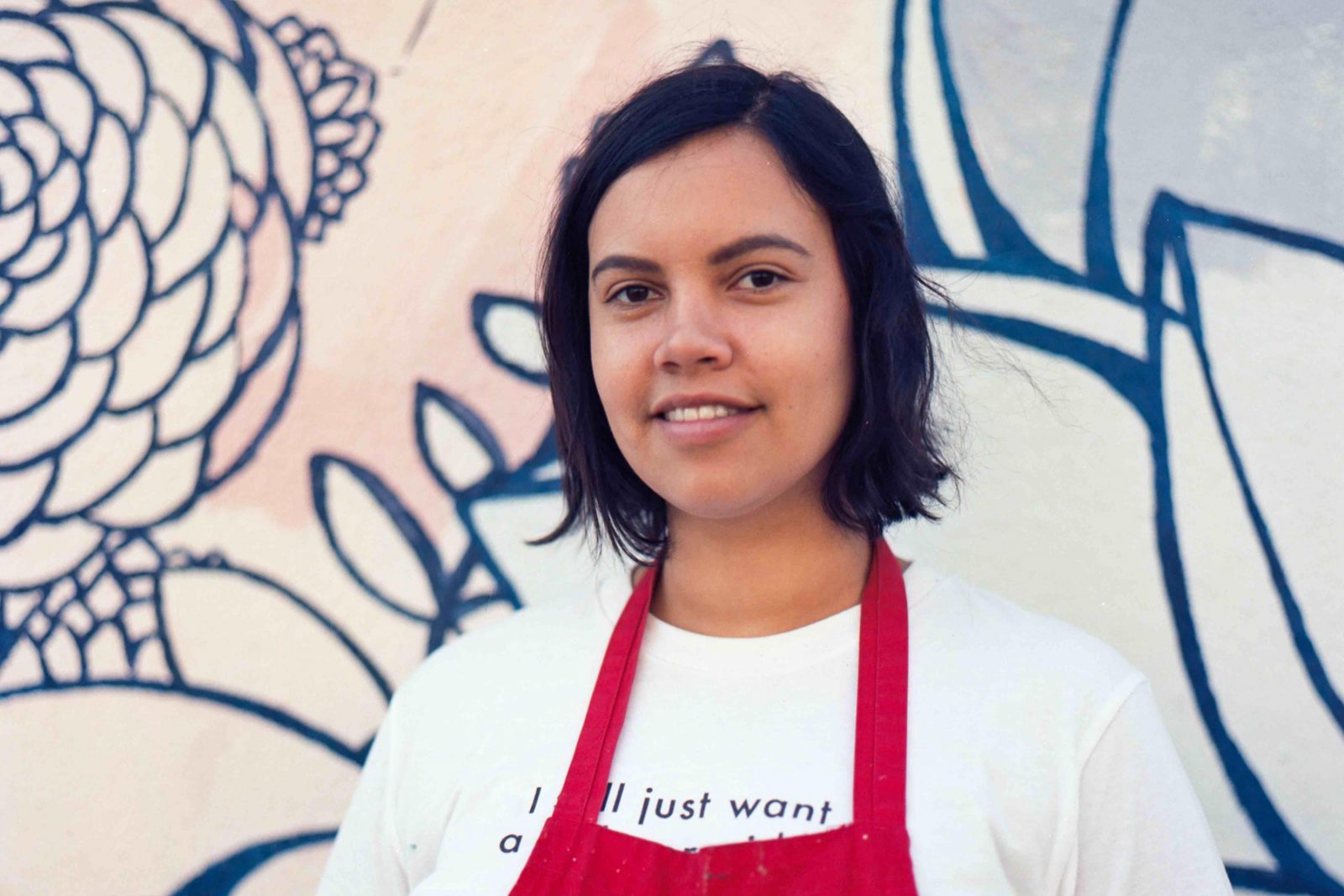 How is that received?
It goes back to why I create art in the first place. I am making art for different identities but I am also continuing to explore my own. I have had clients that ask me to "lighten skin tone" or "add more white people." At first, I was shocked by the audacity, not only as a woman of color but as an artist. But when it continued to happen frequently the shock subsided. It's situations like this where I am grateful that i've reached a point in my career where I have the financial stability to make art that I feel connected to and/or turn down jobs I am uncomfortable about. I must remain true to myself and my beliefs. No amount of money or job is worth losing your self-respect.
On that note, do you have any advice for younger artists about when to turn down work or make a compromise?
I would say, be brave. It's easy to talk about beliefs and social issues with friends or peers, it's a different story when it's a company who is helping you pay your bills. I am super lucky to have a full time job as a graphic designer on the side which allows me to be confident about voicing my creative opinion to my freelance clients.
So you are protecting your ability to create freely to by having your livelihood separate to some extent…
Yes, I have a nine to five, and I work on freelance afterwards so my art practice and livelihood are quite separate for the time being.
Do you like that split?
To be honest, my goal is to have complete creative freedom one day and make my living entirely off my illustration business. However, living in the Bay area has its costs, so for now I am making the two job hustle work.
Who are some peers or people who have influenced you over the years?
My old roommate, dear friend and performance artist Puppies Puppies. We lived together in Chicago and would talk for hours about art history, the identity politics of being mixed and dreaming of one day getting paid to create work that would inspire young people. Puppies puppies is ahead of their time, and a true visionary. Brilliant, creative, beautiful and a true inspiration to me as a person and as an artist.
If you could travel in time, where would you go and why?
I would love to travel future to see if and when the world progresses, and to also it would be so cool to casually fly to space! You know, just go to Saturn for the weekend. If I were to travel into the past, it would be the 1970's to spy on my parents, who I love dearly, to grab a beer and hang out with them as young people.