Ever feel like your decor goals are way bigger than your wallet?
Writer, director and DIY-er Dylan Silver knew this feeling all too well, but with some artistic inspiration and a little ingenuity, she revamped her LA pad all while sticking to a realistic budget. And now, as the host of HGTV's new Snapchat original series You Wish You Lived Here, she's sharing her decor savvy to help millennials update their spaces on a dime. We caught up with Dylan to talk her process, LA vibes and finding interiors inspo in all art forms. She even shared a few wise tips to keep in mind while decorating on a budget. Check them out below!
Hi! First off, tell us a little about yourself and what you've been up to lately:
I'm a (ready for it?) actress, writer, host, comic, director, DIY-er, the list goes on. As the host of HGTV's new Snapchat original series You Wish You Lived Here, I have the total pleasure of helping millennials remodel their homes, with some celebrity inspiration, for under $1000. The show reminds millennials that the place of their dreams is a totally feasible thing, even on a budget, which I love! That aside, I directed my first documentary over the summer, am currently writing my next feature film and am developing a few other shows I'm secretly very stoked on. Getting back into stand-up as well. Also doing laundry before the pile reaches so high I can't see my chair anymore. So busy, clearly.
What is your approach to decorating your own space? 
This year was the first time I really had a space to decorate. The approach was, first and foremost, patience. Of course I wanted the studio to be a dream pad right away, but I didn't know exactly what that "dream pad" looked like nor had the means to buy anything and everything in one go. After some initial self-criticism, I chose to be sweeter to myself and love the position I was in; lean in to my given circumstance and enjoy the process of building a place slowly. I love pieces and decorative elements with intention and working without a timeline. Having said that, I did make sure to fill the place with friends and flowers and food. For months we all had a killer time chilling on my floor.
When it comes to aesthetic, I'd say I'm constantly blending functionality with warmth and invitation. For example, in my space I'm often writing, so I think about what gives me inspiration, what feels good to look at when I lift my head from the computer or when I come home at the end of a work day. I love wood, plants and music. I know typically designers start out with an overall color palette or theme in mind, but for me, especially on a small budget, I felt doing that would prevent me from personally feeling free to just go for whatever I liked. I trust that it'll all somehow blend together, and it almost always does. And even if it doesn't, that's just more of your personality coming through.
Where do you go to get inspiration? 
Music. Films. Museums. Old photos. Books. I find that going out and seeing art, in any form, helps to ignite inspiration. In both high or low moments, any kind of art helps brings me back to the level of "Stop taking everything so seriously! Look at this lovely thing! You're fine! Keep going!" Also, giving back. Whether that's time to a friend, family member or someone you don't totally know, the energy of human connection garners huge waves of inspiration, I find.
Do you feel that living in Los Angeles has affected your own personal style? 
I think living in Los Angeles permitted me to step into my personal style fully. In NYC and D.C., where I was prior, it often felt like there was a dress code of sorts or code of conduct I should seek to abide to. I love the welcoming offer Los Angeles provides; that if you are your authentic self, whatever that looks and feels like to you, you can let it radiate and like-minded wonderful people will gravitate towards you and your taste. The entertainment industry out here can seem burdened with a level of scrutiny, but again, I think authenticity always wins and if you're owning what feels good, you're golden.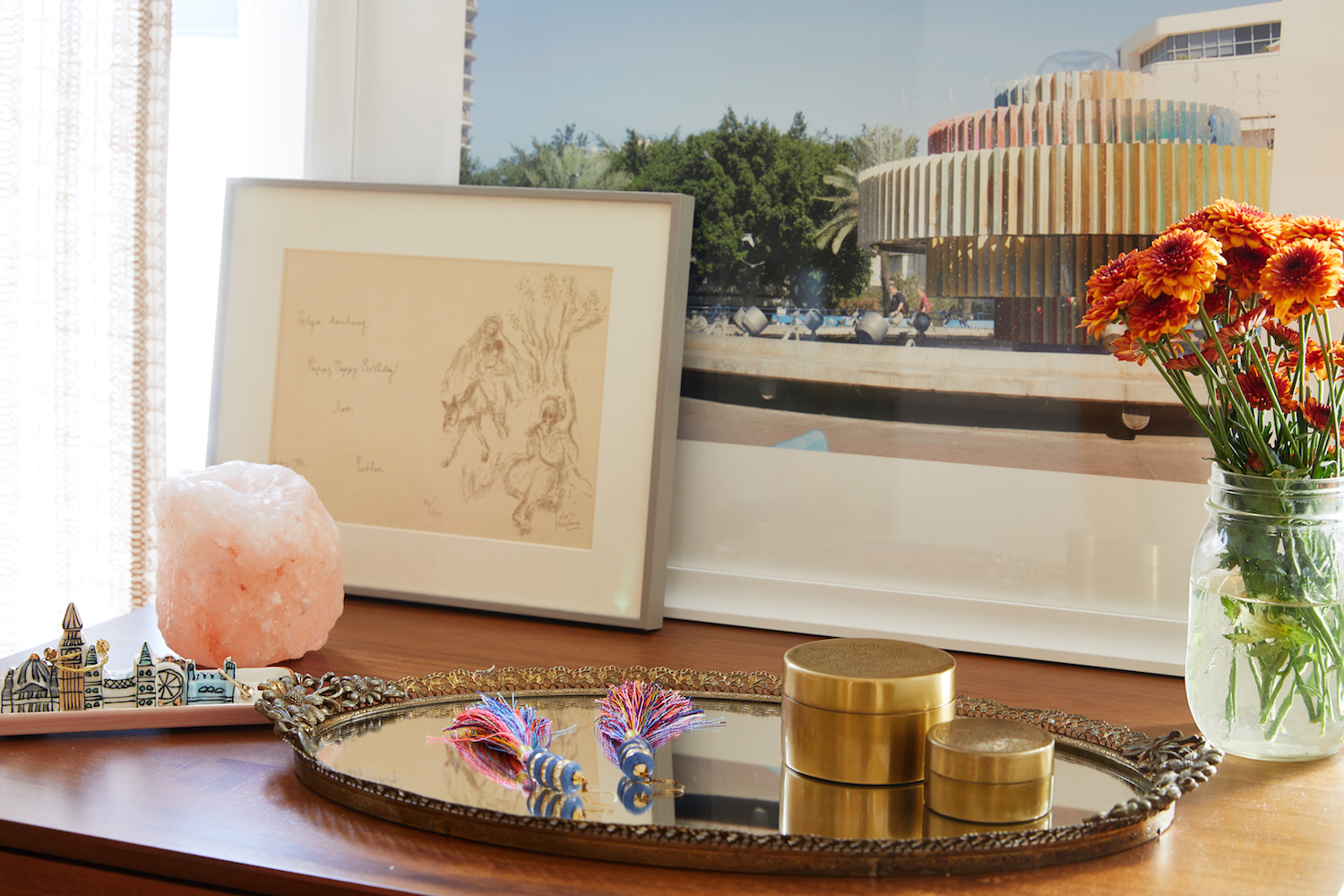 What are the four things you've learned about decorating on a budget from working with HGTV?
– Don't be afraid to like what you like. Leave judgement at the door. Everything's going to find its way to blend so magically into your space, people will be lining up to know where you got that "thing" from.
– Give it time. On our show, clients are fortunate to see their visions get turned into reality all in one fell swoop, but most DIY renovations and refurbishments don't work that way. And that's ok.
– A fresh coat of paint can change everything!
– Upcycling is your best friend. As renters (which the majority of millennials are) we can't just go get new cabinetry and redo our floors, so if you're not blessed with the avocado bathroom of all our retro dreams, it's easy to feel despondent, like you can't do anything. Not true. You'll see on our show, we utilize all our options, open our client's minds to ones they didn't even know they had and do tons of renter-friendly makeovers in all areas of the home.
And a little bonus nugget of wisdom that you don't need cause you already know it:
There is always a way. You want to make it happen, you can make it happen. You got this.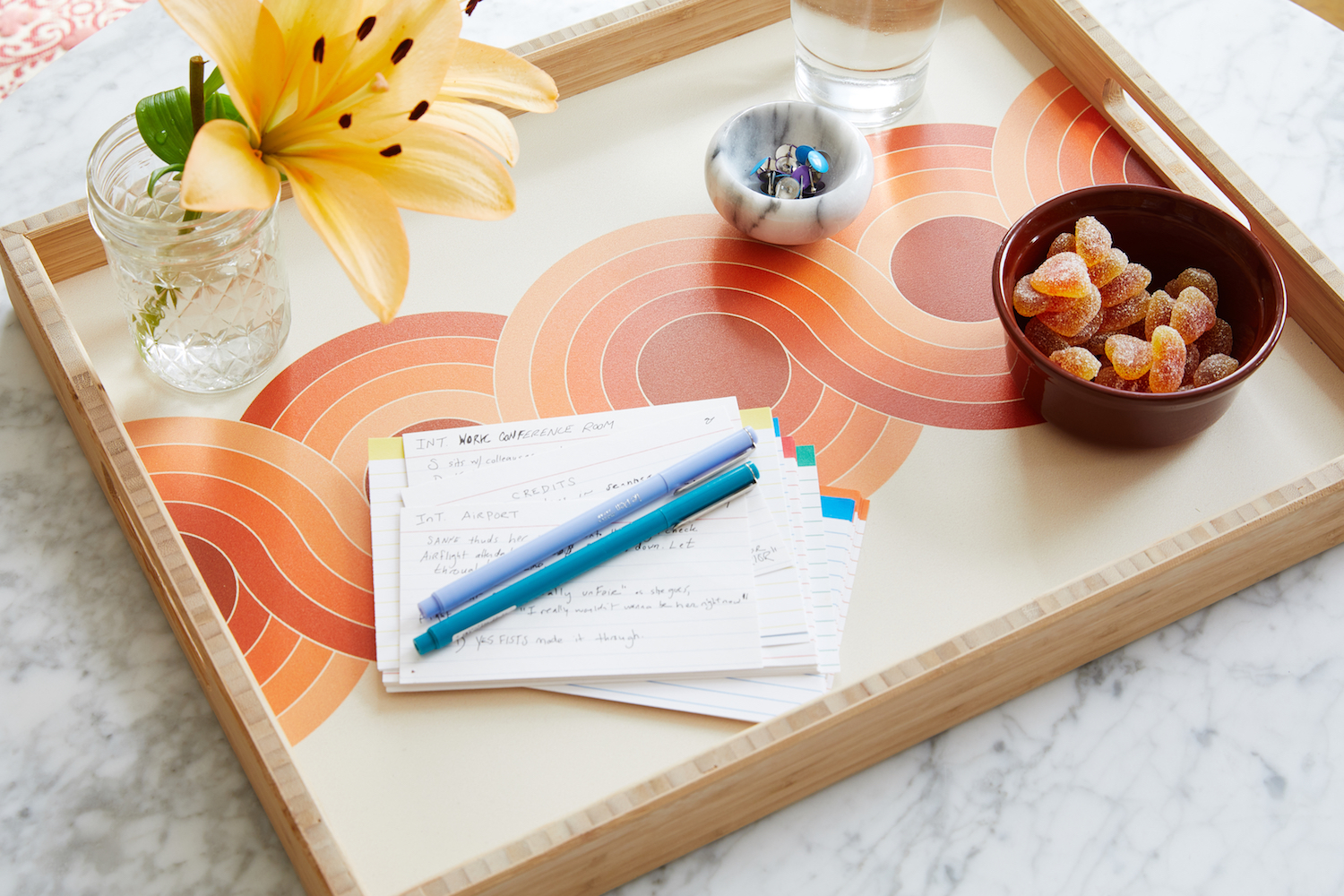 Red Rock Chain Serving Tray
Cassettes, VHS & Games Laptop Sleeve
by HOLLIS BROWN THORNTON
$39.99
Barricade Wood Wall Art
by Tracie Andrews
$149.99
Library Card 23322 Cutting Board
by Gas Station Burrito
$25.00
SPORTS FIELD Framed Art Print
by Sarah Matuszewski
$162.99
Palm Springs Mountains II Framed Art Print
Tel Aviv photo - Dizengoff Square Framed Art Print
Faces in the Crowd Sketch Art Print
by Holly Warburton
$20.99
Happy Carrot Cake Framed Art Print
Shapes & Shapes I Metal Print
Sunset Garden Pattern No. 1 Hand Towel
by Gas Station Burrito
$13.99
SAY NO TO SPORTS Coffee Mug