Writer Nikki Volpicelli is here to highlight the hijinks of Sandra Knoblach, Scott Smith and their baby—a vintage Econoline van that loves to travel.
Everyone who dreams of living in a big city also dreams of getting away for a bit. Ask San Francisco's Sandra Knoblach and Scott Smith, who just last year purchased a powder blue 1974 Econoline van that they spotted on a dreamy day trip as their summer getaway vehicle. "When we saw Blue there was a ray of light shining on her, seriously," Scott says, calling his set of wheels by its loving nickname. "We knew right away that we were going to buy it, so we scrounged up $800 bucks from multiple ATM's in the area and bought her that day."
Of course, on the way home the van's engine blew up and Sandra and Scott had to tow Blue back to the city. But that's part of the allure of owning a "retro" travel companion. It's an adventure, on and off the road. Since the purchase, the couple—who will be getting married in just a few short months, with Blue in tow—have put some serious miles (and work!) into the vintage Econoline. Below, they talk about their shared boho/greaser style and passion for road tripping, and how both translate into Blue's decor, mileage, and the music they choose to soundtrack the open road.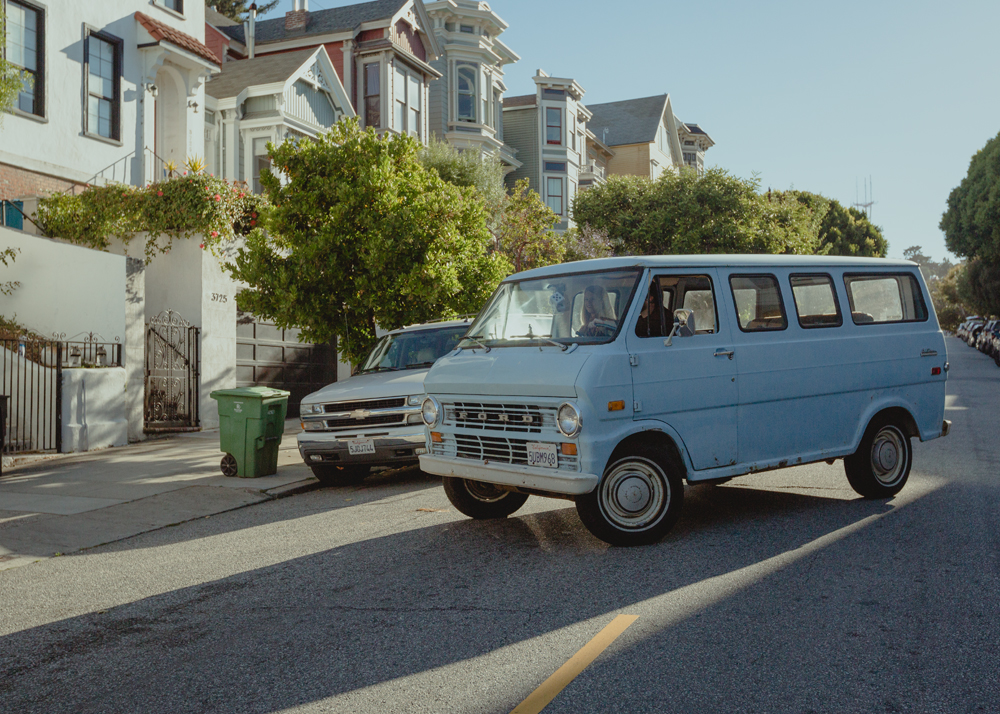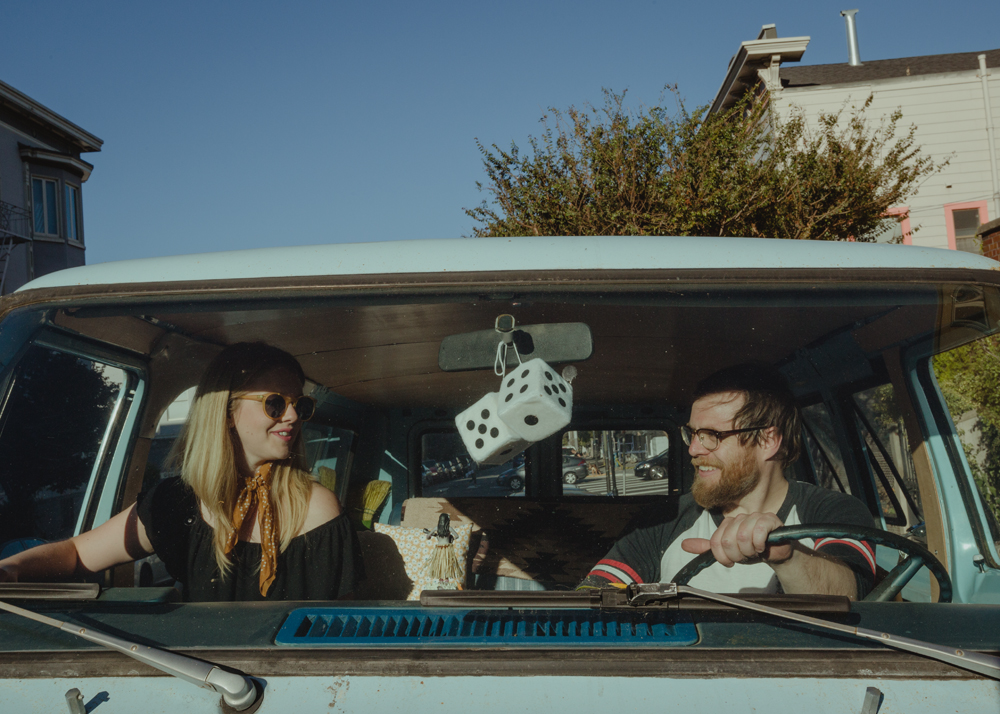 Can you talk about the first time you two met?
Sandra: I knew from the moment I met him, he had a heart of gold.
Scott: The first time I saw her I knew I was in trouble. She showed up drunk when we met at a local rock 'n' roll bar. She was a total babe.
And how did you meet Blue?
Sandra: I was the first to spot Blue on the side of the road while driving in North Fork, California. It was the day after a wild night in Bandit Town on Halloween for Vertigo Fest. We were recovering from a night of Roky Erickson, BBQ and booze, and she was a sight for sore eyes! We bought her from a very religious man who was adamant about the price tag. $777.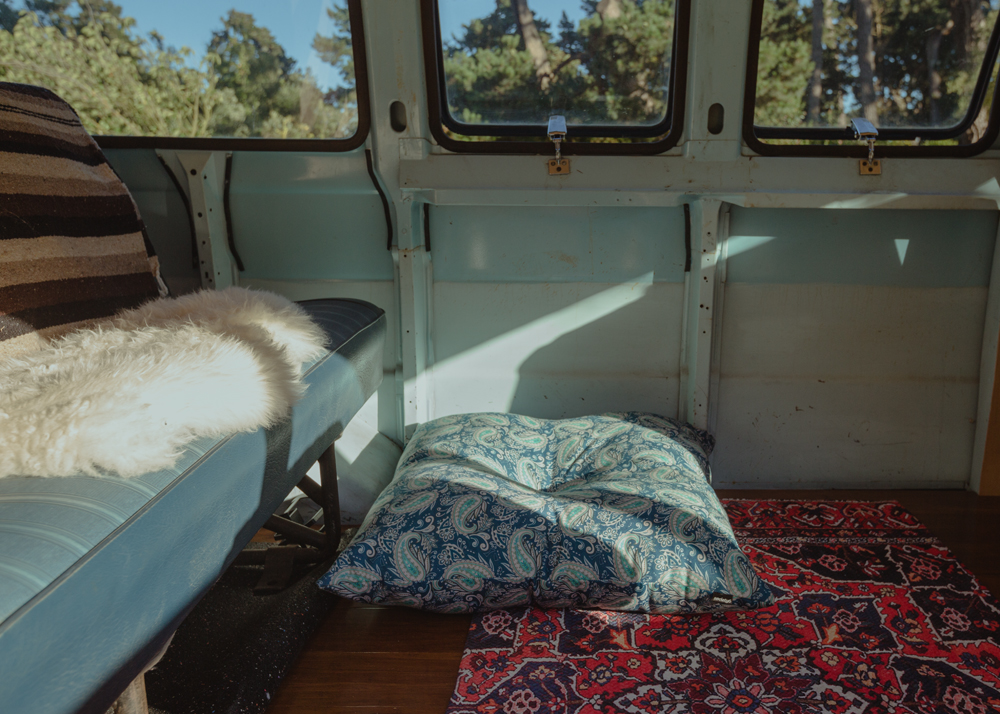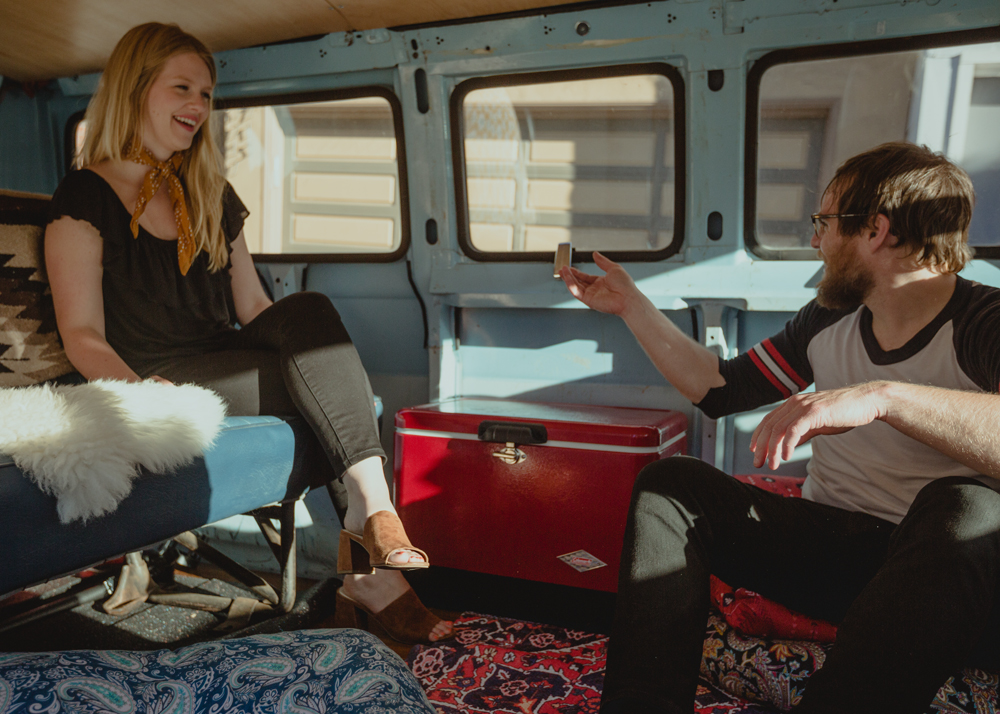 Does owning a getaway car help to balance the stress of work and city life?
Sandra: It definitely helps. The Bay Area has so much to offer and being able to explore spontaneously with your best friend is the greatest feeling in the world. That's what it's all about! I love living in the city, but getting out and breathing fresher air helps a lot.
Scott: I mean, owning an old car is radical, but it ain't for the faint of heart. It's really tough, it will break down. You gotta learn how to work on 'em and take care of 'em. But for me, it's worth every second. I love having a project, and in that sense, it is a nice stress release.
What are some of your favorite day trips outside of the city?
Sandra: We love to go up and down the coast, particularly to Pescadero, CA. Because of how high the van is and how many windows it has, it's like getting a panoramic view while you drive.
Scott: Pescadero is definitely high on the list. We drove blue down to Santa Cruz last year and stopped off in town. If you've never been there, go. It's magical. We went to the goat farm in town and when we walked in, I honestly got emotional. I can't explain it, but I knew we would get married there someday. Sure enough, we will be getting married there in September.
And what about San Francisco, what are some of your favorite haunts?
Scott: In the city, we love to go to shows (Black Lips tonight!) or just getting a drink with our friends. We love Kilowatt, Benders, Thee Parkside, Phone Booth, Latin American (during the week) Rock Bar, and of course, Royal Cuckoo.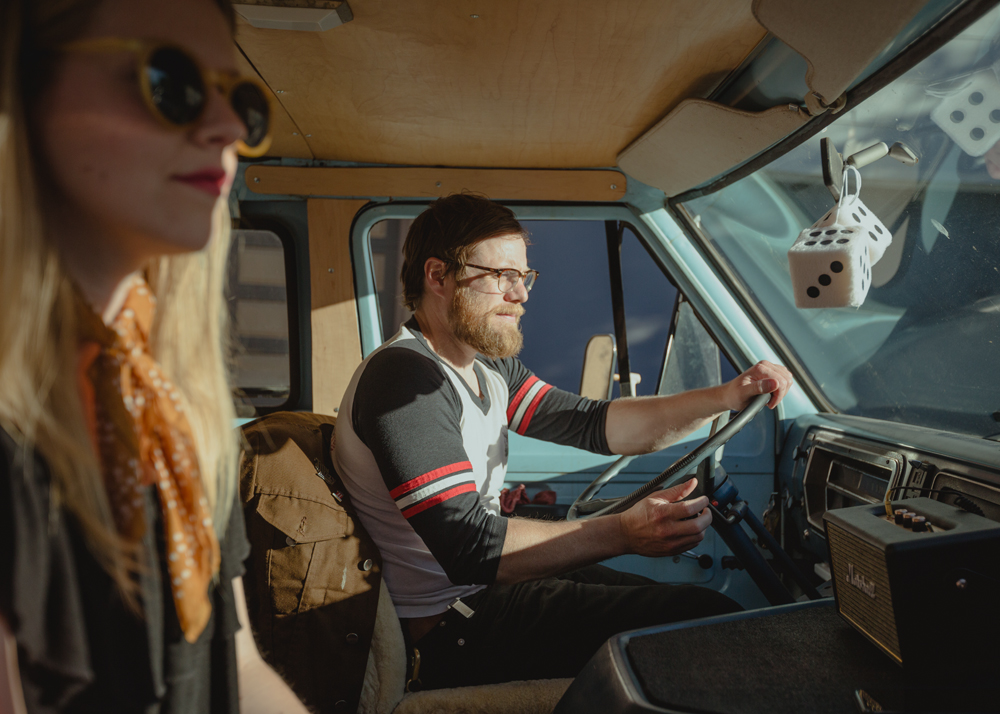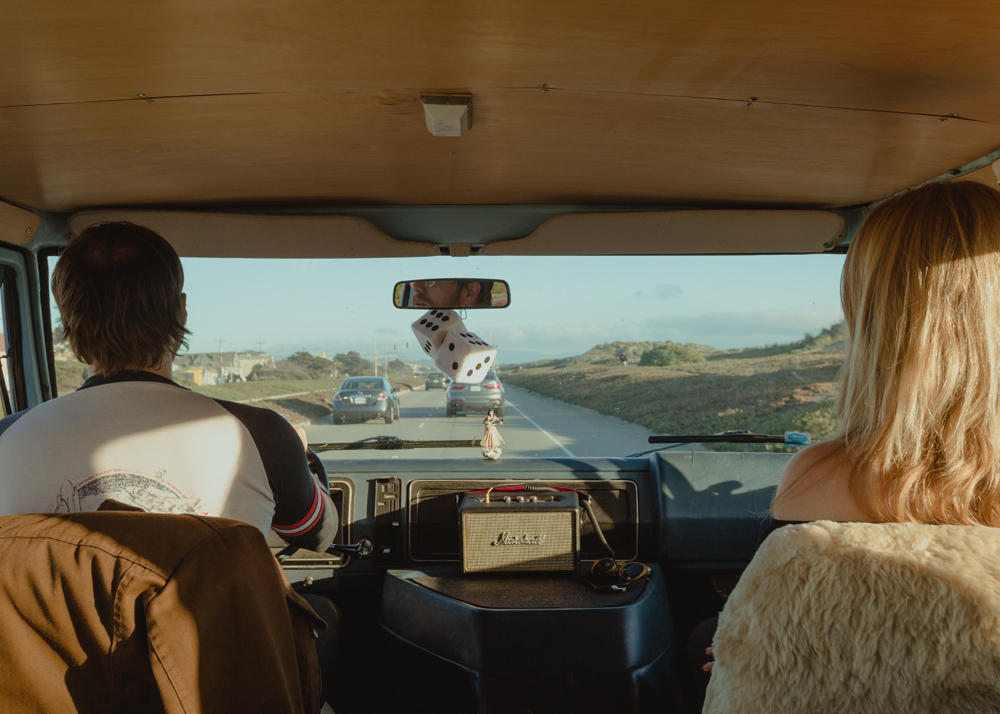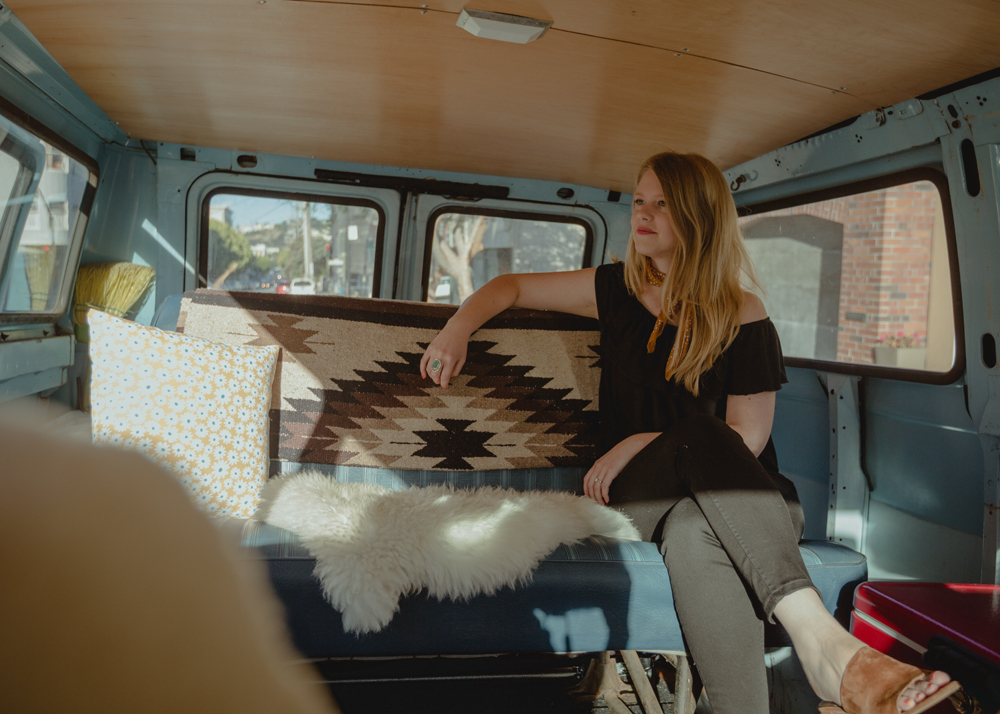 Can you talk about how your own personal design aesthetics are reflected in Blue's decor?
Sandra: We both like '60s and '70s decor, so we tried to stick with that theme in the van. We want it to feel like a time warp in there. Time travel back to less technology.
Scott: To me, I like things that have been worn, used and loved. I love Blue's aesthetic but will start to make some upgrades in the near future. Just some ridiculous stuff, like headers and new carburetor, side pipes and new wheels. It's gonna be full on rock 'n' roll surf van, less Mystery Machine.
You two are getting married in September (yay!), will Blue be part of the ceremonies?
Sandra: You bet! She will be there with "Just Married" and cans on the back. I think we will set her up so that people can take pictures with her and chill inside during the reception.
Scott: Oh you better believe it. I mean, haha, how else would we get down there?! In all seriousness, it is actually our only car — which does get hard sometimes — but you gotta love it.
What do you think it is about the summer that makes the idea of road tripping so appealing?
Scott: It's the view, the weather, the feeling of getting out. The '70s were about experimentation and this sort of great Americana aesthetic… peace and love and all that. Being out in the California landscape just goes hand and hand with that.
Sandra: And the weather! Blue doesn't have AC so we ride with the windows down.
What's on your road trip playlist?
Scott: Sands and I share a love for music. We kinda bonded over a love for garage, psych and folk/country. We're all over the place honestly, it kinda just depends on the mood at the time. We're currently listening to a lot of White Fang, King Tuff, White Reaper, Black Lips, Purling Hiss, Neil Young, Flying Burrito Brothers, Townes Van Zandt… all over the place.
What is one plus about being mobile that you don't get with a regular ol' house?
Scott: Wheels! It also smells like gasoline, which is radical.
Sandra: It's nice to feel like everything you need is in the van. I feel the same way about backpacking. Everything you need is right on your back. Too much stuff tends to weigh you down. I love our home, but sometimes I feel overwhelmed by how many things we have.
Do you ever fantasize about packing Blue up with all of that stuff and heading somewhere else?
Scott: All the time. We've talked about getting on the road and quitting everything. It would be an awesome experience, but just a dream right now. Weddings ain't cheap!