When it comes to decorating, the bathroom is a room that can easily be overlooked.
But if you take the time to make this area special and cozy, it can serve as a much needed nook for secret single behavior or rest and relaxation after a demanding day. Elevating the look and feel of your bathroom doesn't require major renovations either—it can be as simple as adding a pop of color with your shower curtain or adding a bold art print for an additional focal point. We have some simple tips ahead that will help you transform your bathroom and allow it to be a daily oasis.
Figure Out Your Bathroom Style
Take a closer look at your bathroom and take inventory of the current style, look and feel. Is it a bright room or a little dark? Are there vintage touches that can be highlighted, such as a clawfoot bathtub or a vintage medicine cabinet? Take time to find the features you like most, so you can accentuate them with the right accessories. For example, if you have a bathroom that has several vintage features, you could create contrast with modern, minimalist bathroom accessories. Conversely, if your bathroom has modern features with clean lines and bright lighting, you can play around with bold colors, prints and add vintage accessories for contrast in style.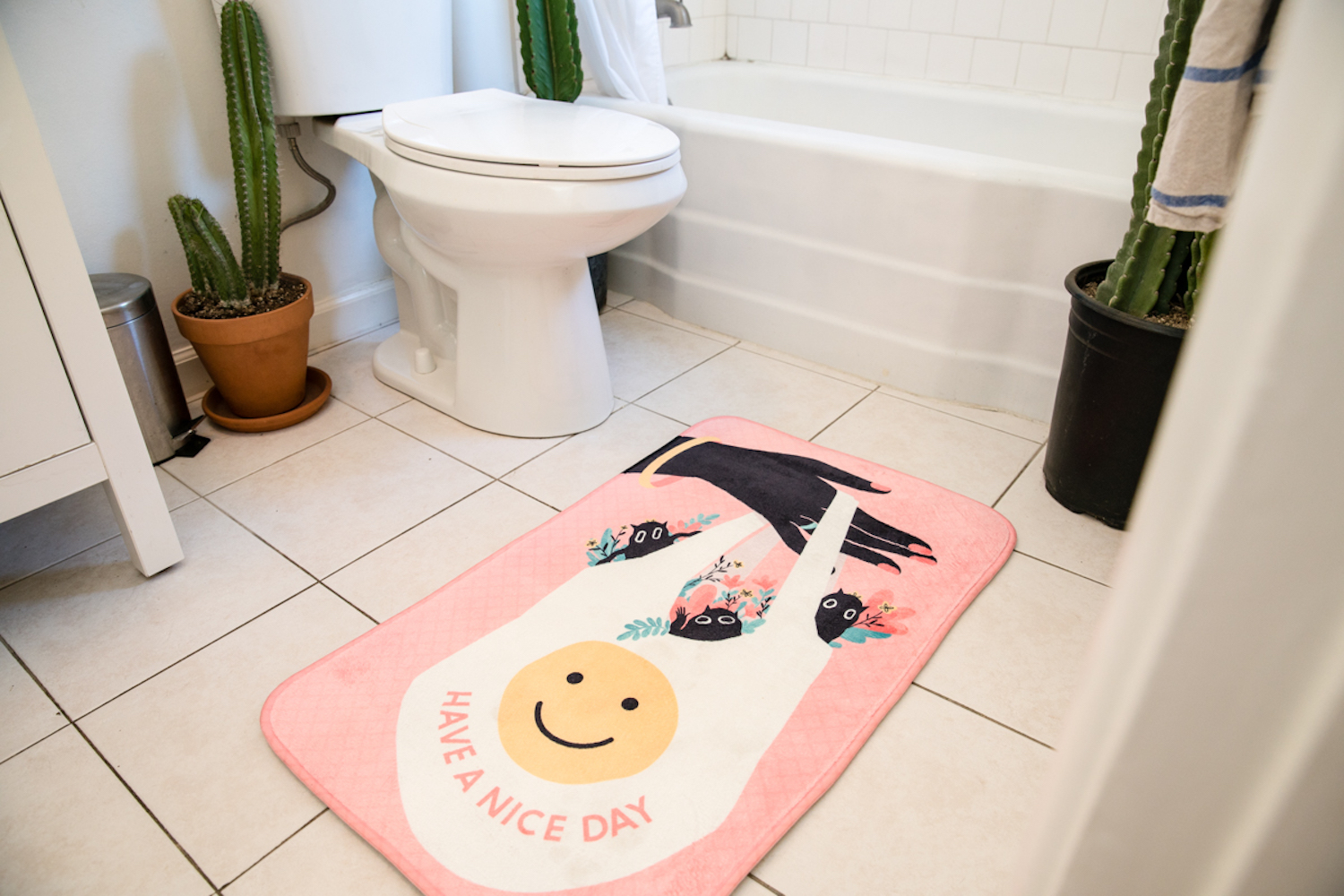 Play With Color
A simple way to bring cheer to your bathroom is by adding a dash of color with your accessories. Consider adding whimsical touches with a bright shower curtain, a vivid art print or a bold bath mat. If you're in it for the long haul, considering painting your bathroom a color that complements the existing features, such as the colors of the tiles, or the existing hardware like drawer pulls or towel bars.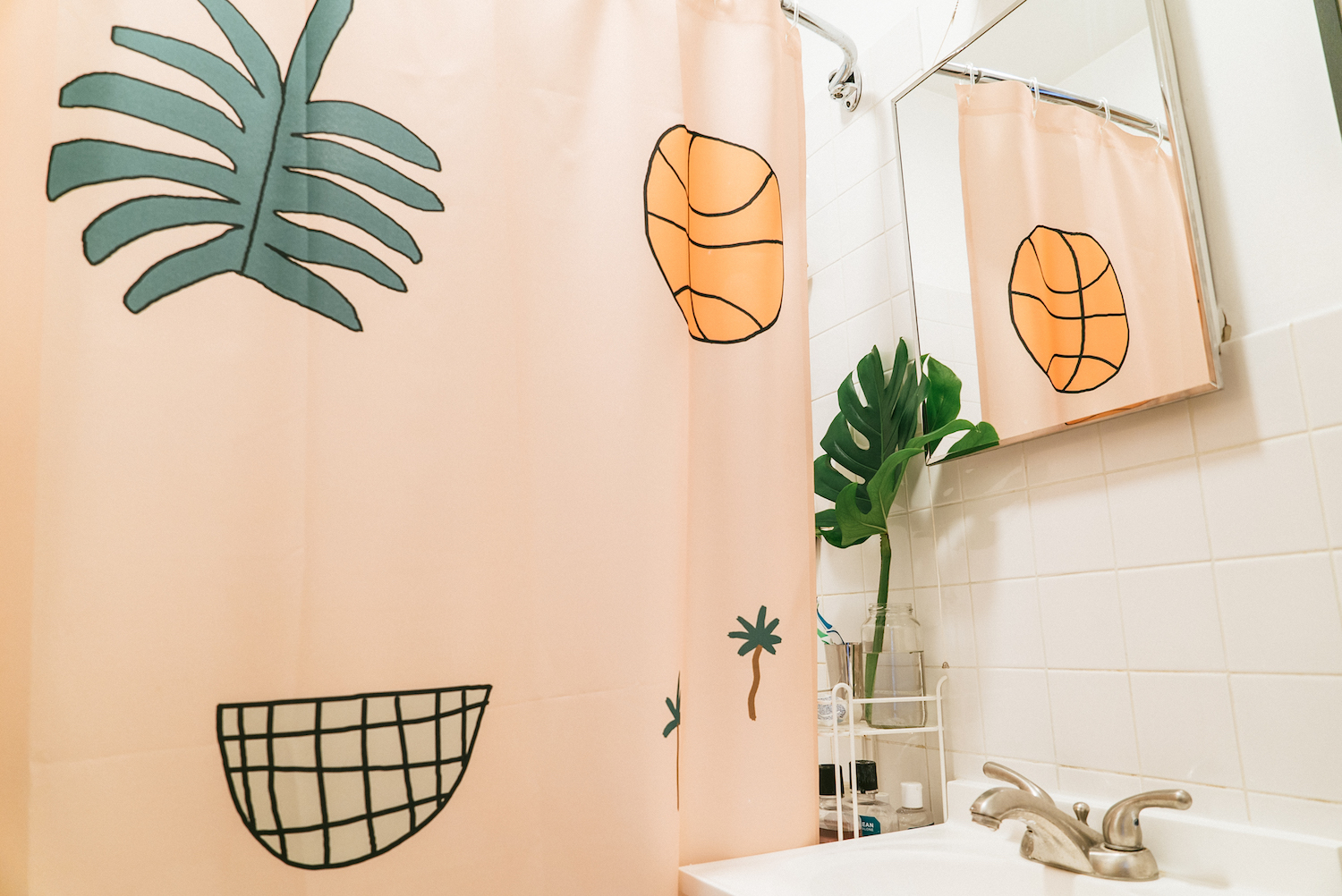 Let Your Shower Do the Talking
Since the shower tends to take most of the square footage in the bathroom, it can be quite transformative to accessorize this area with a shower curtain that sets the mood for the room. Your shower curtain can be a mantra, reinforced with stylish typography,  texture such as marble slab, or an abstract artwork. The theme you hone in on for your shower curtain can be the perfect fixture that you build around with other accessories such as bath mats, cups for your make-up brushes or indoor plants to spruce things up.
Create a Gallery Wall
Who says that gallery walls should be restricted to the living room or bedroom? Take your penchant for curation and bring it to your bathroom. When designing a gallery wall, find a theme you want to build around such as color or style (consider illustrations, portraits, or abstracts). Once you find a theme, you can start your hunt for stylish art prints and begin building your gallery wall. Not only will this be visually compelling, but it can also serve as a conversation starter for guests visiting your home.
Add Some Plants For Instant Cheer
We know that plants are a visual treat, but did you know they can also help your well-being as well? Certain indoor house plants such as the English ivy, lady palm, snake plant and golden pothos are known to clean the air and remove toxins. A house plant can also help bring the various accessories in your bathroom together, and make it an even more inviting place for you to partake in your daily wellness curriculum.
When it comes to decorating your bathroom, accessories are the simplest way to elevate the look and feel of this important room. Whether you're adding a fun shower curtain, or wrapping yourself with a colorful bath towel, take the time to make this room special and inviting. Cheers to long baths, sheet masks and taking care of your mind and body!
Little Things Shower Curtain
Boobs Shower Curtain
by Natalie Catalina Print Shop
$69.99
Robin Rhymes Shower Curtain
Born To Dunes Framed Art Print
by Matthew Korbel-Bowers
$99.99
Swimming Pool Framed Art Print
SKIBAKKEN Framed Art Print