Illustrator and graphic designer Christie Russert's work will instantly get you in a sunshine state of mind.
True to her moniker Sunshine Canteen, her designs encompass all things California cool; think surf and skate countercultures, vintage vibes and the west coast's infamous laid-back mentality. A former weekend warrior with a lasting love for the great outdoors, Christie channels that warmth and energy into wavy abstracts, vivid florals and of course, rays of sunshine in every color imaginable. Read on to learn more about her love of all things colorful and Californian.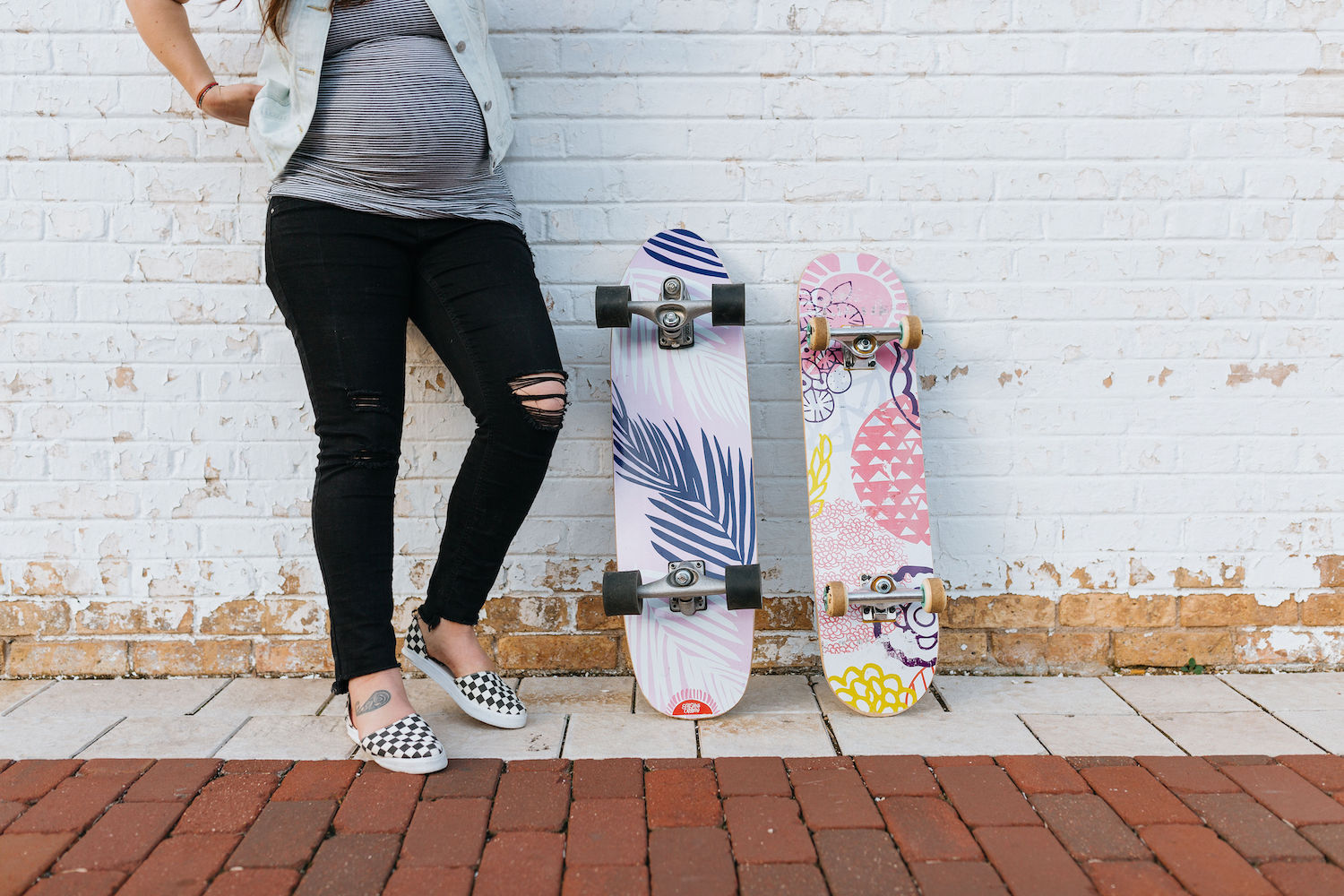 How did Sunshine Canteen come about, and what's the story behind the name?
I officially launched Sunshine Canteen in the fall of 2017, but it had been something I'd been dreaming about for many years. As a creative, it is often hard to pin down exactly what you want to do and how you want to execute. Too many interests and ideas had always kept distracting my vision. I always have loved pattern design and illustration, photography, skateboarding, camping & the outdoors, vintage & flea markets and travel. Was there a way that I could combine all my passions into one place? That fall I decided that it was time to organize my thoughts and bring things into fruition.
The name…
My husband and I love camping and were pretty much "weekend warriors" exploring local camping destinations around Wisconsin and Michigan for several years. In nature I would find the time to slow down and I would get the most clear ideas. The name "canteen" comes from a camp/general store where you can find all types of items. That really stuck with me because of the camping roots and that it could be open ended if I were to ever open a shop of my own someday. Sunshine comes from my love of the west coast and a general state of mind I get from making art, being outdoors and travel.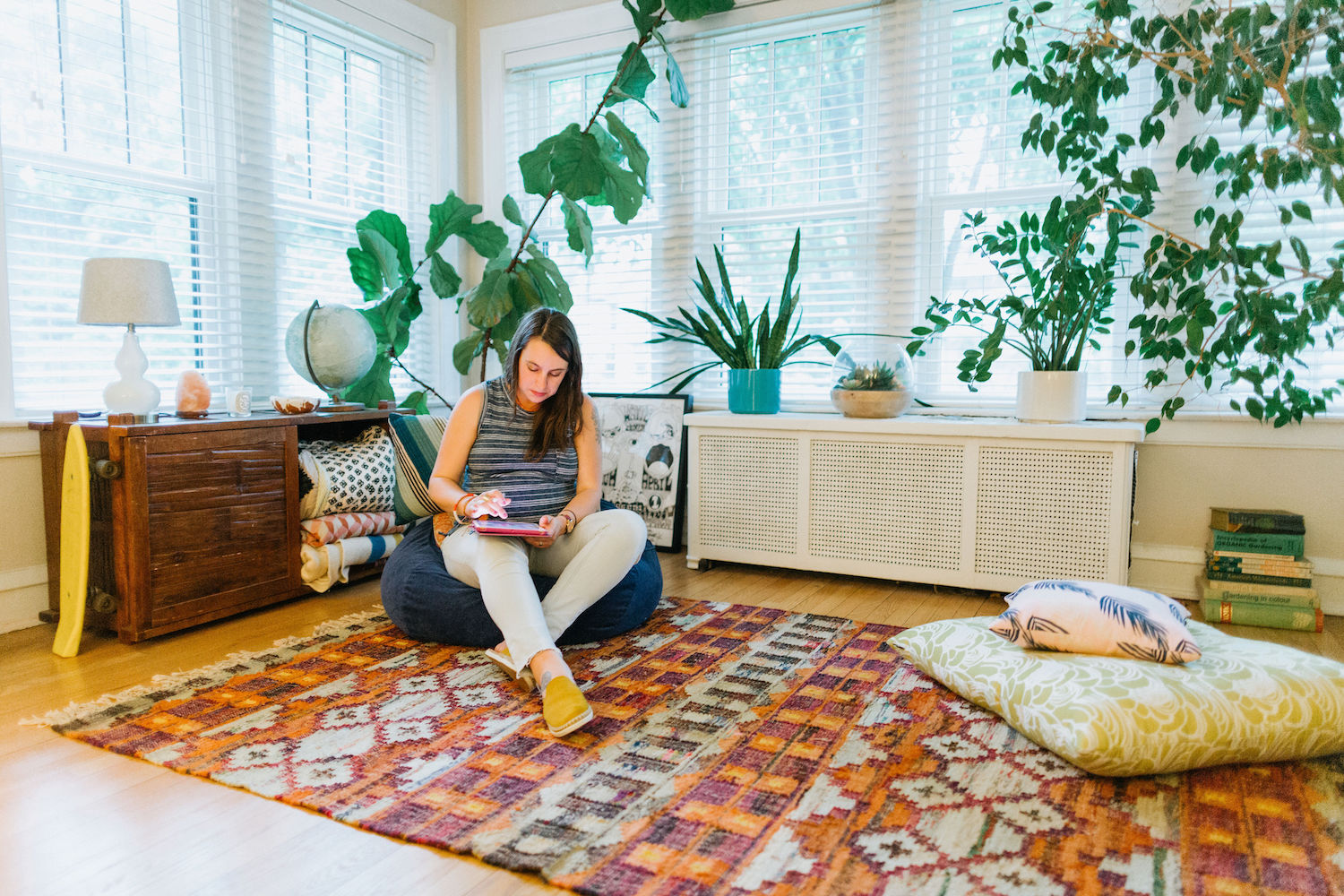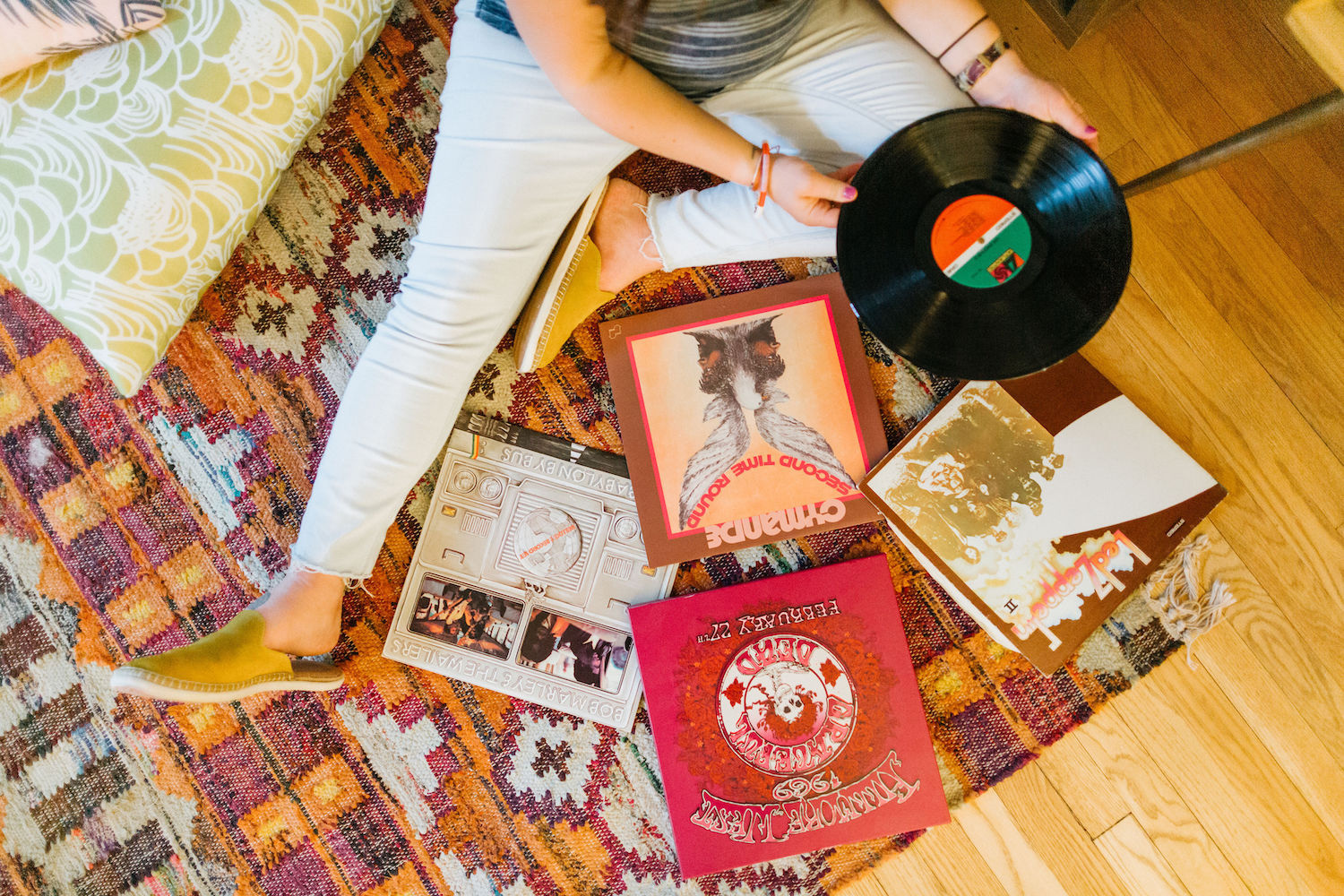 You're heavily inspired by the west coast. How do you incorporate that culture and laid-back mentality into your own life?
I have been fascinated with California counterculture since I was about 13.  A pivotal moment for me was watching the skateboarding classic film, Dogtown and Z-Boys. The skate and surf culture, music, graphics and the attitude captivated me and I wanted to learn more. Growing up in the midwest, all of that seemed so exotic and fascinating to me. I knew I would love it, and I was right. I cherish the times I get to visit and get so much inspiration from it! I started Sunshine Canteen as a way to embrace a "sunshine state of mind" no matter where you are. I channel that California love affair into my art. When I create it brings me to that "happy place" and I want to inspire that laid-back lifestyle into everyday life.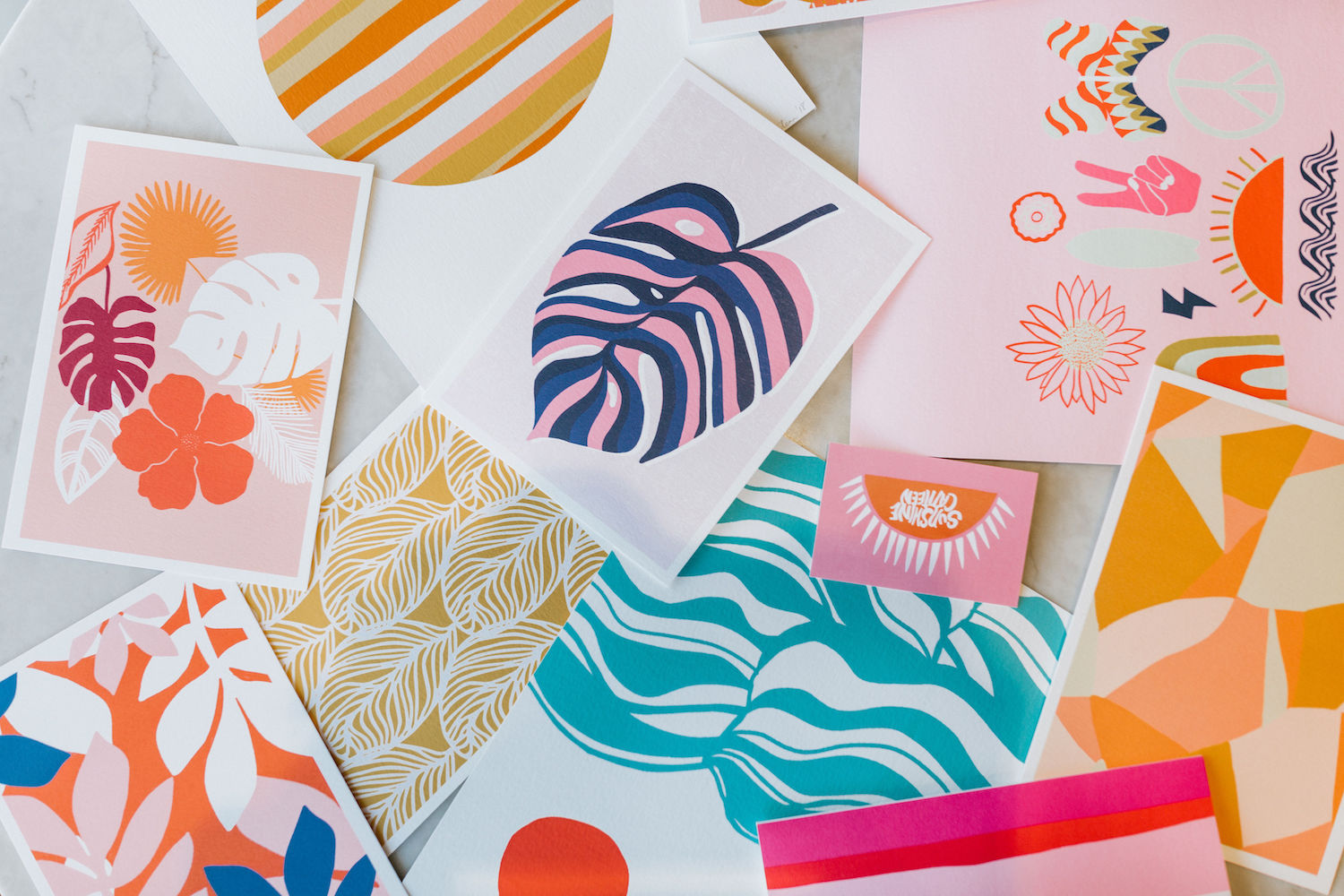 According to Instagram you've visited several spots in Southern California! Was your first trip out here everything you hoped it would be? What are some of your most memorable experiences there?
Definitely. My first trip to California was on a family trip when I was in high school. We went to Lake Tahoe, Yosemite and San Francisco. All of which were amazing but a clear memory stands out. In San Francisco, my parents were cool enough to let me have "1 hour" to explore the Haight Ashbury district on my own. I was in heaven! Like I do now, I ran around and took as many photos as I could and soaked in the inspiration from the street art and culture. They knew even back then that I needed space so I could explore and take inspiration in. Since that trip I have been lucky to go back to California almost every year. My brother-in-law lives out in San Diego… it is one of my favorite places on the planet to go and visit!
On the other hand, was there anything about the places you've visited that surprised you?
If there was ever an opportunity to move to California, I would jump on it! But I also believe that going there to visit and taking all of that inspiration and channelling that into my life here in Chicago is pretty great as well. We certainly have our cold winters, but the summer and fall are amazing and embracing the winter can be fun as well. I grew up snowboarding in Wisconsin so that is always something I look forward to. I'm grateful that I can escape to California and know that its beauty is always waiting for me.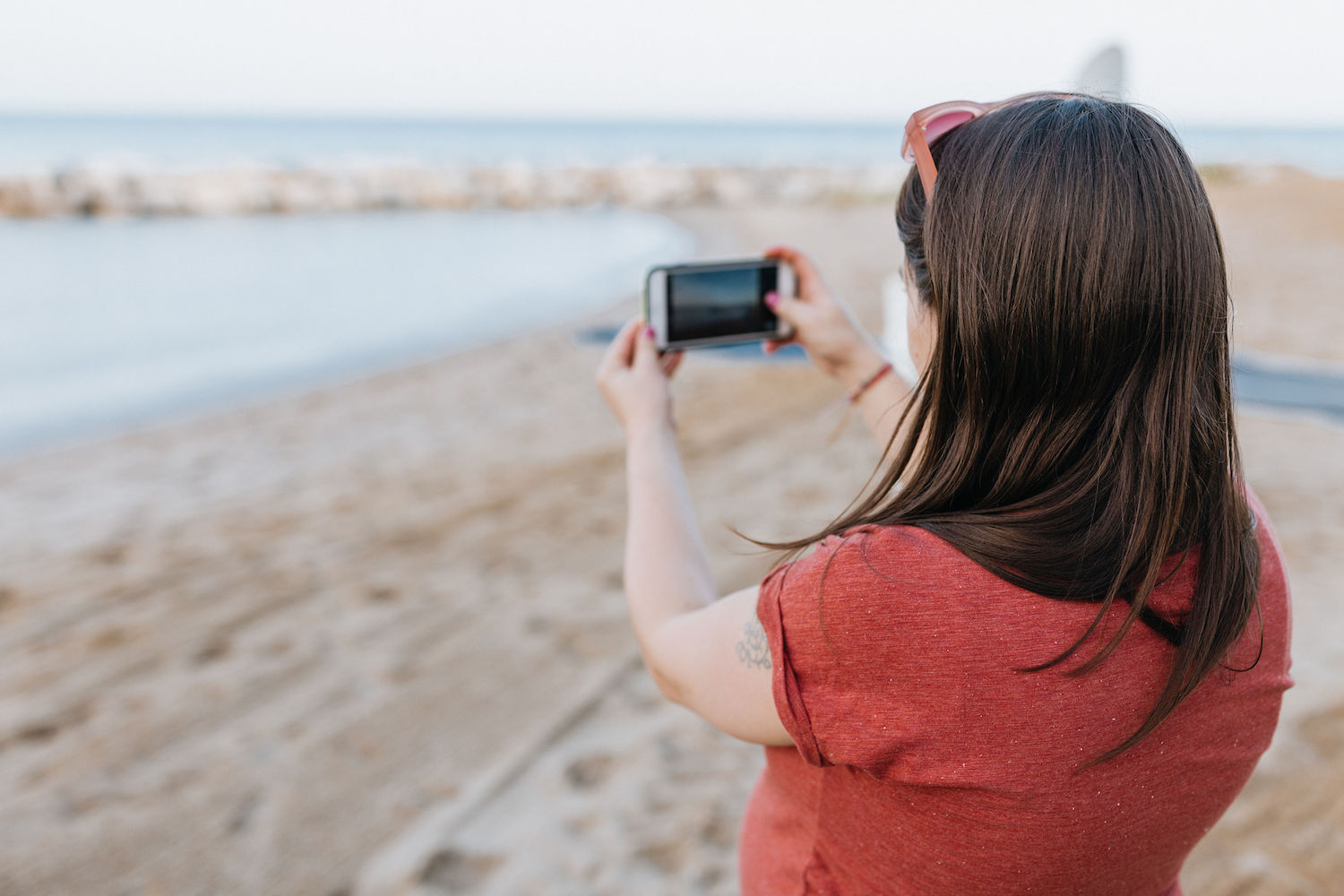 I'm sure those trips give you a ton of inspiration for new work. What are some ways you keep tabs on cool stuff you find and might want to pull from later?
I take a ton of photos! Constantly snapping pics on my phone and on my camera. I also love to collect things on travels. Business cards, stickers, pieces of paper, prints, etc. I have a GIANT bulletin board in my house that is essentially a huge growing collage of inspiration. It is my real life Pinterest board!
What's your creative process like?
I have a very structured way of working and also a totally loose way. It depends on the project and my mood. If it is more structured I'll gather inspiration (photos, colors, found items) and create a mood-board. I take that and pull colors, draw motifs and continue until I feel I have something interesting to work with. I also like to work less structured and just free-flow-draw and see where it takes me.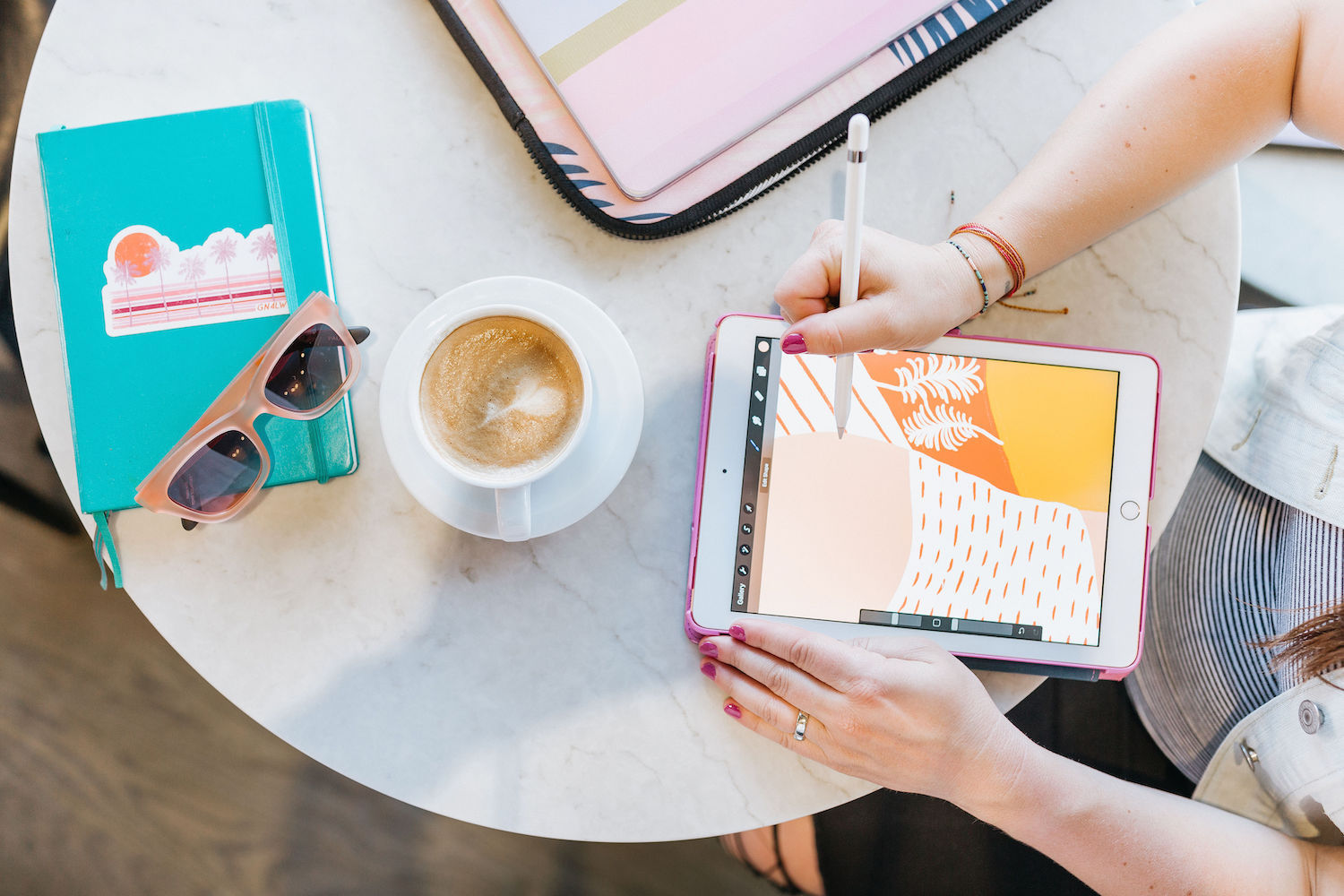 Tell us about your relationship with color. Where do you get the inspiration for your unique color combinations?
I love color and I embrace it to the fullest! Whether decorating at home, with my accessories that I wear and with art. It just makes me happy! I get inspiration from all over—photos that I've taken, books, magazines, Instagram, Pinterest and travel. Depending on my mood I will gravitate towards a different palette. I've noticed that I love warm tones—pinks, oranges and yellows. I think that will always be a constant in my work.
Do you have a preference between graphic design and illustration? Do your approaches to each overlap at all?
I enjoy them both and use them interchangeably. Illustration is my creative release, which tends to be a bit more free-flow. Having a background in graphic design allows me to go into an illustration with a general idea of concept, color choice and layout. It is very helpful to have the graphic design skills in my back pocket so I can be fully immersed in the illustration and know that I can make tweaks later.
What's the most rewarding thing about being an artist?
To be able to express myself visually. Sometimes it's hard to express feelings via words and making art is my way of doing that. It is truly my meditation, I'm grateful that I have this place to go and unwind not knowing exactly where it might go, but be excited about the potential. It is so rewarding to have people respond to your work. I love Society6 because it allows me to put my art on prints and canvas, but also practical items that people can use in their everyday lives. That is so exciting to me!
When you're not traveling, where can we find you?
Chicago! It is an amazing city that is constantly growing and evolving. I love that I truly can't keep up with all the new restaurants and shops that open or the many concerts and events that are going on. Knowing that it is all happening around me and I have the opportunity to engage if I want is awesome. The food is incredible, we live in an area that is close to so many diverse types of food. Lake Michigan is our "ocean" and we fully embrace the lake life. We have a paddle board and kayak and pretty much live out there in the summer!
peace + harmony + surf Serving Tray
by sunshinecanteen
$39.00
sierra mountain sunset Framed Mini Art Print
by sunshinecanteen
$25.00
aloha, print Coasters
by sunshinecanteen
$15.00
sunshine state of mind Wall Tapestry
by sunshinecanteen
$44.99
sunrise surf Sling Chair
by sunshinecanteen
$149.00
catalina, sailing waves Poster
by sunshinecanteen
$19.99
zuma beach: california waves Beach Towel
by sunshinecanteen
$39.99
cacade, peach Shower Curtain
by sunshinecanteen
$69.99