It's almost the holidays once again! A time of cheer, charm, and holiday decor. But what do you do if you're trying to add holiday cheer to a 400-square-foot apartment with limited space for decor? For all the small space dwellers out there, decking the halls without cramping your style can be a real pickle. But fret not, festive friends! Who says you need a grand hall to go grand in the holiday spirit? Dive into our treasure trove of ideas for holiday decor for small spaces and sprinkle some Christmas season magic in every nook and cranny.
1. The Miniature Magic Forest
Wondering how to decorate a small living room for Christmas when a towering tree seems out of the question? Say hello to mini trees – one of our favorite Christmas decor trends! Get a couple of pint-sized pines or tabletop Tannenbaum. Cluster them in a corner or distribute them around your home. And voila! You've got yourself a mini enchanted forest.
2. Wall Art Wonderland
Who needs floor space when you've got walls? Hang festive wreaths, fairy lights, or even a wall-mounted, flat tree made of garlands. You have plenty of Christmas wall decor ideas to choose from! If you're decorating small spaces for Christmas, think vertically to make the most of your wall space.
3. Under the Mistletoe Moments
Ceilings need love too! Dangle shimmering white ornaments, mistletoe, string lights, or snowflake decals from the roof. It not only saves space but also adds an element of surprise as guests look up and find a holiday haven.
4. Window Whimsy
For those hunting Christmas decorating ideas for small spaces, windows are your secret weapon. Decorate them with twinkling lights, hang stockings, or place cute candles on the sills. Every glance outside becomes a festive reminder.
5. Make Your Furniture More Festive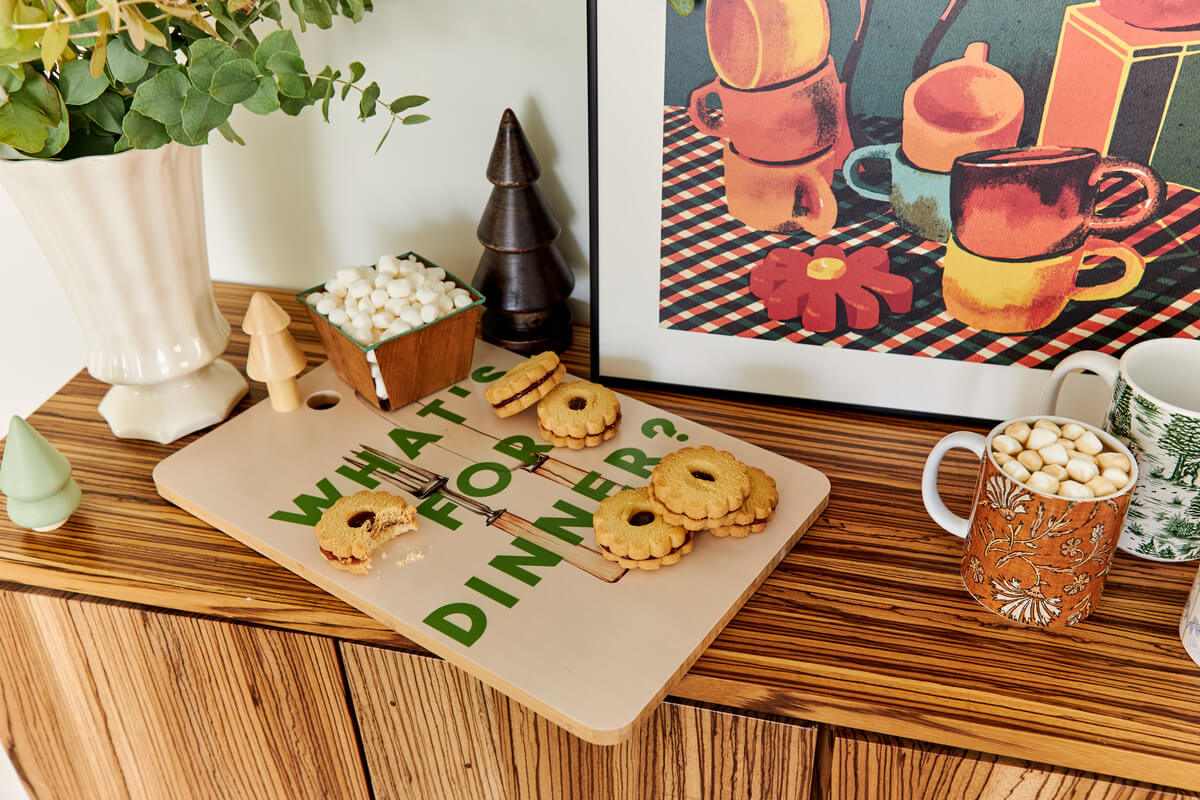 Have you got a bookshelf? Add small holiday decor. Coffee table? Deck it with a festive table runner, some pine cones, and candles. Utilize existing furniture to sprinkle the Christmas spirit without adding clutter.
6. Christmas in a Cupboard
For those in small apartments, use an open cupboard or shelf as a festive display. Rotate some everyday items and replace them with holiday mementos, a nativity scene, a mini Christmas tree, or a mini Christmas village.
7. Multipurpose Merriment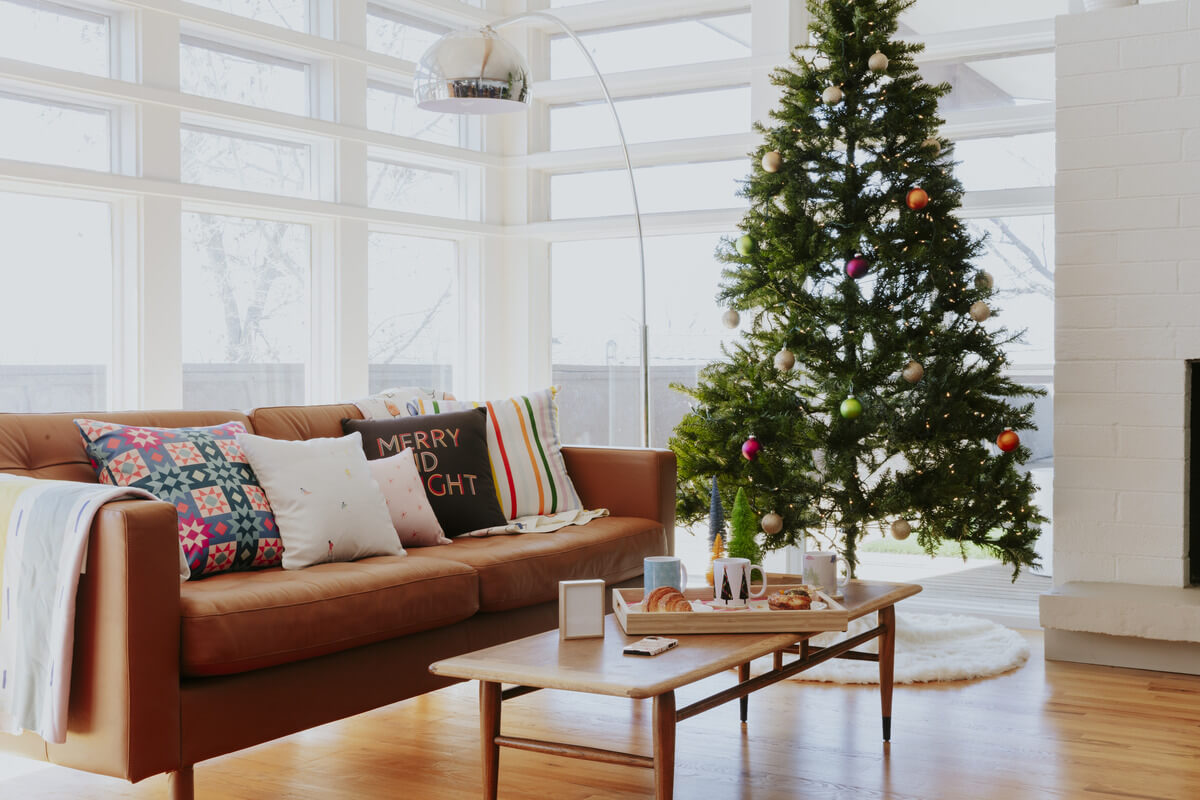 Combine functionality with festivity! How about Christmas covers for the cushions and pillows on your sofa? Or a holiday-themed throw blanket? Your small apartment Christmas decoration ideas can be both practical and picturesque.
8. Mirror Magic
Reflect the joy with mirrors adorned in tinsel, ribbons, or a simple string of lights. They amplify both light and decorations, making your space feel larger and doubly festive.
9. Doorway to December
Don't neglect the doors! Whether it's the main entrance or a closet door, adorn them with paper snowflakes, bells, a Christmas wreath, or a festive "Merry Christmas" banner.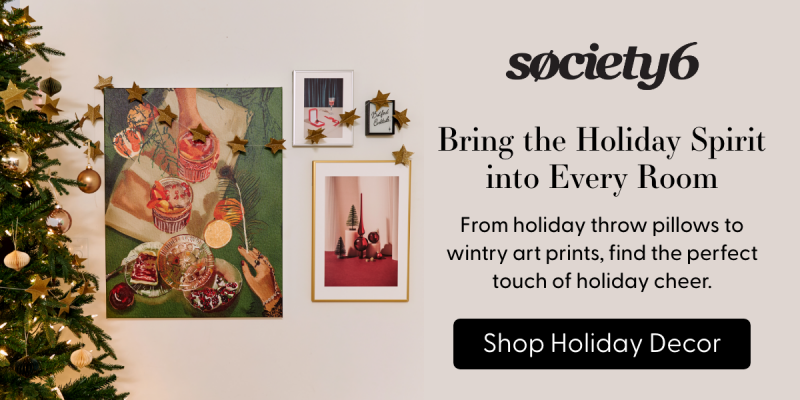 10. Corner Cornucopias
Those tiny corners and niches? Turn them into holiday hotspots. A little elf figurine here, a bowl of ornaments there, and before you know it, you've turned forgotten spaces into festive focal points.
11. Festive Floorscape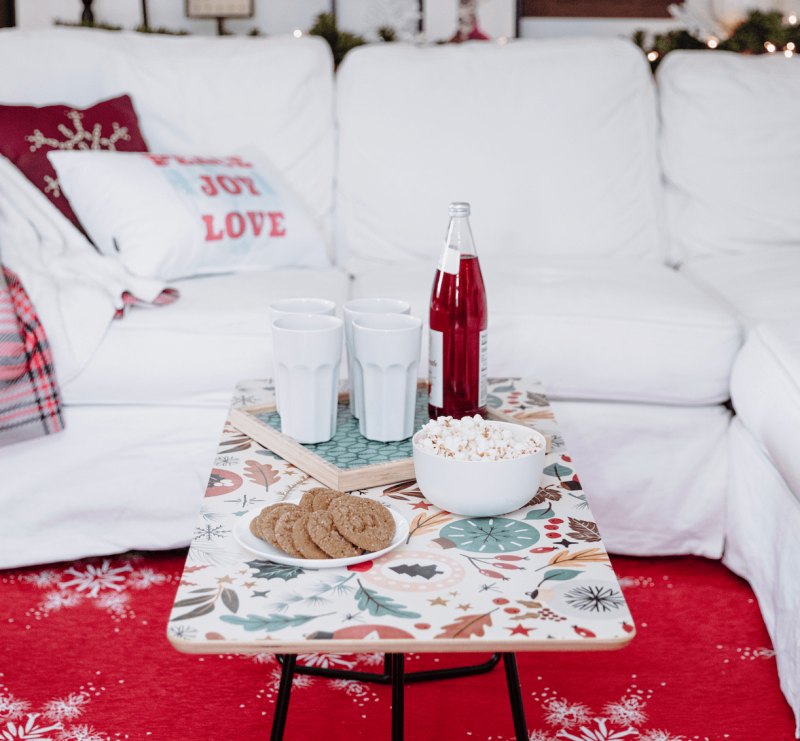 Who said floors can't be festive? Opt for holiday-themed rugs or mats that bring Christmas cheer right under your feet. If you're wondering how to decorate a small living room for Christmas, a cozy reindeer rug or a snowflake-patterned mat can instantly raise the festive cheer meter.
12. Bauble Bowls and Jars
Grab a transparent bowl or a jar, and fill 'em up with colorful baubles, fairy lights, a small tree, or even pinecones. These make for beautiful centerpieces or additions to shelves. Plus, they're mobile, so you can change their location on a whim. This one's a real winner for Christmas decorating small apartments.
13. Railing Revelry
If your space has stair or balcony railings, weave them with garlands, fairy lights, or tinsel. Hang stockings, ornaments, or candy canes at intervals. It's a vertical space that often goes overlooked but has so much festive potential!
14. Floating Festivity with Floating Shelves
Floating shelves are a dream for both space-savers and decorators and are especially handy for decorating small spaces for Christmas. Arrange a lineup of festive candles, miniature Santas, or a row of snow globes. They're like mini stages for your holiday showpieces.
15. The Art of Temporary Swaps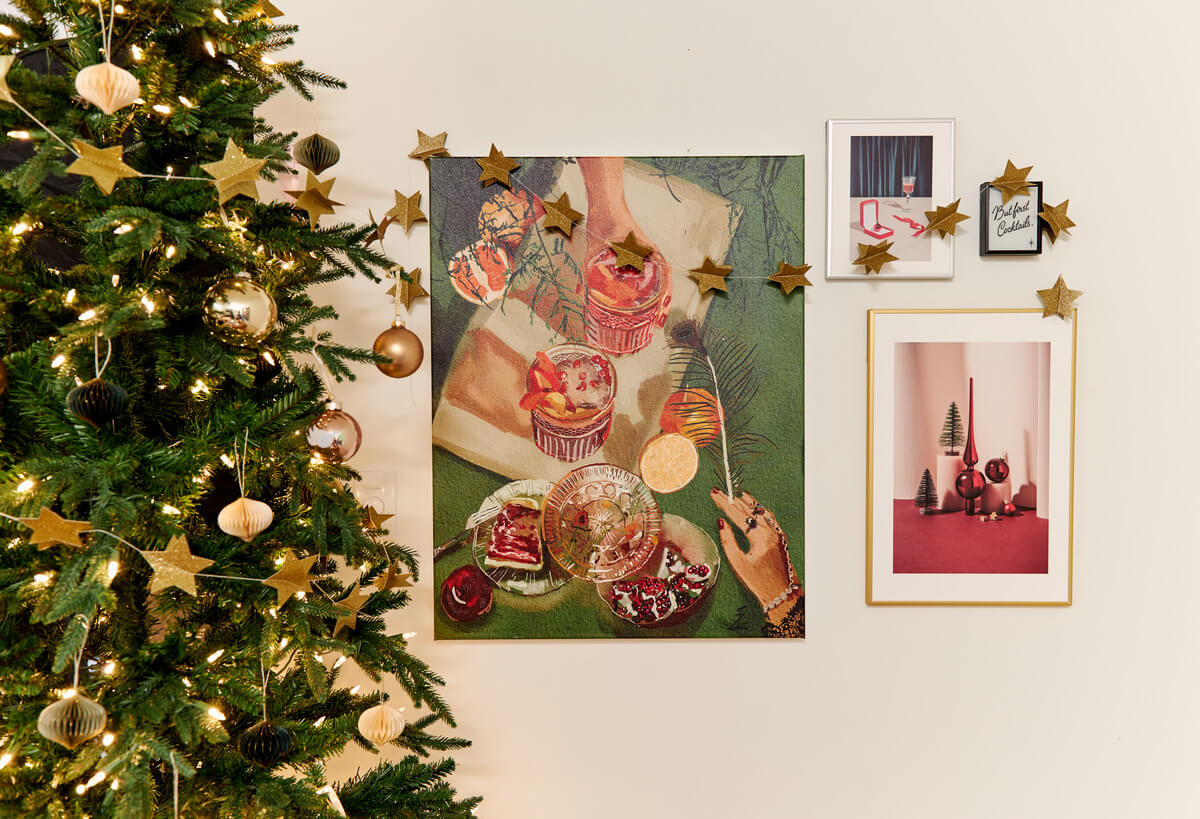 Switch out everyday photos or artwork with holiday-themed art prints or messages. You could have a frame that reads "Ho Ho Ho" for December and goes back to being your favorite beach photo by January. It's a minimal, fuss-free way to infuse holiday spirit without adding clutter, making it perfect for Christmas decorating ideas for small spaces.
Maximize the Holiday Cheer in Your Space
From floor to ceiling, and every tiny nook in between, there's a chance to sprinkle a bit of holiday magic. With these Christmas decorating ideas for small spaces, you can transform your cozy abode into a festive haven without compromising on style or space. 
If you don't know where to start searching for holiday decor for small spaces, you can always check out our catalog of holiday decor at Society6. Carefully curated from designs made by our community of independent artists worldwide, our selection offers different ways to make your home more festive without taking too much of your space, time, or budget.
As you deck your compact spaces, remember: It's about making every inch count and every corner carol with Christmas cheer. Here's to a festive season big on joy, no matter how small the space.
Sources:
"How to Use Mirrors to Make a Room Look Bigger." Apartment Therapy, 17 November 2022, https://www.apartmenttherapy.com/how-to-use-mirrors-make-room-look-bigger-36820571.  Accessed October 8, 2023.