Less than two months ago, Sofia and Ian Hultquist had a major "pinch me" moment.
During the Toronto International Film Festival, the husband and wife found themselves walking the red carpet for the screening of The Gospel According to André, a fashion documentary that follows former Vogue editor André Leon Talley, for which they composed the score. But creating beautiful music together is nothing new for this duo. In fact, the two have worked together on-and-off since just after they graduated from Boston's Berklee College of Music in 2008. Sofia and Ian, who have both also performed separately as musicians (Sofia under the moniker Drum & Lace and Ian as a former guitarist and keyboardist for Passion Pit), even formed their own band at one point (and yes, we already requested a reunion).
Sofia, who was born and raised in Florence, Italy, and Ian, who hails from Chicago's Highland Park neighborhood, relocated to their current residence in Eagle Rock from a stint in Brooklyn and one of the things they're most appreciating about their new city is the ability to work from home. In addition to providing plenty of space for their two pups Lupo and Fiamma, their home allows for two work areas, an office and a freestanding studio filled with analogue synths most music geeks would lust after. The ultra-cool couple recently let us into both spaces to chat about the best—and worst—parts of working with your spouse and how they keep their work areas inspiring enough to spark productivity.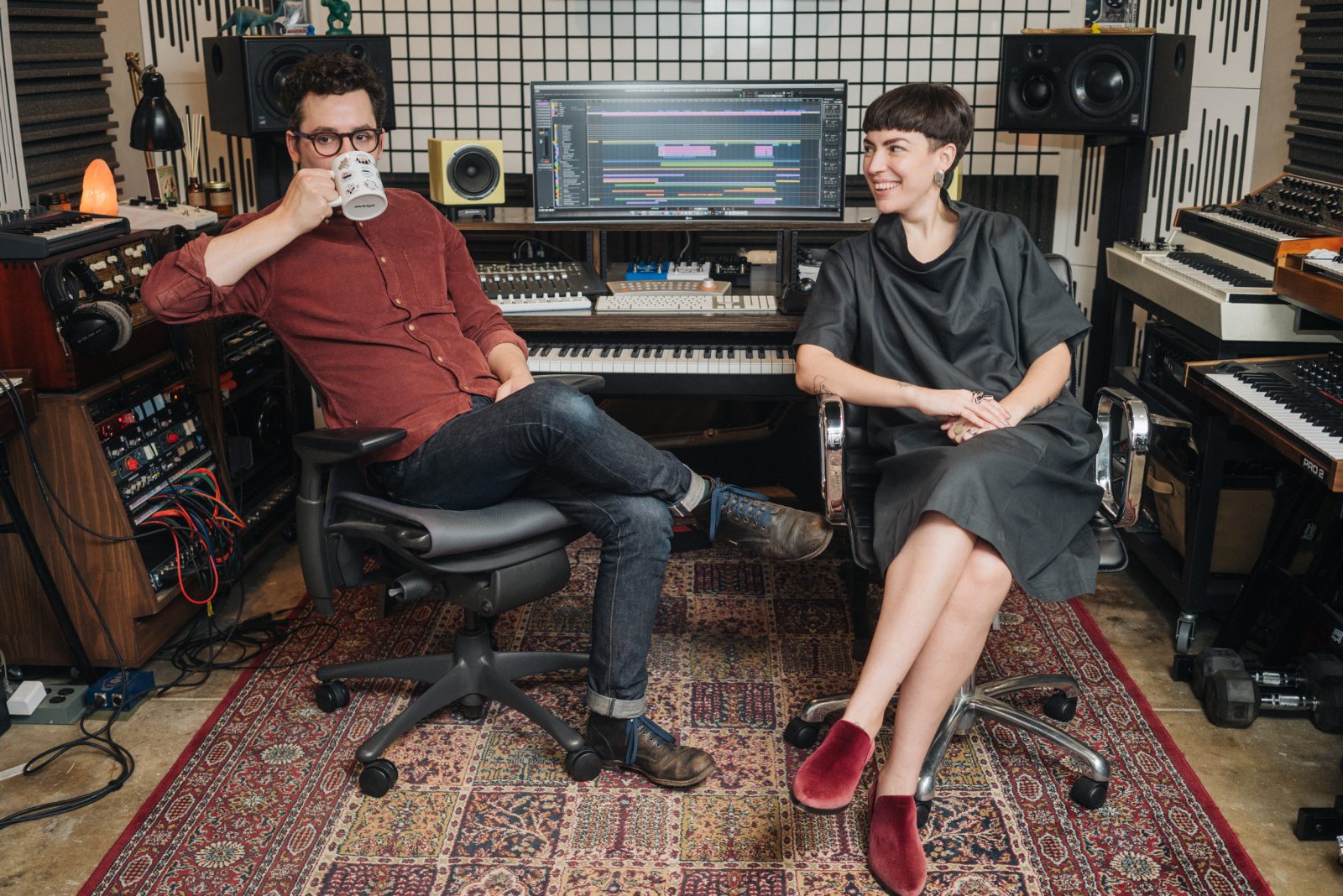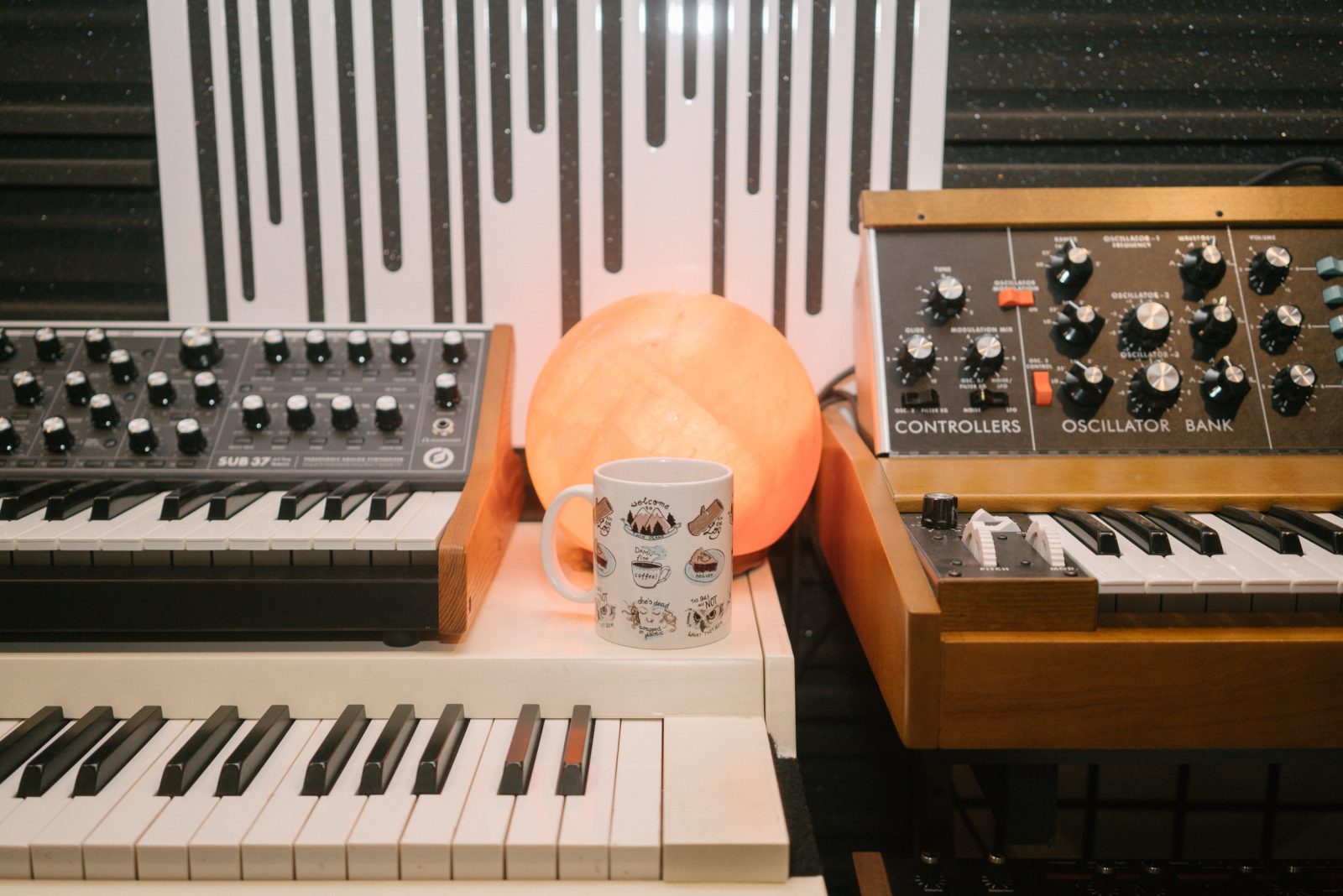 First of all, how did you guys meet?
Sofia: We met our last year of college while we were both at Berklee College of Music studying film scoring. I'd met him in the past (which he says he doesn't remember) but our paths crossed again when his roommate at the time, Motoki, was putting together an intercollegiate string orchestra that I was helping him with. From there we kept "bumping into" each other at the film scoring department until he volunteered to help with our first (string ensemble) event, and the rest is history.
What's the best thing about working with your spouse?
Ian: I'm always asking Sofi for her advice on almost everything I do, and vice versa. I don't think there has been a note written between us that the other one hasn't heard. But it's always fun when we actually collaborate on scores together. I feel like we've really got our workflow down after doing a few films together.
S: The best thing is that we understand each other's schedules, or rather have the same schedule for once! It's nice when we get to work on a project together and are both busy rather than one person waiting for the other to be done for the day. It's kind of a 'in it together' feeling too!
And what's the biggest challenge?
S: The fact that we spend too much time together working. The quality time that you'd want to spend with your spouse/bff becomes work, and when we're working on the same thing it's hard to unplug and not constantly be talking about the work you're doing together.
I: Yeah, we've had some moments where we are both working 24/7 on intense projects —either together or separate—and we've had to remind ourselves to step back and turn off work-brain every once in a while.
What was the first project you guys worked on together?
S: Technically it was on a small film I scored right after college called Scrivener and his Aislyn. He helped me with some mixing stuff. We then formed a band/side project called Aislyn while we lived in New York. The first real 50/50 co-score we did though was on fashion documentary The First Monday in May.
What has been your favorite?
S: My favorite might have been The Gospel According to Andre. I can't wait until it comes out in the spring!
I: That was an extremely challenging score from a musical standpoint, and I'm so proud of what we did with it. We were given very little time to write an insane amount of music spanning so many different genres. We jumped from jazz to '70s New York City rock to sweeping orchestra everyday for three weeks!
Since you guys work largely from home, how do you make sure you stay productive? Do you have a routine?
S: That's a great question! We try to have a routine and honestly having two dogs helps with that a lot. We try to be working by 10am everyday, take lunch and dinner breaks, but then the evening is always different. Lately we've both been working until more or less 11pm or midnight—not ideal!
I: We'll get into really good strides where we have a great work schedule, but it definitely gets a little tricky at times. There may or may not be a lot "coffee breaks" that turn into TV binge watching. We're both pretty work-driven and motivated though, so we always pull ourselves out of the couch when it's really time to get back to it.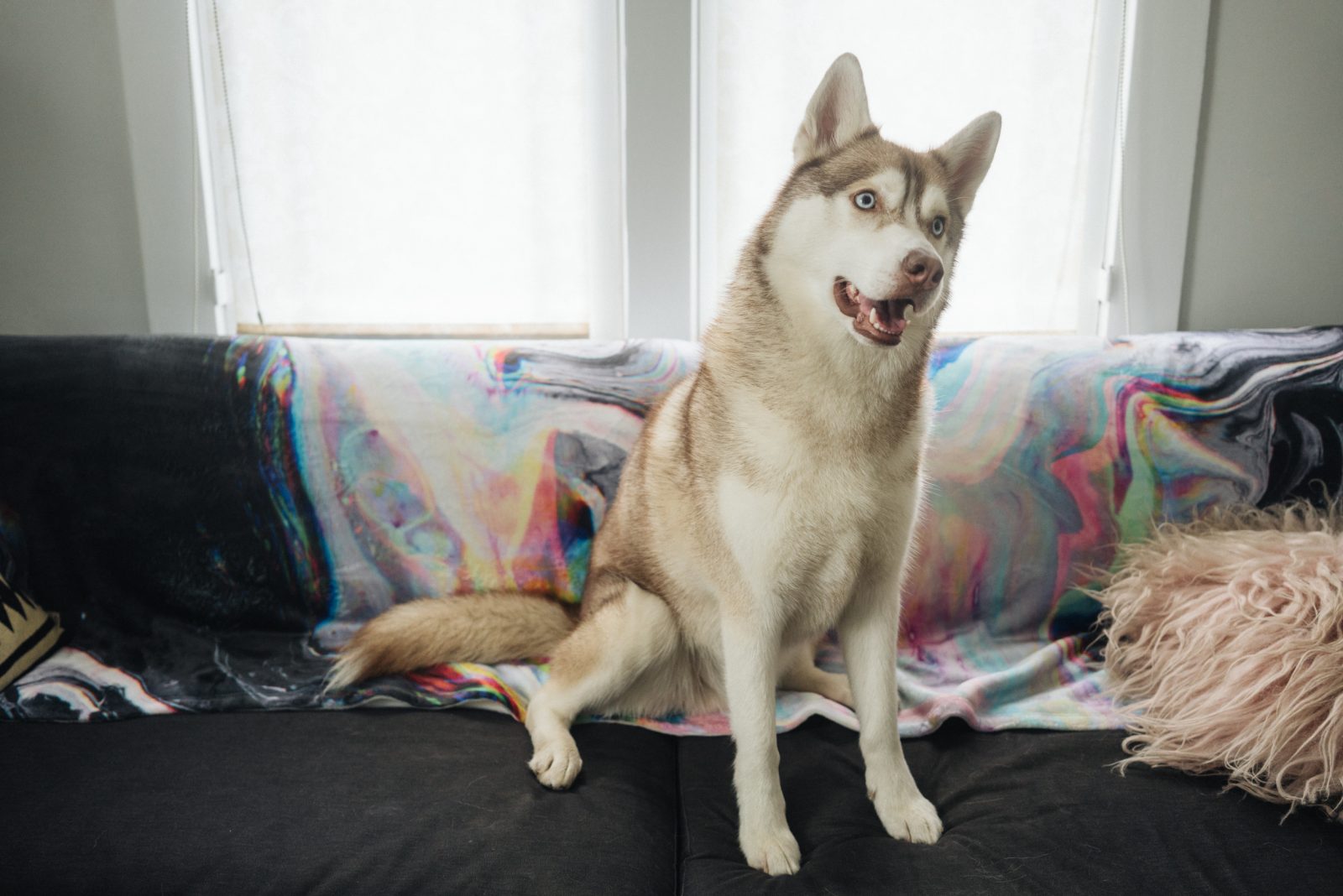 That said, is it important for you to create a certain aesthetic in your workspace? If so, what's the ideal one?
S: Absolutely! Just as with everything else, I think it's important to create a space that feels uniquely yours so that you can be comfortable composing. It takes so much concentration and discipline to sit and write everyday, and if I was in a space that didn't feel good that would be 10 times harder! The office and studio definitely have slightly different vibes, but I feel like Ian's and my aesthetics are pretty congruent!
What's the greatest advantage of working from home?
S: Rolling out of bed and into the studio. Rolling out of the studio and into bed! Also, we never miss a package (which was the bane of my existence when we lived in Boston/NY).
I: The good thing about working from home is that we can make our own schedules, and if a director hits us with notes at midnight we can have changes ready for them in the morning. However, that can turn into trouble because we'll end up spending more time in the studio than in our actual house.
You guys also have separate composing/musical endeavors. Can you tell us about those?
S: We do, and I'd confidently say the majority of work we do is separate. I split my time between composing for all sorts of media and working on Drum & Lace as an artist, although the first is definitely more prominent right now. I just finished working on a sinister short horror film directed by my longtime collaborator Charlene Bagcal and a beautiful fashion film called I Am An Individual by other collaborators Noir Tribe. Also, I'll be releasing new Drum & Lace music soon.
I: Scoring is pretty much taking up 95% of my time right now, whether it be for film, documentaries, or commercials. However I've been enjoying getting to work with more bands and artists either as a producer or mixing engineer. I recently produced a song with the band Dear Boy that was really fun!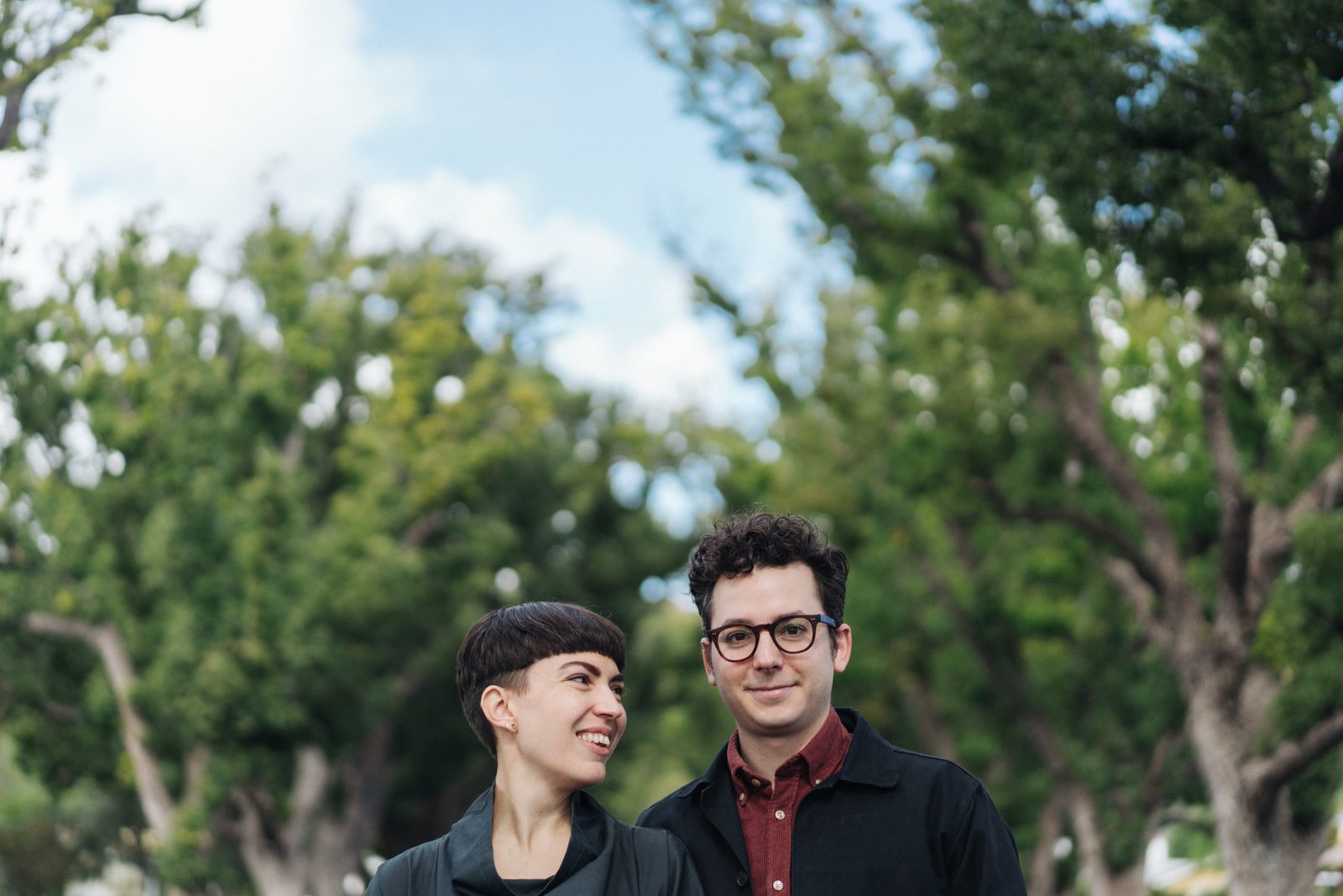 Shop Sofia and Ian's Picks:
Holy Mountain Framed Print
Lost In Space Laptop Sleeve
Minimal Duffle Bag
by Simplicity Of Life
$50.00
Confusion In Her Eyes Throw Blanket
Black Stone Throw Pillow
by Elisabeth Fredriksson
$29.99