Trekking to the beloved California desert of Joshua Tree is a sort-of "cool kids" holy pilgrimage—there's no better place to lose (and find!) yourself. Here, writer Ashley Tibbits interviews the owners of Dollarjoint Ranch, a gorgeous mid-century Airbnb that is guaranteed to satisfy all of your desert daydreams.
For L.A. based couple Dominique and Ron Pruitt, it was love at first sight. And though their meet-cute was "like the 'Dream Weaver' scene in Wayne's World"—according to Dominique—we're actually talking about their Joshua Tree rental home, which has earned the duo a 5-star rating Airbnb as well as the coveted title of Superhosts. Just over three years ago, the two purchased Dollarjoint Ranch, a 2-bedroom, 1950s brick home sitting on a massive six acres of land. Since that time Ron and Dominique, a software developer and a singer-songwriter, have put their literal blood, sweat, and tears into the place, and the Instagram-worthy, vintage vibes they've created with the decor is a major part of why it's such an in-demand place to stay for cool folks heading to the desert.
We got the chance to chat with Dominique—a vintage babe in her own right—about how she and her hubby first fell for the property, some of the challenges they've faced, and the funky, retro finds that make the home such a standout.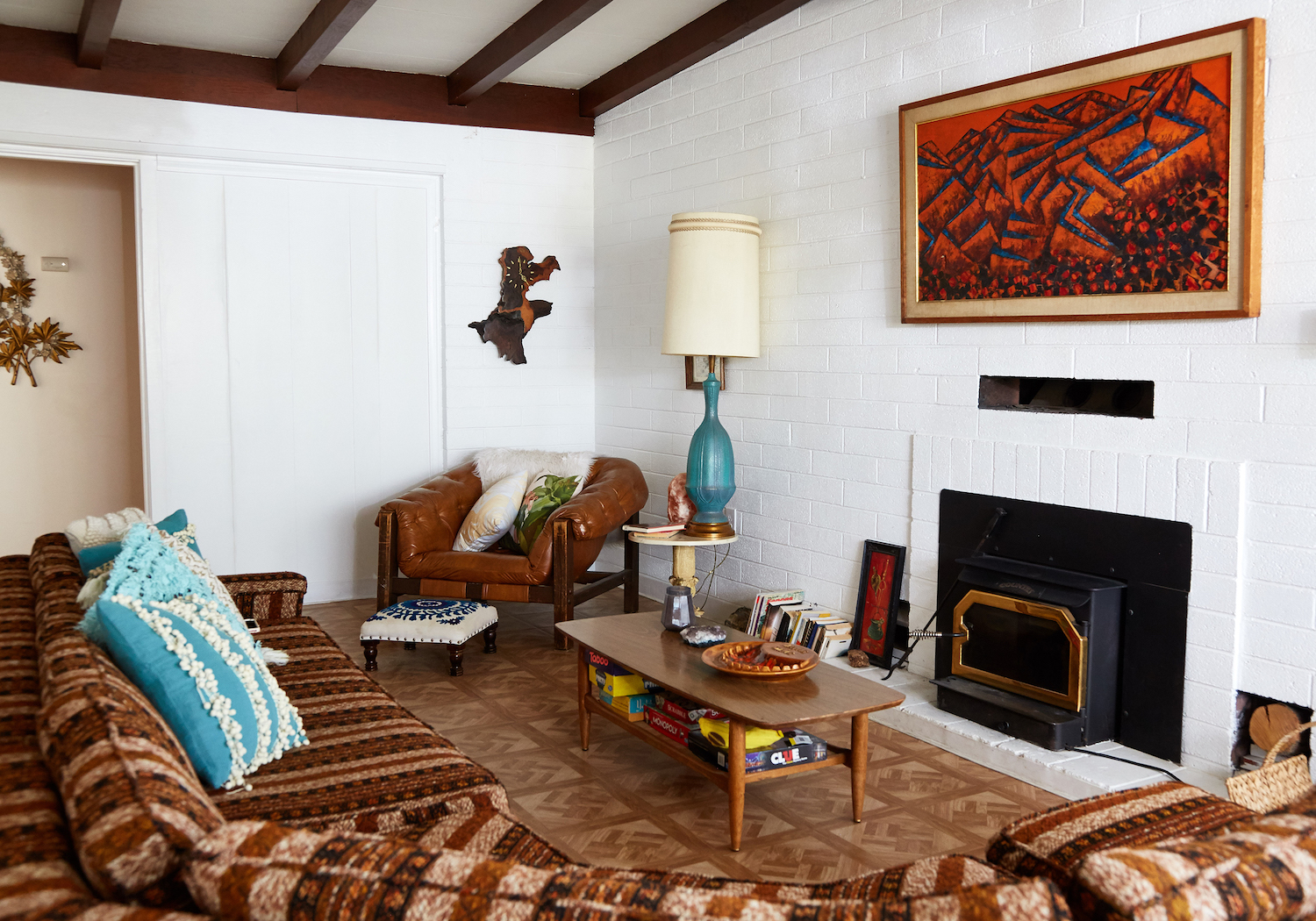 Why Joshua Tree?
We love the desert! If you've ever been, you know how magical it is. There's a calming vibe there unlike anything else.
What first drew you and your husband to the property?
The huge outdoor space, the 1950s bones of the house, and the "diamond in the rough" potential for sure. We had to really see past a lot of ugly to see it's potential, but we just knew it was the one for us when we first visited.
You guys call it the Dollarjoint Ranch, any fun stories about the name?
Dollarjoint is a kind of cactus we have growing at the house, and we just loved the name so it stuck.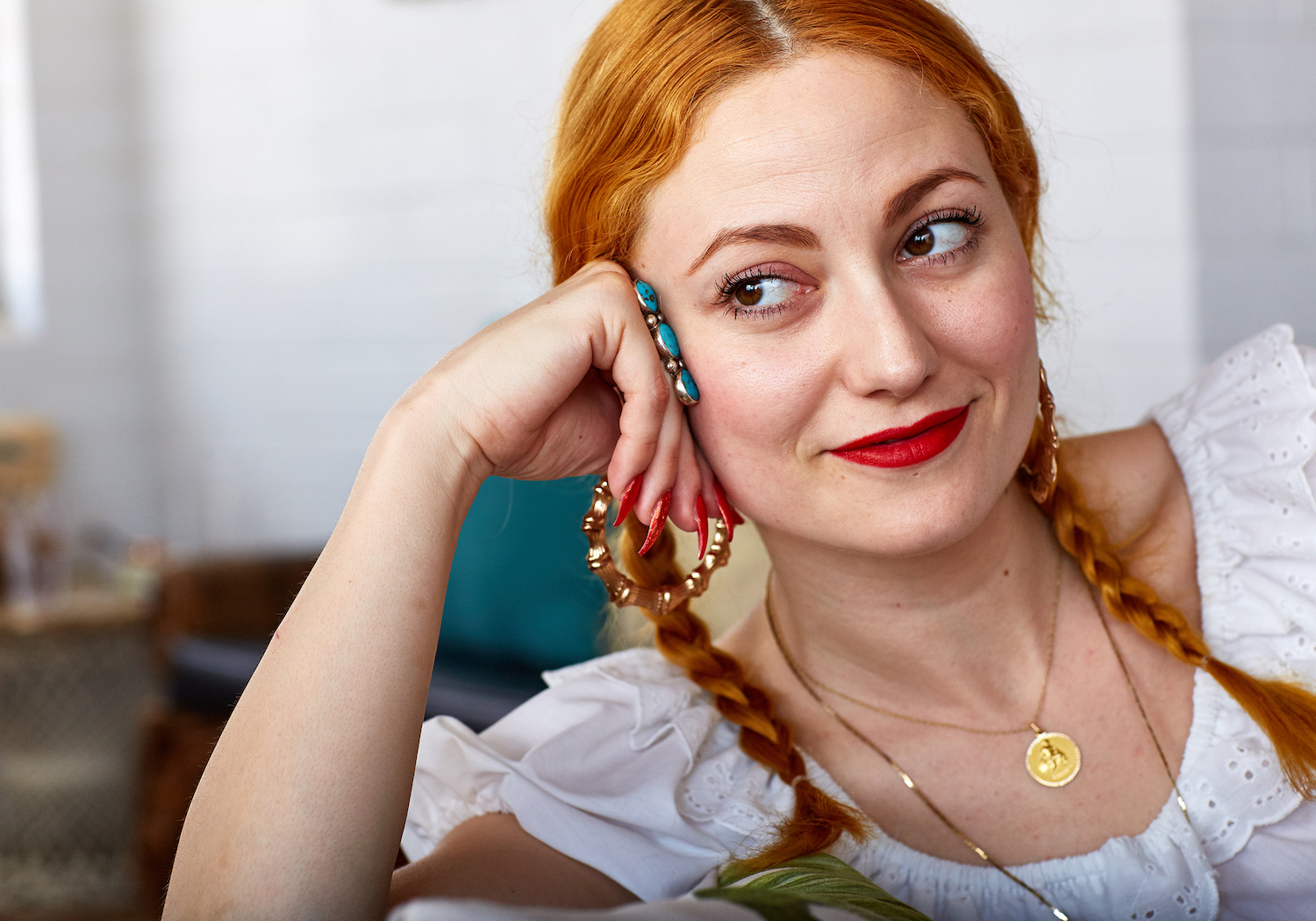 In terms of decorating it, what was your desired vibe?
We knew we wanted it to be bright white to start, because it was a dark and ugly cinderblock all throughout the interior. There was also a ton of dark, awful wood wall paneling that had been added in the 1970s. That had to go, and did (I stepped on a rusty nail in the process). We wanted a somewhat simple and minimalist aesthetic, but still quirky. Like, interesting pieces throughout the house that tell a story, but not too much. It definitely has a mid century touch too, because the house was originally built in the 1950s, and that was important to incorporate.  
How would you describe your design philosophy in three words only?
Western mid-century kitsch.
What design challenges have you faced?
So many! First of all, we did everything ourselves. Within the first year we needed to replace the AC, water heater, stove, dryer, and more, so that was both a financial and physical challenge. Painting the interior of the house white took a month or more of weekends because brick drinks paint like you wouldn't believe! I once took a weekend to paint all the kitchen cabinets a deep turquoise color (they were originally a hideous pastel salmon color) only to finish my paint project and instantly regret my color choice. We were back the next weekend painting them all white! In general, we totally underestimated the time it took to do projects! When we say we poured blood, sweat, and tears into this house, it's no exaggeration.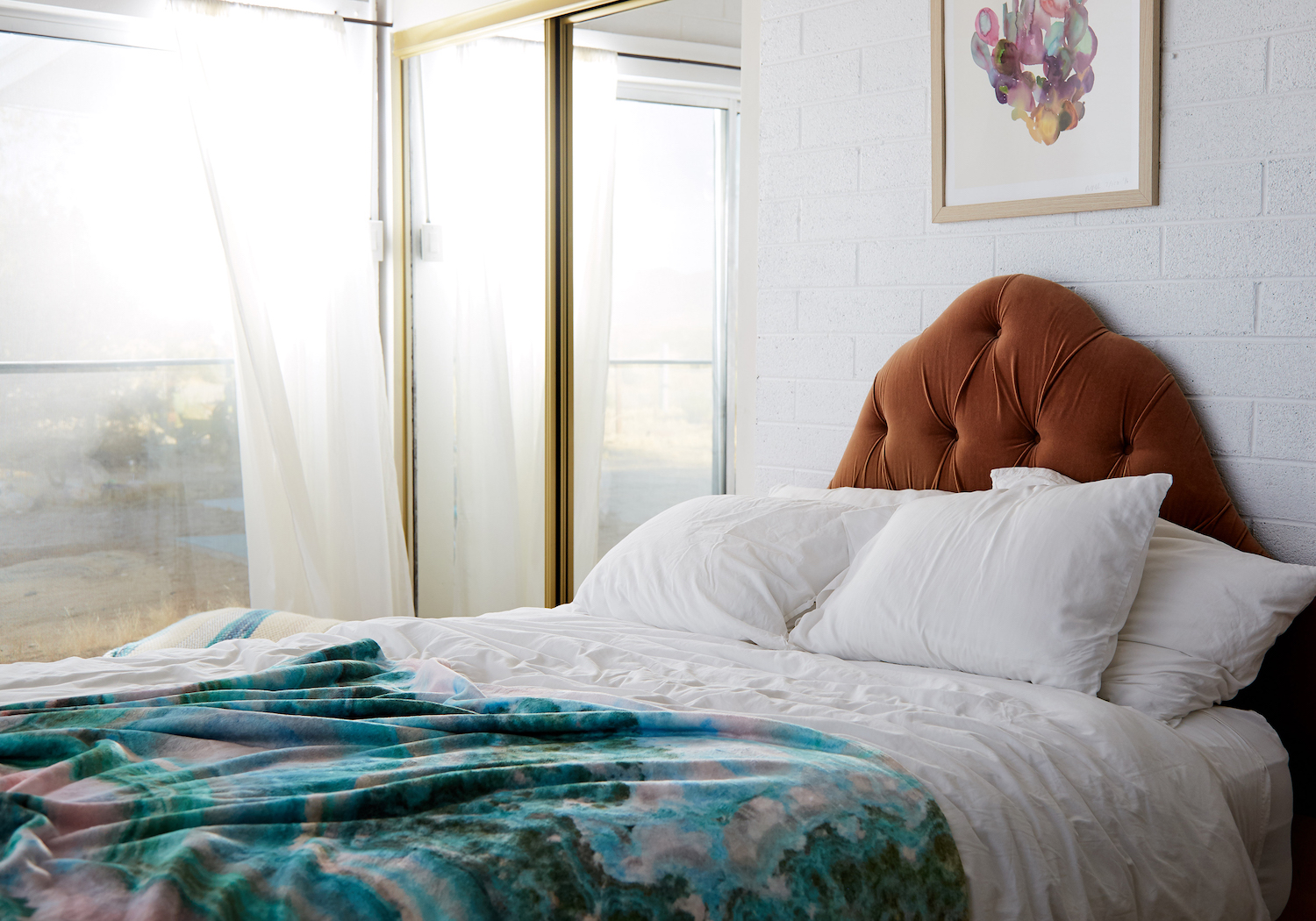 What makes decorating a rental property different than decorating your personal home?
It was different because we got to really go for a different theme, which was fun! When planning to rent it out, you also have to consider that it's for someone's vacation and not real daily life, and you have to appeal to a variety of tastes—not just your own!
What are some of your favorite finds?
I love the big brown vinyl 1970's chair in the living room, the 1960's Witco carved Tiki bench off the kitchen, and I love the huge sofa we snagged off Craigslist. It's like it was made for the house!
When you and your husband spend a weekend, what are your favorite things to do in the desert?
Pappy and Harriet's is the best for dinner and a concert and drinks, the Noah Purifoy Outdoor Art Museum, La Copine Kitchen for brunch, and hitting up all the antique stores. A new tradition is chilling in our new cowboy pool with a beer at sunset. But most of all, going to the amazing national park!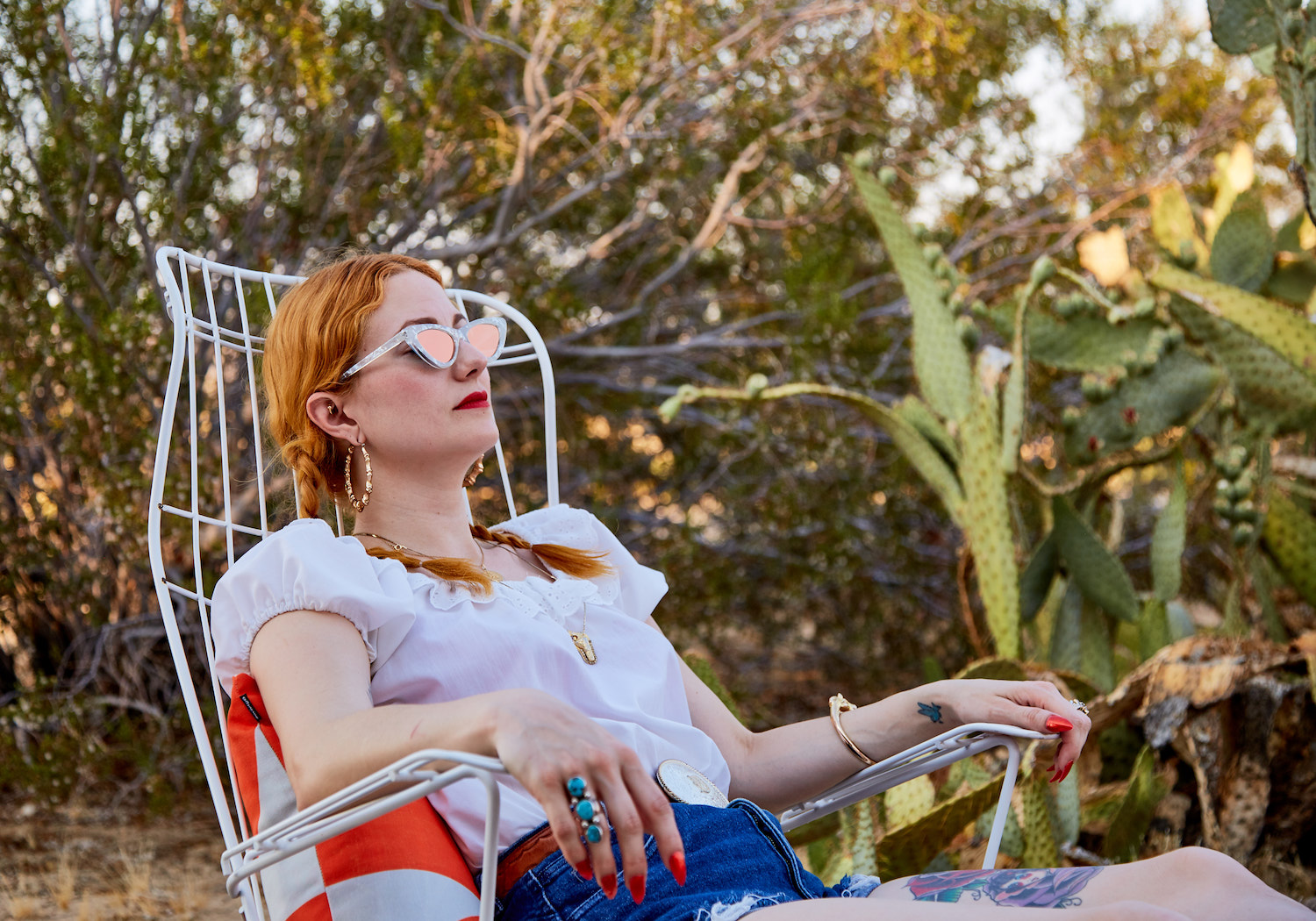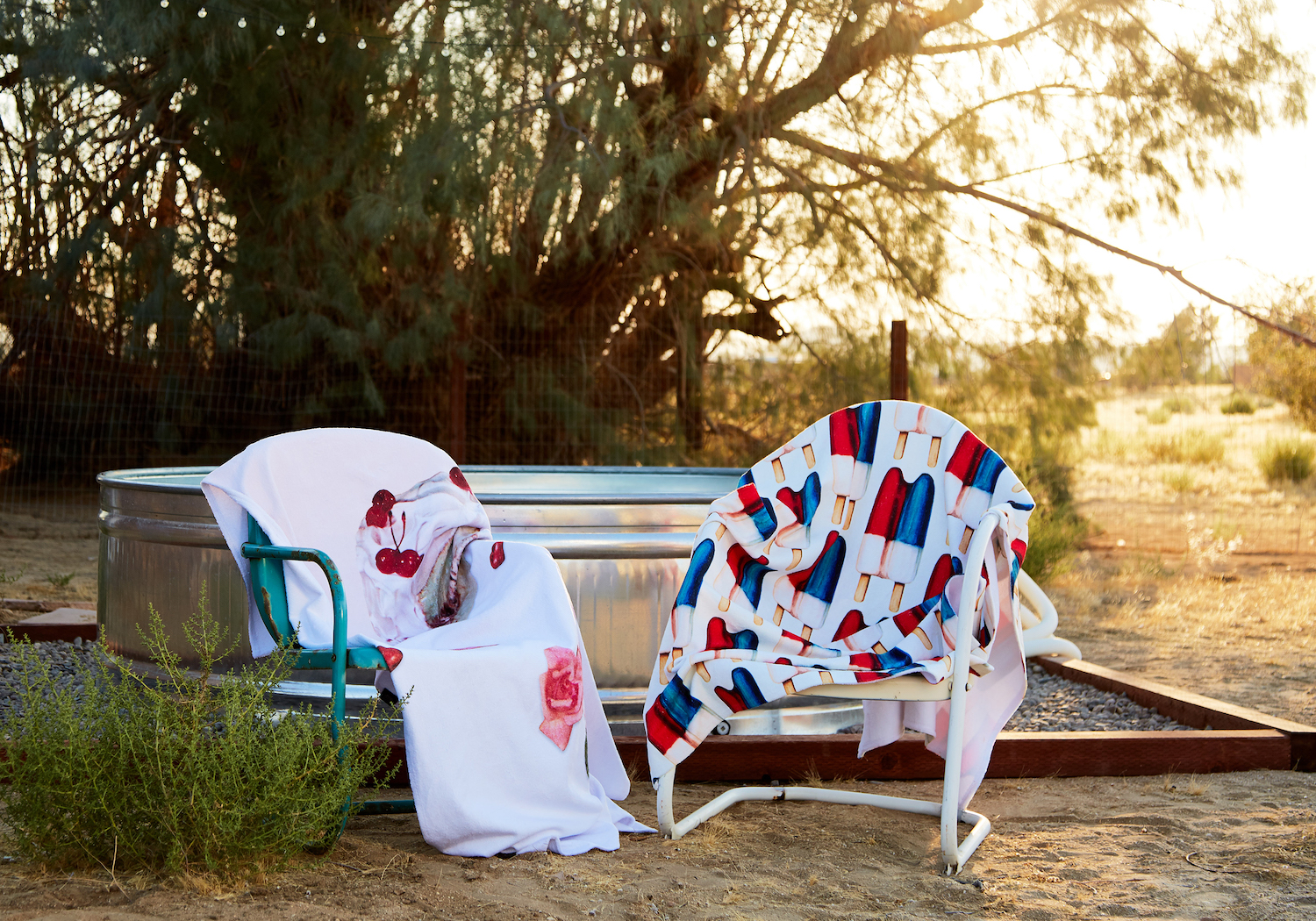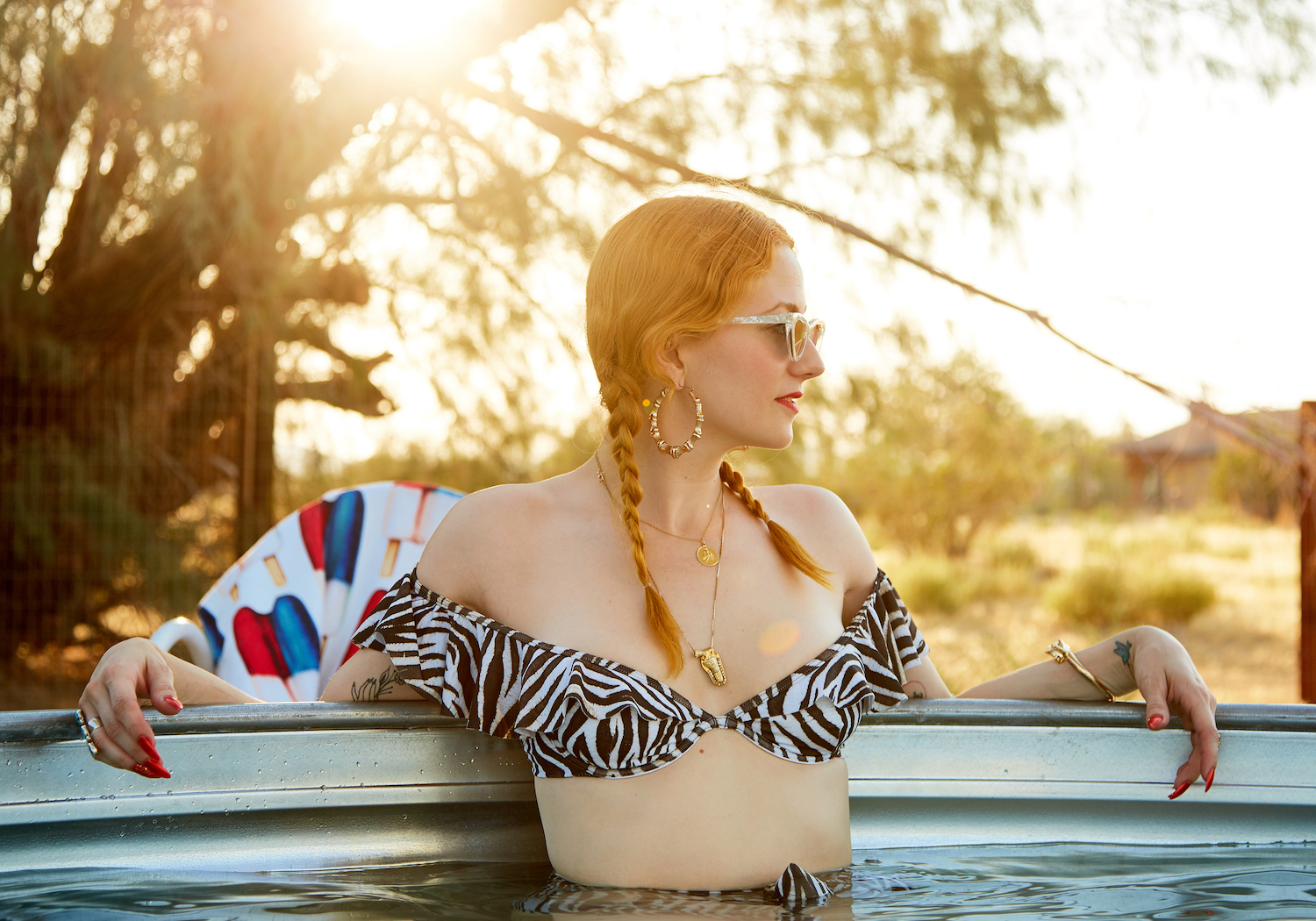 Popsicle Pattern Beach Towel
Curious Shower Curtain
by Sarah Eisenlohr
$69.99
Echoes Throw Pillow
by Circa 78 Designs
$35.00
Teal & Pink Marble Throw Blanket
Waffle Pattern Framed Print